Easy Thanksgiving Centerpiece Ideas
I have a few easy Thanksgiving centerpiece ideas to share today.  They really are so super simple, don't require many elements or know-how, and are still beautiful and elegant.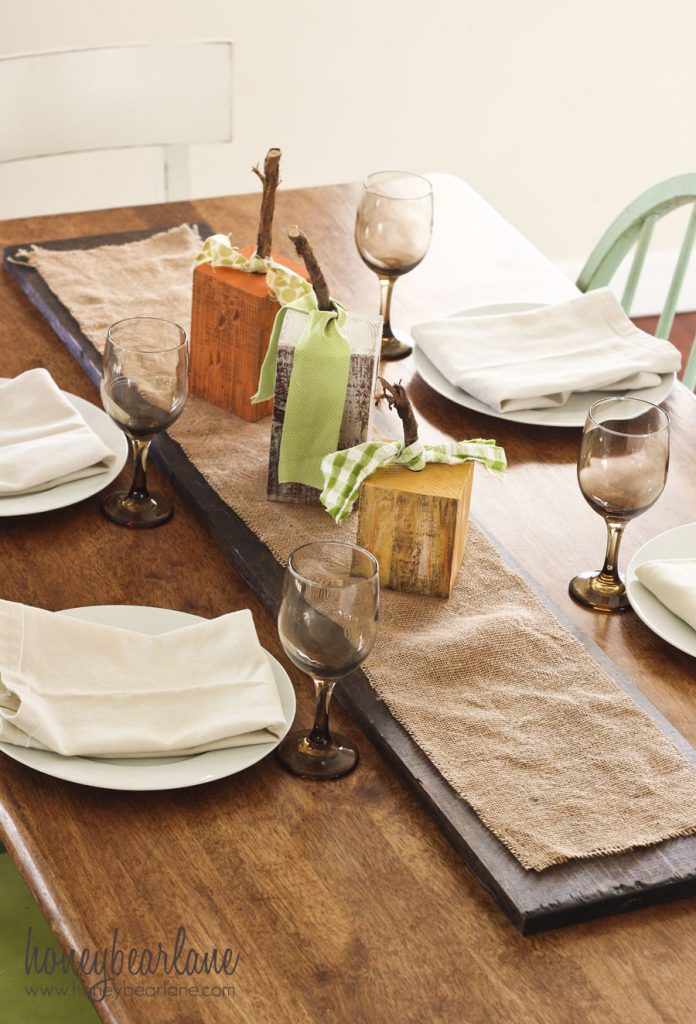 The first one is a 1×8 board, stained dark walnut, with some burlap over the top.  I added different rustic fall decorations on top and played with it.  The possibilities are endless and what's nice is that sometimes centerpieces are too tall for good conversation, so you can easily remove the taller objects while keeping your centerpiece intact.
I tried a couple things–my rustic wood pumpkins, for one.  That was more of a simple, everyday centerpiece idea.
Then I switched it out for some little pumpkins and gourds and pinecones.  I liked this one more for the actual Thanksgiving feast.  You could also add some nice little votive candles to add ambiance, or even small Mason jars with wildflowers.
The last centerpiece idea is this simple rustic wooden box.  Hi, I'm Heidi and I'm addicted to building wooden boxes.  That's my go-to for decorating because they are super easy to build and making them look rustic is half the fun!  You might have seen this on my Thanksgiving mantel, but that's the beauty of this box–it doubles as decor and centerpieces.  Then you can switch it out at Christmas with evergreen boughs, leave the pinecones, add some small votives and Christmas holly berries.  Easy peasy.  I will share a tutorial soon on how to make one.
What is your favorite Thanksgiving centerpiece idea?