'Tis the season of getting sick.  I feel like I've been struggling with some sort of sniffles/sore throat for the last month!  And especially when you have little kids around you, they bring home everything and just spread it around.  And last week my daughter was throwing up so much she ended up having to go to the hospital to get an IV.  I did not want anyone else to get that sick or get the flu, so I decided it was time for us all to get our flu shots.
I'd been meaning to do it since October, but this has been the busiest, craziest year for me…possibly ever.  So when The Motherhood asked me to write a post about National Influenza Vaccination Week and go take my family to get flu shots, it was just the right motivation I needed to get on this important errand.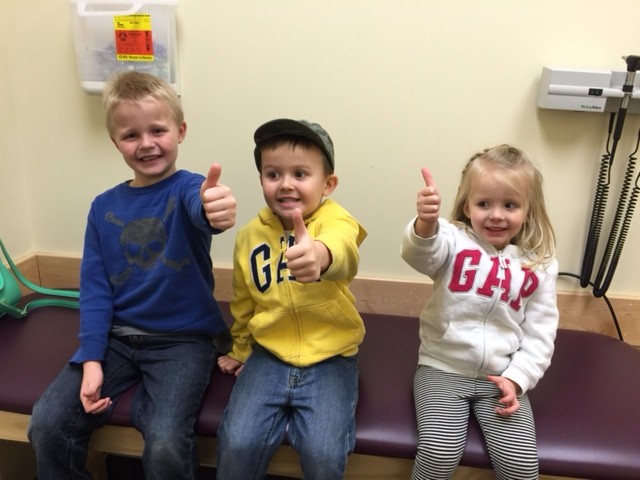 The Center for Disease Control and Prevention is trying to encourage people to go out and get their flu vaccines.  It's not too late since flu season peaks from December-February.  Even if you've already had the flu, getting the flu shot can prevent against different strains–since the vaccination protects against three or four different flu viruses.
It's especially important for my family to get it, since we have young children who are at higher risk.  Other high-risk people include pregnant women, people with asthma, diabetes, or heart and lung disease, and people ages 65 and older.  If you are high-risk and get the flu, you can get complications like pneumonia or worsening of existing health conditions which can lead to hospitalization or death.
I took my kids to their pediatrician's office to get our shots, since Walgreens doesn't do anyone under 7.  I got mine there too!  And actually, we went and it ended up being the flu mist which was a bonus–no shot.
Here are the CDC's "Take 3" (three steps to help prevent and treat the flu)
1.  Get a flu vaccination!
2. Take everyday preventative measures like washing your hands, staying away from sick people, staying home when you are sick, and covering your nose and mouth when sneezing or coughing.
3.  Take the flu antiviral drugs at the first sign of the flu.  This can cut the flu time in half and really help and could even prevent high risk individuals from spending time in the hospital.
Read more about National Influenza Vaccination Week!
This post is sponsored by The Motherhood and the CDC, all opinions are my own.