Ho Ho Ho Christmas Marquee Sign
I love marquee signs–don't you? They are so fun and cheerful.  And so is Christmas, so why not combine the two?  Marquee signs are not as hard as they might seem.  And for an extra Christmasey effect, I candy-cane striped the board.  And now- here's how to make your own Christmas marquee sign.
Supplies:
1 1x12x6
2 1x2x6
6 large craft store chipboard letters (3 H's, 3 O's)
Round Christmas lights
Drill
Nail gun, strong craft adhesive (E3000), and/or screws
Red and white paint (I used Behr® Premium Plus Ultra 'Frost' #1857 and 'California Poppy' #S-G-160)
Wooster® Pro brushes
Gold spray paint
Gold glitter dust
Spray Adhesive
Spray polycrylic
I found all my supplies at The Home Depot. First, I attached the 1×2's to the 1×12 on the side so that the wires from the lights won't be seen from the side.  You don't necessarily HAVE to do this step, but I thought it would make it look a little more finished.  I used 1 1/4″ nails in my Ryobi nailer and just nailed it on.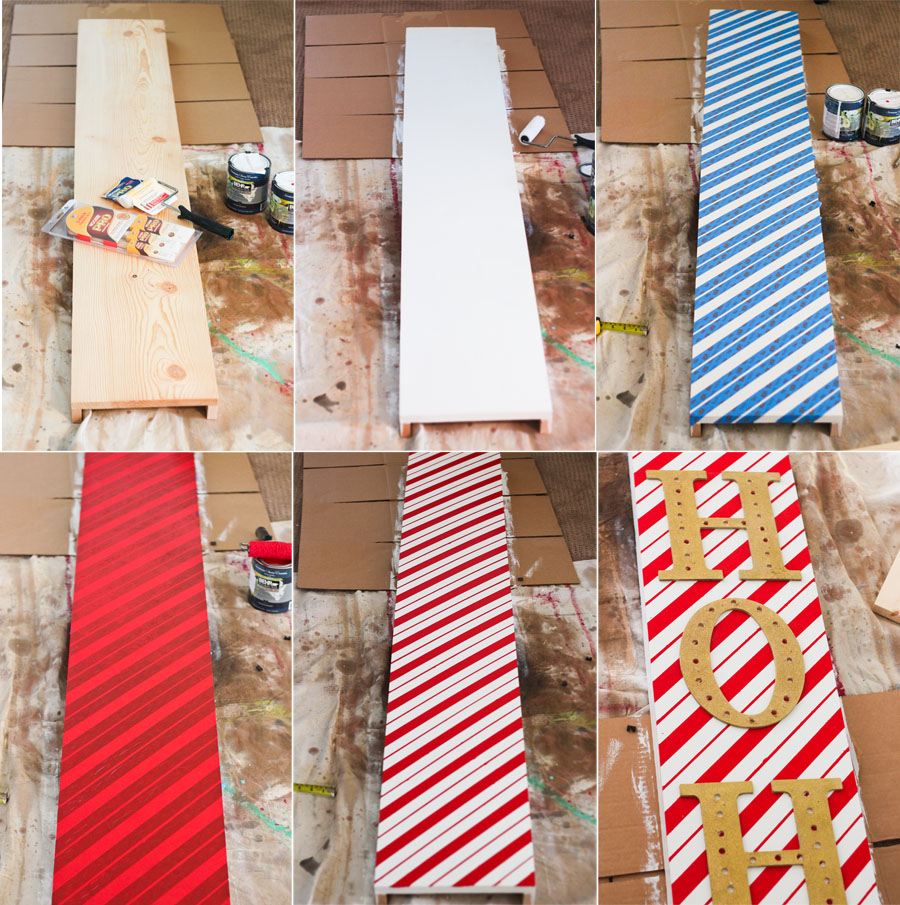 Next I used this little Wooster®  Pro 4.5″x3/8″ Woven Cage Frame Roller brush to roll on the white Behr® paint.  This brush is awesome, btw.  It took me like five seconds to paint it and it was super smooth and even.  I did two coats.
Now comes the candy cane stripe.  Using the ScotchBlue™ Painter's Tape, I taped down where I wanted it to stay white.  I also wanted a fine red line so I did two tape strips together with about a 1/4″ space in between.  I used a tape measure to ensure even spacing.  I made sure the tape was firmly down with a credit card (like a squeegee.)  I used the roller brush again and brushed on the red Behr® paint.  I did three coats, waiting an hour in between.  Before the third coat dried, I took the paint off.  This helps keep the lines more crisp.
While I waited for the paint to dry, I spray painted the letters in gold.  It didn't cover evenly so I used spray adhesive and some gold glitter to cover the letters in glitter.  I sealed it with a spray polycrylic so the glitter would stay put.  Then I used the nailer to nail them on the long board, using 1/2″ nails.  But this is where you could use strong craft adhesive if you don't have a nail gun–just wait for it to dry before drilling.
Now you will mark where to drill holes for the lights.  This way you can evenly space them.  I spaced them about 1 1/4″ apart.  I used the drill bit that was the same diameter as the Christmas light sockets.
I bought some pearl Christmas lights for my marquee since they are round and look more like them.  Plus they have a pretty finish when the lights aren't on.  You will take the lightbulbs out of the sockets of each light, feed the base through the bottom side of the hole and then screw the light bulb back in from the top.  Use strong tape to tape the wires down in the back.  I used two strands of 70 lights.  Make sure that the plug is at the bottom.
Plug it in and you've got a marquee sign! This looks great indoor or on the front porch.  I can't wait to put it on the front porch of my new house!
Don't forget to sign up for the The Home Depot Consumer Program!
Please Visit ScotchBlue at their other Social Media sites:
Please visit Home Depot at their other Social Media sites:
I am proud to be a 3M, Behr®, and Wooster® – sponsored blogger, and, as part of my responsibilities, I get the opportunity to evaluate products. Opinions are my own and additional product used in the project were selected by me.