A Christmas Progressive Dinner
In my church, I'm in charge of the activities for the women's group called the Relief Society.  For December, we decided to throw a Christmas progressive dinner.  A progressive dinner is a dinner where you have different courses of a meal at different people's homes.  You can do it a variety of ways, but for our purposes we decided to have three courses at three different houses.  We had appetizers, entree of soup and salad, and desserts.  I hosted the entree.
I've hosted many large gatherings at my house, but for this particular one I really didn't know how many people to expect.  For all I knew we could have upwards of 50 people!  And since I was doing soup and salad, we needed tables and chairs.  The appetizers and desserts were mostly finger foods so they didn't need tables for that.
Seating a Large Group
I turned my own table 90 degrees and it seats 8 people.  Then I set up two 6 person tables on either side.  My front room is still empty since I haven't done anything but the flooring yet for my office renovation, so I set up two more 6-person tables in there.  I was able to have seating for 32 people.  I figured if we had more than that, people could take turns sitting.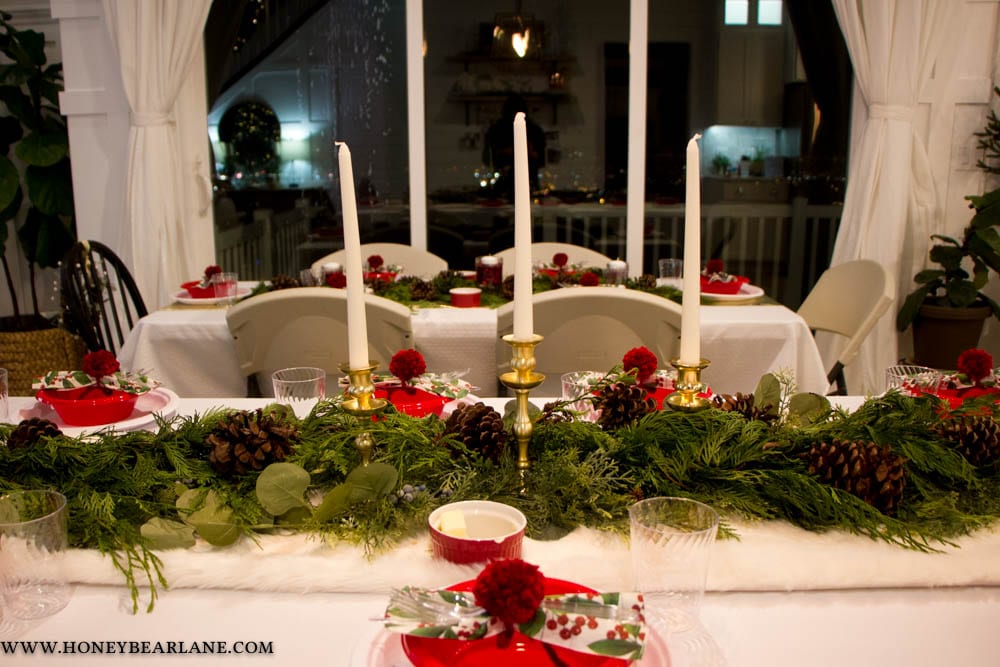 I had to add some decor to the front room since it was completely empty.  I moved a couple of side tables and added some wreaths and a poinsettia.  In the corner I placed my marquee Ho Ho Ho sign which added a lot of light.  I also put some white lights around the window.  I lit the candles and we ate in the dim light which was really nice.

Table Centerpiece
For the centerpieces, I didn't want to spend a lot of money since we had to share the budget with two other houses and all the food.  I have a small committee of ladies who help me and were making the food and helping to host.  I purchased some inexpensive white tablecloths for the folding tables.  I already had a large one for my main table.
I bought some gold foil tablecloths for like two bucks each and cut them into strips to serve as table runners.  Then I bought a long garland of fresh greenery from Costco for only about $12.  I used floral clippers to cut the garland apart and placed pieces on each table in the center.  I also added some cinnamon pine cones on the greenery.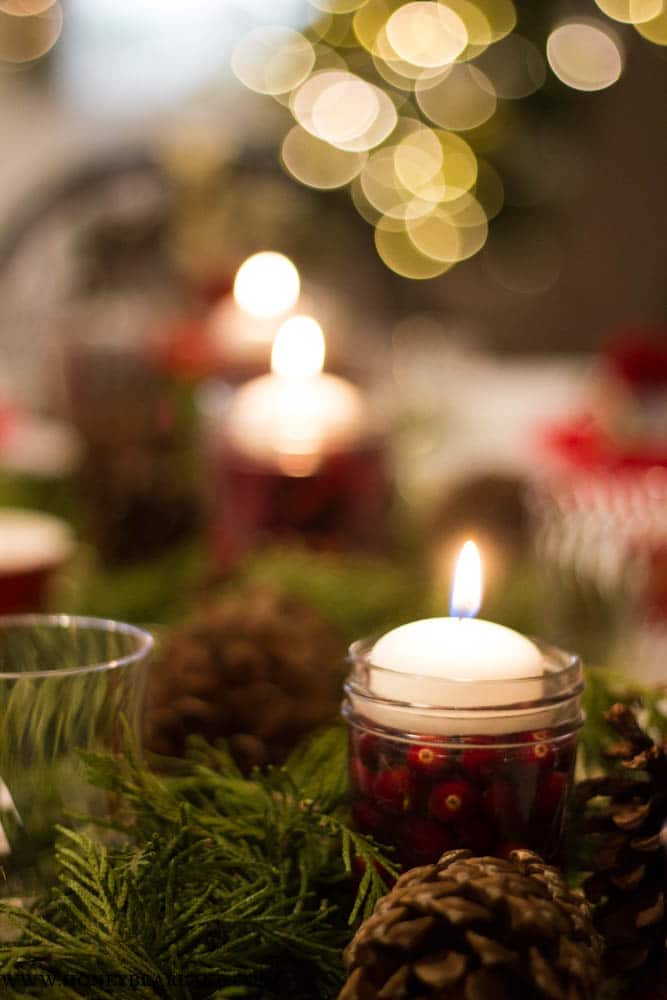 Finally I used pint wide-mouth Mason jars with cranberries, water, and floating candles placed along the center down the table.  This is an old classic centerpiece idea but it's great because it's super inexpensive, pretty, and natural.  I loved the pop of red from the cranberries.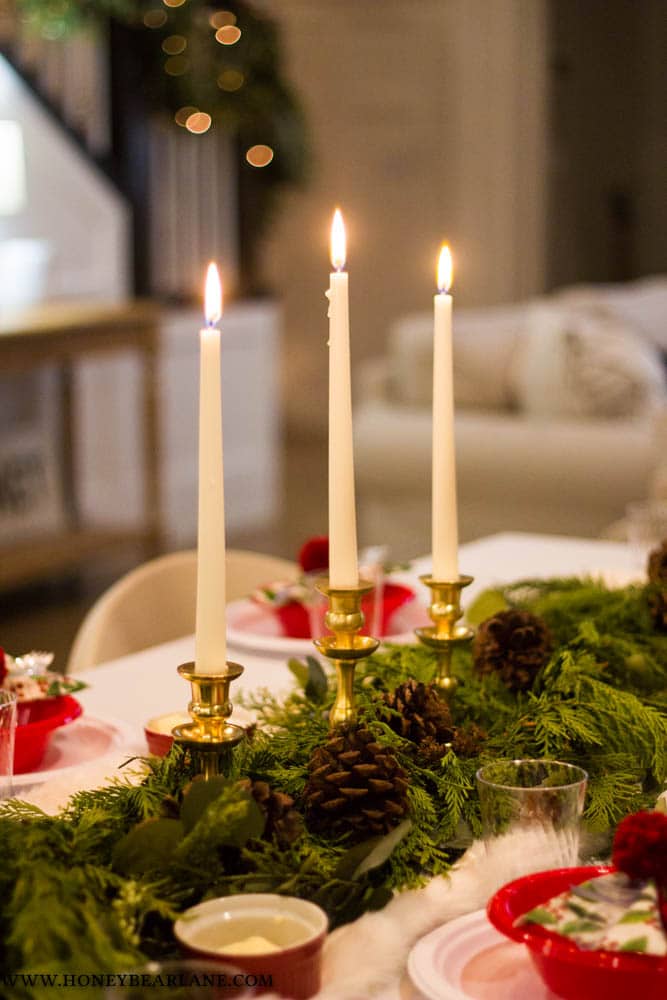 For my big table I opted to keep my brass candleholders on the table instead of doing the jars.  I layered on more garland on top of my own faux garland that was already there and kept the furry table runner as well.  It looked so elegant!
Table Setting
I really wanted to get some pretty plastic plates and bowls for this event, but after striking out at two stores and running out of time, I had to settle for plain white and red.  Oh well!  I found some pretty napkins at Walmart and decided to tie the silverware and napkin in a little bundle with a red pompom I made.  It's all about pompoms, haha!  I really feel like this little DIY gesture was well received and the color it added was beautiful.  See my tutorial for how I made pompoms here.
Food
Alas I did not get pictures of the food because I had to take these pictures right before my event and ran out of time.  But we served three kinds of soup:  tomato tortellini, white chicken chili, and a minestrone.  We bought two salad mixes from Costco which I actually really liked.  And of course rolls from Costco as well.  Costco is a hero for large scale events like this!
The event went really well, and everyone had a great time and appreciated the very Christmassy ambiance.  My friend performed a musical solo and did an amazing job.  I got lots of compliments on my decor and my pom poms!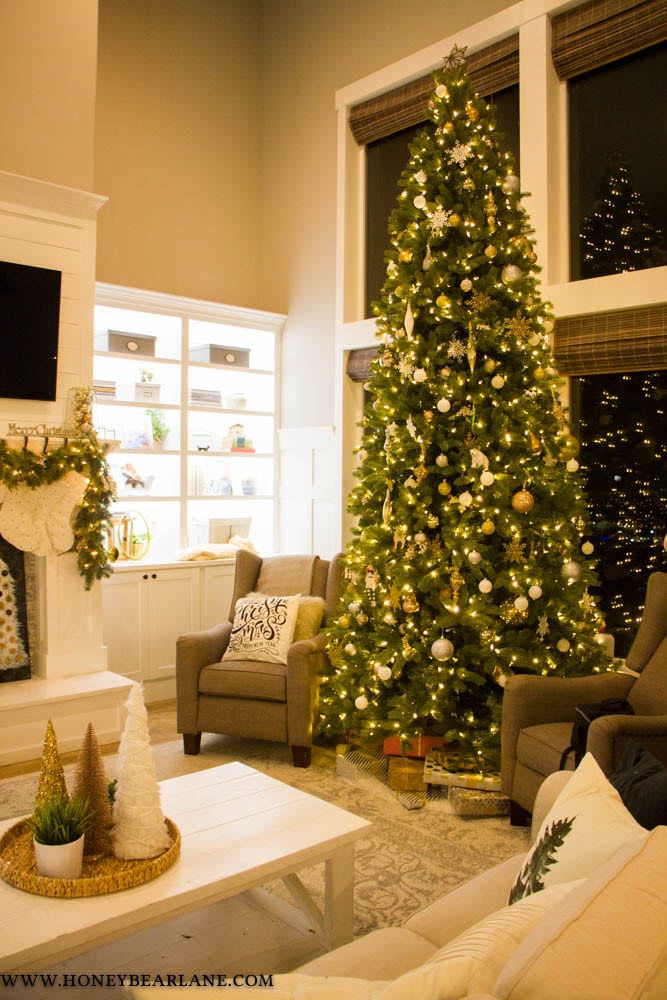 This event was a lot of work for everyone involved, but it's always worth it.  It's so fun to pull out all the stops for a Christmas progressive dinner like this and make everyone who attends really feel special.  Everyone just seemed to mingle really well and it was really fun!