Built in Indoor Playhouse
I am lucky that one of my good friends built a house up the street from us.  And that she does hair for a living.  So we decided to make a little trade–I would help her with DIY projects and she would do my hair for free.  Win win!  Our first DIY project turned out so stinkin' adorable that I had to share it–it's a built in Indoor Playhouse!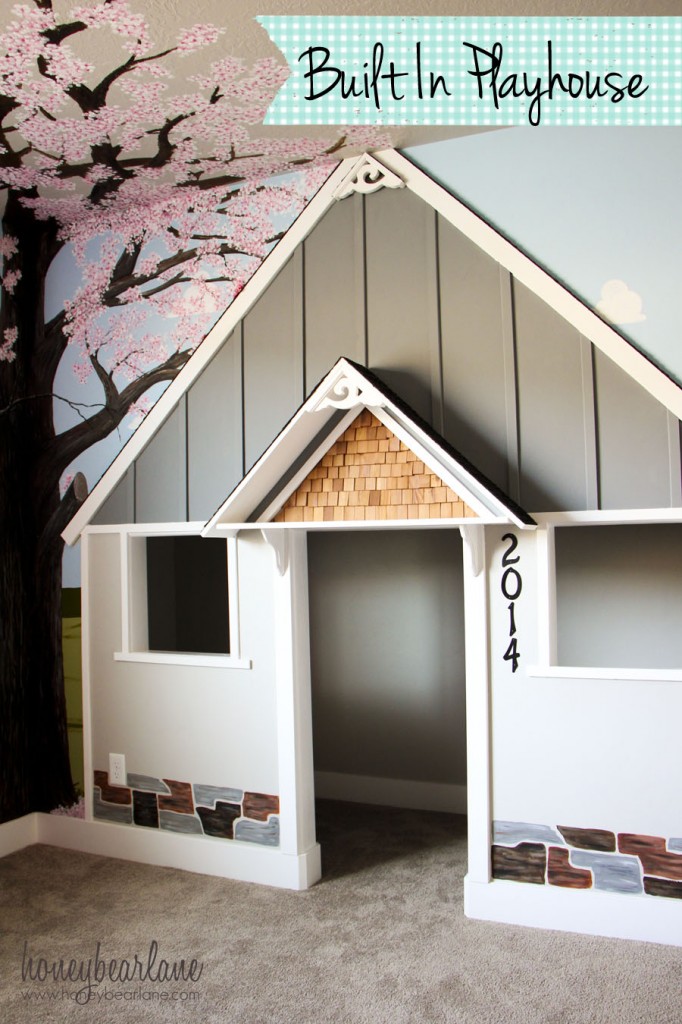 Isn't that amazing?!  First of all, I take zero credit for the amazing paint job.  That tree and everything was completely painted by my friend and her father.  It adds so much to the finished look of this playhouse!
When she was designing her house, one of the bedrooms had a large walk-in closet that shared walls with their loft space.  So she cleverly decided to utilize part of the closet and have the builders cut out a door and windows for a little playhouse.  She traced out the house and then painted the landscape around it.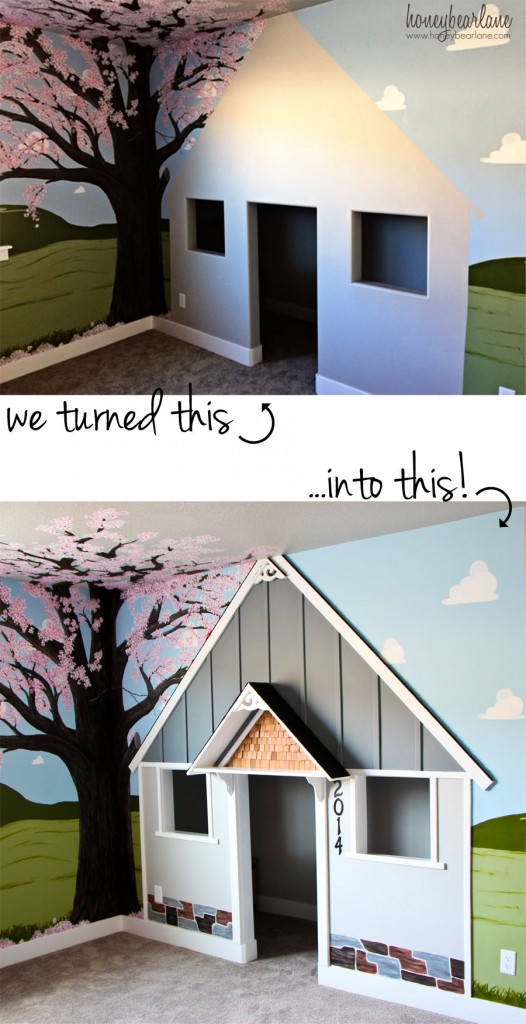 After the tree and landscape were done, she had me help her cut and nail the wood up on the wall to make the house more three dimensional.  It was all her idea and it turned out so fabulous!  I am also super happy because it's my mission to help every woman learn how to use power tools themselves and this was the first time she had used a saw.  She said it was easier than she thought–just like I said it would be.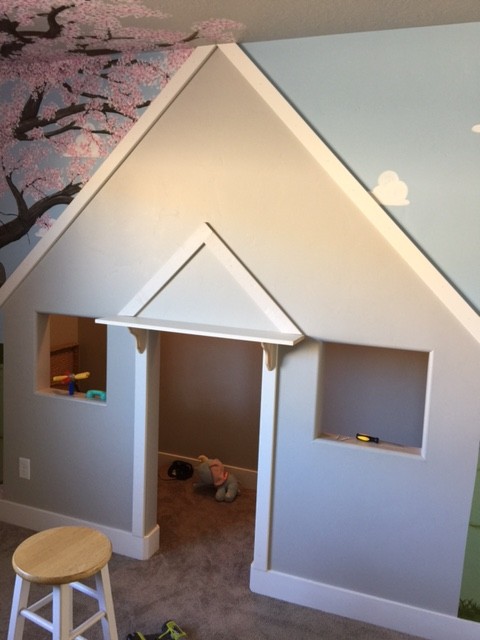 We first cut some pre primed MDF boards to outline the house.  We used a lot of those and lattice on this house.  We had to cut some 45 degree angles as well.  We wanted a little porch roof so we also outlined that.  Then we used the lattice to put up some 'board and batten.'  We actually put up that little corbel gingerbread before doing the board and batten and it just slid underneath.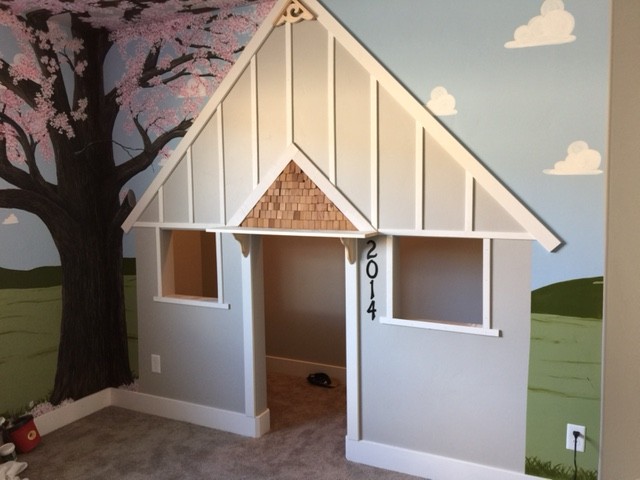 She purchased some small decorative corbels to add gingerbread to the house gables.  We had a couple more corbels to support the bottom of the porch roof.  Then we cut a bunch of shims to make wood shakes for the inside of the porch roof gable.  This was tricky because we had to make small cuts and make sure the wood was thick enough to not split with the nail gun.  The tiniest pieces were hot glued into place.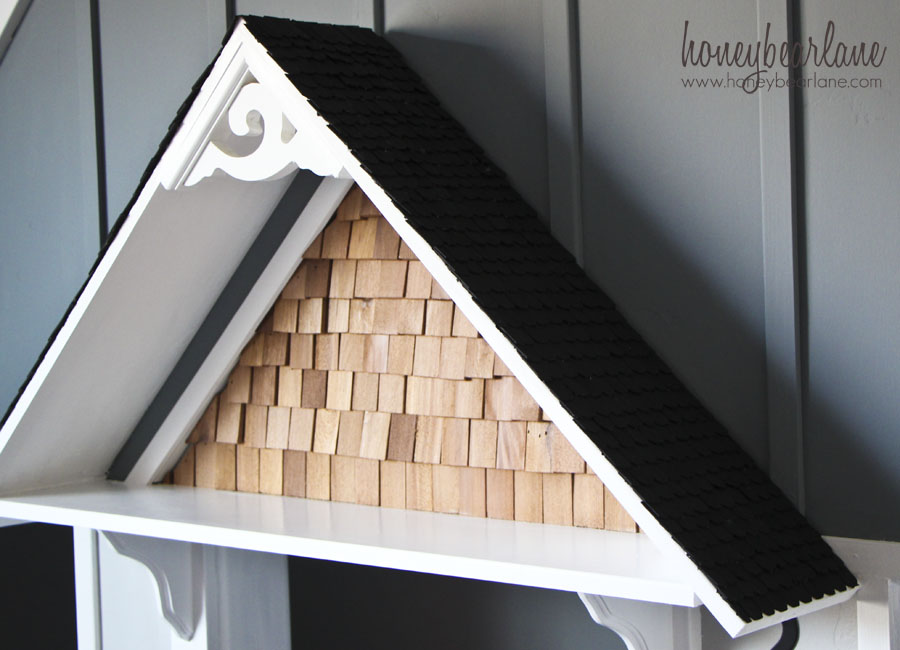 We covered those rough edges with more lattice which also helped to support the little porch roof.  We nailed in a double thick diamond we'd cut to sit right at the peak to help support the porch roof also.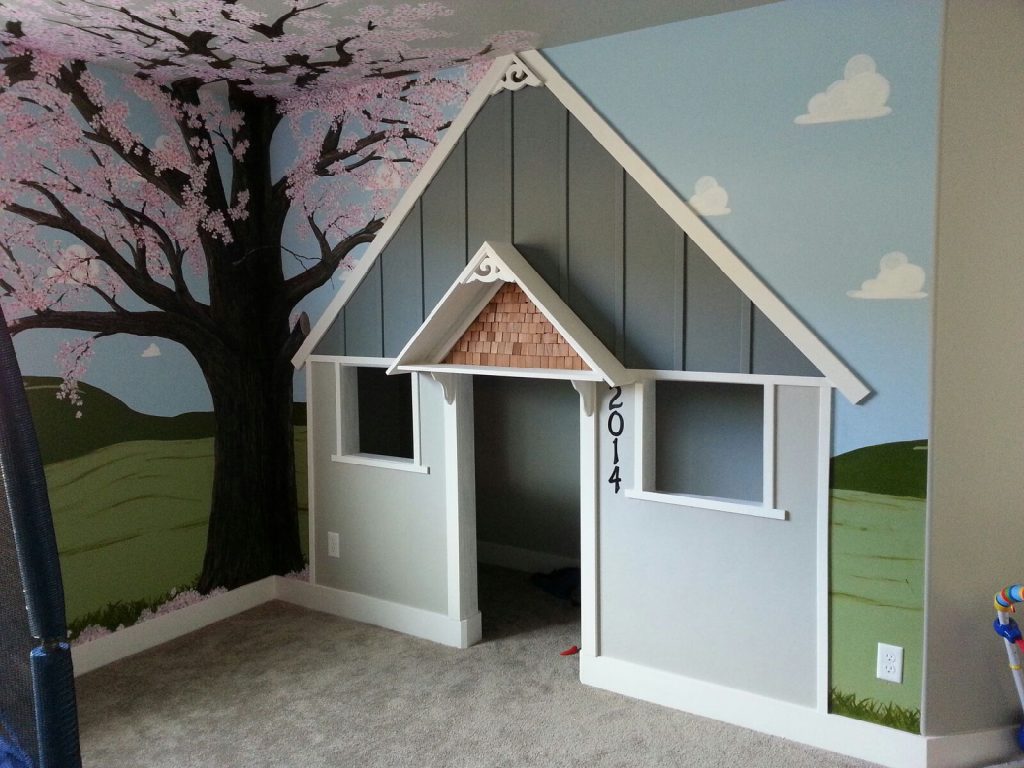 We trimmed out the windows as well and added the final touches of the 'gingerbread.'  She pre-painted this one to make painting easier later.   Then she painted the entire thing, including the stones on the side, adding the address numbers and the shingles as well.  The shingles are doll house shingles and I think they are brilliant.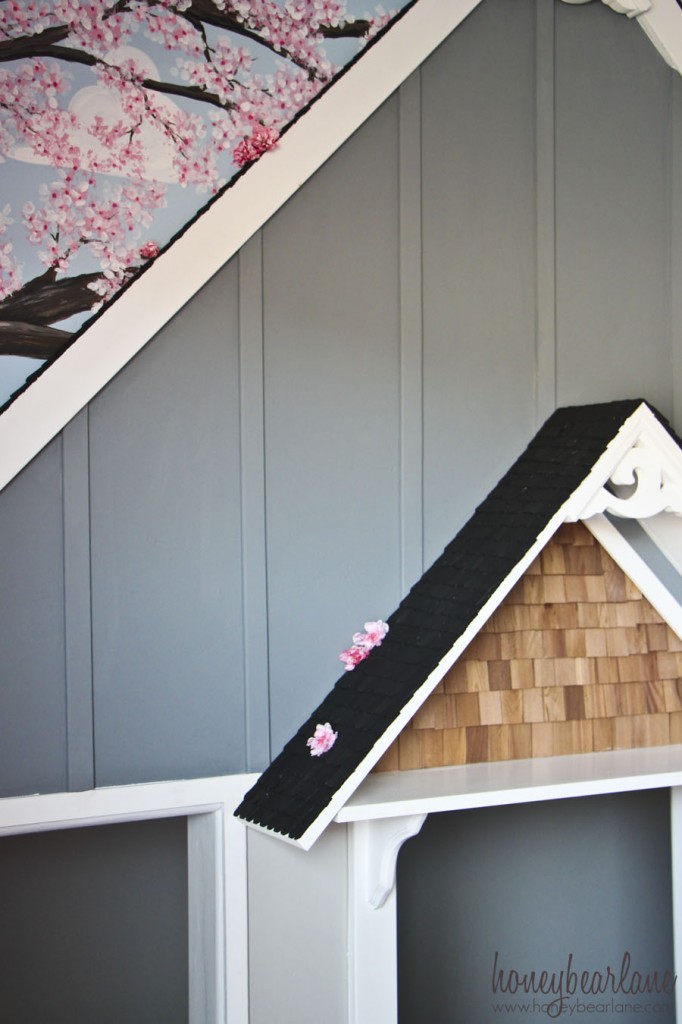 I love how this turned out.  You could make this project yourself by having someone (or yourself!) frame out some child-size windows and a door in a wall and the rest is fairly straight forward.   I hope her children know how amazing their mommy is for making them such a great playhouse!