Bringing Outdoors In and Indoors Out
This post was sponsored by Target, all opinions are my own.

It's so close to summer I can almost taste it.  Except that it has been raining and cloudy every single day this month; it almost feels more like fall or winter and I'm getting depressed.  Utah's weather is moderate but the spot where I live is a wind tunnel that makes the weather a bit more extreme than most other parts of the state.
Since I also live in a new construction zone, we get tons of dirt blowing around.  Wind tunnel + dirt makes for a very dirty exterior.  It should get better once everyone gets their yards put in, but for now, I have to figure out a way to have an outdoor entertaining space that can be super flexible and work for both indoor and out.
I went to Target and looked at their beautiful outdoor selection.  It really is gorgeous–the colors are rich, the fabrics feel high quality, the prints are unique and pretty.  Which makes these items perfect for indoors or outside.  To refresh my spaces, I purchased two throw pillows, a pouf, and a beautiful galvanized lantern with an LED candle.  These are all very versatile items.
To bring outdoors in, I placed the pillows on my couch, the lantern on my sofa table, and the pouf in front of a wing chair.  See how great they fit into my indoor decor?  They give the space a fresh, summery feel.  Since we have such large windows, you almost feel like you are outside.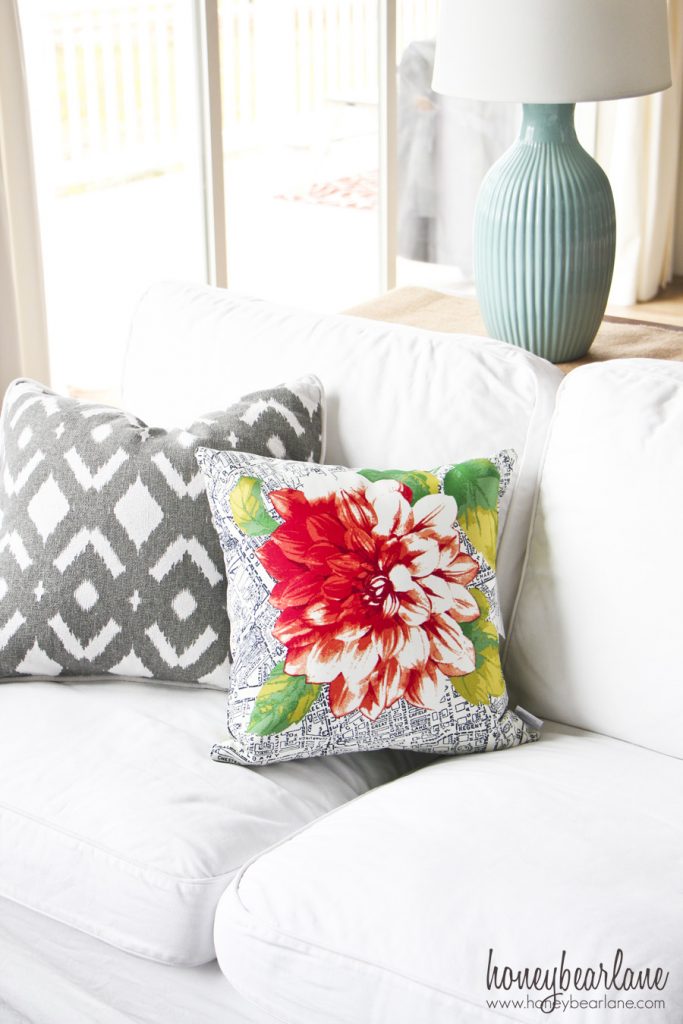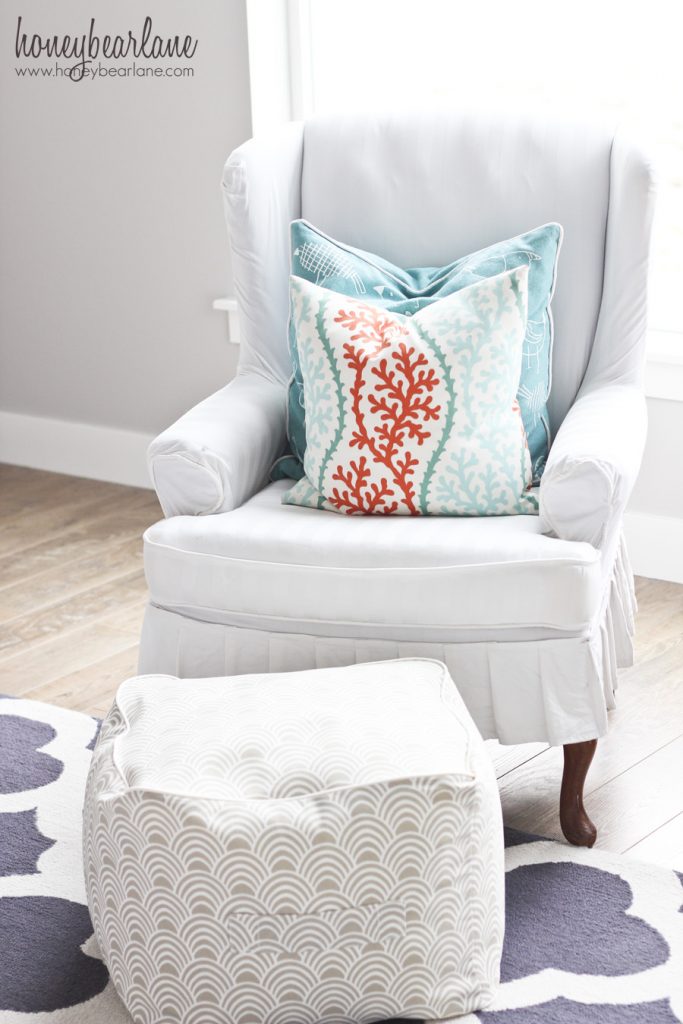 And when the weather is nice and we want to entertain out on the deck, I just grab these four things and move them to my outdoor furniture…
You can't go wrong with white Adirondack chairs.  We want to build a sectional to go around a fire pit out here but these things take time…(and money.)  So for now we have these chairs, made a little more comfortable and cute with some accessories.  And I love the little lantern for nighttime, the LED light won't ever blow out and even runs on a timer so it will automatically turn off for you.
The best part was these items were SO affordable.  Check out these prices:
Pillows:  $11 each
Pouf:  $40
Lantern:  $20
I refreshed my living room and outdoor space for less than $100!  And the pillows and pouf are all Scotch guarded with outdoor protective spray so they can handle the wind and rain.
I don't want to leave them out there since they are also working for my indoor living room, but if I forgot, it's no biggie!
It's so easy to make your outdoor space feel homey and cozy and almost like the indoors with a few soft accessories.  Get an indoor/outdoor rug, some indoor/outdoor pillows, maybe a blanket or two.  Have a small side table for a candle or lantern and a tray for serving drinks.  And of course a pouf for extra seating or to put your feet up.  I could sit out here for hours!
On the flip side, you can bring the outdoors inside by using lots of floral and nature prints (like my flower and butterfly pillows), the lantern works as a decoration AND ambient lighting, and the pouf is another seat or footrest for anyone.  Since the fabrics are so pretty, they totally blend in with the decor that is already inside.
Place houseplants around the room, decorate with colors of nature and natural products like wood. Open a window, light the fire, and just feel like you are outside without actually having to be outside, if that's not your thing.
Find your style @targetstyle.  Get more insights and tips on indoor/outdoor decorating from this video with Emily Henderson. #targetstyle