I finally finished the hardest thing I have ever worked on– DIY stair wainscoting.  Whew–guys, this was HARD to do.  However, it was much, much harder because of one thing that most of you won't have in your house–this angled wall that my stairs wrap around.  If your stairs just go straight up a wall, it won't be nearly as hard.  I loved this tutorial by Thrifty Decor Chic.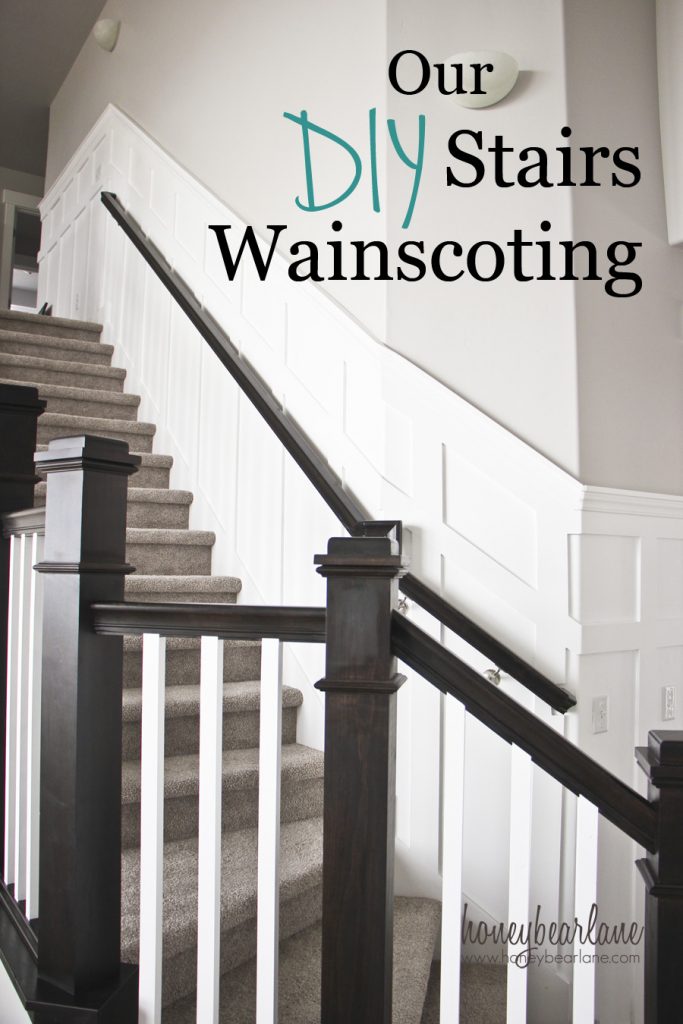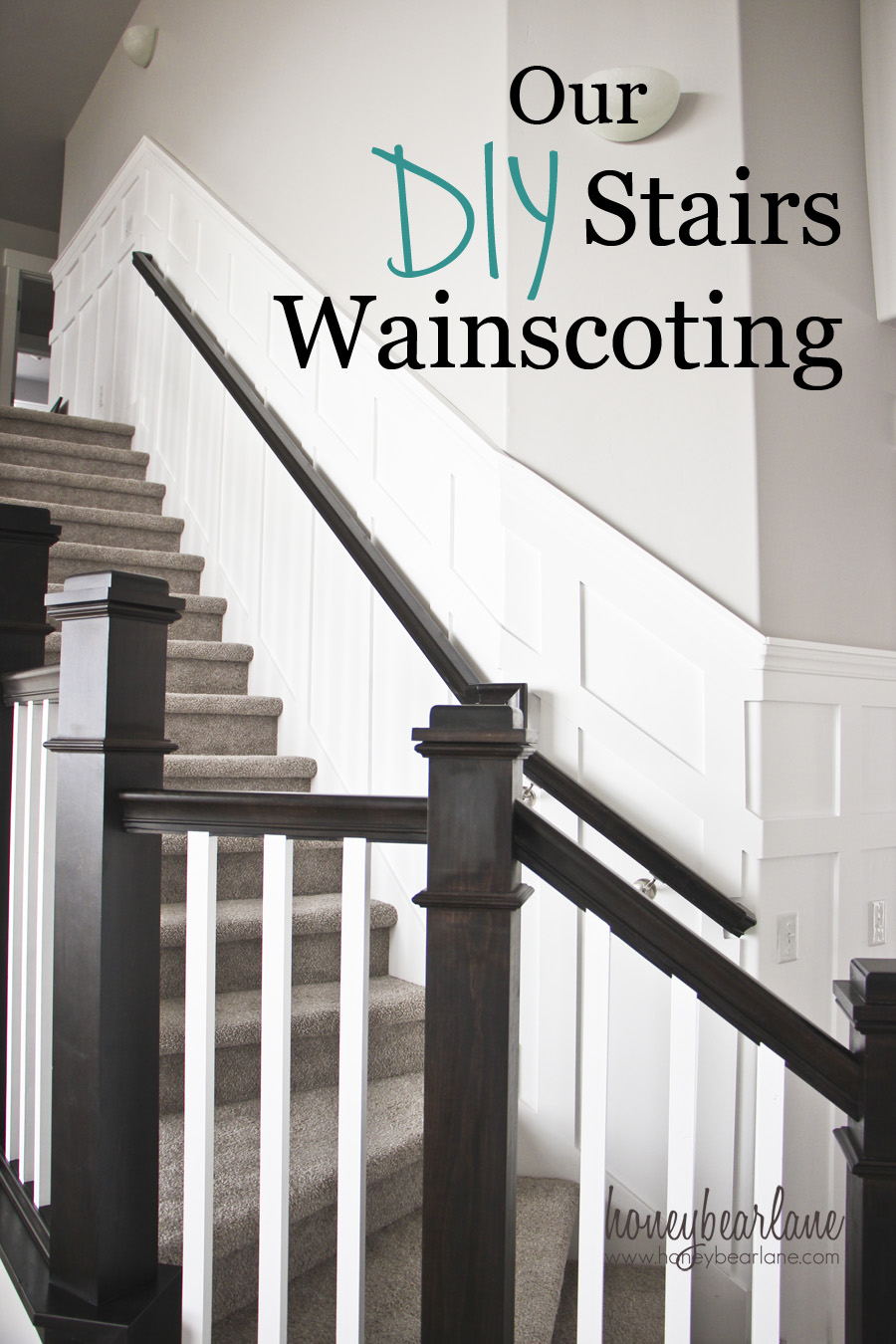 This isn't really a tutorial as much as it is a story about this adventure and also to show you the finished results.  I'm pretty happy with the results and glad I stuck it out.  There was a while when I was seriously going to just hire someone to finish it because I got to a point where I couldn't figure out the angles to cut.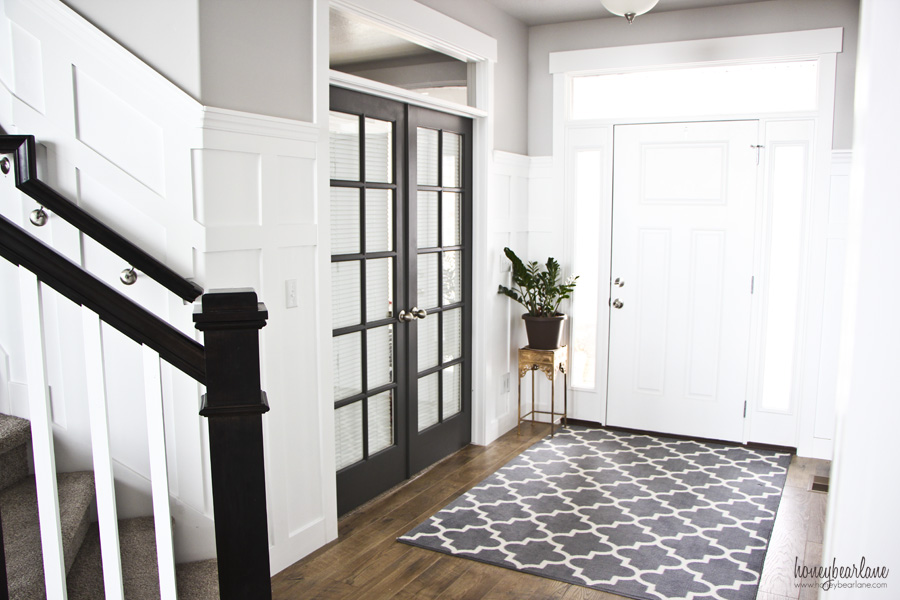 Before I started this little adventure, this is what it looked like: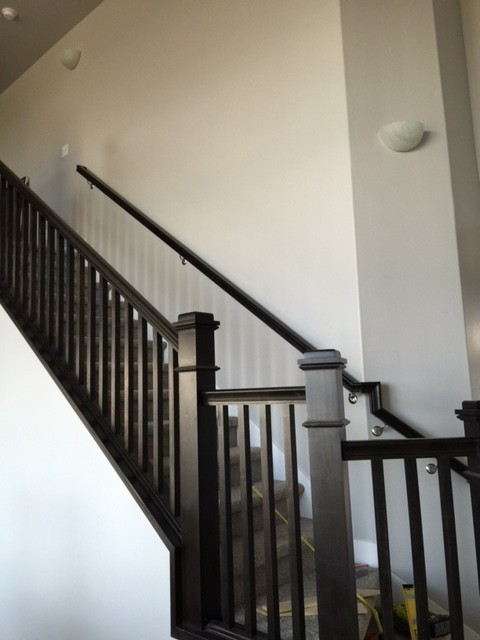 I first started in the entry, doing the same board and batten that I had on the other side.  I used a 1×2 top board inside of a 1×4 though.  Then I got to the point where I need to start going up the stairs.  I started with one of the 3.5″ cross pieces, cutting it at a 37.5 miter angle and a 22.5 bevel because the board was turning an angled corner as well as going up diagonally.  And I did this stupid thing of trying to follow the weird angles of the handrail instead of just making it simpler and going straight.  Look how hideous this was…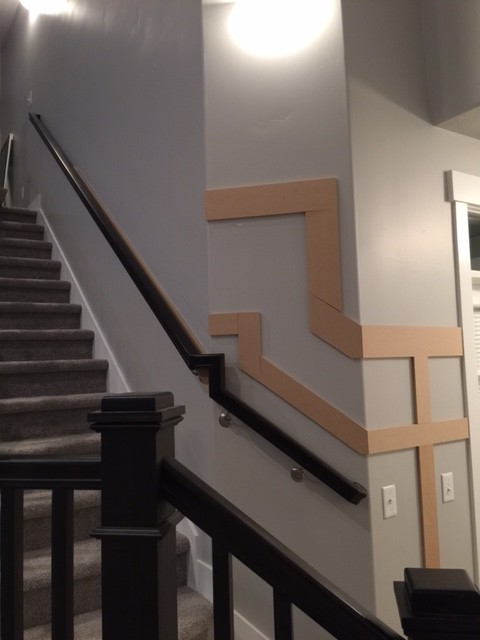 I can't believe I was going to do that.  My husband talked me out of it and I'm SO glad.  Huge mistake there.  So I ripped that out (which was sadly like two hours of work) and just went straight up.  I added the top 5″ crosspiece and was doing okay.  I also cut another crosspiece for the next turn and made sure that these lined up pretty well at the joint (the turn of the wall).  That was hard just because I was doing it alone and holding the pieces up by myself was tricky.  This would have been a lot easier to have help but since I mostly work during the week while Husband is at work, I did it alone.
I started cutting the vertical pieces, which were also cut at a 37.5″ angle.  I had to play with the angle a bit to get it perfect.  Your angle will probably be a bit different.  And it was also tricky to cut it long enough because the angles threw me off on the length.  There was a LOT of walking back and forth between the stairs and the saw.  Once I got the right height for a vertical piece, I cut two and then put one low on the stairs and one high towards the top of the stairs.  Then I could set the crosspiece on top and make sure it was the right angle going up.
I didn't end up nailing into studs for most of these because it was too hard to make sure they were evenly spaced AND hitting a stud.  I did glue a couple but it's mostly fine if you just nail it with 2″ nails and then after it's caulked and painted it won't go anywhere.
Once I reached the top of the stairs, I also continued in the upstairs wall and a little bit around the corner.  It was all pretty straight forward after that.  Until…
I got to the decorative trim–a curvy piece and the topper piece which lies flat like a little shelf.  I had to have this because it was already on the other board and batten downstairs and I wanted it to all be uniform.  Plus it looks a lot more finished.  But doing the angles and trying to make it all line up was so, so hard.  Look at this: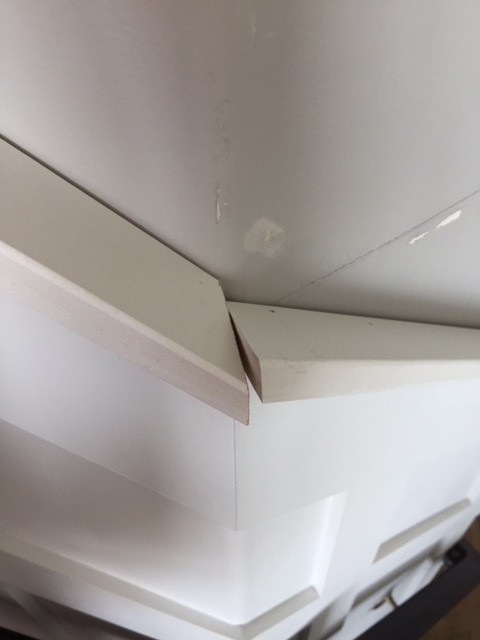 At one point I had spent about three hours trying to figure out the angles and couldn't get it so I just quit and let it sit for like three weeks.  My husband said he would work on it if he had time but he never had time.
One day I was getting things done and somehow found myself looking at the problem again.  And somehow, I got it to work.  I can't even explain it because it's quite confusing to explain but if you're dying for the details of that, just shoot me an email.  It's a little more wonky than I would have liked, but it is smooth and connected and finished.  There was a lot of fine sanding and lots of caulk involved.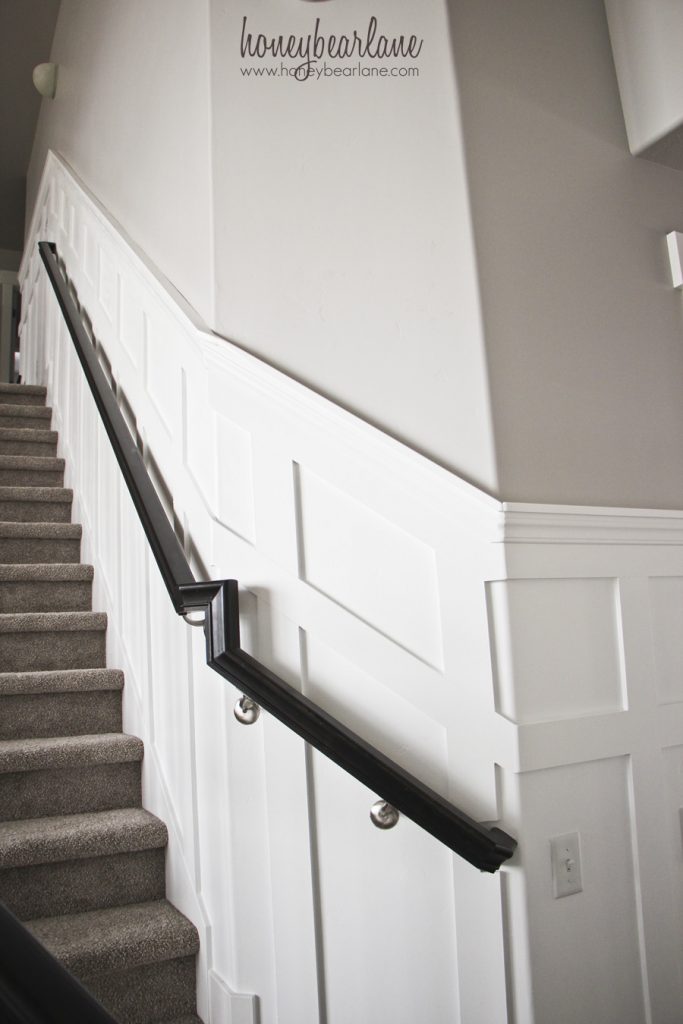 Once it was done, I filled all the nail holes and caulked everything.  Then I was painting for days.  I had already primed a lot of it.  This picture below is the board and batten primed before I put on the little decorative trim topper pieces.  I primed most of it because I was having guests and I didn't want it to look totally hideous.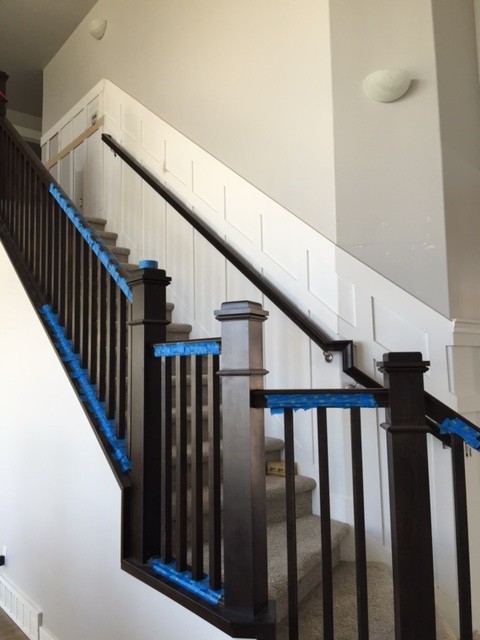 But then I primed the rest and added two or three coats of the top coat which is just Ultra White in Valspar paint, in satin.  I rolled most of it but did do a coat with my paint sprayer, just to get in all those little angled corners which I couldn't reach with the roller.  We also took off the handrail for all the painting, it was much easier.  Putting it back on was more of a challenge, but we survived, barely.  Then I painted the wall above with the gray paint (Sherwin Williams Passive Gray).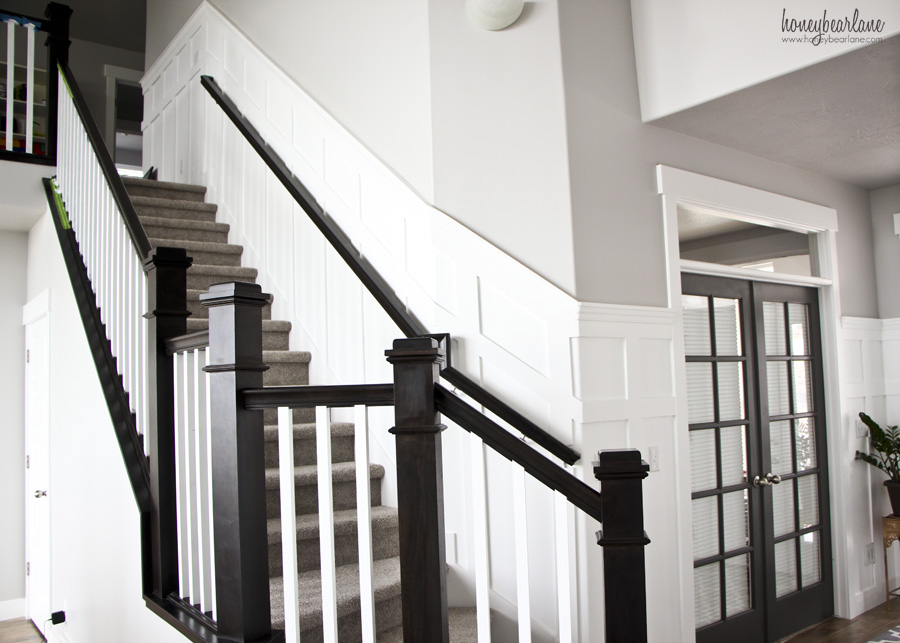 And now it's done!!!  It looks so beautiful and I can't wait to start the gallery wall above it.  My house is desperate for some art on the walls and feels very empty without it.  We are also currently painting the balusters on the stairs which is a whole other difficult project that I will explain once it's done, so just ignore the green tape you see.
Now I know why people charge so much for these things!