Cozy Fall Living Room Update

This post is sponsored by Target.
No more saying "Fall is on it's way"-it's here!  The leaves are changing, it's nearly October, there's the nip in the air.  So it's perfectly safe to pull out your fall decor-no one can accuse you of being too anxious.  However, mine has been out since the end of August…but I wanted to add some extra cozy touches, especially since all the fall TV premieres are coming and we will be spending more time cuddling up on the couches.  So I put away all my summery pillows (kinda sad, yes) and went on a hunt for the perfect fall/winter pillows to begin my fall living room update.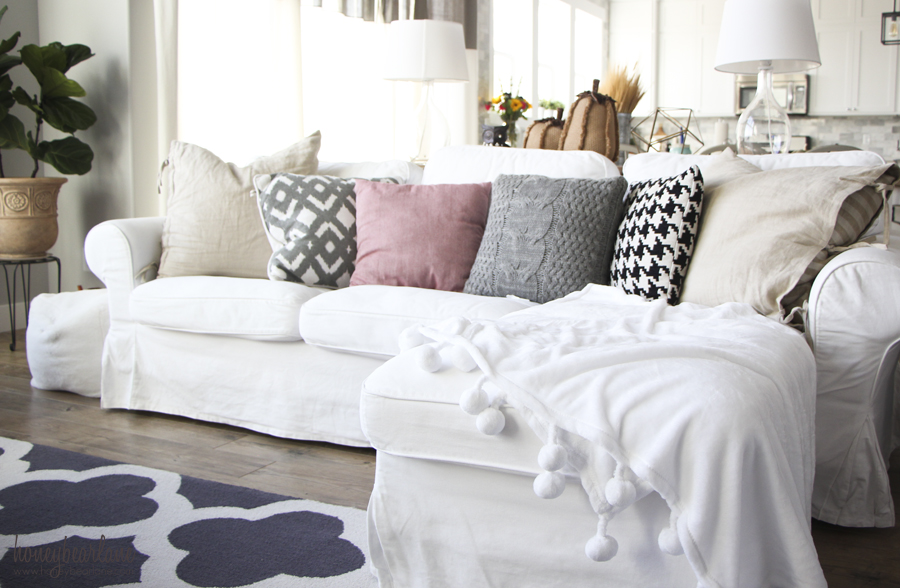 I tried a few of my usual haunts to no avail.  Then I headed to Target and seriously scored!  It was the beginning of their clearance and I found exactly what I was looking for at discount prices.  Such a great feeling, right?  I decided this fall to focus on mostly neutrals with pops of red.  I've always loved red, but I overdid it on red back when I first got married so we had to break up for a while (me and red, not me and my husband–how crazy do you think I am?). But I think it's safe to bring back very minimal amounts of red now.  A little can go a long way!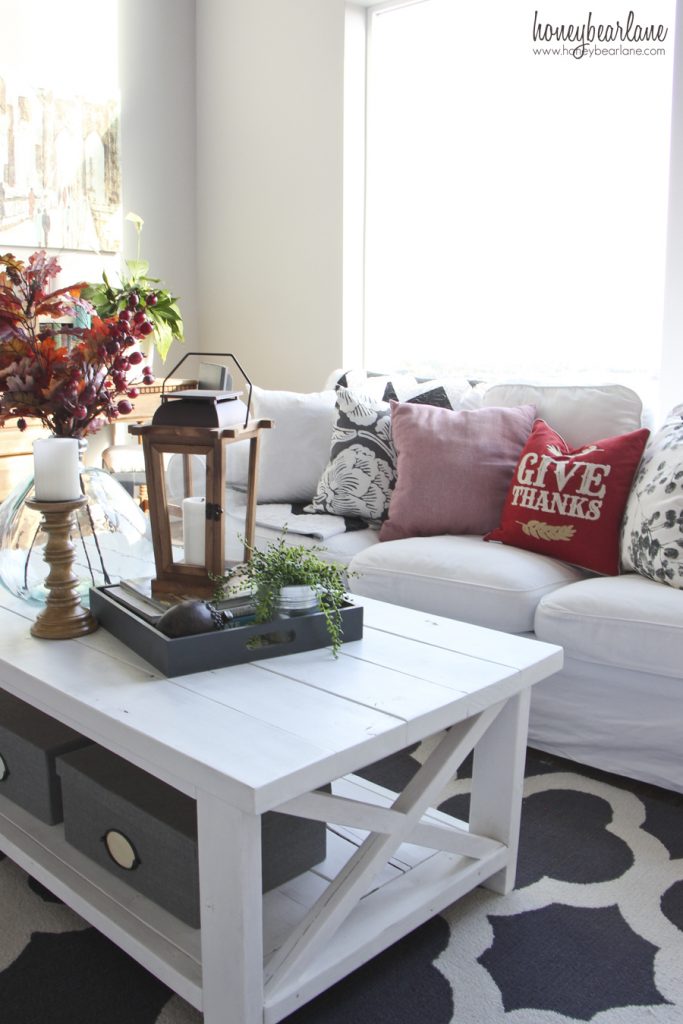 I had a few red lanterns and I got this cute red Thanksgiving-style pillow at a discount store, so I just needed a bunch of cute gray and maybe red pillows.  Maybe a neutral throw too.  This is what I got at Target:
Two red pillows
One black and white floral pillow
Two gray floral pillows
One gray sweater pillow
Two white poufs
One white pom-pom throw
LED candles
Candleholder
These accents were mostly all I needed to complete my new fall look so I could cozy up in my living room and start enjoying all those season premieres.   Poufs are always great to have–they can work as ottomans or tables or extra seating.  And they were on clearance from the college dorm style stuff.  I love them-they are sooo soft.  The whole feel of the room changed with just a few quick and easy updates-change the color scheme with pillows, add in plush textures like the pom-poms and fur and sweater knits, and, of course, have plenty of throw blankets available to pull over yourself.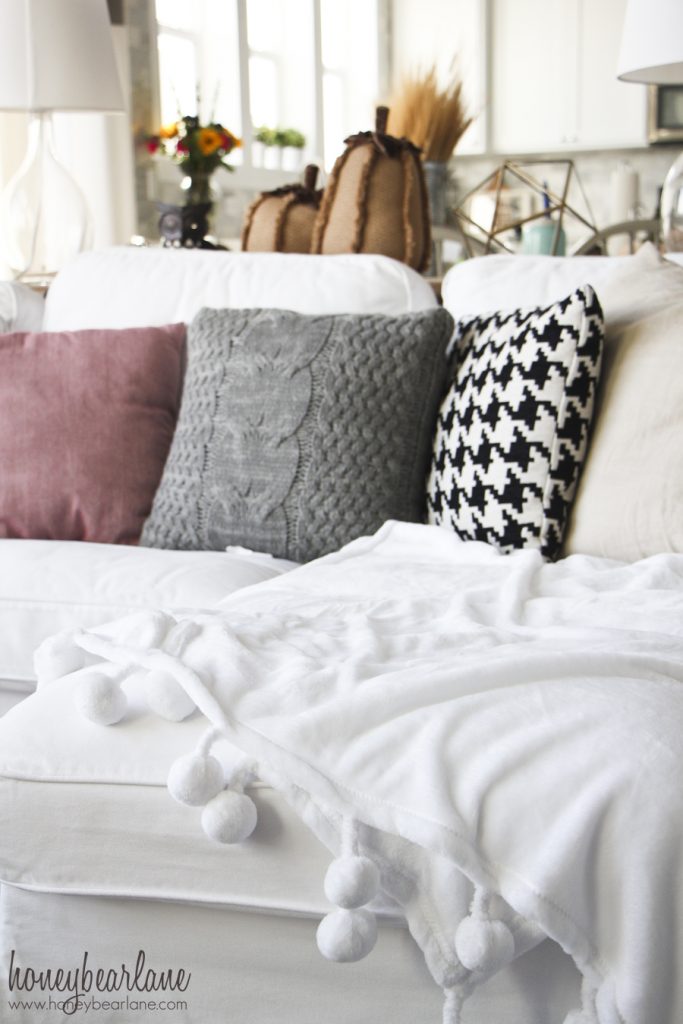 I got some new faux fall florals (say that ten times fast!) for my giant glass vase and arranged decor on my cute little coffee table that I love.  Then I arranged the pillows with a few I already had and it all just worked.  I achieved a very cozy, fall feeling without having to scream orange.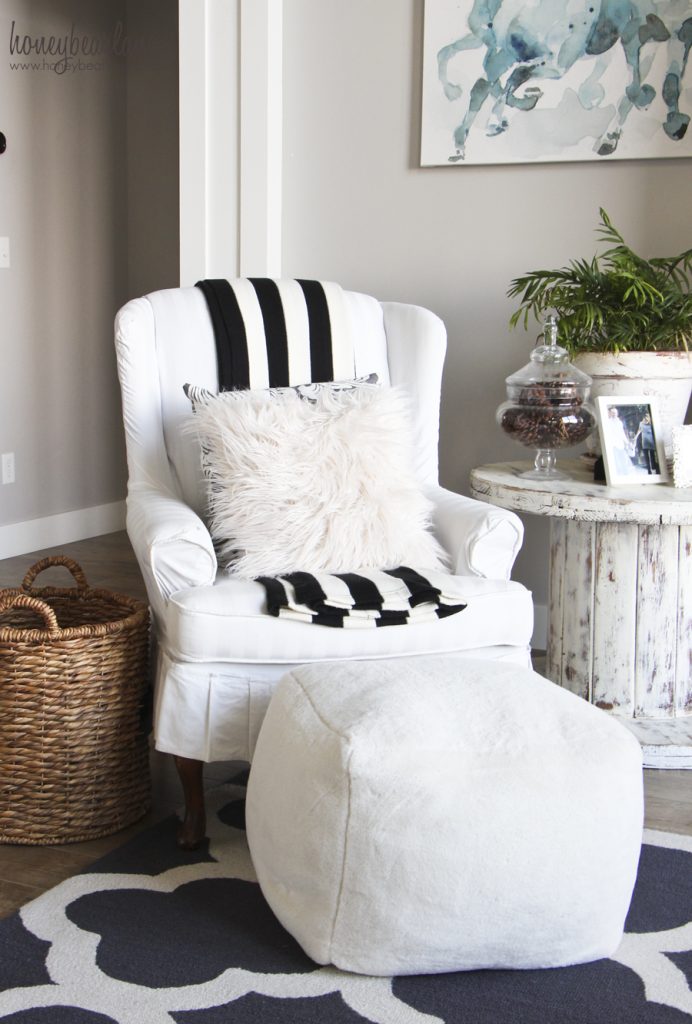 Now I can pop a bowl of my favorite popcorn and enjoy some fun season premieres this week with my hubby.  If you are hosting any kind of viewing party this fall, these are super easy and quick updates that you can do to bring in extra seating and make it extremely comfortable for everyone!
Find your style @ TargetStyle