Why I Chose Laminate Flooring
After receiving tons of questions about my flooring, I decided to write this post for y'all.  You're welcome.  🙂
I agonized over our flooring decisions when we built our house.  I've always wanted that gorgeous waxed solid wood flooring that was in the Parade homes.  But with three little kids?  Completely not practical.  And they are extremely high maintenance (the waxed ones.)  I read that you needed to wax once if not twice a year.  Ain't nobody got time for that!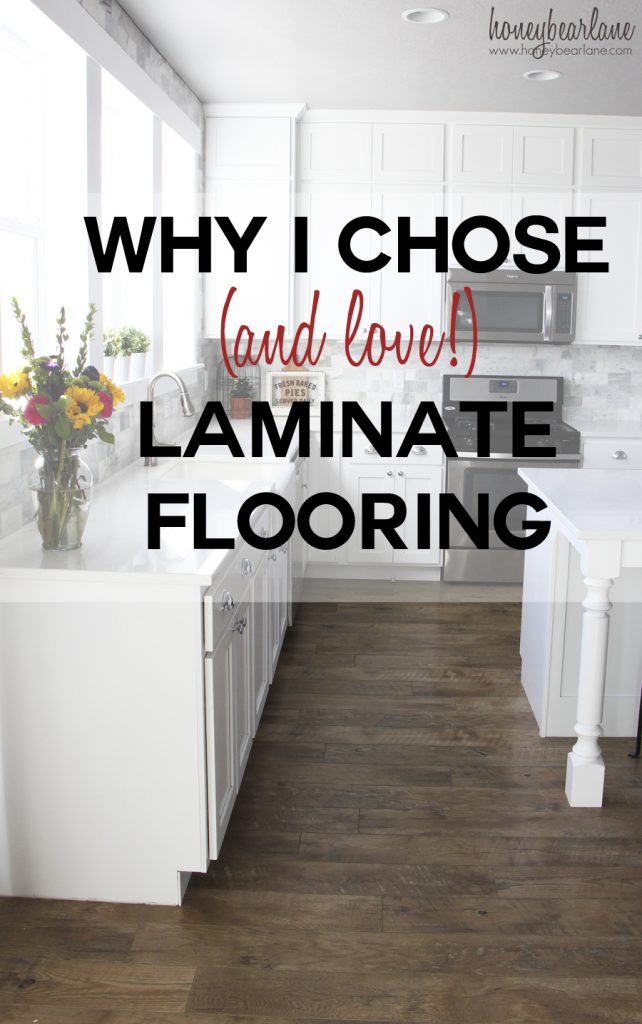 But still I wavered back and forth.  The place we were renting had laminate which I hated.  It was a lower quality laminate but I hated how much it showed.  It was dark brown with little variation so you could see every speck of dirt and dust and footprints.
Laminate flooring is actually just a photograph of wood printed on a piece of MDF.  Isn't that kinda crazy?  The description makes it sounds so fake and cheap.  Which is why I was turned off.  All my life we had done things on the cheap and it showed.  I was sick of things looking cheap.  But laminate has come a loooong way.  The samples we looked at in the showroom were astounding.  They had texture even to replicate a reclaimed barn wood feel.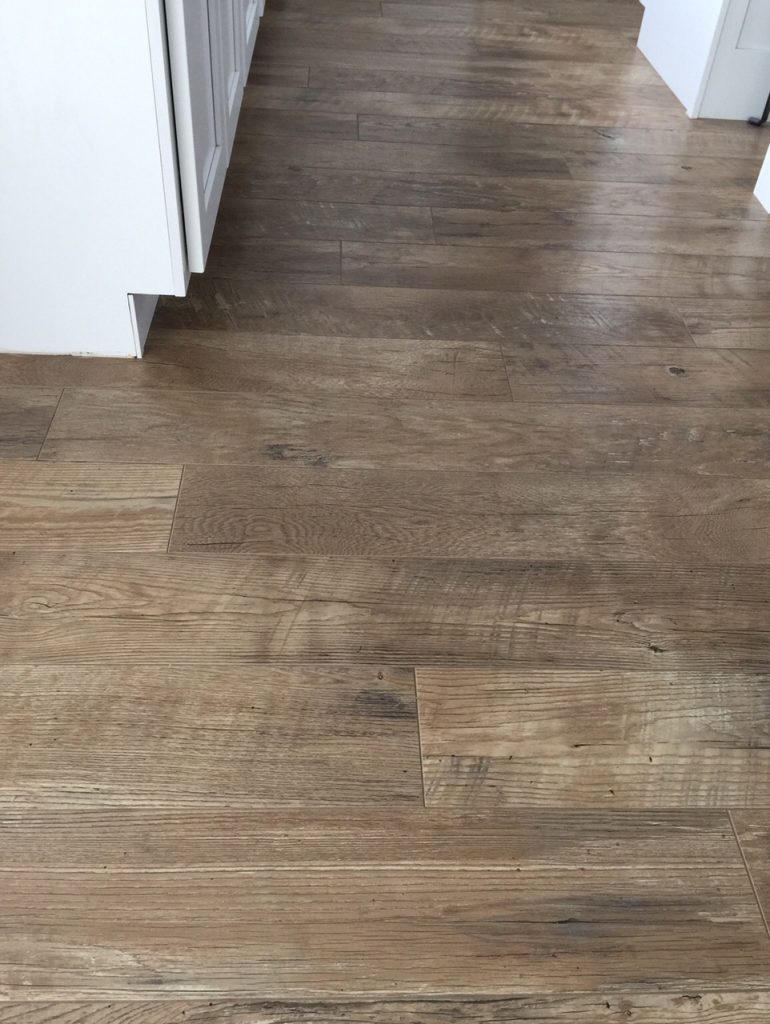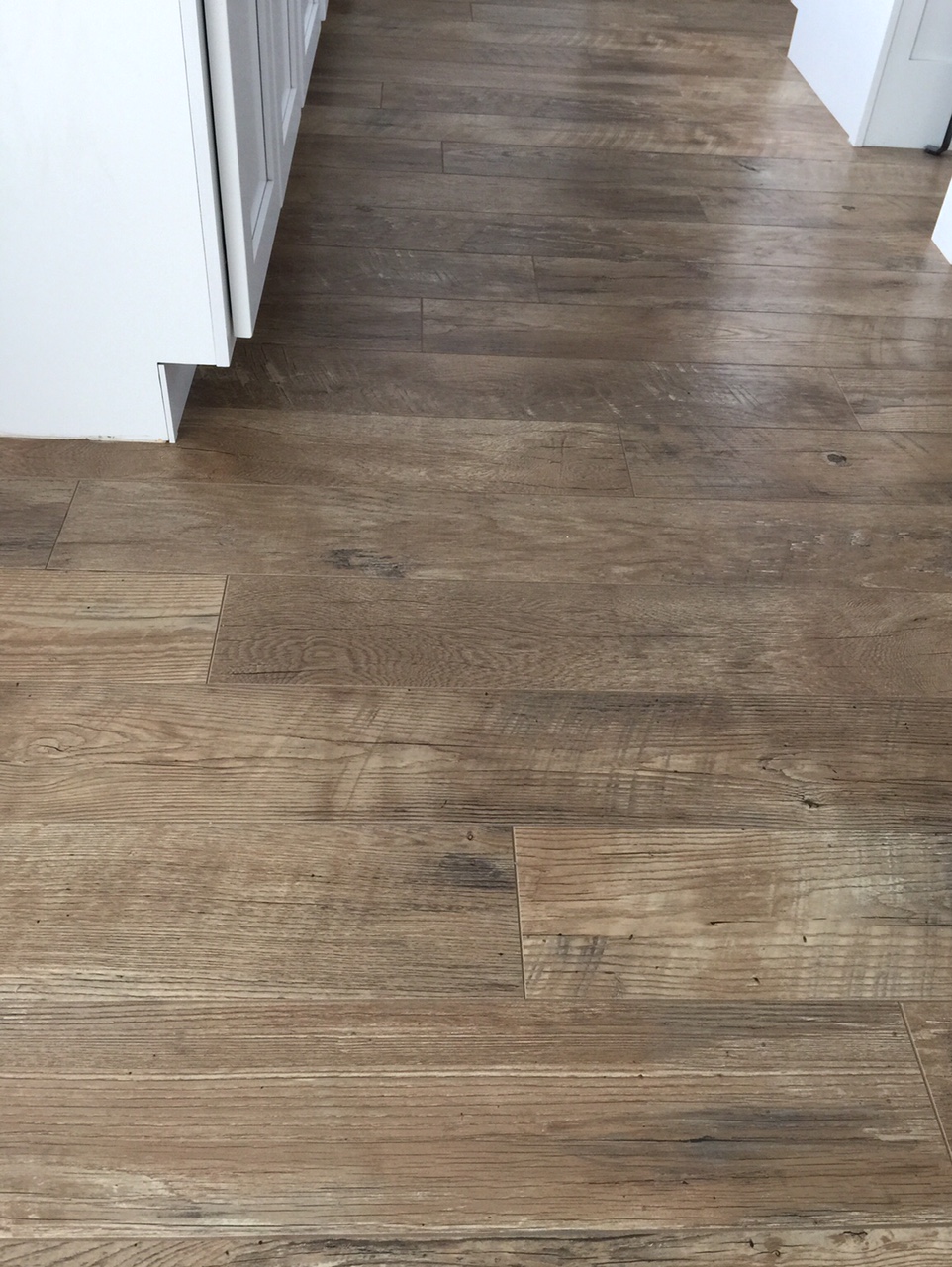 I took a little Instagram poll and I was overwhelmed by the number of people in favor of laminate.  And I couldn't beat the price of laminate flooring.  Since I wanted it throughout my entire main floor, I was going to need a lot and the wood was double the price.  We ended up getting a high end laminate that has texture and detail and variation.  And I think it holds up to moisture pretty well.  It's called Historic Oak in Ash through the company Mannington.  Mannington has a ton of high end laminates that are gorgeous.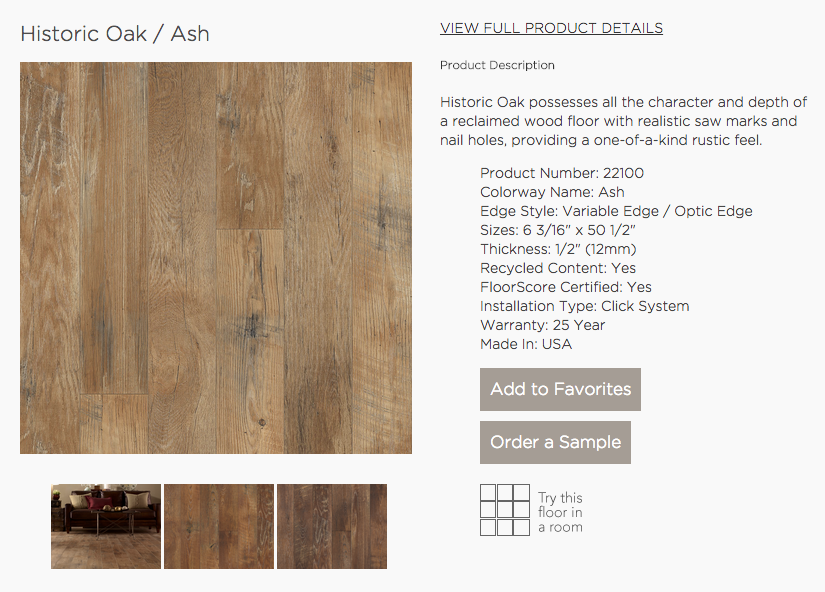 I love that it has the reclaimed wood feel, lots of variation, texture, large planks, and varying tones throughout.  It matches our gray walls really well even though they are brown.  I love that it has a matte finish so it doesn't show footprints at all.  Now that we've lived in our home for 10 months, here is my updated thought on my flooring:  Still love it!  I wouldn't change it.  Sometimes I wonder if I should have gone with the medium shade which is the one I initially fell in love with, but either way it would have been great.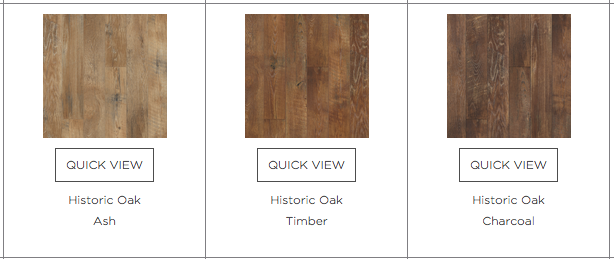 As for scratching, it hardly ever does.  We have changed our furniture around a lot and it has almost never scratched.  There was one time that a little pebble was lodged under the leg of a chair that scratched it but I don't notice it anymore.  And I think there's some type of pen or something you can smudge into the scratch to cover it.  I have steam mopped my floors several times and the boards never swell or anything.  Most of the time I just spot mop because it's really hard to see dirt.  No offense to my sister and her gorgeous dark wood floors, but I think my floors are a million times easier to take care of.
We also were okay with choosing laminate flooring because we live in an moderately priced area with no historic homes.  Laminate is the norm here.  However if you live in an old or historic home, I would recommend replacing flooring with solid wood close to the original.  And if you live in an upscale neighborhood, likewise, since most homebuyers in that price range will probably expect real wood floors.  Although most people that come into my house think my floors ARE real wood.
So here's my recommendation for people looking at new wood-type flooring:  Get a high quality laminate (if that is acceptable to your area) and get a medium color with lots of detail in the design.  Unless you have your heart set on super dark, just be prepared to clean them all.the.time.  I wish my mom would change her kitchen flooring to this because I know she would have a lot less cleaning to do!  Bottom line, this flooring has looked good with everything in my house, hardly ever scratches, shows hardly any dirt, and is extremely low maintenance.  Love it!