Our Fall Craft Party and a Recipe
This is a sponsored post written by me on behalf of The Hershey Company for IZEA. All opinions are 100% mine.
It's no secret that I love Halloween parties.  I love everything about the fall, actually.  This year, instead of throwing a Halloween party like I usually do (well, it might still happen) I decided to kick things off early with a fun Fall Craft Party.  I live in a new neighborhood and everyone is very gung-ho to mean new friends and neighbors.  And since crafting is my specialty, I decided to help others channel their creativity and try something new!
First I decided on a craft.  I chose two simple wreath ideas–one wrapped in fabric and the other is a burlap bubble-style wreath.  I made the invitation via Photoshop and posted it on the community website–that's it!  Everyone is so friendly that I immediately had at least 30 people RSVP.  The key is to make the craft extremely simple so that anyone at any crafting level feels confident they could do it and also encourage them to come and just 'hang out' if they prefer.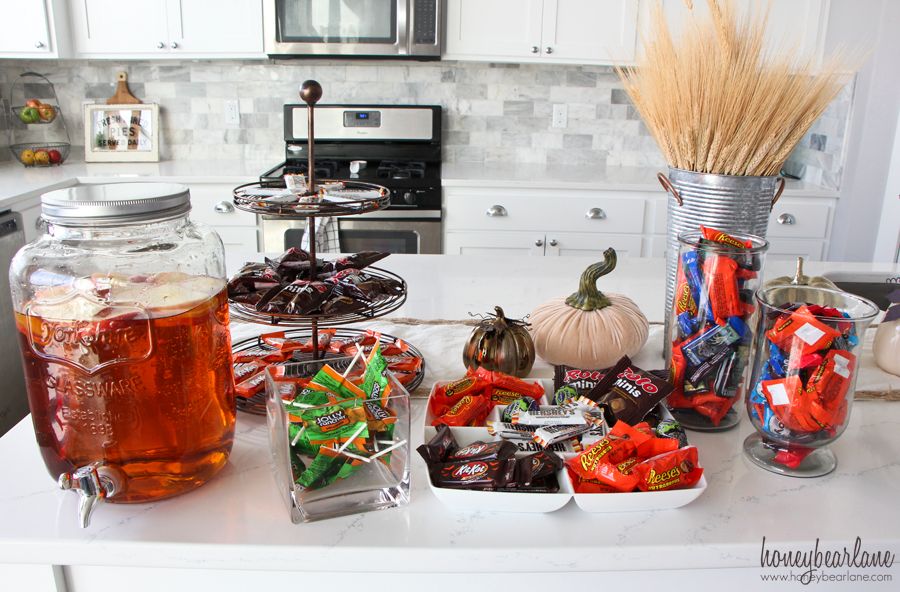 So many people offered to bring a treat that I didn't actually need to provide any of my own.  But that makes me uncomfortable, offering nothing.  And what if no one brought anything?  So I did the easiest thing I could–Halloween candy!  This is obvious solution to this problem.  I didn't have to waste time making something but no one could be mad if there was nothing to snack on.  All it takes are some cute jars and food displays and it looks festive and fun and even a little magical!  This assortment of Hershey's candy was unique with things like Cadbury Screme Eggs and Hershey's Candy Corn bars. But there are the old favorites like Reese's Peanut Butter Pumpkins, Almond Joy bars, Rolos® candies, Kit Kat® bars, and more…something for everyone!
I moved my autumn decor to the island so I could use my big farmhouse table for crafting.  I also borrowed some folding tables and chairs and covered all the tables in contractor's paper.  That stuff is cheap to buy and extremely handy.  You can use it to cover tables for activities or parties or dinners or whatever.  You could decorate it beforehand, leave it blank, or let your guests draw on it.  How fun would it be to draw placemats for Thanksgiving?  Draw a plate and napkin and stuff.  Then everyone can write what they are thankful for.  But I digress.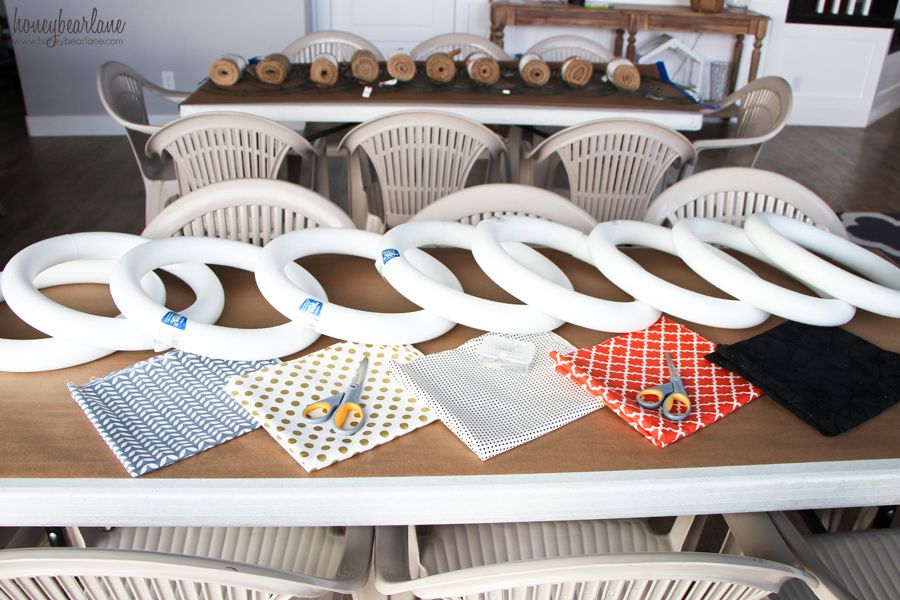 I laid out the supplies–foam forms and fabric, wire forms and burlap, pins and ribbons and scissors. A good idea would be to start purchasing this stuff well in advance so you can take advantage of the sales.  But I didn't have time.  And everyone had already agreed to bring $10 for the supplies.
Everything was set out, and it was easy peasy.  I did have to move around some furniture to have enough open space, but that's the beauty of my floorplan. It accommodates massive groups really well.  Once the furniture was in place, all I had to do was cover the tables and lay out the supplies.  Since we had a great candy buffet with Hershey's Halloween candy, everything was ready to go really quickly!
The craft party was really a huge hit!  (Sorry for the blurry pictures!) And it was fun and relaxing.  We had tons of people show up, at least 25…probably more.  I welcomed everyone and showed people where to go for the particular craft they wanted to make.  I did a quick demonstration for each type of wreath (because they are both pretty dang easy to make) and then everyone was well on their way.  Tons of treats showed up as well–so there were tons of leftovers!  Another great thing about Halloween candy as a treat–I used the leftovers to make  to make these delicious Halloween candy Blondies!  These are easy and fast and so yummy!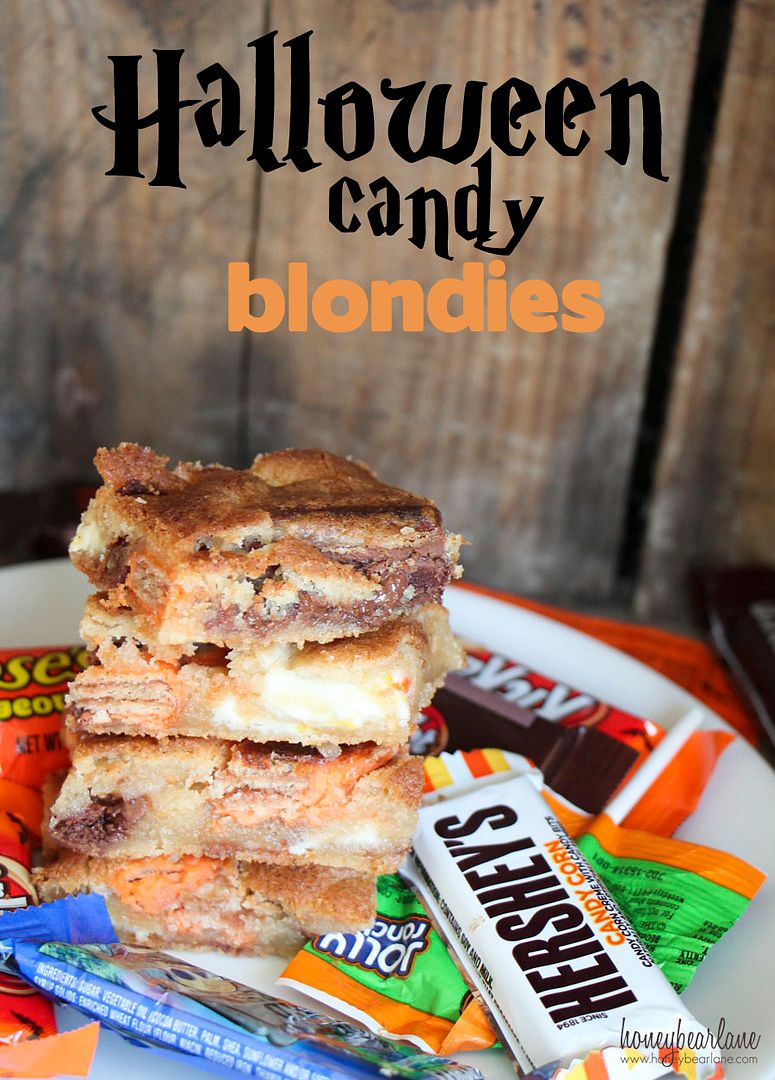 Halloween Candy Blondies
1/2 cup softened butter
1/2 cup sugar
1/2 cup brown sugar
1 egg
1 tsp. vanilla
1/2 tsp baking powder
1 cup flour
Hershey's Candy Corn bars
Reese's Nutrageous chocolates
Orange Kit Kat® bars
Combine the butter and sugars well.  Then add in the egg and vanilla.  Finally add in the baking powder and flour.  It will be a pretty thick, cookie-dough like batter.  Break up the Hershey's Candy Corn bars, Reese's Nutrageous chocolates and orange Kit Kat® bars and mix it into the batter.  Then spread it in a 9×9 pan.  Bake at 350 for about 20 minutes.  It will be brown on top but still soft in the middle.
Click here for more Halloween party ideas
Click here for more costumes & crafts
Click here for more Halloween recipes