Top 10 Tool Gifts for DIYers
Christmas is coming and if you're like me, your list is full of 'weird' gift ideas like new tools and such.  Well, being a DIYer, I know what would make ME happy to receive–tool gifts!  So this gift list is for all you people who are DIYers–send your loved ones to this post and say "Get me anything on here."
This list includes affiliate links, please see my full disclosure here

Ryobi Nailers 18-Volt One+ AirStrike Brad Nailer Kit
This little baby is how I get 2/3rds of my stuff done.  If you don't have a nail gun and consider yourself a DIYer, you must get one immediately.  I honestly don't know how you get anything done without one!  I'm a board and batten goddess-meaning it is literally all over my house-and this is the #1 tool for that job.  Makes it fast and easy.  The perk of this particular nail gun is that no air compressor is needed!  It's extremely un-intimidating as far as nail guns go.  This particular one includes a battery and charger, so it's great if you haven't got other Ryobi tools (the batteries go into each tool so you only need a couple to power all the tools.)
DEWALT 12-Inch Double Bevel Sliding Compound Miter Saw
 with DEWALT Rolling Miter Saw Stand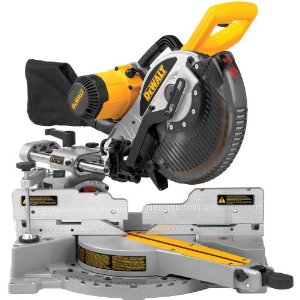 This is the Miter saw I wish I had–mine is 10 inch.  For some reason when I made the purchase, I felt like the 12 inch ones were too big for me to handle.  But now that I've done more building, I realize the 12 inch has capabilities that the 10 inch can't handle quite as well.  It's an investment yes, but the extra features are well worth it.  This is THE tool you want to splurge on.  Your DIYer will cry with delight on Christmas morning!  And the stand is so incredibly convenient for placing your baby on…you can wheel it around and it has these extension supports for long pieces of wood…it's really great.
Kreg Jig Master System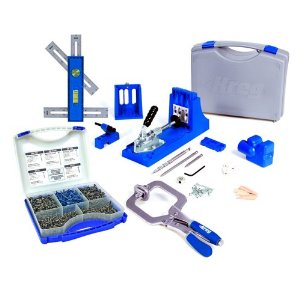 I've built tons of things using my Kreg Jig system, mostly furniture.  It's a must for anyone wanting to build furniture (which is pretty addicting once you start doing it.)  It creates perfect pocket holes which are a very strong joint and are more hidden and attractive, hiding screw heads and such.  I love the master system because it comes with the right angle clamp, super handy for holding your wood in place while you screw in the screws.  Don't know how to use it?  It also comes with an instructional video.
Ryobi  Drill and Impact Driver Kit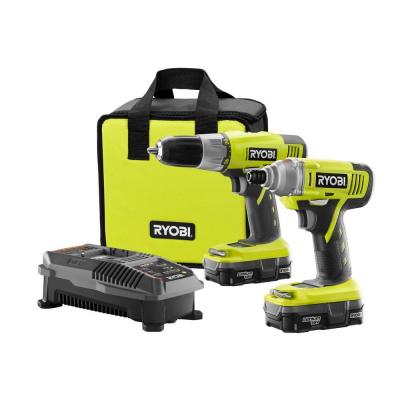 I use these so much that I forget how wonderful they are.  I one time tried to help my brother build something on-site and I had brought these.  The batteries died though so we had to resort to using his old drill.  It was completely worthless and after that experience, he went and bought these.  You really can't get anything done without a good drill and driver.  This is a great little combo kit that also comes with two batteries and a charger, as well as a handy carrying case.  It's the exact set I have, actually.
Dremel Multi-Max Oscillating Tool Kit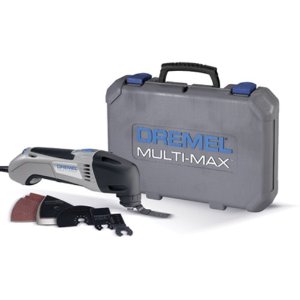 This tool isn't really one I use a ton, but it's really the only tool for the jobs that need to be done with it…if that makes sense.  It's the perfect thing for cutting into baseboards when you need to remove a section of baseboard (like when adding in built-ins or custom doorway framing) because it has this tiny little vibrating saw.  I've also use it in lieu of a chisel for smoothing out wood notches.  And it has a bunch of attachments you can use, like a tiny circular saw (perfect for cutting small flooring sections) and tiny sanding disks for detail work.  It's just super helpful and not every DIYer will have one.
Ridgid Random Orbit Sander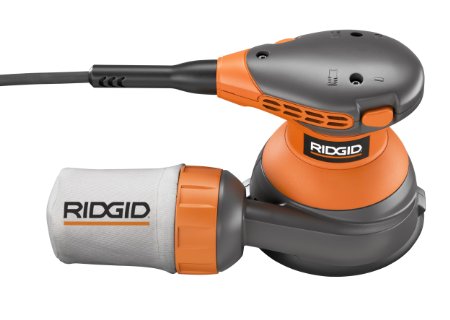 Chances are, you probably already have a mouse palm sander.  Those are great, but for serious sanding, you really need an Orbital sander.  I was able to sand my factory sealed dining table down to the bare wood in a few hours with this orbital sander and with very few squiggley lines when the mouse took DAYS and tons of sanding pads and left millions of squiggley lines.  This is the one I recommend because it's the one I have.  🙂
DEWALT Table Saw with 20-Inch Max Rip Capacity
I don't have this saw yet, but a contractor friend of mine does and he recommends it.  And this is the number one tool on MY Christmas list this year!  It's lightweight and compact, very portable and easy to store.  I think you could easily use this with a folding table, although I would probably want to get a stand if I used it a lot.  Table saws are THE tool for ripping lengthwise.  You can't really do that with any other kind of saw, although I have been successful with a circular saw and RipCut.  However the precision of a table saw is going to be much higher.  
Stanley 48-Inch Professional I-Beam Level
Levels are great, and you probably have one.  But having a large one like this has really come in handy so many times and I just feel like I trust it more since it spans a longer space.
Precision Sensors Stud Finder Professional Deep Scanning LED Profinder 5000
This stud finder is definitely pricey but extremely accurate and easy to read.  We actually bought one at Costco and then lost it so we went and bought another.  Then we found the first one–but it's great because we are always losing one of them.  It's simple:  push the button and place on the wall.  Where the lights light up, that's where there is wood behind.  Awesome.
Stanley Wonder Bar II Pry Bar
 and General Tech Rubber Mallet
These two babies are just so nice to have.  They are great for demolition-I've used them to remove baseboards, trim, faux backsplashes, etc.  It's small and manageable and the mallet helps you to gently get the crowbar in place.  Also mallets are awesome for tapping things into place when building furniture and such.  Great stocking stuffers!
Well there you have it–my top 10 tool gifts for DIYers.  Any of these would make great gifts for the DIYer in your life…and if you are the DIYer, just a hint or two to your present givers about this blog post and they can decide what to get you.  Happy building!