Compensation was provided by Hershey via MomTrends.  The opinions expressed herein are those of the author and are not indicative of the opinions of Hershey or Momtrends. #HSYMessageofLove
As a kid, Valentines Day was always so fun for me.  Not just because of school Valentines parties and all the candy and whatnot.  It started out fun first thing in the morning because my mom set out little bowls of candy and some fun little gifts next to it.  She always bought the best candy too.
I've tried to carry that tradition on with my own kids and for several years I've made them little collections of gifts and candy to set out on the table the night before so they'd wake up to it.  It's so fun for them to discover it.  And this year I wanted to do themed baskets.
My daughter is four, the prime age for loving Shopkins.  Shopkins are all the rage right now–little food and grocery themed toys with cute faces on them.  There's a million of them to collect and then there's all the little places they live–refrigerator, store, etc.  So I wanted to make a Shopkins Valentines Basket.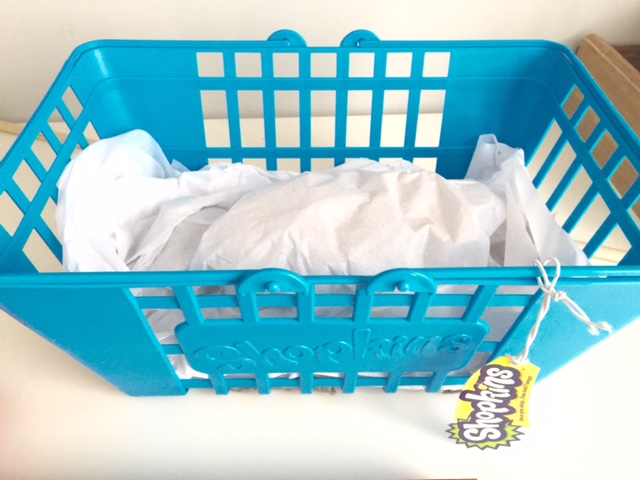 It's actually super easy.  I found the Shopkins basket at Walmart but you could easily do it with any type of gift basket.  Then you stuff the bottom with padding (I used a bunch of grocery bags) and covered it with white tissue paper.  I pushed the padding toward the back to back more of a 'levels' effect.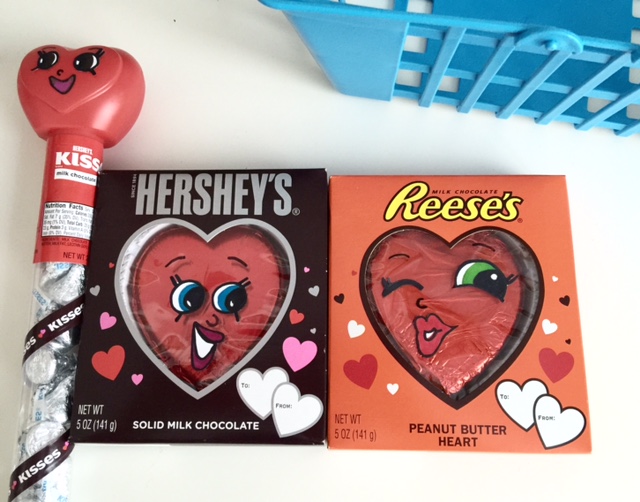 Then I got a giant Hershey's candy heart, a Reese's Peanut Butter 5 oz. heart, and a heart-topped Hershey's Kisses candy tube.  I drew some eyes and mouths on white cardstock with some Sharpies, copying the Shopkins style faces and then cut them out and glued them to the Hershey's to give them that Shopkins personality.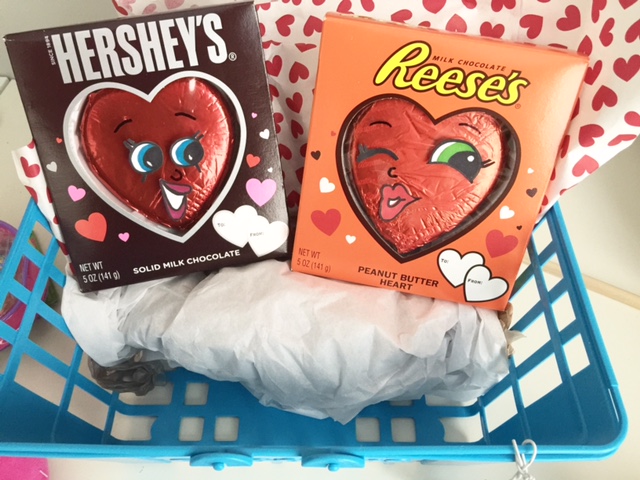 I layered the candy in the back and then in the front I added a few cute Shopkins toys–a lipstick plush, some chapstick, and pencil toppers.  My daughter will be ecstatic!  It's as easy as that to put it together!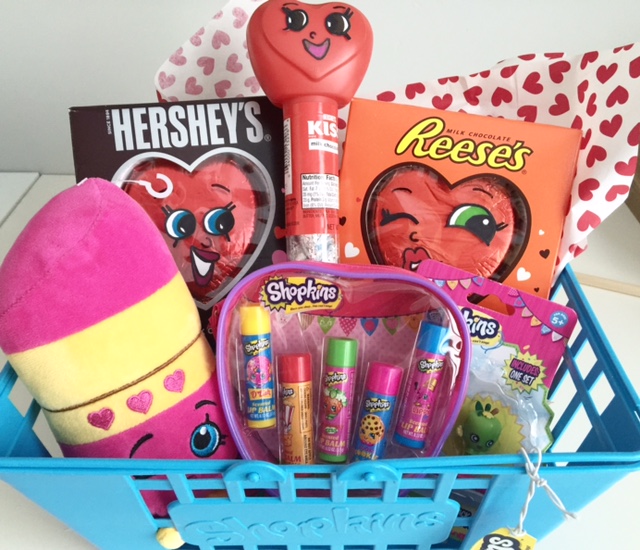 It's cute, right? Anyone can do this simply Valentine's basket, you barely have to have any artistic skills, because believe me, I don't. I can DIY with the best of them but drawing is NOT my forte! We have this Shopkins coloring book that I looked at while I basically copied the eyes and mouth on them and colored them with Sharpies.
And the possibilities are endless for creating Shopkins candy characters! You can use basically any Hershey's candy and give it a Shopkins face for your basket.  Now your little sweeties can have the best of both worlds-delicious chocolate and fun characters!
For more information, including recipes, visit CelebratewithHersheys.com