Master Closet Organization
I'm a member of the BHG Live Better Blogger Network.  All opinions are my own.
This month's Better Homes and Gardens post theme is "Small Spaces."  I instantly thought of my master closet.  It's a large closet that became a dumping ground from the moment we moved in.  It just wasn't pretty.  Since BHG has such a great line of organizational products, I figured this would be a great time to tackle this.  We jumped in and started the ultimate master closet organization project.
First we took everything out.  This was the painful part because our entire house seemed to get taken over by all our crap.  Boxes and piles and just so. much. stuff.  We sorted it out and made a pile of File, Donate, Throw Away, Basement, and a few others.  I loved doing this with my husband because when he goes into organizing mode he finally is willing to let go of clothes and things he hasn't used in years.  It was just…can't…even…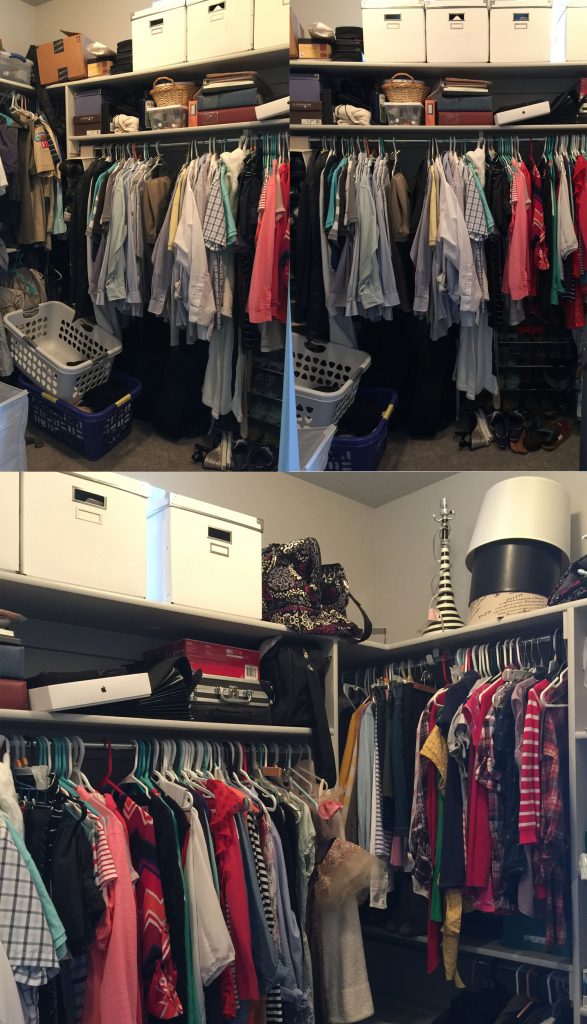 When everything was out, I figured out how I wanted to organize the closet.  Since we decided it is 95% for clothes and shoes, I wanted a better way to access my shoes.  I hated how buried they were before.  I decided to move my shoe rack up higher and sacrifice a hanging clothes spot for them.  I really don't have that many clothes that I wear on a regular rotation, so this was easy.  I also put my boots and Aaron's shoes on the smaller shelves so they are clearly out in the open and it's so nice!
I went to Walmart and bought a ton of Better Homes and Gardens organization things.  Here's a list of things I bought, and I ended up using all of them.
It took some time to switch out all the hangers but it was so worth it.  I feel like it made the closet come together so well and look professional and clean.  Plus I loved sorting the clothes into type and color.  And then spacing the hangers out evenly…okay, I was starting to get a little OCD at this point.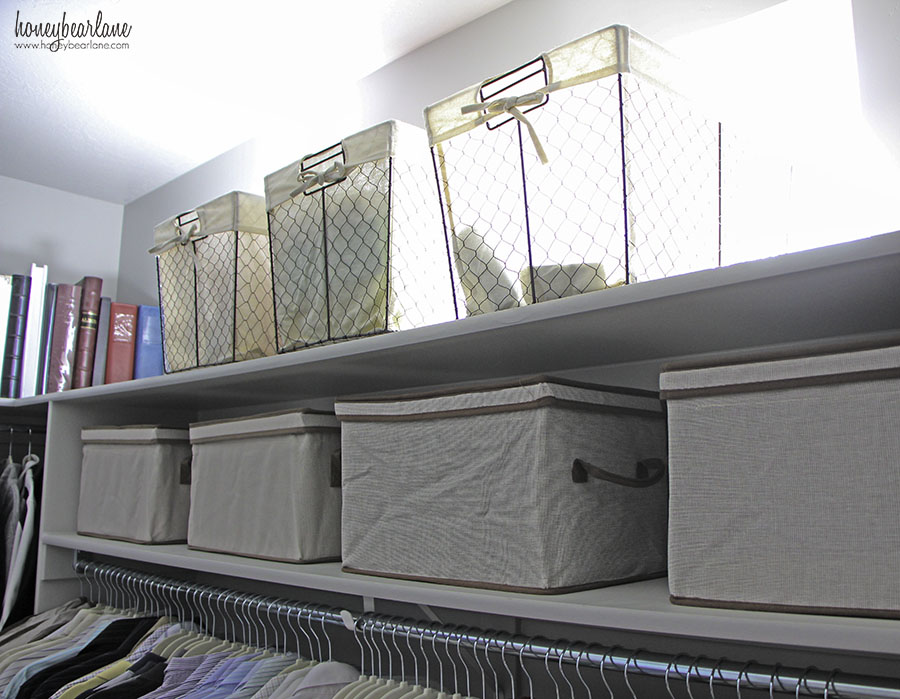 I cleared off all the shelves and placed the bins and baskets on them.  These are a good place for miscellaneous items and less attractive things.  They hold my nail polishes, jewelry, and workout accessories and other stuff like that.  I really love the fabric storage boxes because they are super easy to open and lightweight.  I put some other things in the chicken wire baskets and I want to get some cute chalkboard labels for them so I can remember what's in them, especially since they are up high.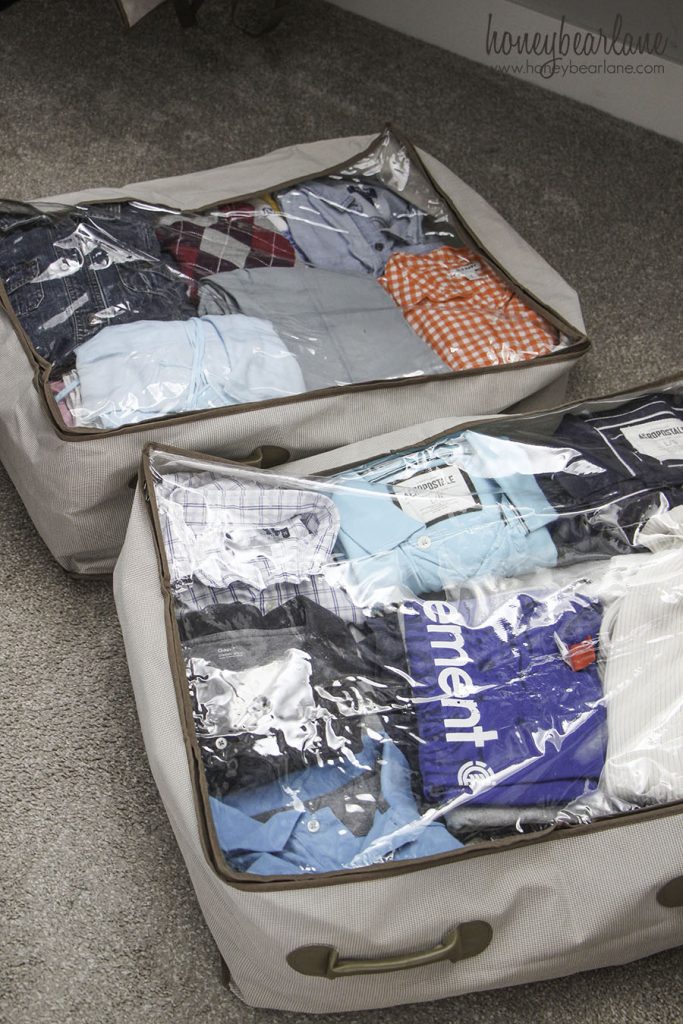 We put clothes that were too small or not worn much into the under the bed bags.  Then I put Aaron's Doctoral graduation robe in a garment bag as well as a trench coat he insists will come in handy some day (which I guarantee will never be worn again.)
One of my favorite things was replacing our old awful hampers.  I had a broken plastic one and a broken wire/fabric IKEA one.  They looked dreadful and were in a terrible and ugly spot.  Now we have one for coloreds and one for whites and they are in this nice little spot that feels like it was made for it.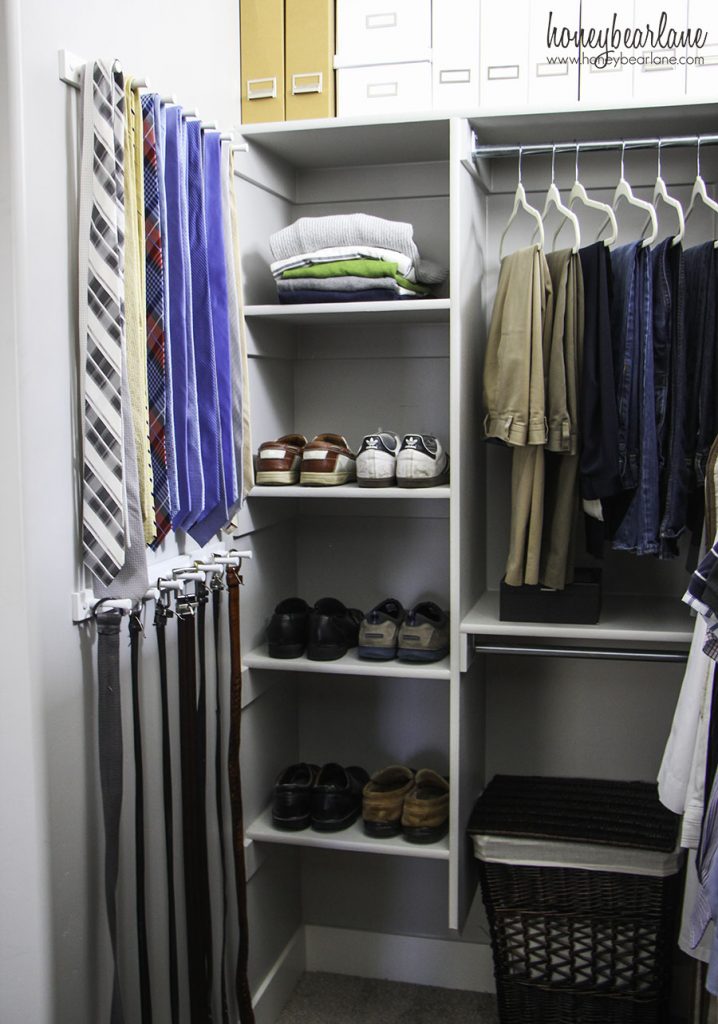 One of my favorite additions were these little pegs I hung for all of Aaron's ties and belts and my purses.  I also hung the jewelry organizer I made awhile back above it.  I love having this stuff out in sight.  Plus it's pretty.
We have another closet on the opposite side of this closet which we use as a linen closet.  I hung a hanging storage unit in there to store some linens but I didn't take a picture of it because it really isn't picture worthy.  So just use your imagination.  🙂
After this project was done (and it really took the better part of a week to get everything sorted and cleared away) I can finally breathe!  And I have caught the organization bug so now I'm moving on to my tool closet and my laundry room and garage.  Yay!
Visit Better Homes and Gardens on social media:
– Facebook – Twitter – Pinterest – Instagram –