DIY Industrial Farmhouse Desk
We recently completed a makeover on my friend's front room–turning it into a home school room.  We loved the desk in our inspiration picture, but she did an authentic butcher block desktop which cost her over $1000 and that definitely wasn't in our budget.  We decided to make a planked desktop to make the whole thing look like an industrial farmhouse desk.  I've done this many times before so I was confident it would be fine.
Supplies: (affiliate links; disclosure here)
1x4s
1x6s
Doorstop trim
Sanding bar
Three 2-drawer filing cabinets
We had one filing cabinet so my friend searched Craigslist until she found two more 2-drawer filing cabinets and purchased them for a pretty cheap price.  Then she spray painted them black.  Easy.  Now for the tabletop…
The room was about 10 feet wide so we decided to build the tabletop from wood planks, in a staggered manner to achieve a butcher block effect.  We first made a frame from 1x4s.  In hindsight, I think a better option for this probably would have been to make the base from 3/4″ plywood so it would be solid.  That way each piece would be solid.  However since the desk was over 8 feet wide and the desktop needed to be about 28″ deep (the filing cabinets were 26.5″ deep) we would have had to buy two sheets of 4×8 3/4″ plywood and have quite a bit of waste so we opted to just build our frame from 1x4s.  You could do it this way and maybe just add a few more cross braces and do it out of wider planks.  As it ended up, it was still fairly sturdy.
(Sorry these pictures are terrible-we did this at night on the driveway!)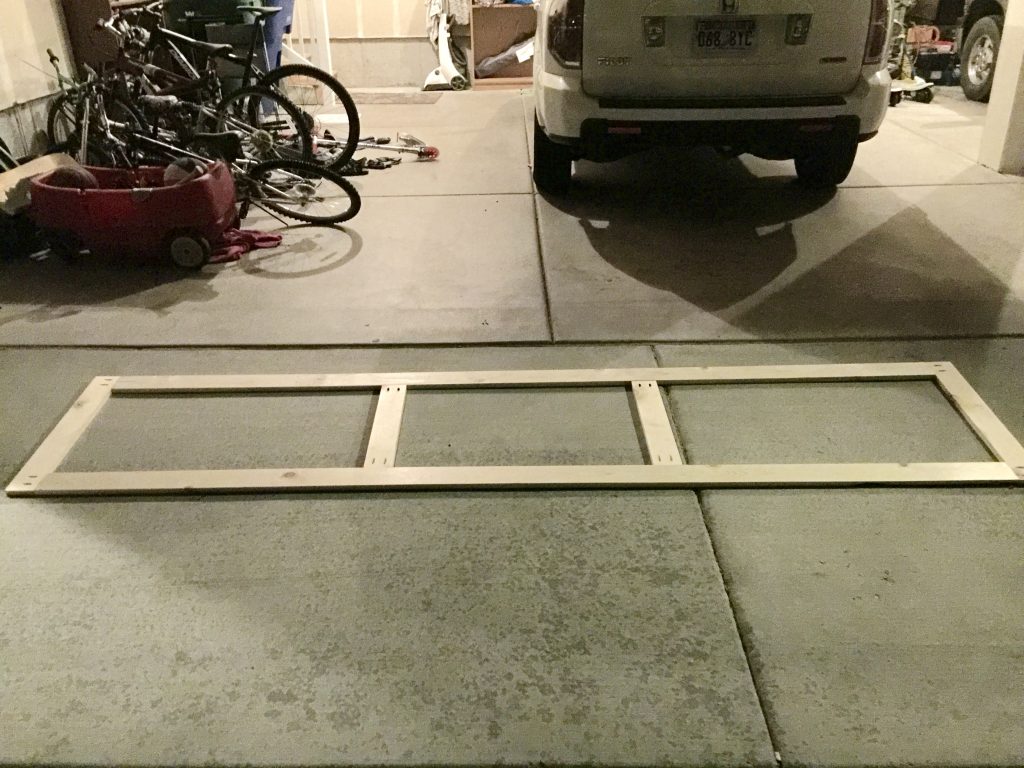 We made the frame using the Kreg Jig.  Then we cut the other planks in varying lengths and pieced them together like a puzzle.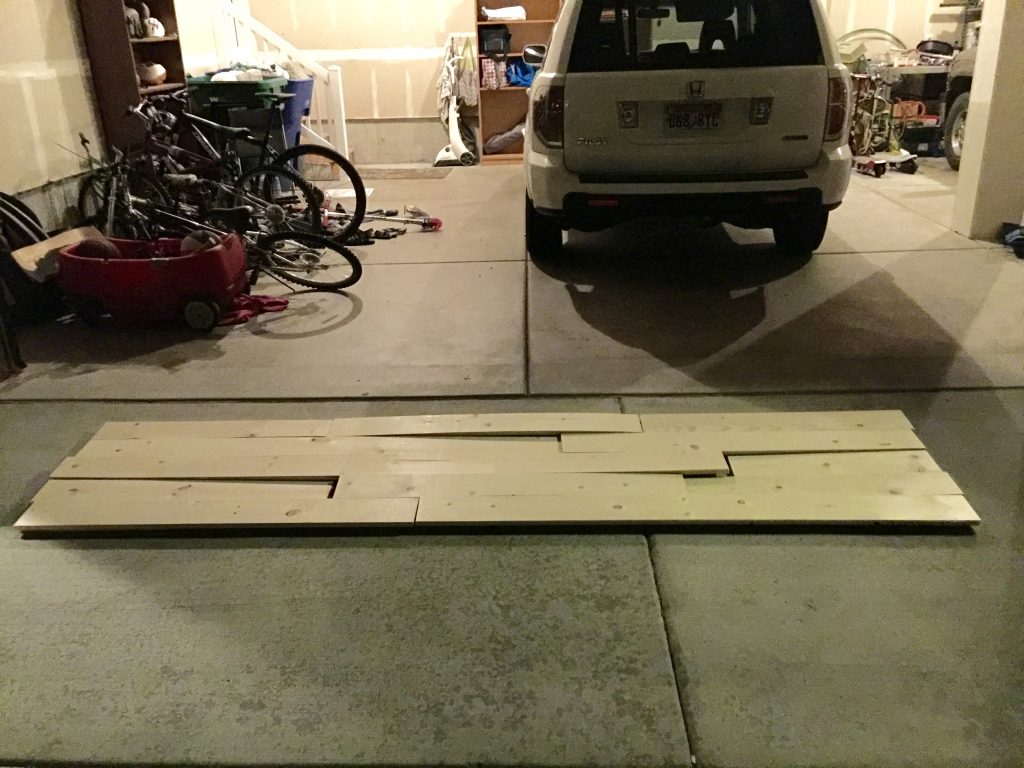 We also used the Kreg Jig to connect all the pieces together.  It's always tricky to do it this way because common boards from Home Depot or Lowe's are always a bit warped and not so straight.  So you just have to tell yourself  "it's rustic!" and know that it's not going to be perfect and you may have some gaps and some corners that stick up.  This is another way the plywood base would help, because you can nail down the spots that stick up more.  Another idea to help all the wood be flat and even is to use a planer at the end.  But I don't have one…yet!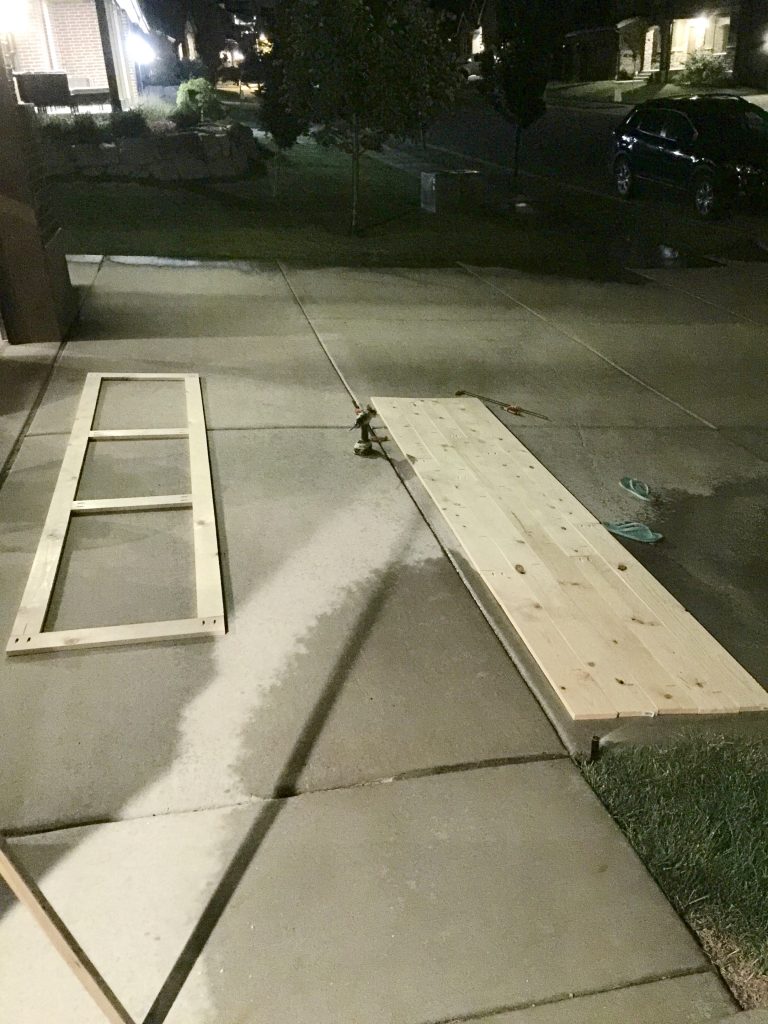 One of the edges was a little crooked at the end so we drew a straight line and used a circular saw to cut it even.  Then we placed both the frame and the tabletop on top of the filing cabinets.  Two of the cabinets were a bit shorter so we slid two pieces of wood underneath the tabletop and sprayed them black.  You don't even notice!  Finally we nailed the doorstop trim on the end to make it look like one thick piece of wood.
For the stain, we used pre-conditioner to help prevent blotchiness.  Then I stained it with Minwax Weathered Oak, one of my favorite industrial farmhouse stains.  Then we sealed it with polyurethane, about three coats with sanding in between.  We also put tape around the tabletop to prevent bleeding onto the wall.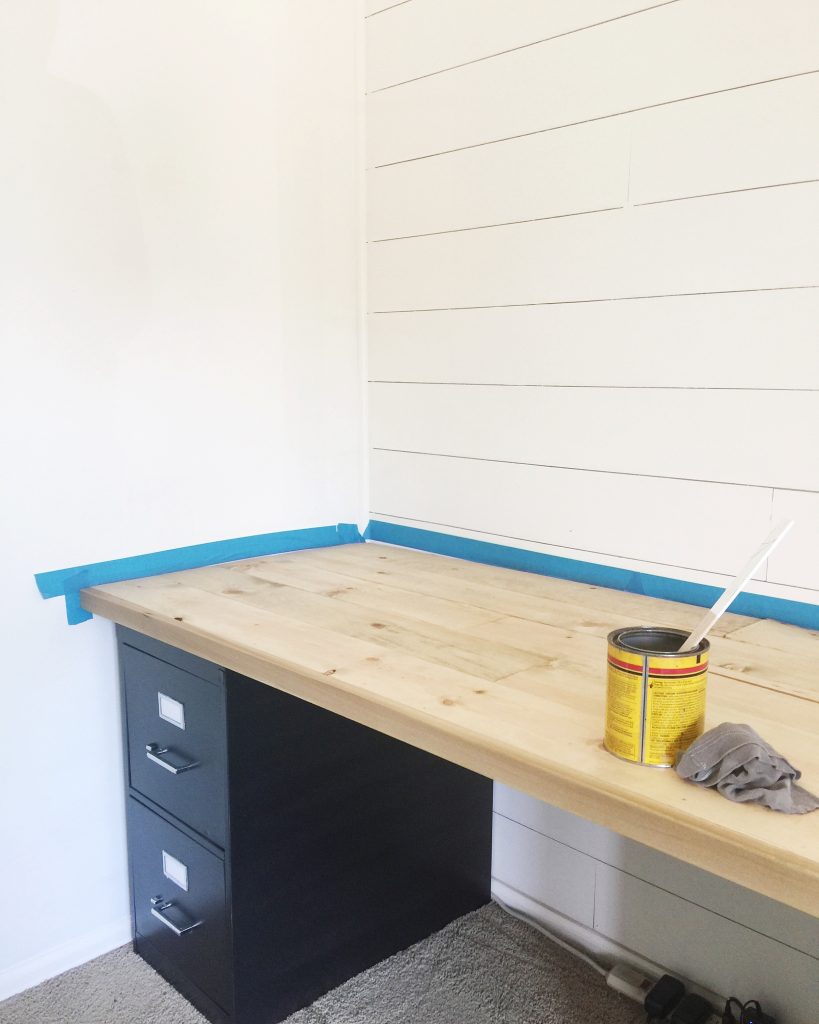 We love the way it turned out!  There's only a couple of spots where the wood sticks up more and they are towards the back.  Our friend loves the rusticness of it anyway.  This project is a win and cost less than $200.  It's the perfect solution for a custom size desk!