How to Host a Salad Jar Party
This is a sponsored post written by me on behalf of The Clorox Company for IZEA. All opinions are 100% mine.
Recently my friend started talking about salad jars.  This isn't a new concept, but the more I thought about it, the more I realized this would be such a great thing for me to incorporate in my life.  Salad jars are when you make a salad, put all the ingredients in a jar in a specific order to ensure maximum freshness time, and then seal it.  The salads last for awhile this way…sometimes two weeks, depending on what ingredients you put in there.  And it's really fun to get a bunch of friends together and make different salads so as to distribute the work and get a variety of salads.
  So I decided to throw a little salad jar party with my friends.  There's a couple of ways to do a salad jar party.  The first way (and the way we did it) is to have everyone make their own salad ingredients and make enough for everyone who is coming.
The second way is to select a few different salads to make and assign out various ingredients for people to bring.  The second way is best to do it if you have 8 or more people coming because that way you only make 4-5 salad jars, a more manageable amount of salads to eat before they go bad (unless you are making them for your family as well.)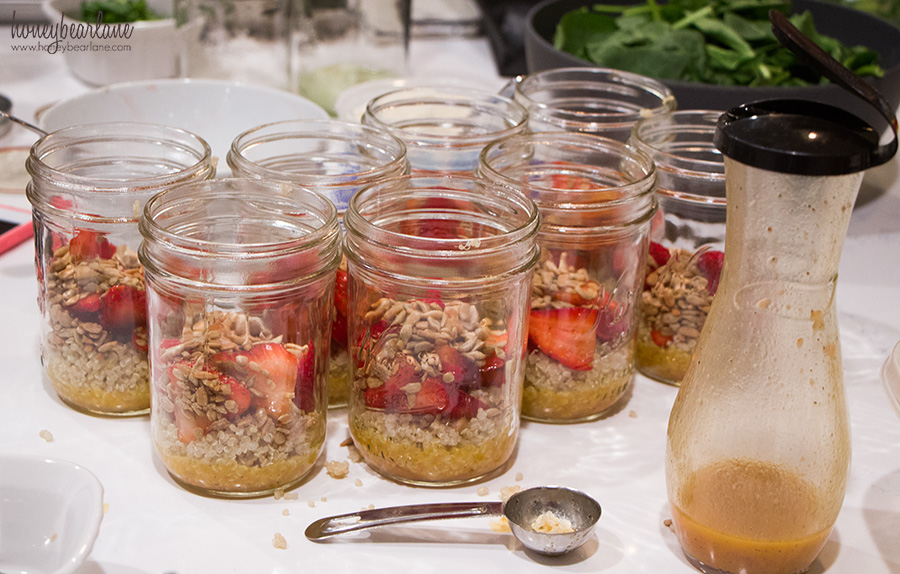 Here are the salads we made, and the links to them:
Chicken Caesar (this one my friend actually purchased the premade mix and added chicken)
Chicken and Black Bean Salad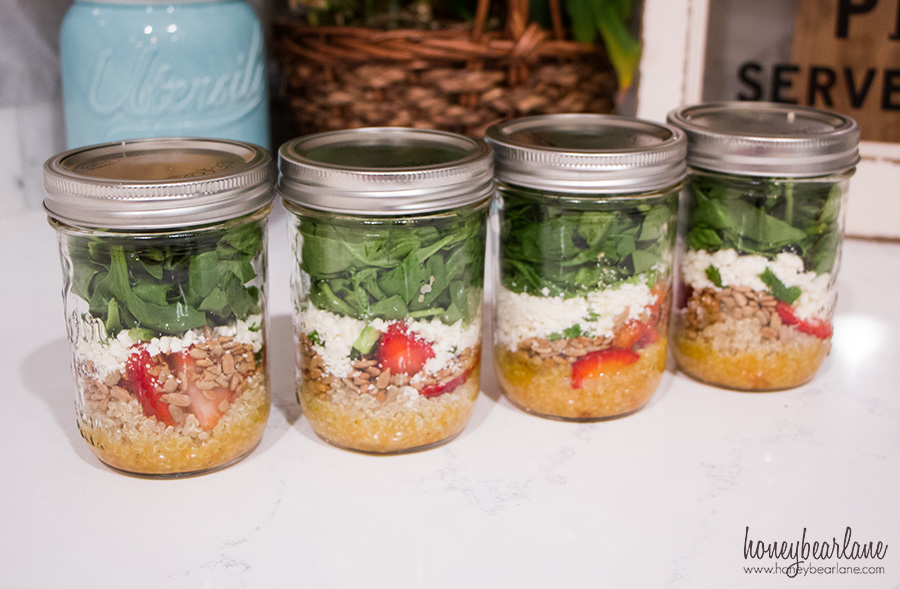 There are dozens and dozens of salad jar recipes online you can follow and you can even turn regular salads into jar salads.  Just don't use cut tomatoes, they make everything go bad faster since they are super juicy. And here is how you assemble them:
Put the dressing on the bottom, around 2 tablespoons.
Then put your hearty vegetables and fruits next.
Then put your proteins-beans, quinoa, cheeses, chicken, etc.  Just know that if you do chicken, you will have to eat that salad sooner.
The last thing is the greens-spinach, lettuce, kale, mixed greens, etc.  This needs to be as far away as possible from the dressing so it stays fresher longer.  Pack it in tight, so it's spring loaded.  It needs to be about half greens, half other stuff.
This was a super fun party and what you didn't see was all the junk food we consumed while making our super healthy salads, haha!  But it was great because after the party, we all had salads to eat for lunch all week.  And we can keep getting together on a regular basis, making and trying new salads!
To be honest, I didn't love the strawberry quinoa salad, which is the one I made.  I am not wild about feta cheese so maybe that was the problem.  But that's the best part about doing it a bunch of times, you just figure out what kinds of salads you really like.  And after everyone went home, cleanup was a snap with Clorox wipes.  I seriously use these so much, they are just extremely convenient and it's so nice to know it's clean!
Read more about The Clorox Company  and check out their fabulous line of products.