Industrial Farmhouse Home School Room
My best friend from childhood recently asked me to help her with a project for her sister.  Her sister works so hard helping everyone and home schools her kids and is just so super busy.  So she wanted to makeover her front room to make it a really useable space for her kids to do their school in.  Her sister's life is pretty chaotic so we thought clearing out this room and making it pretty and functional would help her gain a little bit of peace and control in her life.  So we made this her home school room.
At first her sister just wanted to paint some bookshelves and call it good.  That is not how me and my best friend do things though, haha!  It's all or nothing.  So we gathered some inspirational photos and showed them to her and went to work.  Did it turn out amazing?  Here is the before–plain, brown, boring, and uninspired.
After:
We did several DIY projects in this room which I will post details on this week.
Shiplap Wall:  Tutorial coming
Built-in Desk:  Tutorial coming
Distressed Studiare Sign:  We had a large 7″ vinyl sticker printed and then applied it to a stained piece of 1×8 wood.  We used the Italian word for 'study' because her sister used to live in Italy.  We painted over it in DecoArt Chalky Finish paint in Everlasting (affiliate link) and then sanded it to get it really distressed.  We added a couple of sawtooth hangers on the back to hang it.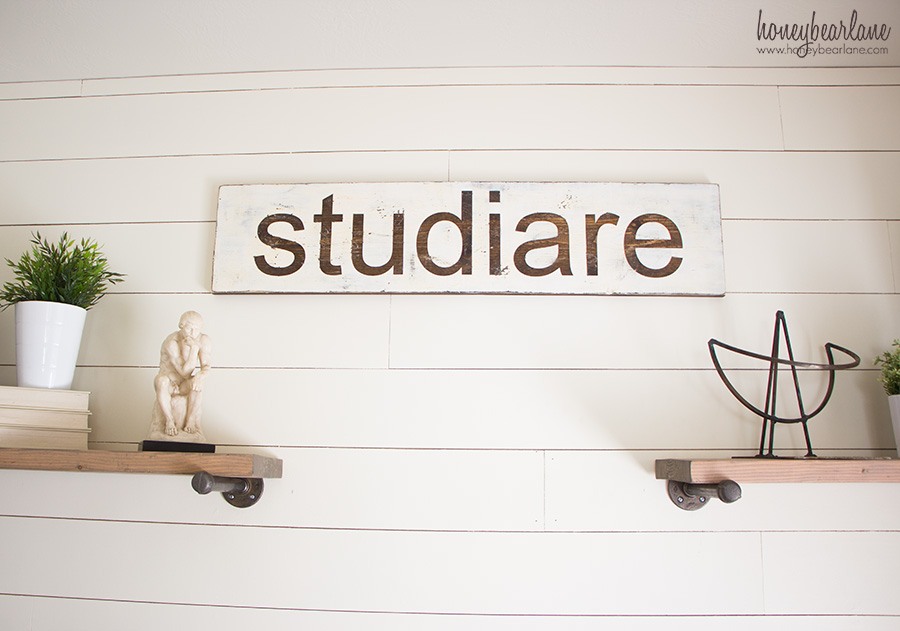 Industrial Pipe Shelves:  These are super straight forward:  Buy the pipe pieces at Home Depot and have them cut it to size.  Then we used some 2x10s and stained them Weathered Oak as well.  We installed the pipes with drywall screws.
For all the little decorating touches we visited IKEA.  We got the chairs, the buckets, the plants and vases, the gray boxes and magazine holders, the pillows, rug, and the curtains there.  I found the black chicken wire organizer at Gordmans.  The statues are all special to my friend's sister and belonged to her for years, as well as all the books.
She also painted her existing bookcases gray and found this cute pouf at Target.  This black chair is a place holder until they find the right comfortable chair for this corner.  And my friend also painted the large frame and added metal tin to make it a magnet holder (which are holding some fun word magnets.)
We were inspired by this room by Meadow Lake Road: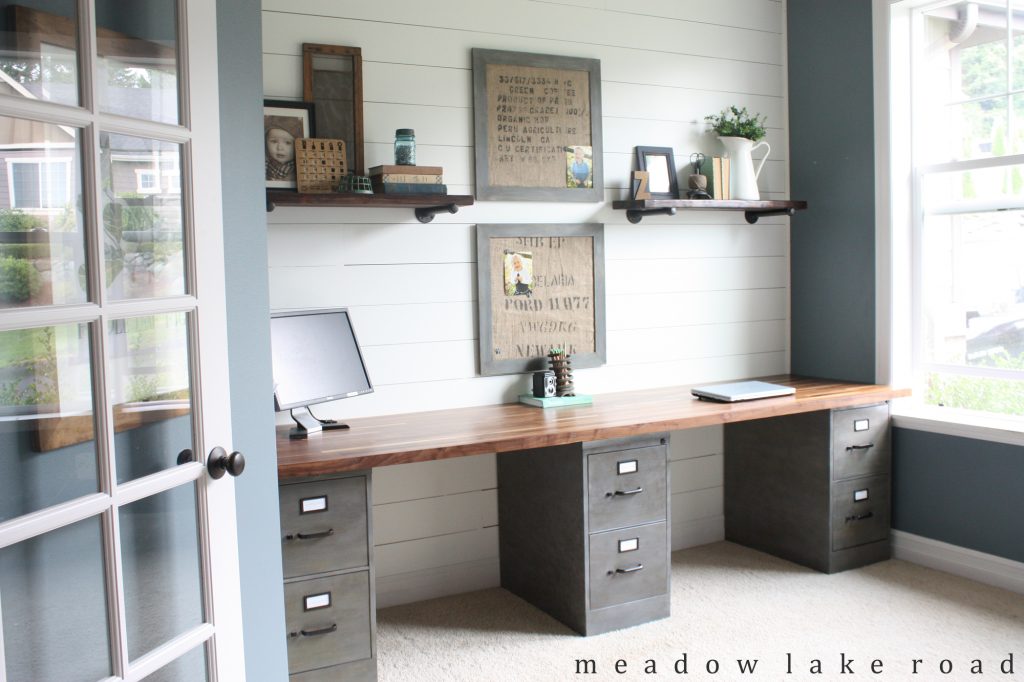 Isn't her office amazing?  We fell in love with everything here and the file cabinets holding the table top are genius!
I wish I could have seen her face when she saw it.  She came home unexpectedly early when we had just left.  But she loved it so much and even teared up when she saw the sign in Italian.  I am so happy she loves it so much and doing this kind of stuff for people brings me so much joy!  I love how happy it makes them.  It was like our own little Fixer Upper moment.
See affiliate disclosure