So Walmart had these super cheap little Christmas trees on sale this year…you get two for $20 packaged together in a box.  And they look like they cost $10–this is how they come.  Not horrible, but definitely not my style.  I decided to turn this little tree into a beautiful flocked tree.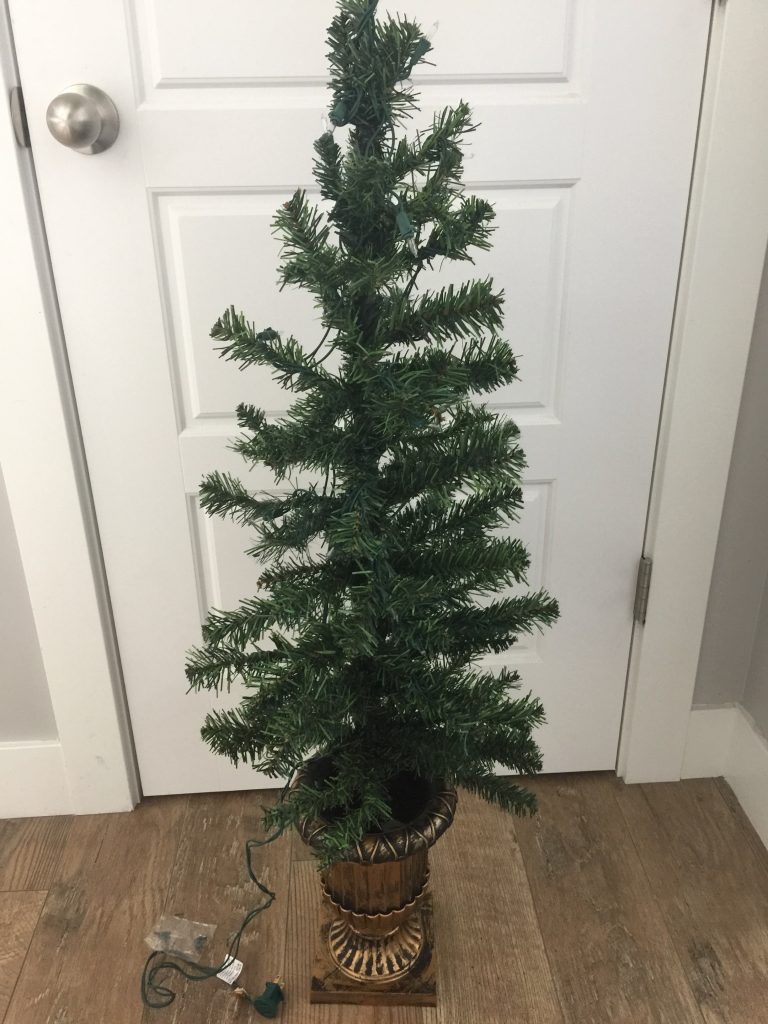 I have fallen in love with flocked trees this year and while I think flocking our 12 foot Christmas tree is a recipe for a huge mess, I wanted to find ways to bring in flocked greens into my house.  You can check out my full Christmas home tour here.  So I decided to buy some flocking and add some pizzazz and farmhouse charm to these sad little plastic trees.
It's a little messy in the making, but not hard at all.  I also created a wood box for this one to sit in and put the other in my olive bucket (from Walmart also!)
Supplies:
(Affiliate links)
Spray bottle
Mesh strainer
Tarp or something to cover your work surface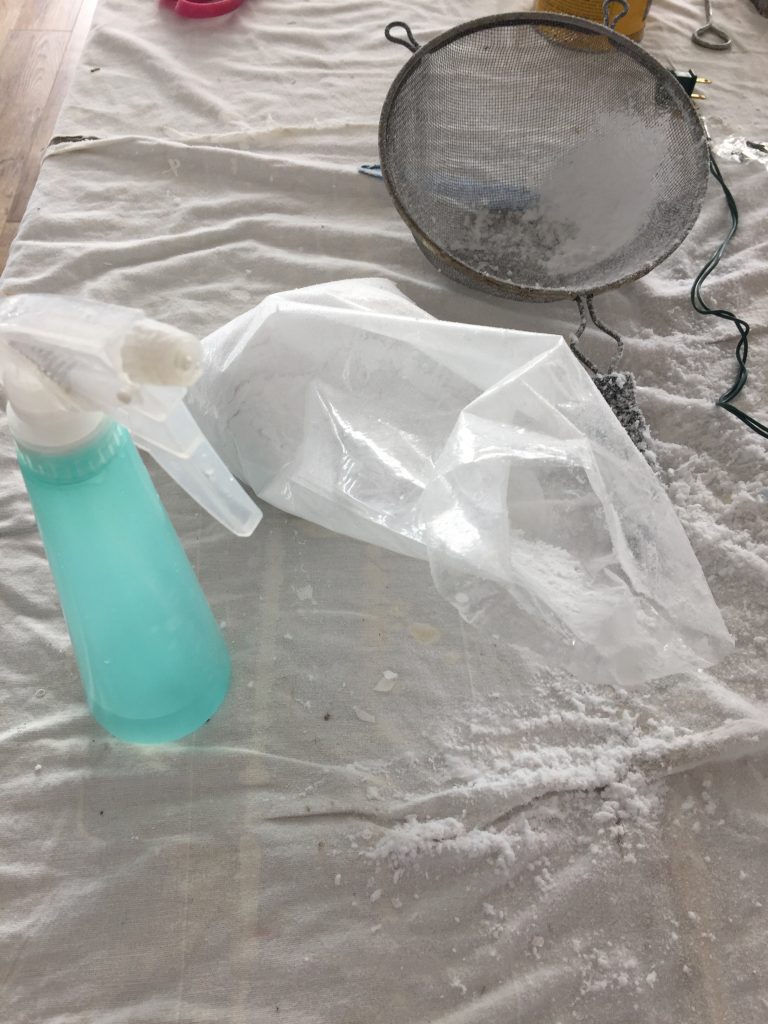 So first lay down a tarp and you might want to do this in the garage.  I laid a drop cloth over my kitchen table and did it there and it still got on the floor.  It came off but took a lot of mopping!  So definitely you want to cover the floor well.
Next spray down the tree with a light misting of water, not too much.  Pardon my crappy pictures.  I was doing multiple projects this day and barely even had time to snap these.
Then use the mesh strainer to sift the flocking down at the same time as spraying it to activate the adhesive.  So here's where I detoured a little–I tried the strainer at first but it wasn't working very well so I actually just started using my hand and gently crumbled the flocking through my fingers at the same time as spraying.  My hands got a little gross, but it washes off.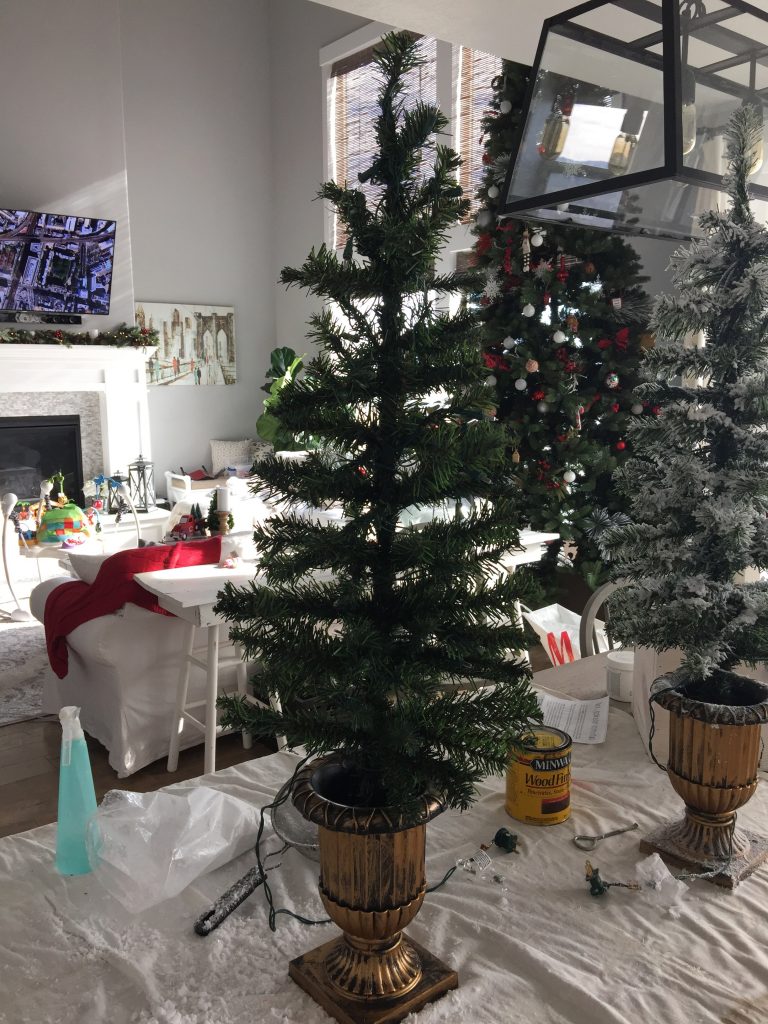 After you've applied a thick layer of flocking over everything, spray the whole thing down with water and let it dry for at least 24 hours.
After it's dried, you can plug it in and decorate it as you please.  I added a few berries and pinecones and kept it simple.  I love how these turned out!  I've heard that they will lose some flocking as they are in storage but it's not hard to add a little more next year to keep it full looking.
I love these little trees!  They were such a great deal and now they are farmhouse chic as well.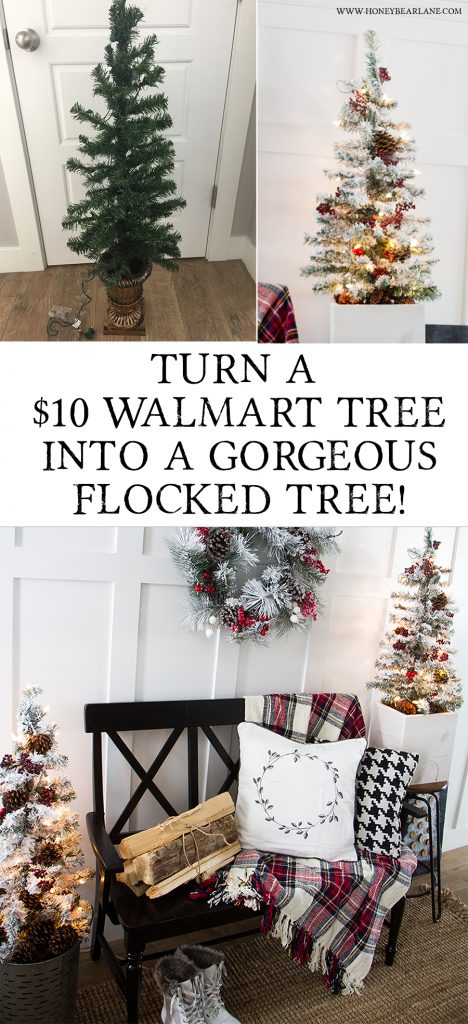 SaveSave