Seven Rules of Proper Blogging Etiquette
I recently had someone ask me a question about blogging that made me realize that I should write up a quick little post about proper blogging etiquette. I've broken some of these rules back when I was a beginner, and I've certainly had other people break them when it came to using my stuff. So I'm going to go over seven rules of blogging etiquette.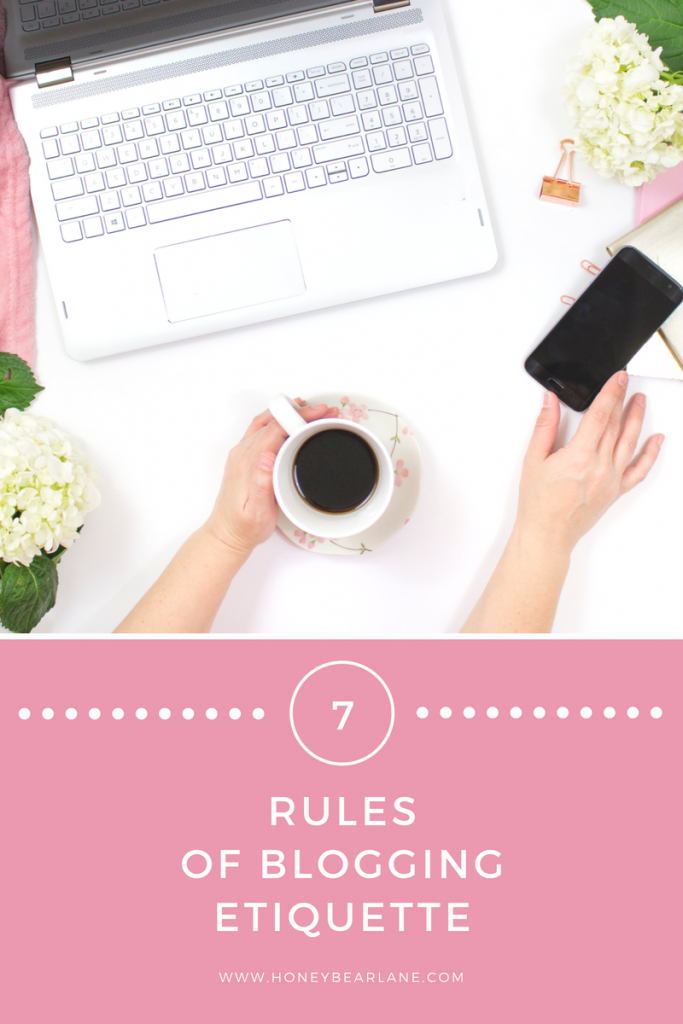 Always, always, always link back. Often bloggers will use photos from other blogs or sites. And they mostly do it without contacting the blogger first. I personally think it's okay to do this AS LONG as you cite your source. This goes back to basic college paper writing, people. Don't use something without proper attribution. Clearly cite the source with a clickable link, preferably to the actual post containing the photo. If you are still nervous about doing this, it never hurts to contact the owner of the picture. That being said, you can always find free public domain pictures you can use without citing.
Only use ONE photo. I've had other bloggers 'feature' my project on their blog, which is great, but sometimes they've used several of the photos from one post. This is a no-no because now the reader on their site has no reason to click over. You just showed them all the photos and/or tutorial process so why would they bother to visit your site? The whole reason for linking to someone is to give them credit and hopefully encourage your traffic to visit their traffic.
Comment back. This has been something I have struggled with and sometimes still struggle with. I read all my comments but I forget to comment back! It makes me sad that I didn't do this back in the day because I think I could have really built up a more loyal following by responding. People want to feel like there is a real person writing these things, someone who could help them or even be a friend. So always try to comment back! And this goes for social media too.
Don't copy. Just don't. Very few, if any, ideas are truly original these days so copying can be hard to prove. But if you see something you like and want to replicate, try to figure out a way to put your own spin on it to make it yours. Several of my blogger friends have had their projects copied 100% by big brands and corporations which makes me sad. It happens, but don't let it be you that is the copycat.
Cite your inspiration. If you do a project that was inspired by someone else's project, it's common courtesy to link to their original project. And it goes the other way–if you receive a notification that someone linked to you and then you check out their project, maybe leave a positive comment like "Hey that turned out really good! Thanks for linking to my project!" Don't be negative.
Don't accuse someone else of copying you unless you are 100% sure they did. I did a project once which was a pretty generic project, like nothing mind-glowingly original. But I had a blogger leave a mean comment on my blog accusing me of ripping off THEIR project which I hadn't even seen before. It really put a damper on how I felt towards them and their blog. Don't burn bridges people unless you really think it's worth it.
Be nice. I don't know how else to say it. There are MEAN people on the internet and I have had my share of mean comments. They don't really get to me now because most of the time I can recognize that they are trolls who don't know me or my blog at all. Just think of all the people out there who love you! Haters gonna hate.
If you come across a situation in which you are the victim, it's best to find their email address and politely ask them to rectify the situation. Nine out of 10 times they will fix it and it can be resolved amicably. Don't jump off a bridge and threaten legal action!
Thinking of starting a blog? Visit this post Three Simple Steps to Start a Blog for help getting started.