Easy Wrapping Paper Table Runner
So the other day I was about to set the table for my Christmas tour photoshoot.  I wanted a table runner underneath to ground all the decorations but I was sick of all my usual table runners.  It just seems like the second I wash them, it gets all weird and refuses to lay flat ever again.  And then of course they are all wrinkly so I have to steam it, yada yada yada.  I wanted something pretty, fast, and SMOOTH.  What's better than wrapping paper??  I had just purchased some really pretty paper from Hobby Lobby so I grabbed some and laid it out.  And it became a wrapping paper table runner!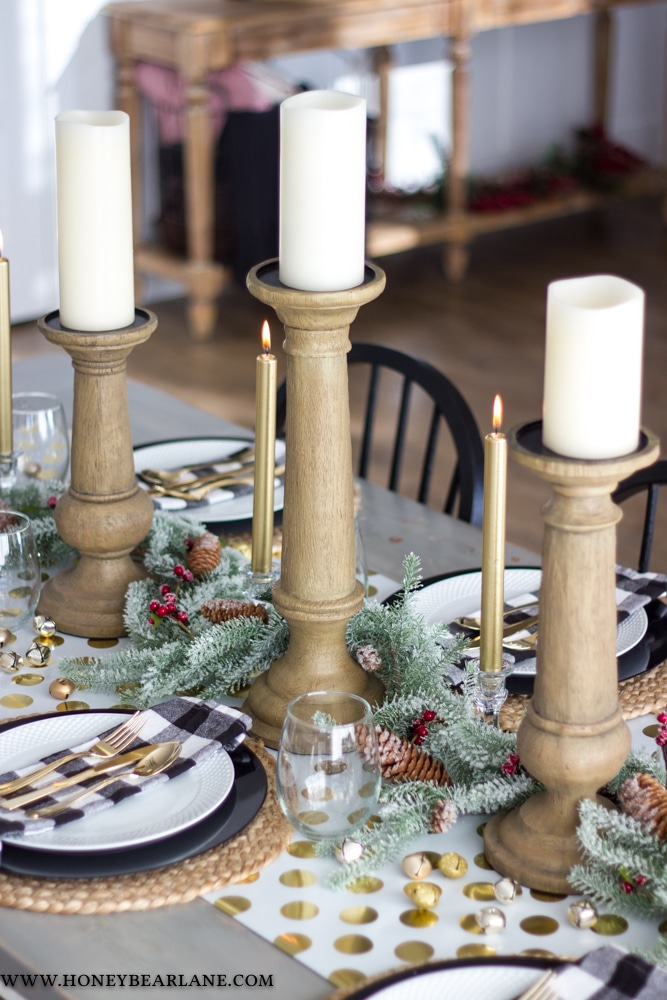 I cut it about a foot shorter than my table.  Then I flipped it over and folded over all the sides, kind of like hemming it.  I taped down the sides.  It was helpful that the backside of the paper had a grid!
Then I flipped it over again and voila!  Instant, easy, and FAST table runner.  And when it gets food on it, just recycle it instead of trying to wash it–although if it's a thick paper, it can probably handle being wiped with a damp paper towel or something.
After I made the runner, I used placemats, black chargers, and white plates to set the table.  I put some faux garland and candles in the middle and sprinkled some gold bells around.  I used black and white buffalo check napkins and gold silverware.  All the extra elements are what take the wrapping paper table runner from being just wrapping paper to being a beautiful tablescape.
It was so easy to make, but just a word of caution…after I took it after (after about a week), I noticed some of the gold dots had bled through and left marks on my table.  I think it was a sun-transfer thing so if you table is in bright sunlight, I don't recommend leaving the paper on the table.