As you might remember, in January I opened up shop to all of your for my interior design consultation services.  I first did a beta group and my clients were so awesome!  They sent me pictures of the space they wanted done and told me about themselves and their lifestyles and decorating tastes.  I had so much fun putting together mockups and mood boards for them that I decided to include a mockup for everyone who bought my service!  It's so fun to see what it might look like.  Here's a few examples of the ones I did for them…
For this one I was challenged to work around her existing leather sectional.  It was a bit tricky, but I love the finished result.  She showed me pictures a couple weeks later that she has already started purchasing some of the items I suggested and it looks great!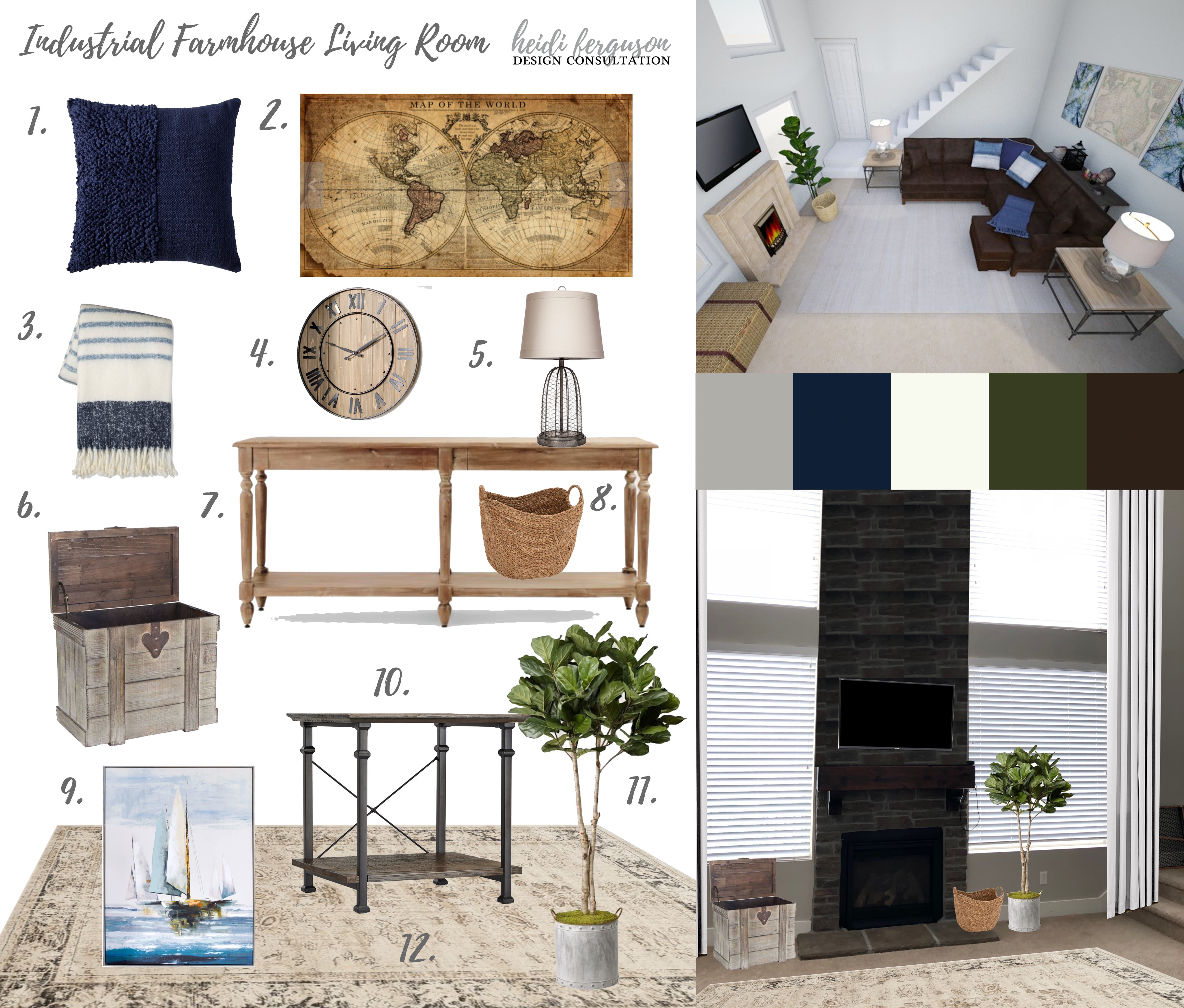 This next one was a bit hard to mockup so I had to conceptualize it between a few pictures. She loves color but her house has been a mishmash of disjointed items since she never had a clear plan of what to do.  She died over the design and they have already renovated the fireplace.  Here's what it looks like, with a few changes to suit her husband's tastes.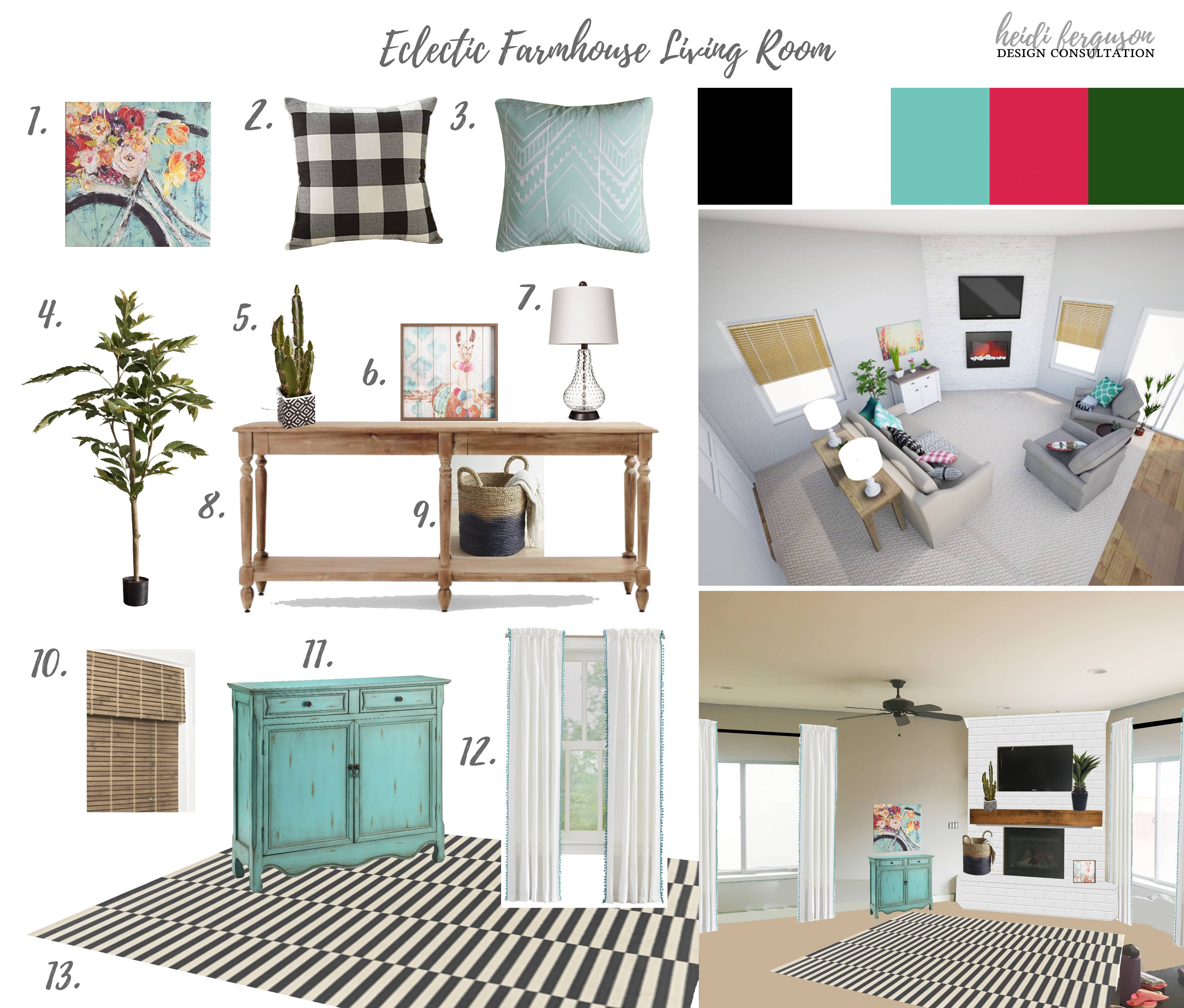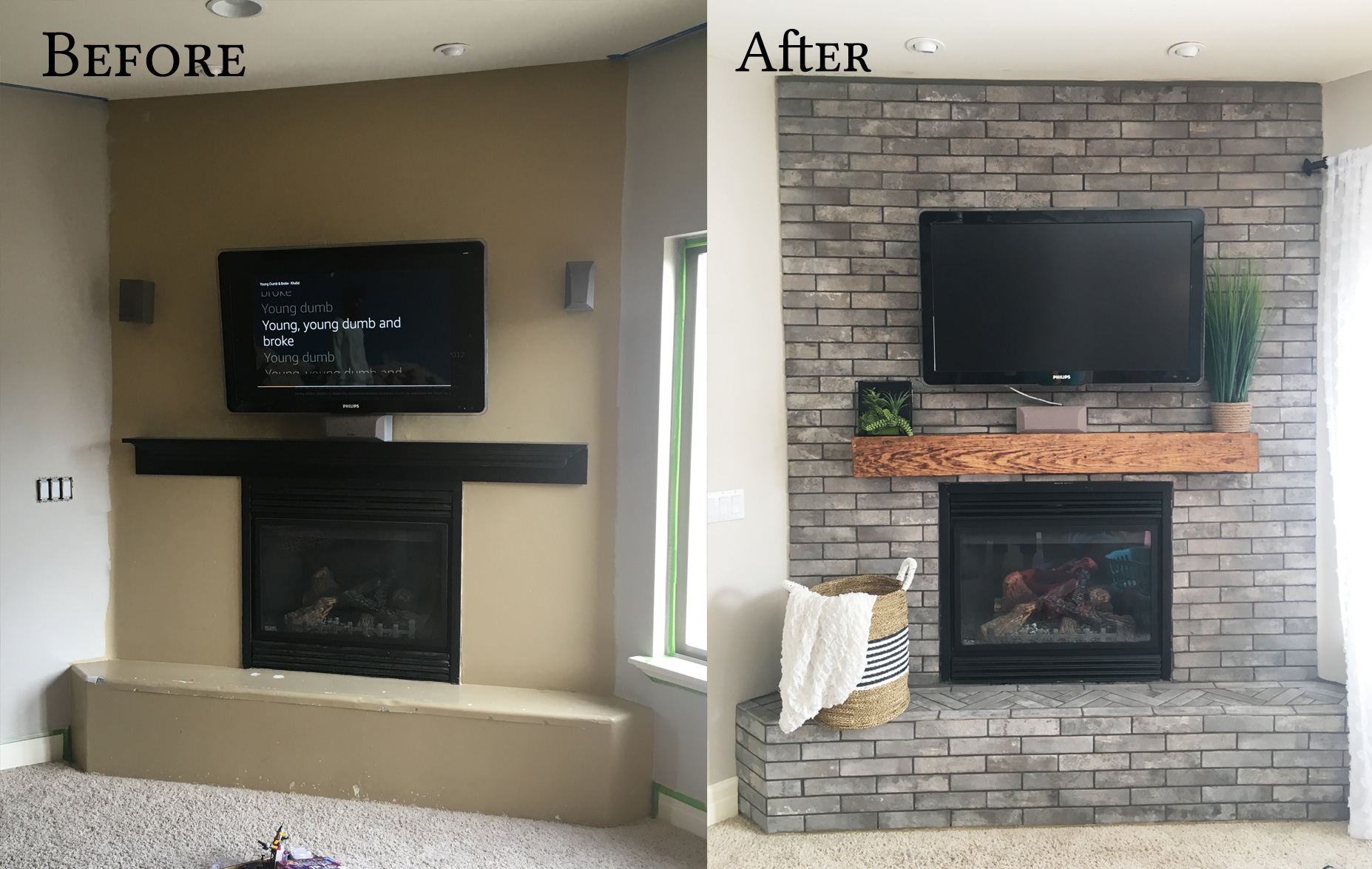 This next one was fun because of the color I got to play with. She loves teal and plum and her carpet was forest green which she is planning to replace with hard wood. But the color went well with the other colors so I threw some in there so it works with or without the carpet.  She has a dog so of course I had to put him in the design!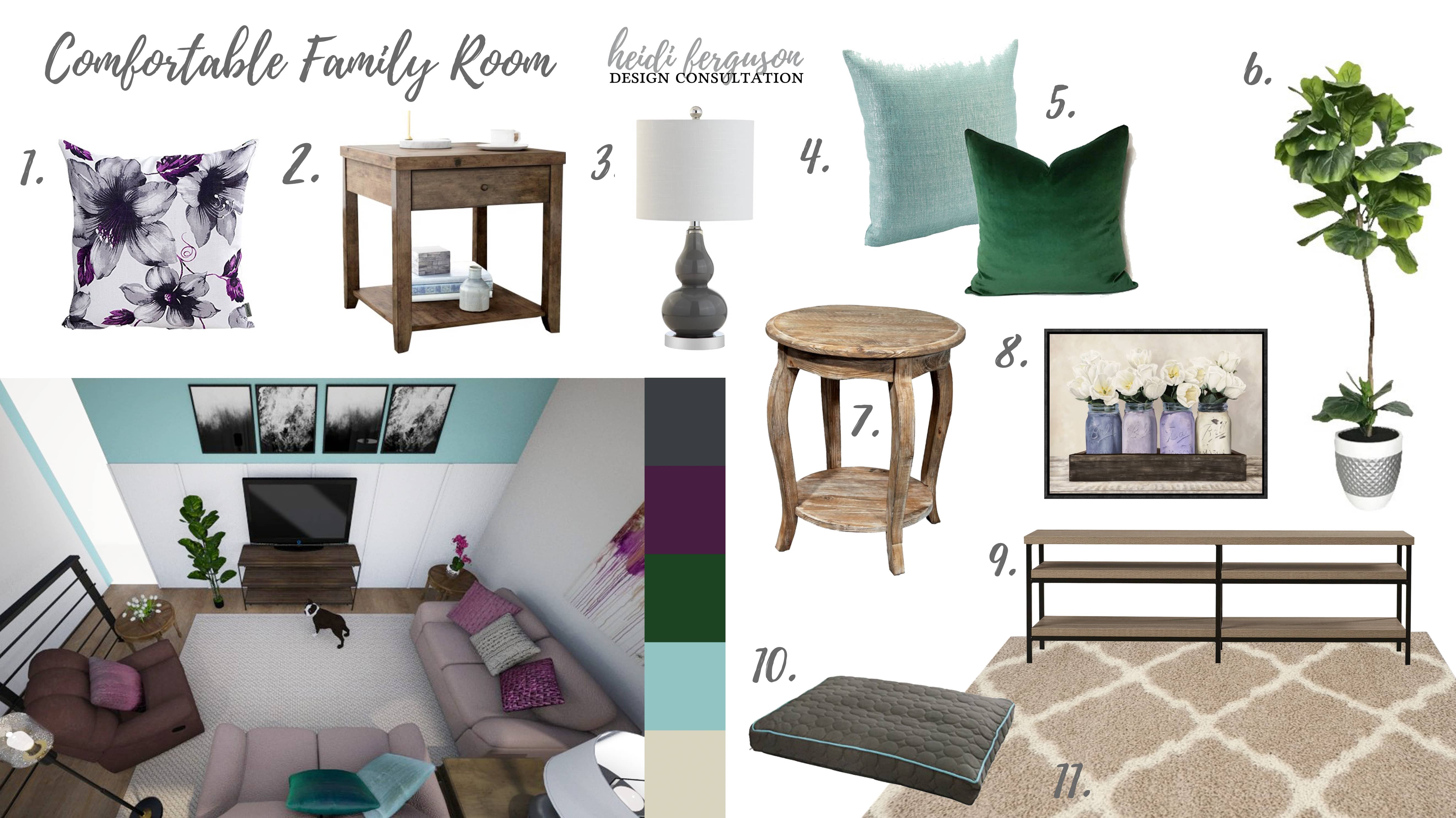 This last one was a friend of mine's home in Canada. She has a tight space but wants to go for a minimalistic, Scandinavian style. It was so fun to think outside the box and come up with some more modern elements.  I'm always a fan of black and white with pops of color from plants and natural textures and fabrics!  She's already purchased a couch and cleaned out the space and it's already made a HUGE difference!  I shared a picture of her progress and this is with only purchasing the couch so far.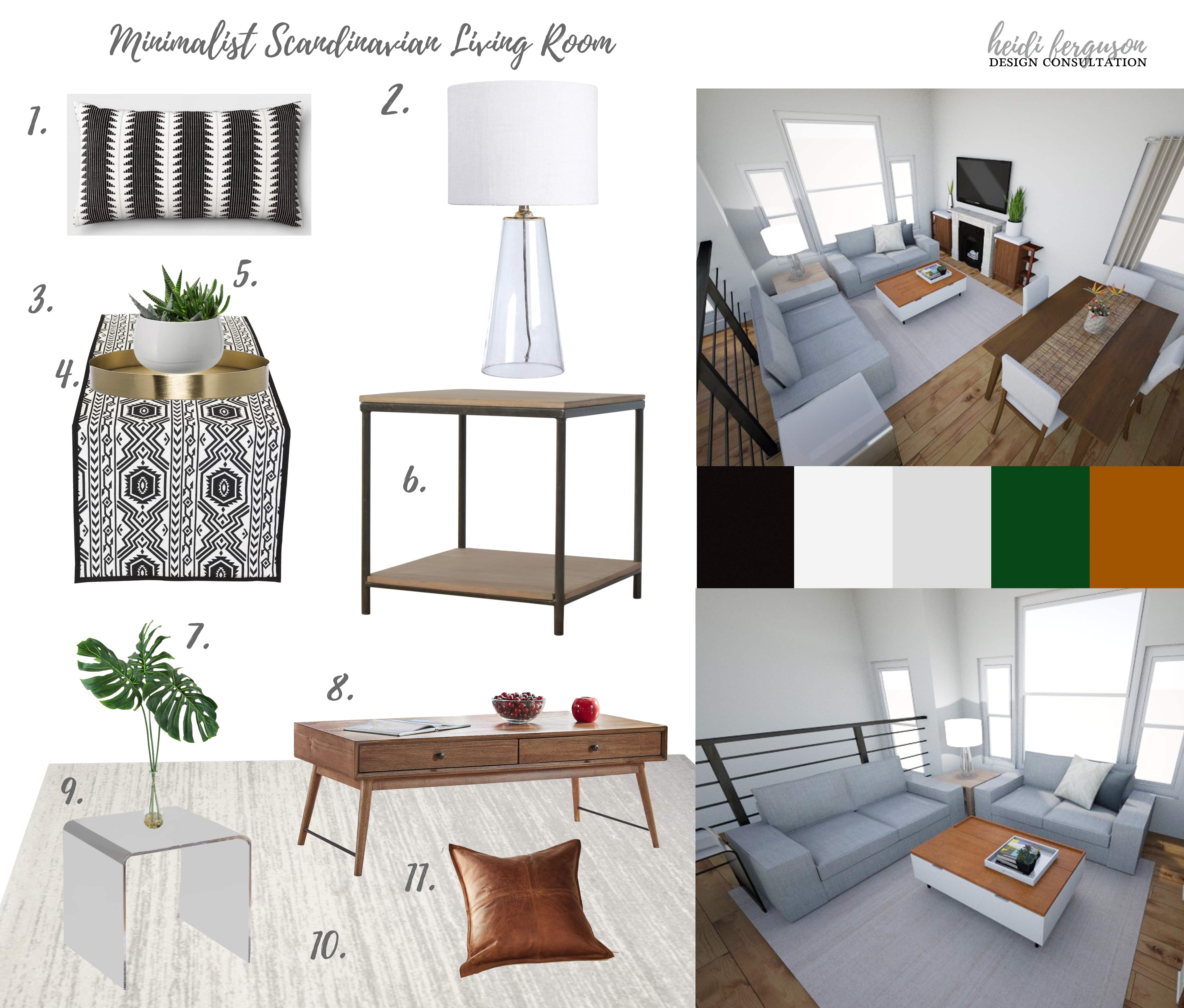 Here's what some of my clients have to say (from an anonymous post-service survey)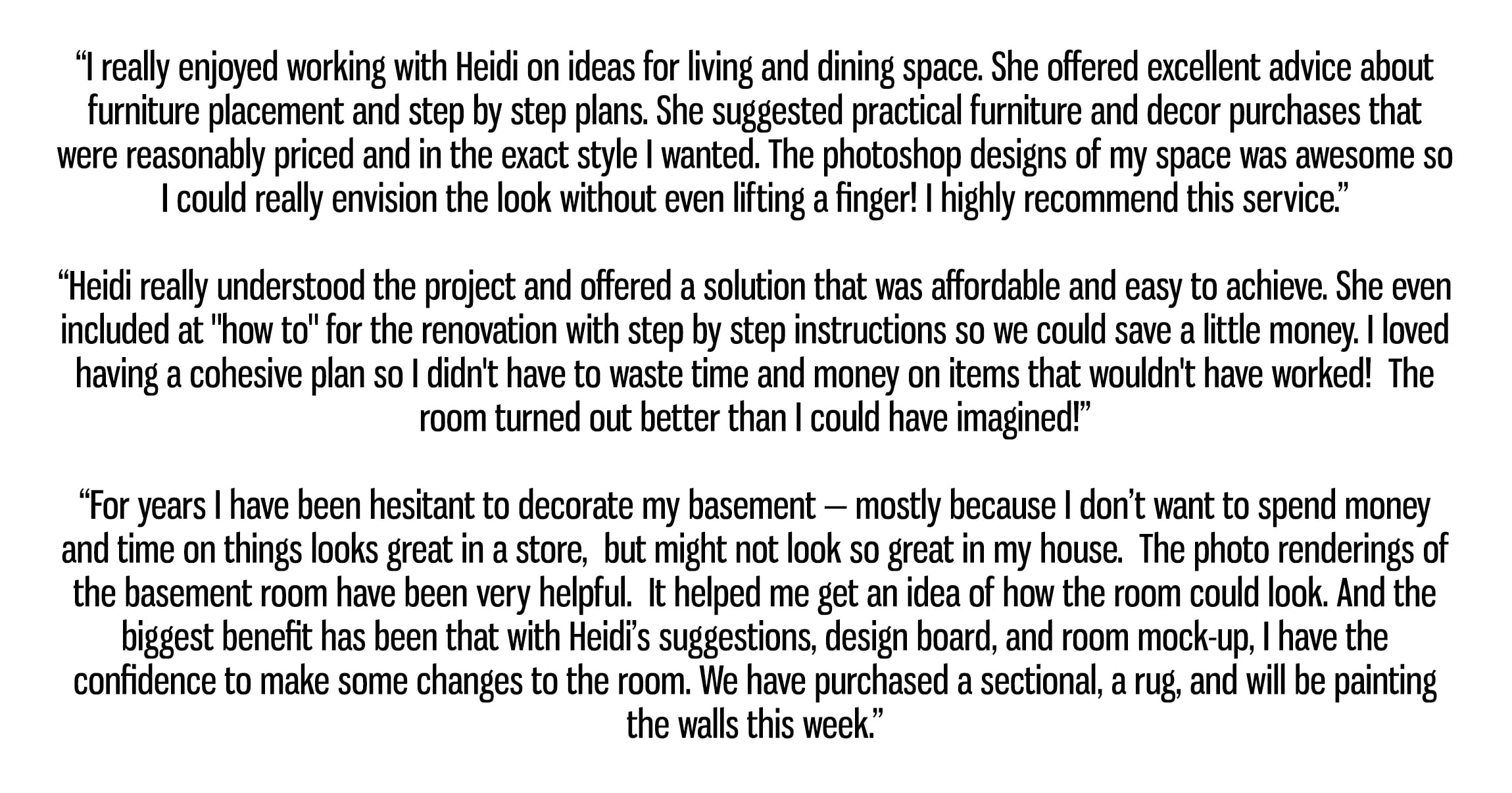 I'm ready to take on some more projects! If you're ready to implement some new design into your home but want a clear plan, take the leap and sign up! I'd love to help you out. All my designs include a mockup of your designed space taken from several angles, a mood board with a key that includes prices and links to purchase if you want. I work with you on a personal level via email and answer any questions or make any tweaks you want. If you want to purchase now you don't need to feel rushed to know exactly what you want immediately or even need to write me. I'll check in on you periodically to see if you're ready to move forward. And if you are trying to purchase here on the site and it's not working for you, just drop me an email at honeybearlane@gmail.com and I will set up an invoice for you directly.
Design Consultation Service  
Includes room mockup rendering, mood board with links and where to purchase items