Pink and Gold Baby Shower
This summer has been super busy so far!  I always have this idea that I'm going to get so much done in the summer but then it comes and I realize I have all my kids at home and they still need structure and I need them to help out around the house so it takes a lot of management.  Plus there's activities and swimming and camps etc.
One thing I did do was throw my friend a pink and gold baby shower.  She's about to welcome a baby girl and her nursery is pink and gold so I thought the shower could be similarly themed.  I threw this together in a day so it's definitely something anyone can do quickly!
Decorations
For the decor, I bought this cute confetti bunting at Target for $4.  I hung it on the mantel and above my kitchen island.
For the main attraction I put pink roses in individual clear wine bottles I got at Hobby Lobby years ago (they've come in handy for so many parties!) and put some on the table and some on the island.
I also decorated the table with a white tablecloth and a pink chiffon table runner (which I actually got on Amazon as a curtain swag for like $5).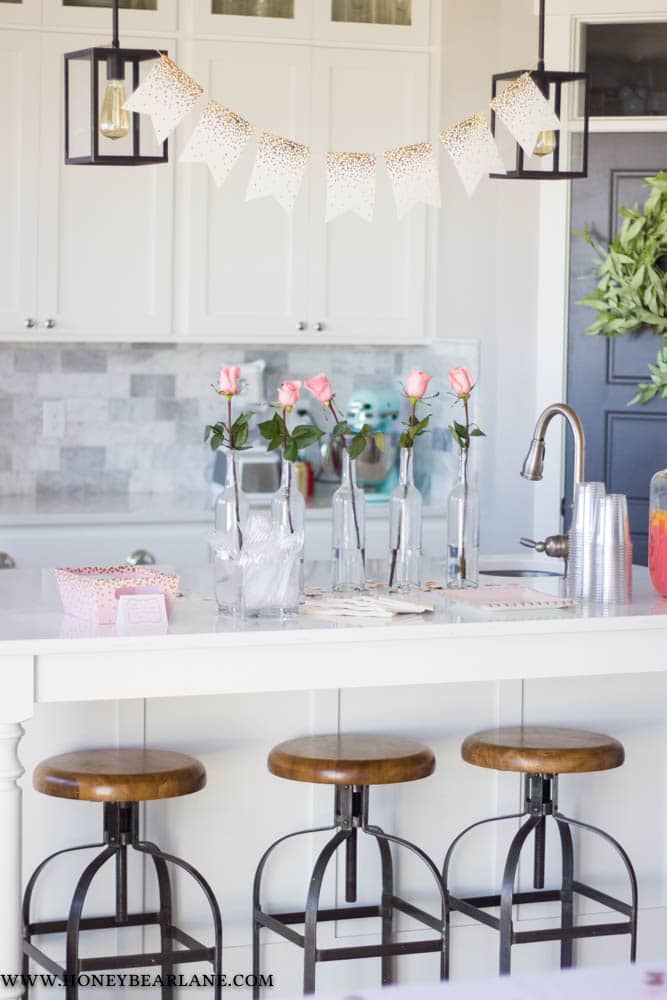 I sprinkled some rose gold and gold confetti on the table and the island and used coordinating paper plates and napkins.  I got these at Party Land.  I also bought a matching pink box and little cards that people could write a bit of advice or salutations on for the girl having the baby.
Total Cost for Decor:
Bunting: $4
Table Runner: $5
Roses: $20
Confetti: $4
Plates and napkins: $9
Total: $44
Food
This was a neighborhood/church shower so we asked people to bring a dessert and we supplied the drinks.  This made food super easy!  I threw together some pink lemonade with fresh lemon slices.
Activities
I didn't plan any games for this shower because it was more like a come-and-go open house.  The main event was eating treats, wishing the future mom good wishes and dropping off a gift, and seeing friends in the neighborhood.  I've never loved baby shower games anyway.  We did watch her open gifts which is always fun.
Invitations
I designed the invitations on Photoshop and just made a Facebook event rather than distributing them personally.  Like I said before, this was a pretty low-key baby shower.  We have a lot of babies in Utah so we can't be spending a fortune and tons of time on every baby shower, haha!
I didn't go crazy with this party but I just wanted to share with you all some simple ideas for a pink and gold baby shower that are totally affordable and doable and turn out decently cute without trying to be the Pinterest Queen.  This super simple pink and gold baby shower was fun, cheap, fast, and very low stress.
SaveSave