I just switched my home decor from fall to Halloween.  I loved what I did last year but this year I changed it up a little.  I love adding in a few things that are spooky and eerie, but also classic Halloween.  I didn't post a fall home tour this year because I had just had a baby and even though I actually did decorate for fall, it was all the same stuff as last year.  So lets walk through my Halloween home tour now!
I have like a million pumpkins to decorate with, which makes transitioning from fall to halloween decor super easy.  I put out all my fall stuff (mostly pumpkins) in September and then bring in Halloween in October with minimal effort.  I leave all the pumpkins out except the ones that just don't fit with the more classic orange/black/white color scheme.  I also buy a bunch of fresh real pumpkins for the front porch and a bunch of the baby ones for inside.  I got these gorgeous 'fantasy' pumpkins at Trader Joe's this year.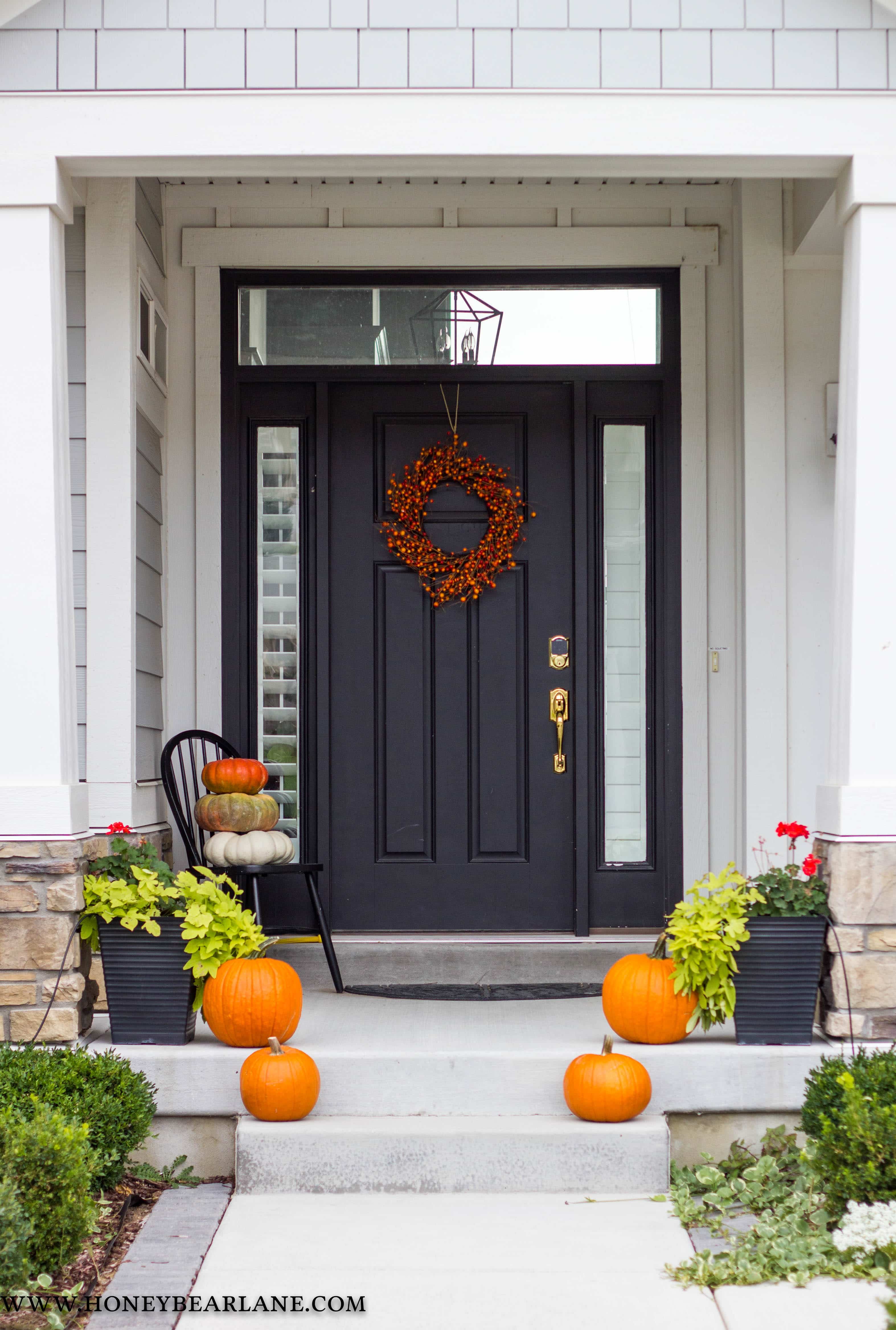 I would love to deck out my fall porch some year with beautiful mums but I actually did that the first year and they all died. We are north facing and don't get very good sun on the porch so flowers just don't thrive very well unless they are specifically shade plants. As you can see my planted mums are blooming unevenly…although I think it's kind of cool looking. Like an ombre effect.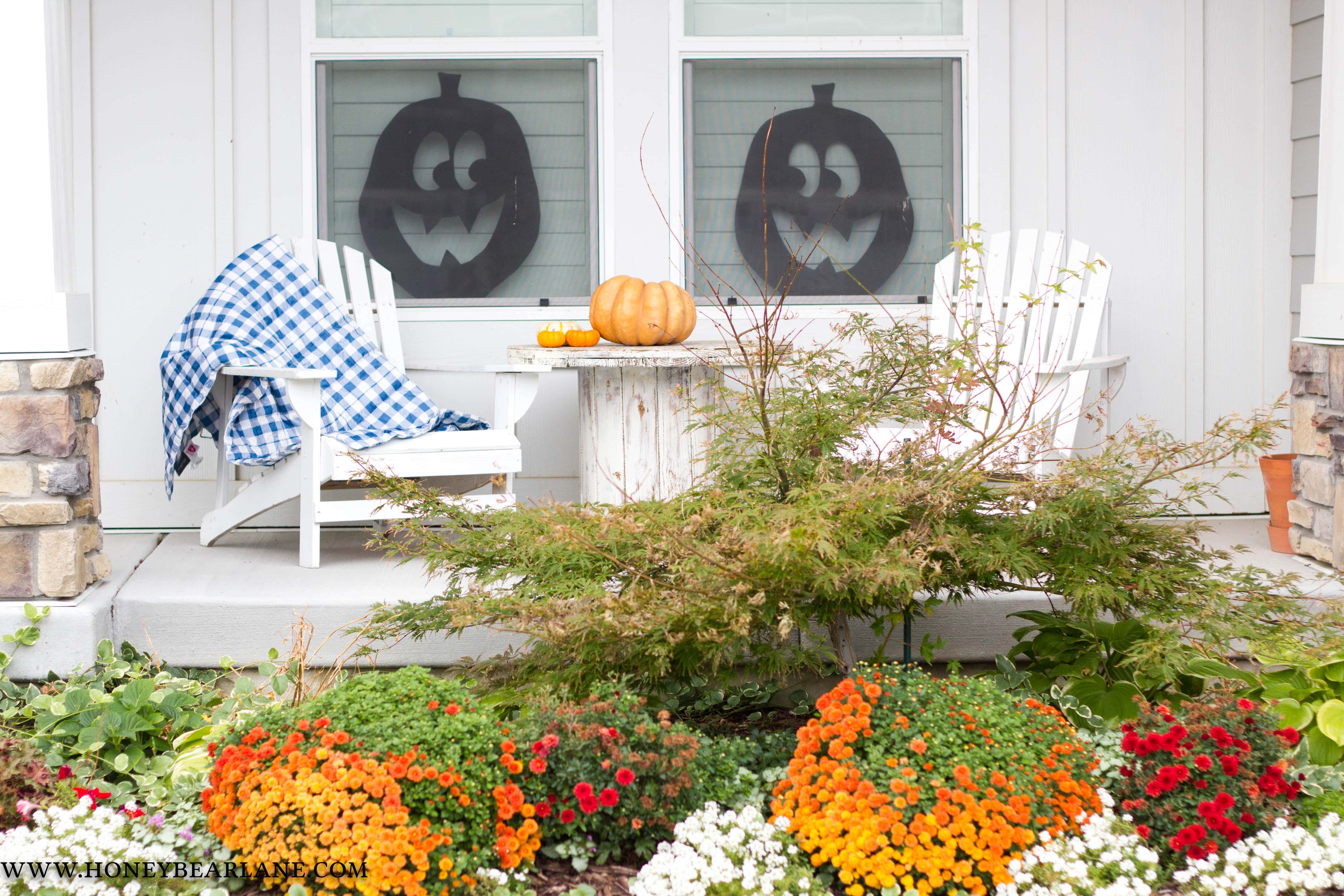 I kept it pretty simple, although I did create some fun jack-o-lantern silhouettes (I just drew them on black posterboard and cut them out.) I really let my yard and garden do the talking…just ignore all the weeds and grass that needs to be mowed. This seriously has been a SUPER crazy couple of months for both me and my husband and yes, the yard has been neglected.
One of the best parts about posting regular pictures of your house exterior is seeing how much your plants and garden has grown.  My garden in the front is completely filled in right now and I think it's looking pretty, for a beginner.  I really focused on planting shade plants so next spring I will do a post all about that.
Last year I was extremely neutral but this year I was missing color so I added in a few classic fall colors, particularly orange.  I already had my fall/winter pillow covers and blankets out for September.  It's easy to add orange by buying real pumpkins and I also bought some sprigs of faux fall leaves from Hobby Lobby to add here and there in the built-ins.  We don't really have changing leaves yet in the valley and also real leaves dry up and create a mess.  This is easy and lasts.  I pulled out my old Halloween table runner and put it on my table with a burlap runner to give it a more full look.  I replaced the blue pumpkins from my pumpkin centerpiece and threw in some orange ones to match the runner.  I also put out my orange decor items that I didn't use last year.
I have these large plastic spiders that are great to stick basically anywhere.  I've had them for years and end up using them every year!  This year they are featured largely on my mantel, which I draped in a tattered white cloth that looks a bit nicer than your cheap stretch spider webs.  Don't get me wrong–I've used the stretchy spider webs many times and it can be really authentic looking…but also a pain.  So this year I opted out of them.  But I can't not use my giant spider…
Black birds–ravens, crows, black owls–are so ominous and really give a creep factor in decorating.  I have a few of these here and there and I love the stark black silhouette they offer.
And of course I love changing out my letter board and decorating around it.  All I had to do to make it Halloweeny was add the skeleton feet in front.
We found these eerie photographs last year at Gardner Village (a local spot in Utah with some cute shops) and we loved them.  They have the ultimate Haunted House feel because they look like old portraits/photographs in one direction but then the ghastly truth is revealed in another direction.  I also have a couple of pictures I found at the thrift store of old farmhouses.  They just have that unsettling feel that something is lurking in the house in the picture so they are perfect for Halloween.  Last year I kind of scattered them around more but this year (below) I liked the effect of grouping them all together.  My toddler stares at them for a long time, confused and a little disturbed, haha!
I love having skulls (fake of course haha!) in my Halloween decor.  I placed mine on my piano which is still sitting in my entry, along with this awesome candelabra I bought from World Market this year.  I also have some faux bones which I have placed in various spots all around my house.  I actually want to eventually buy an entire poseable skeleton but I haven't yet.
I feel like the key to cohesive Halloween decor is to not just buy a whole bunch of kitschy cute Halloween items…having too many of those ends up feeling very cluttery.  If you want to create a spooky house vibe, just add little things here and there–tattered cloth, antique silver items, etc.  My piano is living in my entry this year because the front room is undergoing a huge renovation in which I have not worked on at all since March.  My piano is just an old used one that I paid someone to paint black.  But it totally works with the Halloween decor, right?!
One of the coolest parts of my Halloween home is the spooky lighting we have going on. I'm posting about that really soon though so be sure to check back!