Fall Farmhouse Decor on Amazon
Fall is nearly here!!!  And it's my favorite time to decorate, yes even more than Christmas.  Although I really love decorating for Christmas too.  But there is just something so exciting about fall, so many changes happening.  I thought I'd compile some of my favorite fall farmhouse decor on Amazon, because that's always my first go-to spot for decor.  You can honestly find such great things for amazing prices.  I have made a little online Amazon store that has all my favorite Farmhouse decor, tools, and other of my favorite things in one simple spot.  So if you like my style and what you see in this post, head on over and check out my shop!
Orange and Blue Fall Decor
This first compilation is mostly comprised of oranges and blues.  I am obsessed with blue this year and orange is the complementary color for blue, did you know that?  That's why they look so good together.  I decorated my house all summer with navy and coral and now it's time to transition that coral to more of a fall orange.
*This post contains affiliate links, click here to read my disclosure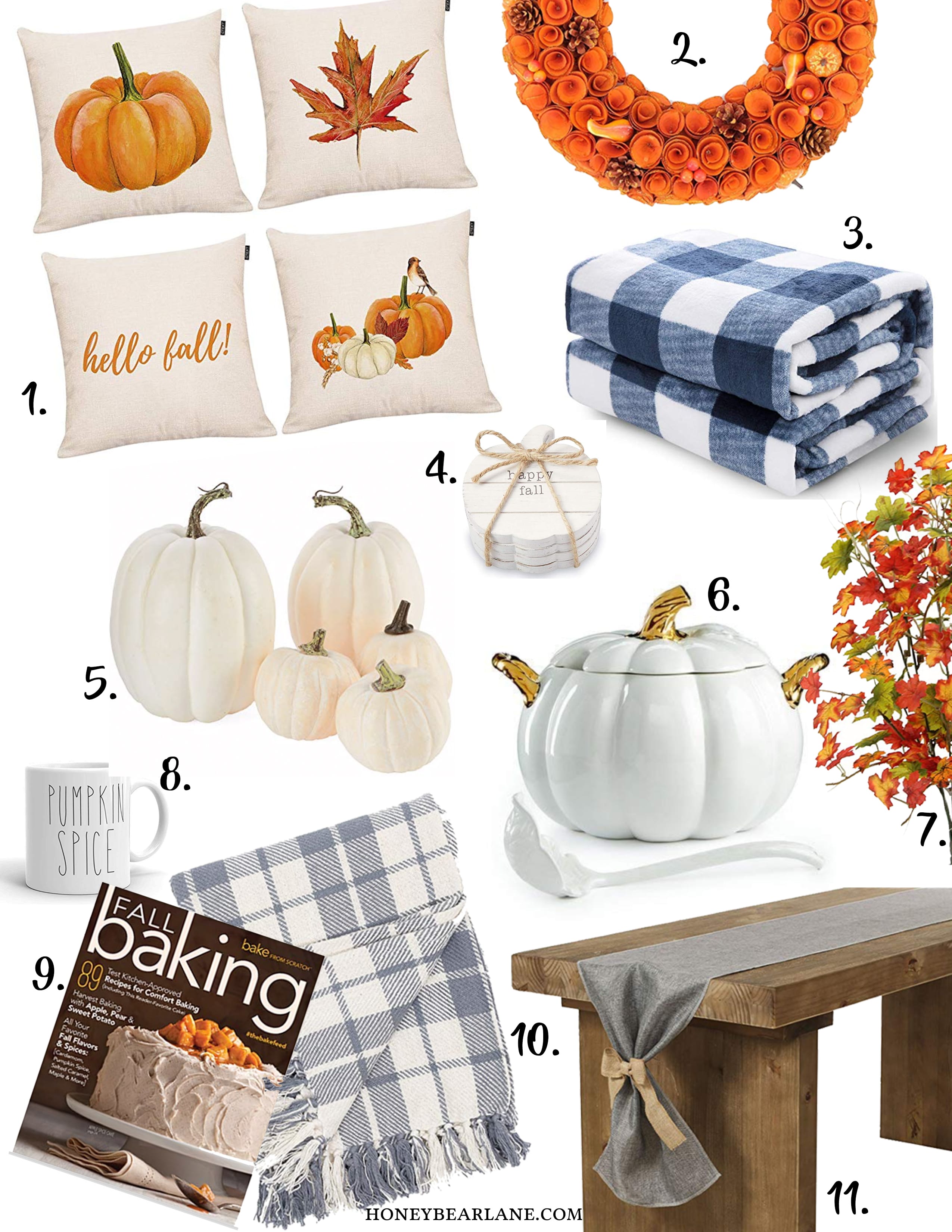 1. Fall pillows | 2.Orange wood curl wreath | 3. Blue buffalo check throw | 4. White pumpkin coasters | 5. White craft pumpkins | 6. White pumpkin soup tureen | 7. Fall leaves branch | 8. Rae Dunn Pumpkin Spice mug | 9. Fall Baking magazine | 10. Gray-blue plaid throw | 11. Gray table runner
Visit my Amazon store to see all these items
I honestly love every single item in this collection!  I would love to cuddle up with one of those fuzzy throws, peruse the Fall Baking mag, while sipping Starbucks spiced apple cider out of that cute Rae Dunn mug.  I get SO much satisfaction from decorating my home for the fall and winter holidays, it's a little ridiculous how much joy it brings me!
Neutral and Simple Fall Decor
Next up is more neutral fall decor, with warm ethereal vibes.  I love this style too and it's perfect for those who love simplicity and comfort.  It feels more 'true' to farmhouse style, using more natural textures and patterns.  It's all blacks, whites, and woods and just cozy all around.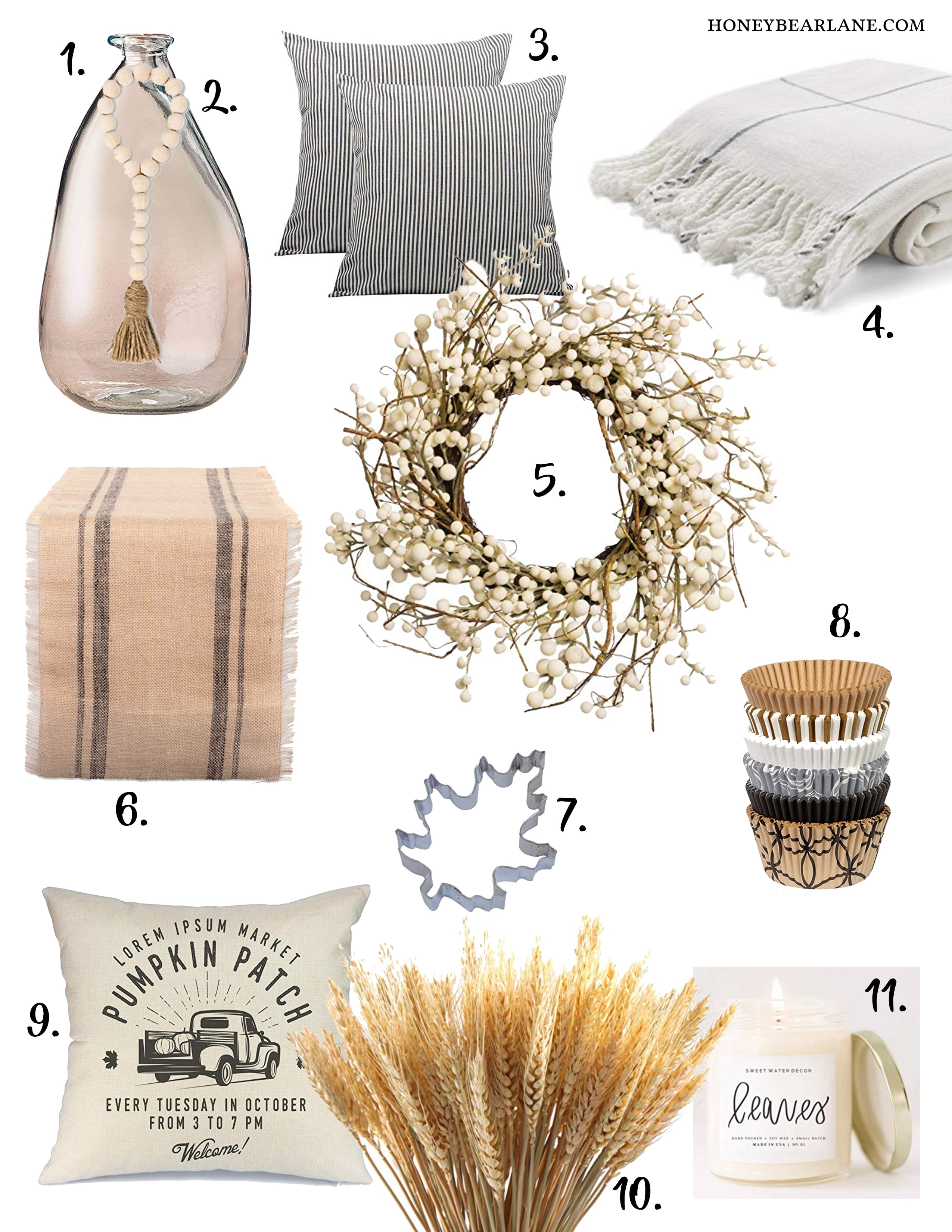 1. Gray balloon vase | 2. Wood beads | 3. Simple stripe pillow | 4. White check throw | 5. Winter berry wreath | 6. French grain sack runner | 7. Leaf cookie cutter | 8.  Gold, white, gray, black cupcake papers  | 9. Pumpkin Patch pillow | 10. Wheat stalks | 11. Leaves candle
Visit my Amazon store to see all these items
Buffalo Check Lovers
This final collection is geared towards those lovers of black and white buffalo check and quintessential fall colors–red, orange, yellow.  Buffalo check is still going strong in the farmhouse trend and I still love it myself!  It's such a bold pattern that somehow has such pleasing qualities.  I love this collection for when I'm feeling more of the traditional fall vibe, country farmhouse style.  It's got some great Rae Dunn pieces also, which you can find at Home Goods and Marshalls, although you might not be able to find these exact pieces.  I love those measuring cups!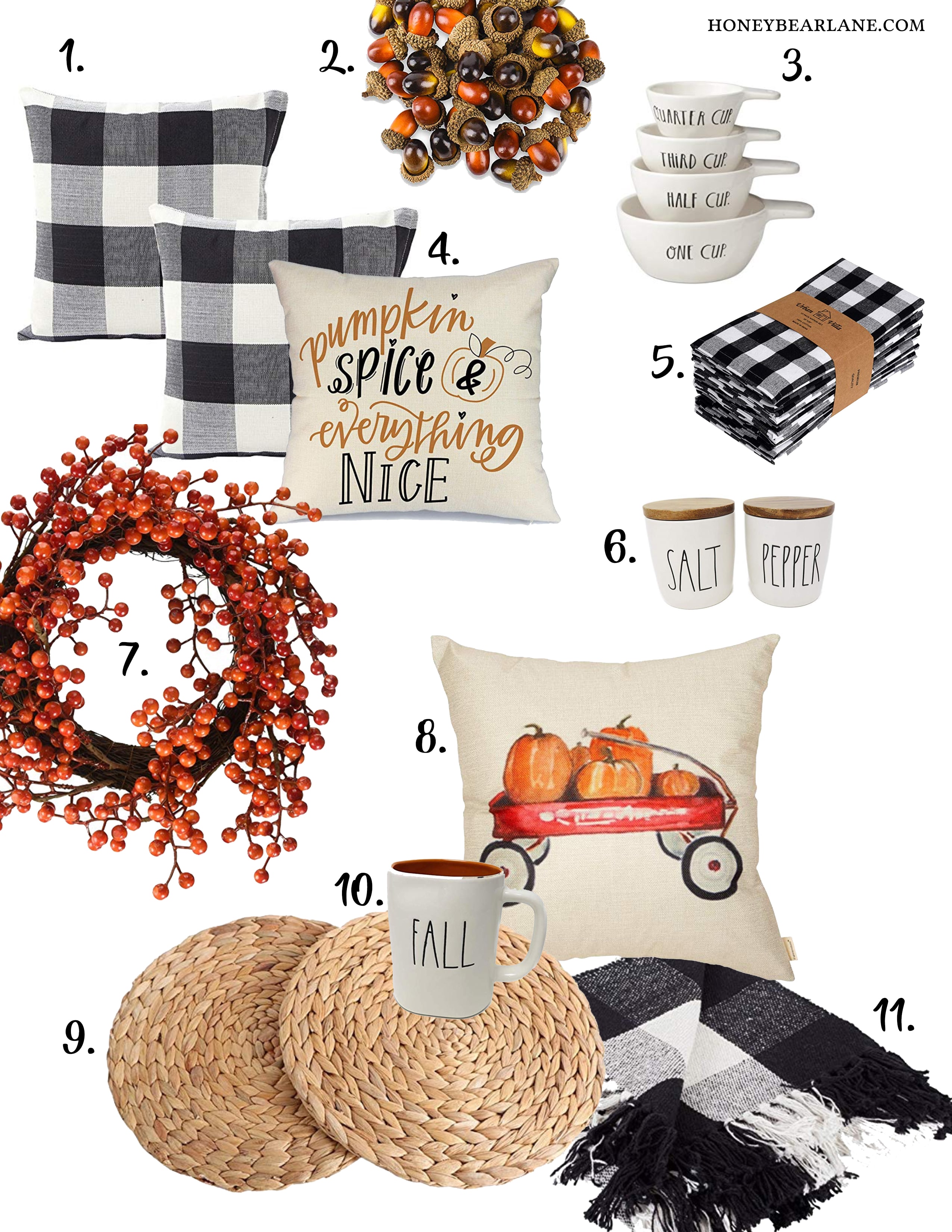 Buffalo check pillow covers | 2. Decorative colored acorns | 3. Rae Dunn measuring cups | 4. Pumpkin spice and everything nice pillow | 5. Buffalo check cloth napkins | 6. Rae Dunn salt and pepper shakers | 7. Orange berry wreath | 8. Pumpkin wagon pillow | 9. Hyacinth woven chargers | 10. Rae Dunn Fall Y'all double sided mug | 11. Buffalo check throw
Visit my Amazon store to see all these items
I had a blast making these collections and I'm sure I'll do more for Halloween, Thanksgiving, Christmas, and more.  I mean really, where would we be without Amazon Prime?  Even my technologically-challenged mother uses it regularly, which is saying something.  They're going to take over the world I'm sure!  And no, this post isn't sponsored by Amazon but if they wanted to work with me, I wouldn't say no…I'm just sayin'.