Layering Rugs in the Living Room
In my first attempt at layering rugs, I just bought two new rugs for my family room. We've lived in our house for less than five years and this is the third rug I've purchased. The first one I bought was good quality, but not a pattern I loved. The second one I love the pattern but the quality was cheap and it looked bad after awhile.  This picture below shows the old rug.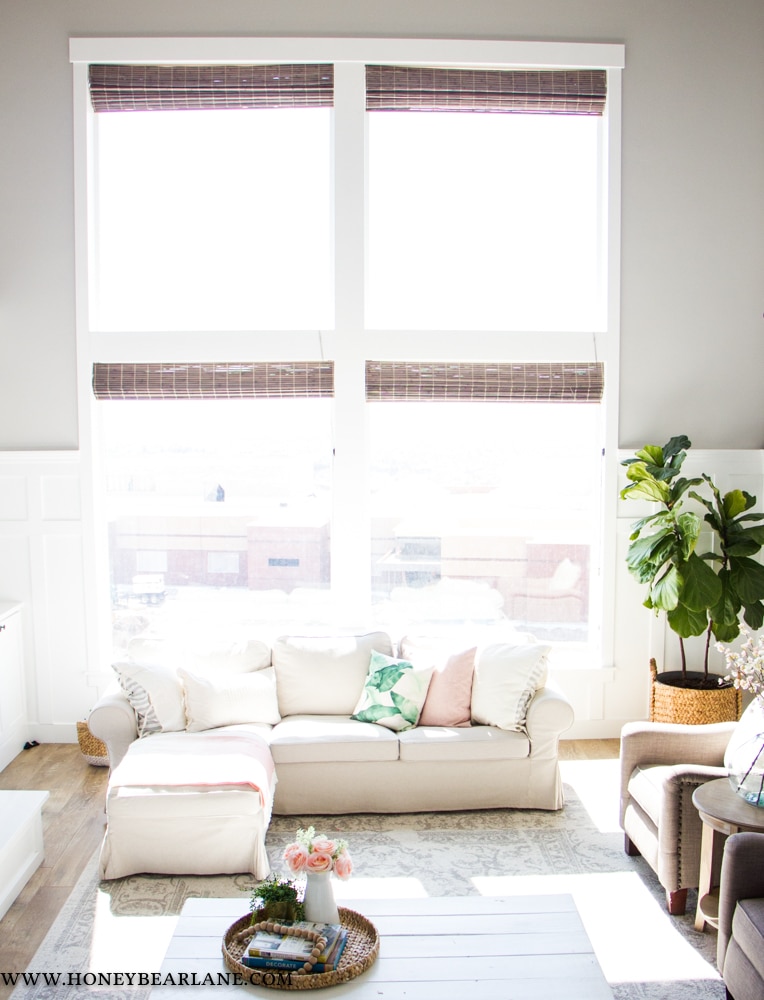 Here are my issues with rugs: you either spend a little and get a rug you like that needs replacing in 2-3 years which works okay but it gets a little annoying to replace it that often. Especially because I need a 10×14 rug and those are still around $500 at the cheapest.
Or you can spend a lot and get a high quality rug but what if you get sick of the rug? I guess you could try to re-sell it, but you'll still lose a lot of money. When you like changing up decor as often as I do, it's not really financially smart to spend a lot on a rug.
Here's what I finally decided to do for my family room: buy a jute rug and layer it with a smaller, softer rug. So this isn't like a ground breaking idea, but I didn't want to do it before now because jute isn't really all that cozy for a rug. I also have small kids and a baby and crawling on a rug like that isn't that comfortable. However I'm so sick of rugs that wear out and the other jute rug I have in my entry has actually held up so well I feel like it looks almost better over time. Now it has this cozy worn in look and has gotten softer.  
Here is what we have now!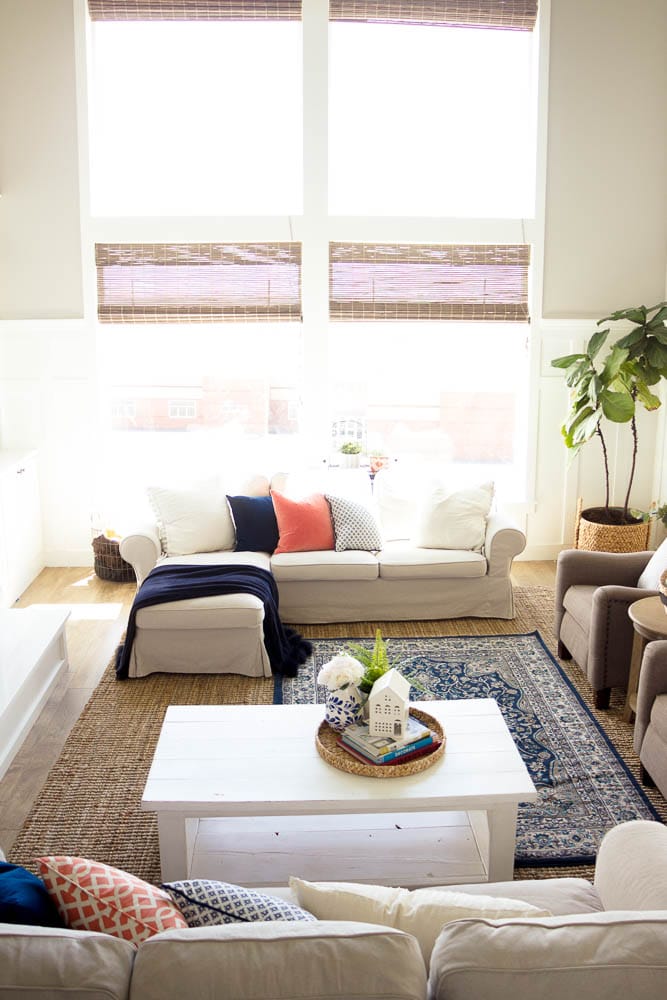 I am actually absolutely loving this look.  It has such a rich and deep texture with just the right amount of color and pattern that I don't get sick of it.  I love navy blue right now (I've loved it for years and have been trying to incorporate it into my house forever!) so this was just the ticket.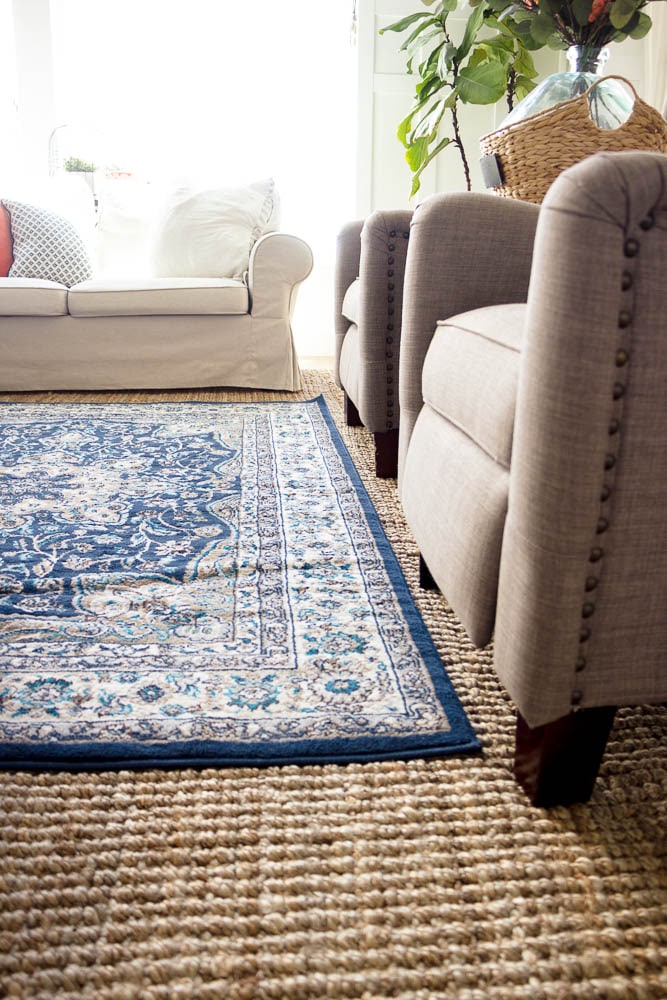 The other great thing about a jute rug is that is super neutral and layering rugs is really easy.  I found this cute 5×7 rug on Wayfair for about $70.  It's actually really soft and feels so much thicker with the jute rug underneath.  I love the added texture, pattern, and color that it adds to this space.  After having such a bland neutral rug for so long (which I actually also loved) it is nice to do something completely different and more bold.  This is probably my favorite look so far.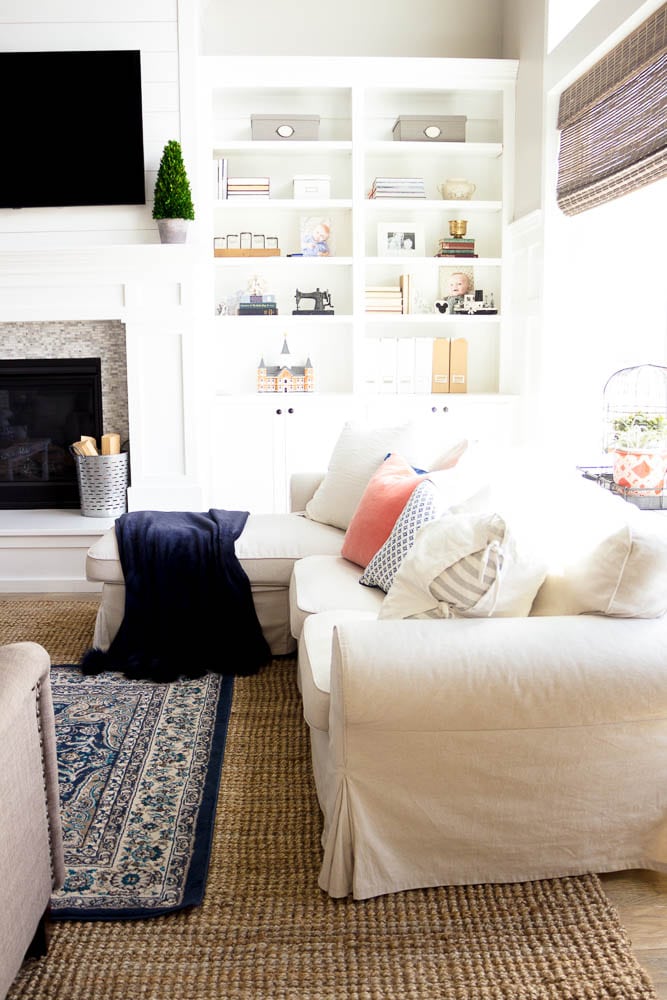 My experience with jute rugs is that they are so flexible with decor, have a great farmhouse style vibe, and hold up extremely well to traffic and dirt. I found this 10×14 one on Overstock.com for less than $400. I expect to keep it for many years and extend the life even longer by layering rugs with it.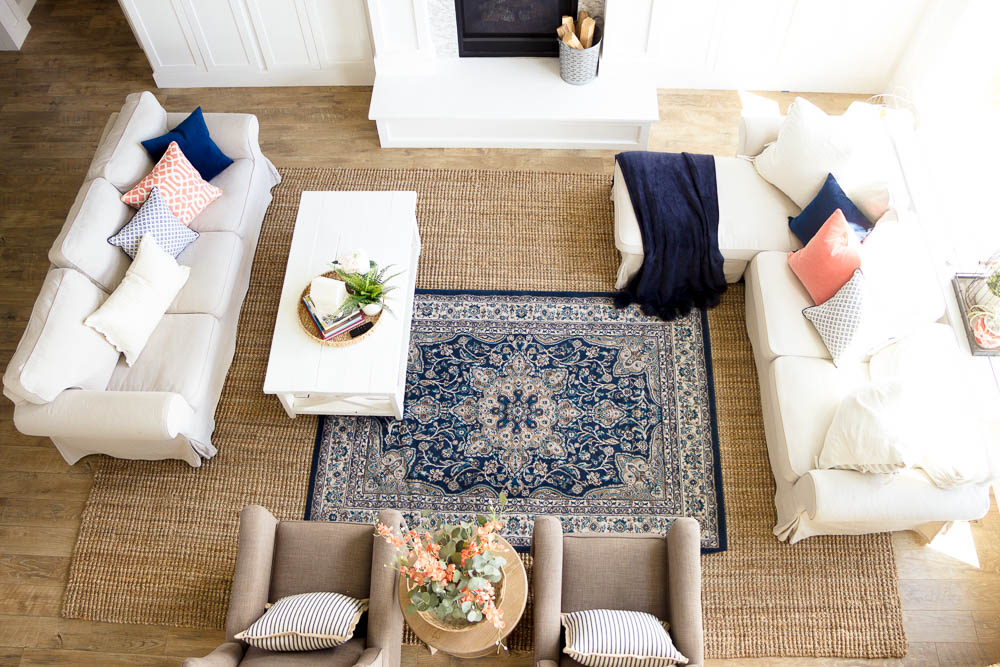 I have a 8×10 pad for my rug which yes, should probably be bigger, but I didn't feel like buying another one and spending more money. Another nice thing about this jute rug is that it's thick so you don't even really feel the need for a pad.  I think at this point the pad is more just extra protection for the flooring.  It is bugging me that all my furniture is slightly askew from this overhead angle, haha!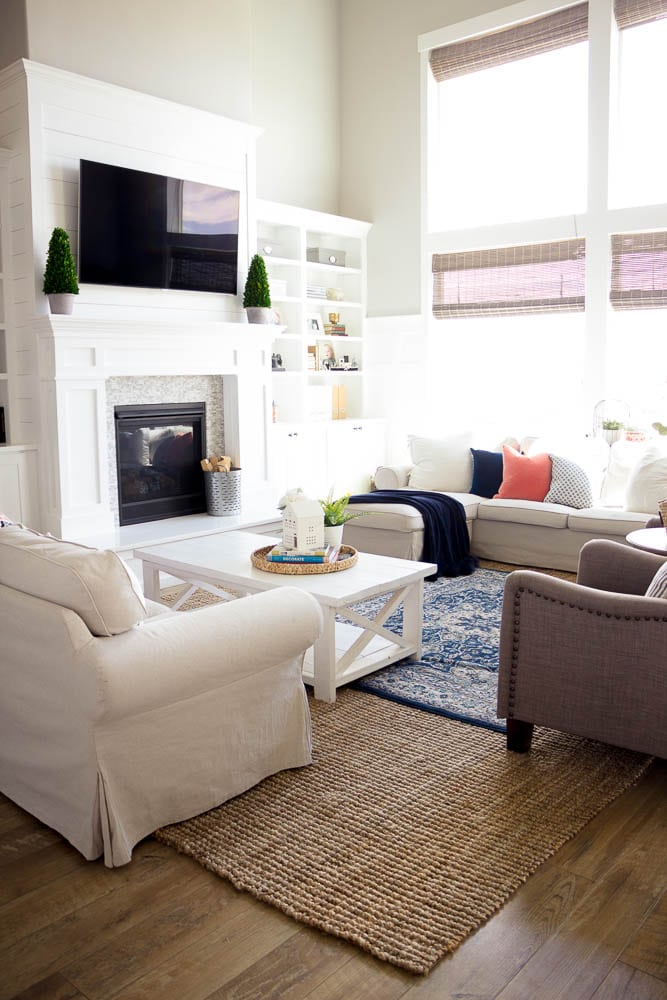 What do you think of layering rugs to achieve a farmhouse style?  You can easily layer rugs for all sorts of styles of course, but you can't go wrong with a thick jute rug for a farmhouse effect.  I feel like doing this has updated my decor quite a lot since the trends are moving away from all light and airy to a more even balance of darks and lights.  I'm not sure if I could ever go full dark and moody…I just love light too much!
Rug Sources:
10×14 Jute Rug:  Overstock.com
5×7 Oriental Rug: Wayfair.com
Or try these from Amazon! (affiliate links)
If you enjoyed this post and home decor, check out these other posts of mine!