Modern Finished Basement Ideas
We are in the process of getting ready to finish the basement.  Basement finishing can be a huge headache, but it can also be super exciting and fun.  I've been excited doing all the planning and gathering ideas.  It's different from when we initially built out house because we're going a much more custom route (we didn't custom build) and so there are just so many decisions to make!  I've gathered some of my favorite modern finished basement ideas and put them here to share with you.
This is a really big project, and we've decided to hire it out rather than do it ourselves.  We went back and forth between trying to do it ourselves or hire it out, but we decided it's just not the right time in our life to do it ourself.  My husband hurt his arm last year and had to have surgery on it and it's still not fully recovered, so between that and being super busy at work, he knew he wouldn't have time or the physical effort needed.  I have five kids under 12, so you can imagine all the free time I've had lately!
The basement is more a relaxed, fun kids space so I've been having tons of fun planning it out.  The main floor of our home is more traditional in style, so I'm moving to a more modern style in the basement…kind of a mix of industrial and mid-century modern.  We are having two bedrooms, a game room, a bathroom, a full kitchen, a living room space, a home gym room, and a playhouse.  It's going to be amazing to have it finished!  My oldest son is sick of sharing a room and is super excited to have his on room in the basement.  And since my husband and I have been sharing a room with our 3-year-old, we are excited for him to have his own room upstairs!
Basement Kitchen
Here is a mood board I created for the basement kitchen:
Photo sources:  House of Silver Lining, unknown via pinterest
The plan is to have a full kitchen against one wall, so yes–all the appliances will be on the same wall, including the sink!  It's a little smushed, but we have two large windows against the back wall so it's kind of how it has to be.  I'm going to build a large island similar to the one in the picture, with the wood base and the double X legs.  We are going to do black base cabinets with brass hardware, kind of like my front office builtins, and then floating shelves instead of uppers.  I'll do some sort of backsplash later, but I'm undecided between plain white subway tile or a fun Italian tile that is so popular right now.
The island will be large and be like a tall table so it can double as an island or as a table.  I thought it would be fun to have it serve as a table for some sort of kids' art class I have considered teaching.  I'm just going to do a wooden top though, rather than pay for a slab of quartz.  The kitchen countertops will be a white quartz, however.  The flooring in the kitchen and the living room will be a nice reclaimed wood LVP (luxury vinyl plank).  LVP is great for basements because it's waterproof and molds better to the cement floor.
Basement Bathroom
Photo Sources: 1 & 2 source unknown via pinterest, Lindsay Hill Interiors
Going with the clean black and white look again, I'm incorporating some white oak in the vanity.  I wanted a floating vanity, but my cabinet guy isn't confident about the ability to support the weight of a quartz countertop.  To tell the truth, I actually love the look of this Pottery Barn vanity shown above, so who knows, maybe we can marry the two ideas.  My favorite thing about my choices is the French paned shower door.  You might look at it and think "that would be a pain to keep clean!" but they make these with the black part more 'etched' in place rather than a divided lite, so cleaning is supposed to be much easier.  I love the modern black matte hex tile and the brass hardware here and there.  We are going to have a small window put in the wall so natural light can flow in.
Basement Playhouse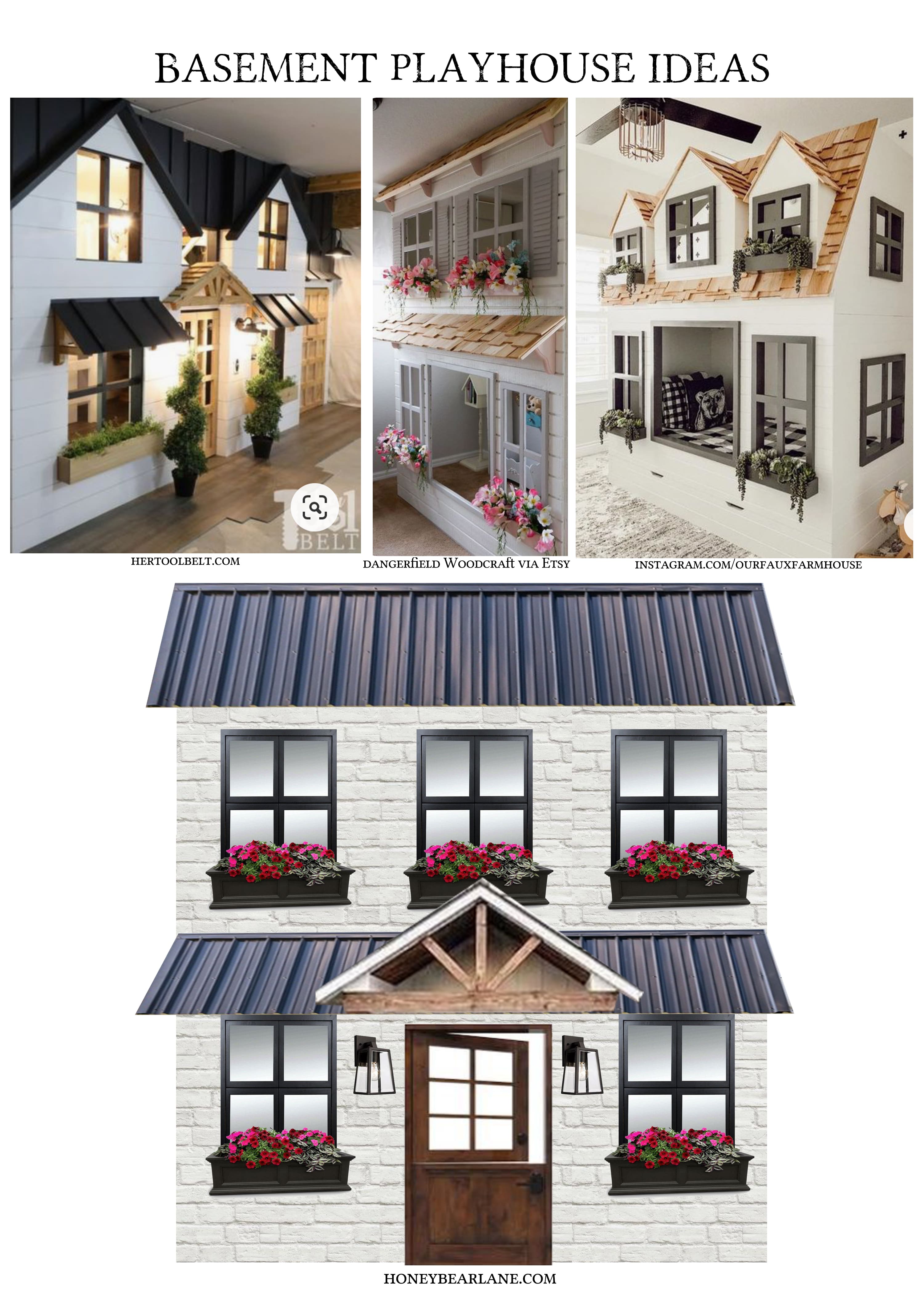 Photo sources:  hertoolbelt.com, Dangerfield Woodcraft via etsy, & instagram.com/ourfauxfarmhouse
This is the funnest part of designing the basement.  I've been dying to build a playhouse for my kids and I almost did one in our backyard last summer.  My husband didn't want to do it though, because we didn't really have a good spot in the yard without destroying the grass.  So we agreed on this little one in the basement, which is fun because they can play in it year round and don't have to worry about spiders.
We are building this out of the space reserved for under the stairs storage and a shallow storage closet.  We are going to have a cutout inside the house which will go through to the game room via a slide.  It's going to be just a fun little kids' space!  I designed this mockup taking some of my favorite elements from different inspiration photos and I think I'm going to do the exterior in whitewashed brick.   I'll add flower boxes to the windows and a dutch door.  The basement guys aren't going to do anything but frame this for me so this will be a fun project for me later.
Basement Family Room
The basement living room is going to be a comfortable space for us to hang out and watch movies.  It's not going to be a big area, but just enough space for a couch or two, an ottoman, and of course the TV.  The TV will be on the wall with builtins similar to the ones in the mockup.  My friend recently had her basement finished and did these builtins in white and they are just gorgeous.  I love the idea of the black and the white oak contrasted shelves.  The rug I found on RugsUSA and it's everything!  We are planning to move our current living room furniture down to the basement and get something maybe a little more formal for upstairs.  But we will see what works best.
Basement Game Room
I didn't make a mockup of this room, but basically I want it to be a fun room for kids of all ages to play.  It will have the slide for the playhouse in it as well as some toy storage.  The rest of the room is going to be for the older kids and basically be a video gaming area.  I love the idea of doing some cool fun lighting like in these photos: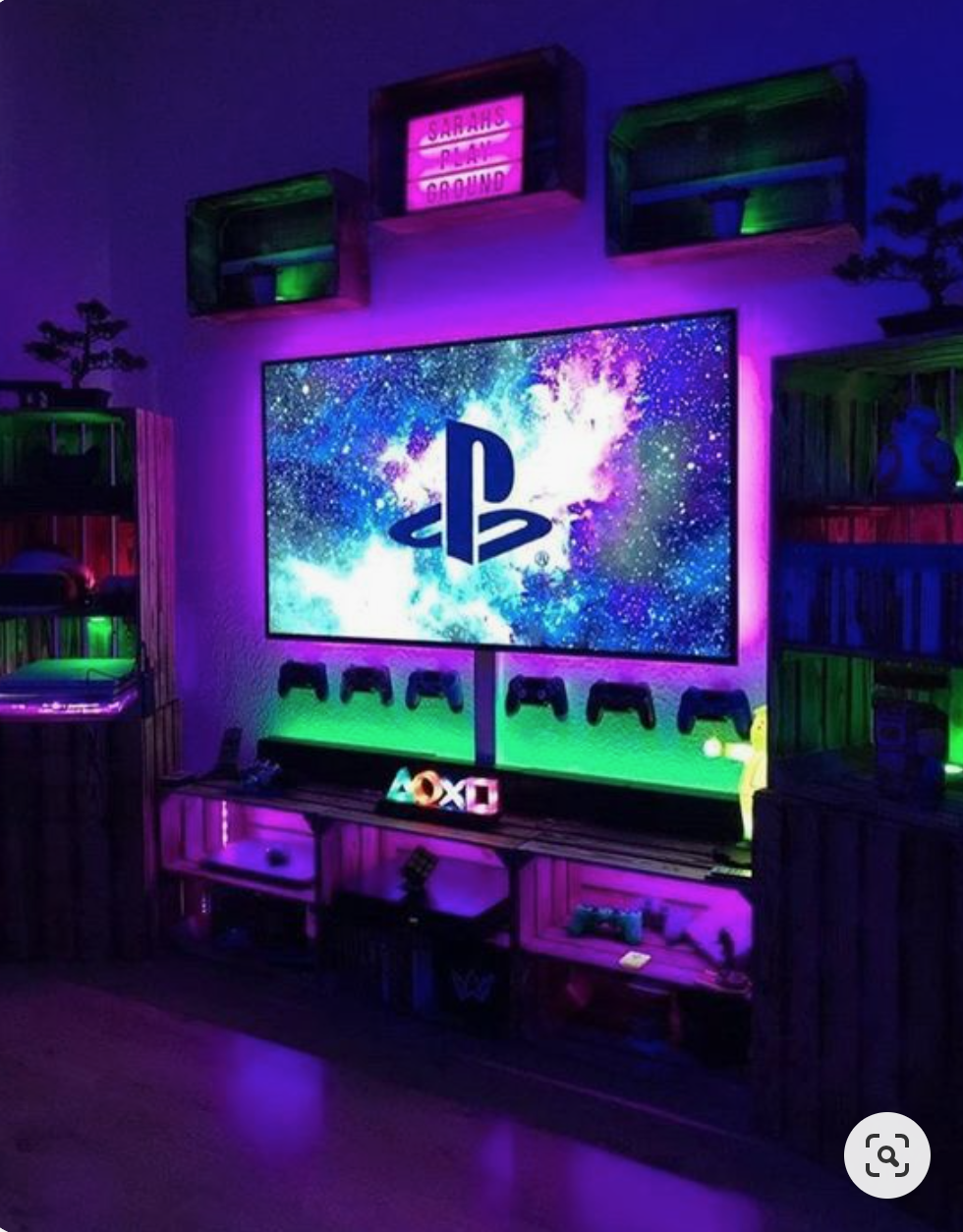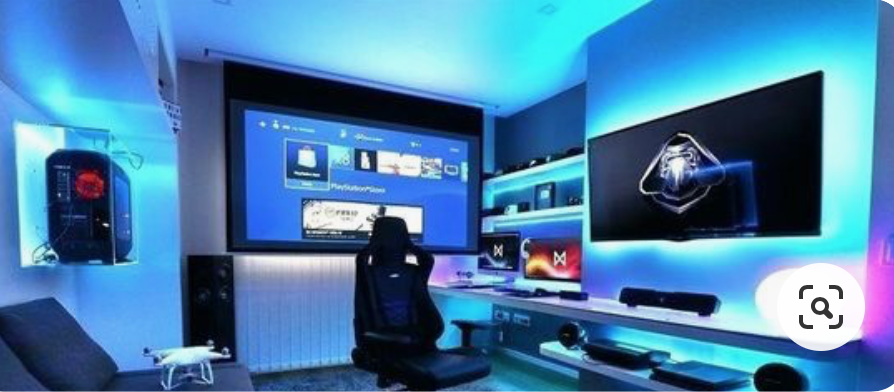 (click photos for source)
We will mount a TV to the wall and do something for the video game console area below.  I want to get some comfortable chairs or a couch or something and it will have some good insulation so we don't have to hear the noise upstairs.
So there are a bunch of my finished basement ideas!  I looked EVERYWHERE for lots of those photos sources and could NOT find them, so I apologize.  If you recognize where one of the sources is from, please let me know.  I always want to give credit where it is due.  I'm super excited to start the basement and I'll keep you posted on the progress!