Half Bath Makeover Plans and Mockup
The next project on my list is my half bath.  This half bath is a shame space for me.  It's completely bare bones with no decor and no changes made so far.  It's a very small, dark room with no natural light, like most half bathrooms.  And since it's primarily used by my kids (I live by the rule of always only using my own bathroom at home since kids don't use it) it's sometimes less than pristine.  It desperately needs a half bath makeover.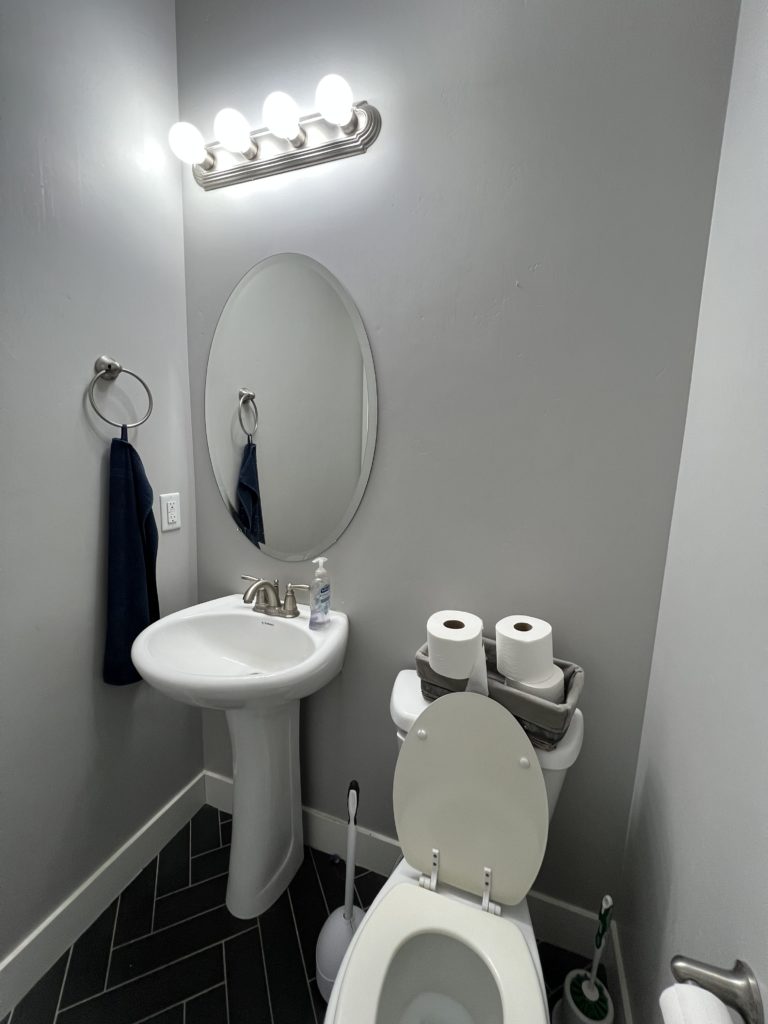 I'm forcing myself to finally address this situation because I also finally found a new bathroom vanity I like.  I've been on the hunt for the perfect vanity for a SUPER long time since it had to meet my expectations in the following ways:  1) Made of wood, not painted, 2) 30″ wide or less but also not too narrow, 3) Fairly modern style that fits the rest of my home and 4) Under $700.
This doesn't sound too strict, but you'd be surprised how hard it was to find things meeting these guidelines.  Most wood vanities are a bit traditional for my taste and the wood stain was dark or cherry.  I wanted a medium to light wood.  More current styles were also of the 'weathered' wood variety and my style is veering away from a lot of the farmhouse looks.  I finally found one from Wayfair and I put together a little mockup of the finished half bath (the vanity is actually quite a bit lighter than this photo shows, a warmer brown.)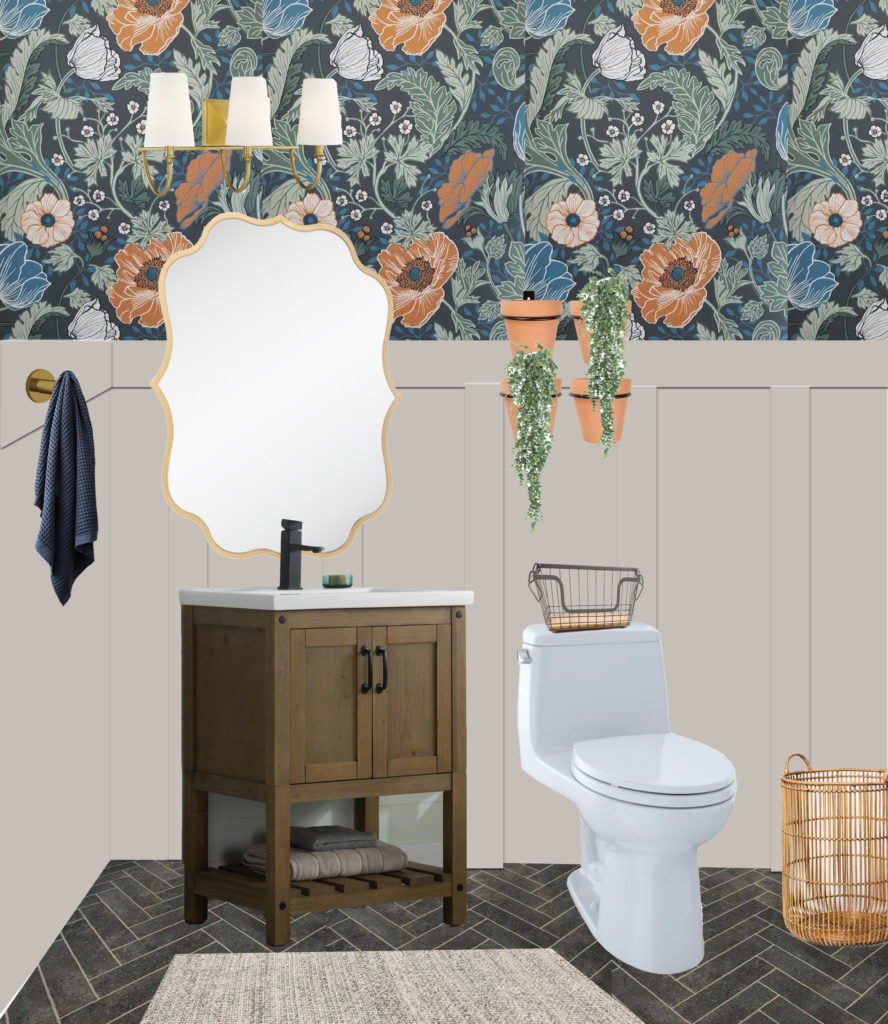 As you can see, I am opting for half of the wall being wallpapered.  This wallpaper is one I found on Etsy and was a close contender for the mudroom, especially when I was seriously considering painting the lockers an olive green.  I like these colors because they work with the black tile floors as well as incorporating other colors I decorate with around my home (blue and a terra cotta orange).
I'm also going to put a wall treatment halfway up the wall.  I feel like having a whole wall of wallpaper would overwhelm the space.  So having the wall treatment (board and batten or shiplap) painted in a neutral color (Accessible Beige by Sherwin Williams–one of my faves) will break it up as well as lighten up the room.
Sources:
I'm not totally sure about the hanging plants above the toilet.  I feel like I need to see how the room turns out before deciding what to put there.  I might want shelves of some sort there instead.  Once I made this mockup of the bathroom, I used the handy little app ToDoist to make a list of things I need to do to see this project through.  The first thing is to head to Home Depot and buy some supples.  I'm super excited to get started on my half bath makeover!
Hopefully the wallpaper I bought for the mudroom will come soon and I can finally share the finished mudroom/laundry room space with you.  It's turning out so pretty!