How to Use Vasoline to Distress Wood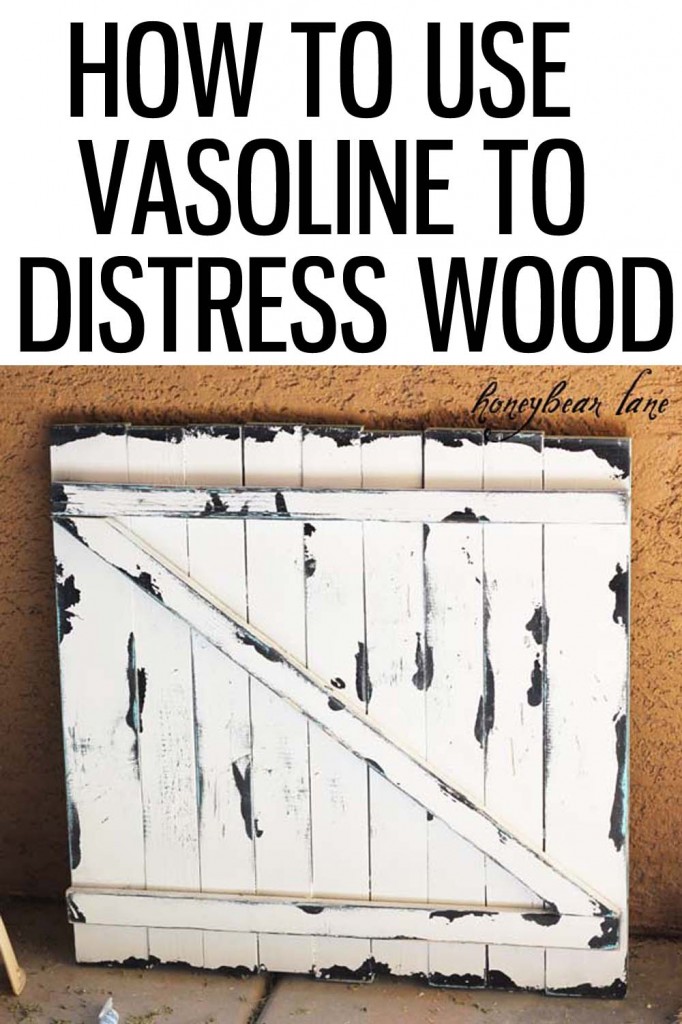 Okay WAAAAY back when I made my living room plans, I wanted to do a planked monogram artwork type thing.  I've been thinking about this project forever so I was super excited to finally make it happen this weekend!
But it was a fail…somewhat.
Here's how I started:
I bought cull wood (that cheapie or free wood at the back of the store) and had them cut them to the right size.  And a nice old man even did the diagonal cuts for my center brace piece.  Someday I will have a large collection of power tools, but that day is not today.  Then I sanded them and painted them all black and my sweet hubby screwed the whole thing together from the back.  I'm not afraid of tools, but the hubby likes to put his hand in my projects every now and then.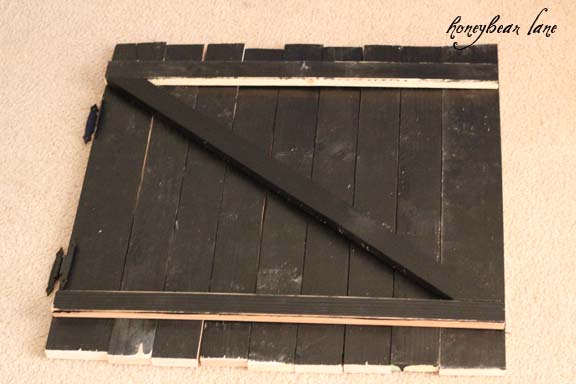 So this is how it was looking so far.  Then I had this huge stencil that was like a year old that I'd never used.  I wanted to use it on this though, so I carefully applied it.  And then I spray painted the whole thing so that when I removed the stencil, the monogram would be black still.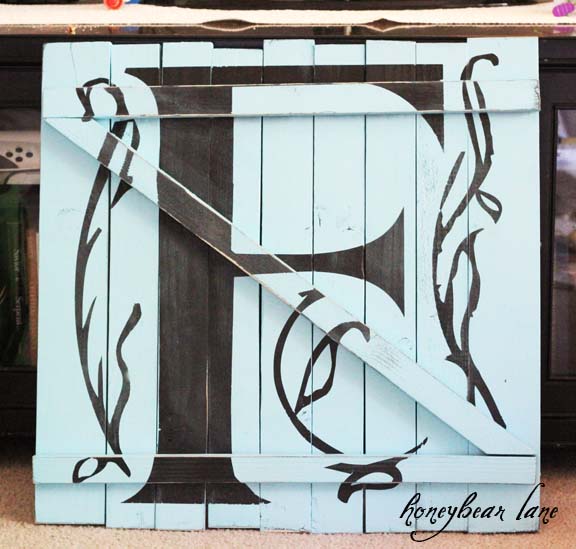 Here it is!!  It's pretty cute, right?  I actually really liked it like this.  But there was a very huge problem.  It was completely the wrong shade of aqua.  It's a lovely color but clashed horribly with my other decor, especially my precious zig zag couch quilt!
After much debating, I decided to just paint over it.  A little sad to have wasted that stencil that I saved for so long, but I'm over it now.  So I painted the whole thing black again.
I loved the rustic look, especially the chippy paint look.  And I wanted this to look like I'd rescued an old gate or something (maybe from that French farmhouse?) Sausha from Show & Tell has this awesome chippy paint method using Vasoline which I wanted to try.
So this is how to use vasoline to distress wood.  I actually used Vicks Vaporub because my Vasoline was in my son's room and he was sleeping.  So my sinuses were all clear after doing this step, haha!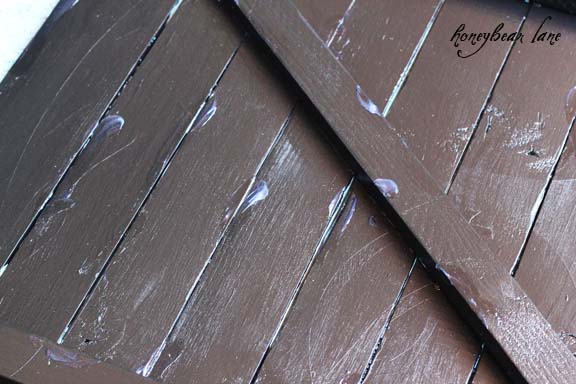 Basically what you do is smear a little bit of Vasoline where you want it to look chippy.  If you are doing this to a piece of old furniture with dark wood underneath, just do it straight on the wood.  If you want an underneath color to show, like this black, do it on top of the paint.  And don't do it as thickly as I did here…I totally got carried away.
Then I spray painted it white, even though this looks kinda blue, it's white.  I am not sure how this would work if you brushed on the paint, so if in doubt, just spray.  And you can clearly see the spots where I put the goop.  After it was dry, I literally just took a rag and wiped it off…that was it!
Okay not really.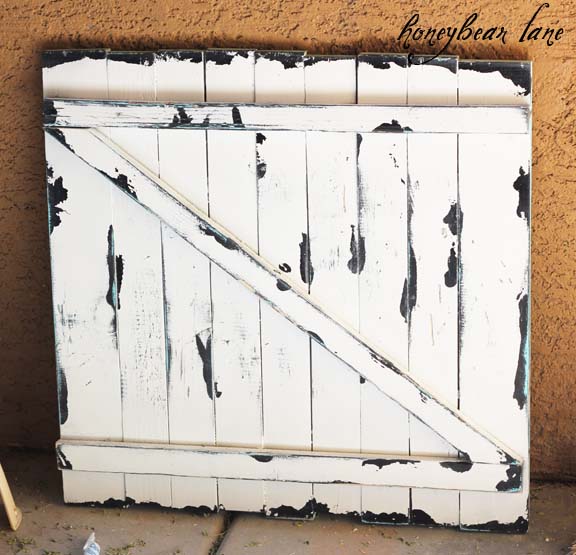 After I wiped off the Vasoline I still did quite a bit of sanding and distressing.  I used a scraper to put some more dings, dents, and scratches in the wood, making it look more forlorn.  I am aware of the likeness of this to a Jersey cow, but like I said, I went a little overboard with the Vasoline.  I still really like the final result though!
As for the monogram idea, I think I am going to abandon it and place a wreath over the top instead.  I am also considering adding a tiny bit of glaze…what do you think?
Glaze or no?