Pinterest Inspired Project #1: Painted Glass Bottles
Get Your Projects Entered to the Great Pinterest Challenge by 8/19
***********
So shouldn't my projects be all sewing?  Um…maybe.  But they're not.  I got an agenda of my own to fulfill and so I'm not going to work on only sewing stuff right now.  So thbbbtt!  (That's me doing a raspberry in case you couldn't figure that out.)
I first saw these beauties on Pinterest (do you follow me there?  You really should.  I have impeccable taste.  🙂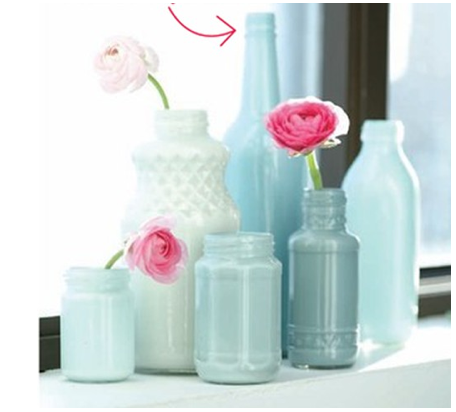 I knew it would be a very easy project to pull off.  Here's mine…
And thanks to the awesome folks at DecoArt

I had in my possession two boxes of brand new paint.  (I know, it's awesome to be a blogger.)
I went to the trusty thrift store and picked me up some cheapie glass bottles in unique shapes and sizes.
And I picked out the colors of paint I wanted to use from the Americana paints they sent me…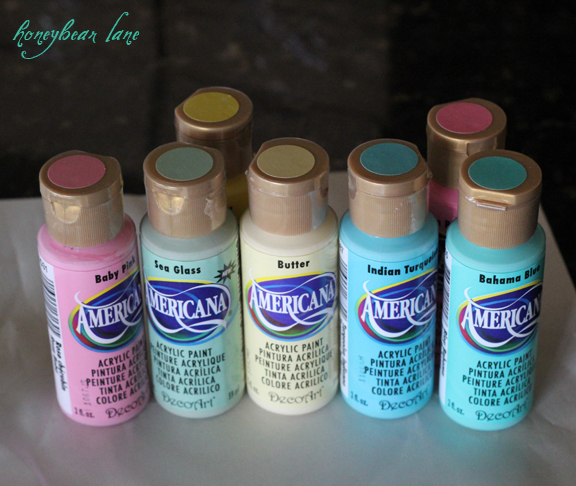 (Are you all getting that my baby girl's colors are pink, aqua, and yellow yet?)  I was tempted to make it monochromatic like the original, but I couldn't resist the pink.
The rest is simple.  You must be patient and a brush is handy at times.  What you do is just pour the paint in the bottle and swirl it around until it covers the surface.  Sometimes the paint won't go so you can help it out with a brush.  Other times a brush is useless so you just have to use lots of paint.  Tip it upside down for awhile, tip it back to try and cover the whole surface.
Isn't this bottle cool?  It's like a giant beaker.
Turn them all upside down to get out the excess paint and then let them dry for a long time, overnight.
Done and done.  One little thing:  That pink jar that's the weird square shape had issues with the paint sticking.  It smelled like an old grandma's perfume so I'm pretty sure it was a perfume bottle.  I think the oils inside prevented it from adhering well, so if you suspect oils inside, you might want to put some sort of solvent inside first.  Just sayin.'
Linking up to: