I, again, was Pin-spired.  By this: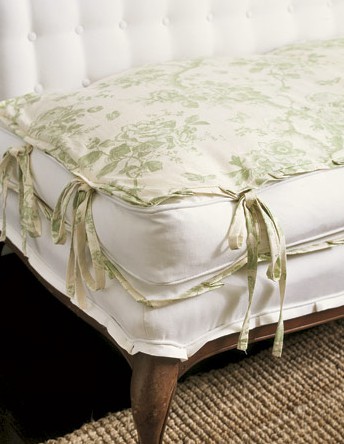 It's a slipcover for your slipcover. Haha! Actually, just for the cushion on a singular cushioned piece. I liked the idea for adding in some sort of color or accent that can easily be switched out and is much faster to make than a slipcover.
As Halloween draws nearer, I have been anxiously trying to put together my decorations using these fabrics: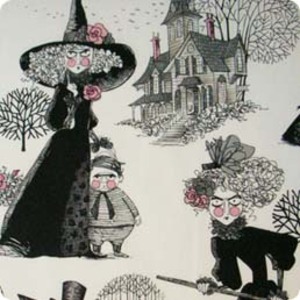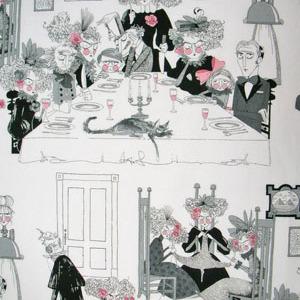 These are part of the "Ghastlies" line by Alexander Henry.  I'm obsessed with it.  It's based on Edward Gorey's "Gashlycrumb Tinies" ABCs, which I just love, and I love the drawings.  Eerie, creepy…perfect for Halloween.
So this is what I made:
Pin It
The other side is a gray polka dot material…
It's such a fun way to add in a little Halloween decor without being all pumpkins and ghosts. Not that there is anything wrong with that, but this year I'm discovering all sorts of ways to decorate in more non-traditional ways.
The tutorial for this project is after the jump!
For this project you will need:
2 yards of your fabric of choice (unless you want two separate fabrics for the top and bottom like I did)
1 yard of fabric for the pleated trim and ties
First you cut out your top and bottom by using the cushion as a guide.  You really can just cut it the same size.
Then you will cut your trim fabric into strips that are 1 1/2″ wide and sew them together so you get one super long strip.  Iron open the seams and iron the whole thing in half lengthwise.
To sew on the pleated trim, you can pin the raw edges of the trim to the raw edge of the right side of the fabric, pinning in the pleats.  I actually just pleated as I went, since pinning often is a waste of time for me.  I just eyeballed the pleats.  Is anyone really going to get out their ruler and measure your pleat distance?  No.
Do the same thing to both pieces of fabric.  It will look like this: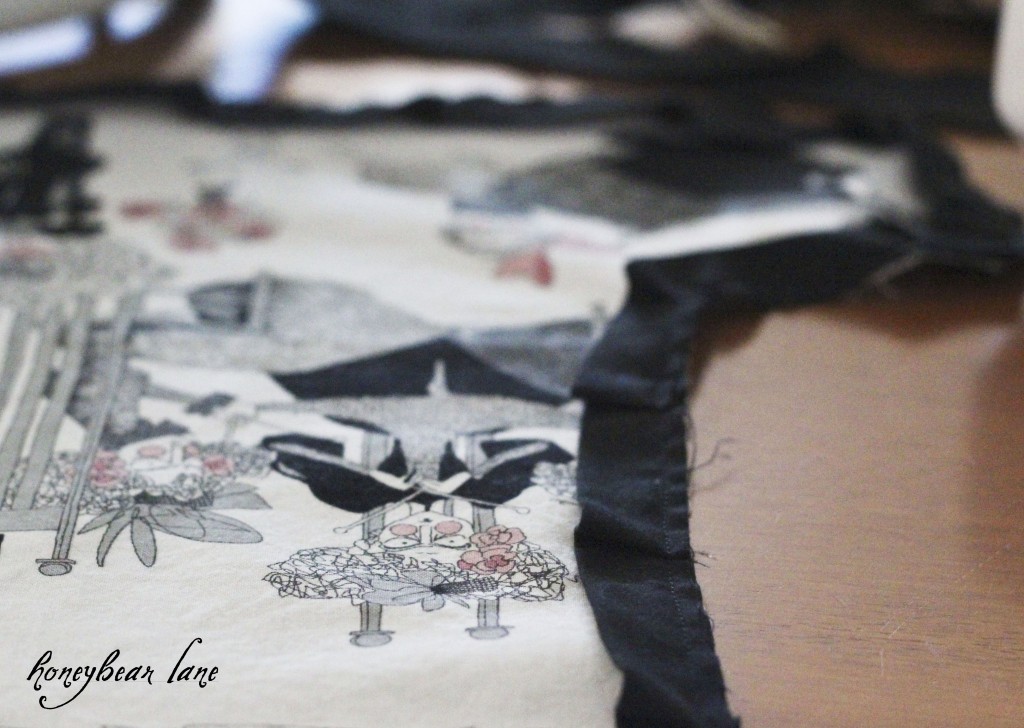 After your trim is attached, you need to make the ties.  You can iron and sew the rest of your trim into bias tape, but I was lazy (and this is for Halloween) so I just zig zagged the raw edge, leaving the threads.  Gives it kind of a tattered look, no?
Then you put the wrong sizes together of your cushion covers and pin the ties in where you want them.  I did three in front, one on each side of the t-shape, then one on each of the side, and two on the back.
I pinned them just under the trim (which I finger pressed down) and then top stitched in the ditch of where the trim meets the other fabric.
That's all you need to do! It took me about two or so hours to complete. Not too shabby.
Linking up to