Make a Quilted Camera Strap Cover!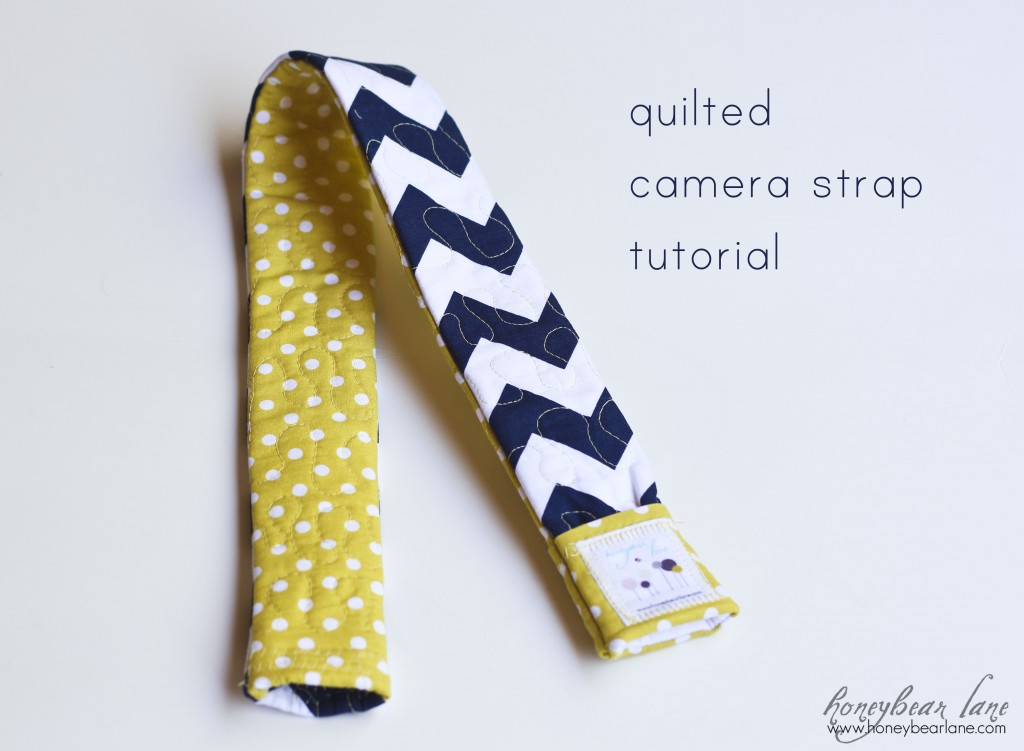 I know–there are a billion camera strap tutorials out there. But I was getting ready for SNAP! conference today and I realized, "Hey–I'm gonna look super lame without a handmade camera strap on my camera!" So I quickly referenced a few different tutorials to get a basic idea and came up with this quilted one.
Now I'm not gonna lie here…the lens cap pocket doesn't fit my lens cap. But that was a learning curve of quilting the cover. But one thing that IS awesome is that it's super comfortable. It's like a blanket for my neck. A super soft snuggly quilt for my neck. My neck likes me again (we've been on the outs since I bought my camera and had the scratchy strap cover.)
Here's a run down of my process. It's not super detailed since there are so many tutorials already, but feel free to ask questions in the comments and I will answer them.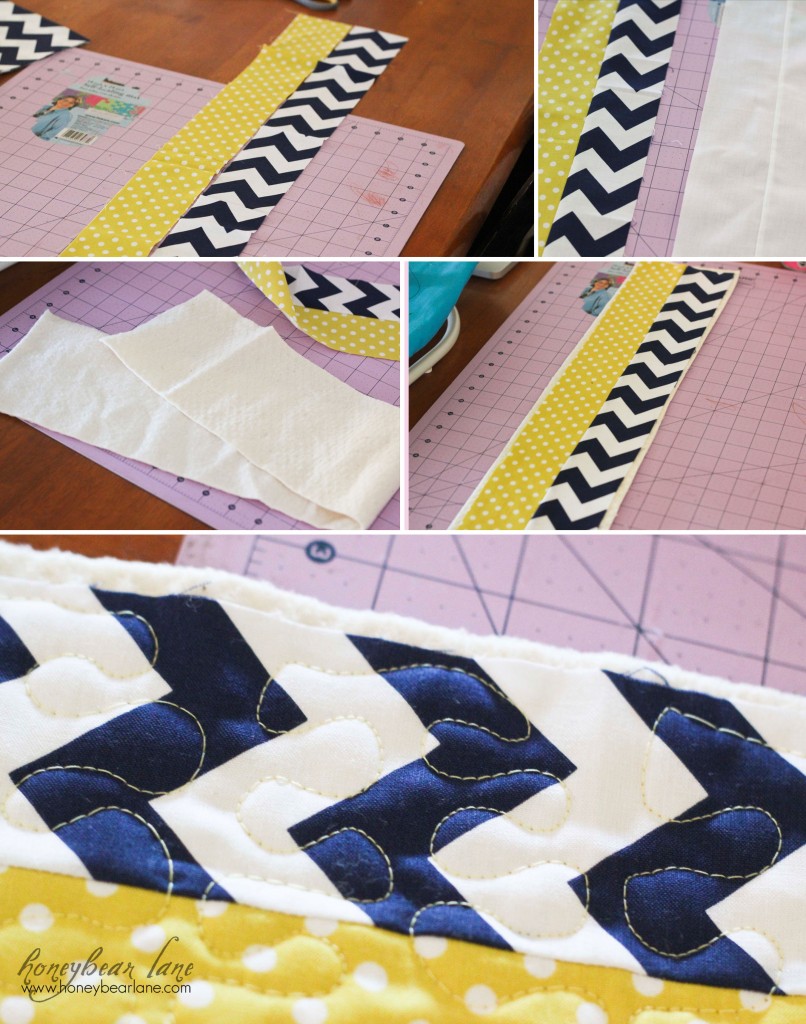 First you cut two strips of fabric 2.75 inches x 27 inches.
Then cut two strips of muslin fabric the same sizes.
Also while you are cutting, cut a piece of quilt batting (great place to use batting scraps) 5.5 inches by 27.5 inches.
Next sew the strips together lengthwise using a 1/4″ seam allowance. Sew the two prints together and the two muslins together–don't sew the prints and muslins to each other. Iron open the seams (I just pressed to one size to save time.)
Then baste the three layers with basting spray. Muslin on bottom, then batting, then printed fabric on top. Now you can use your free-motion or darning foot to free motion quilt this!! Need to know how to free motion quilt? Check out this tutorial.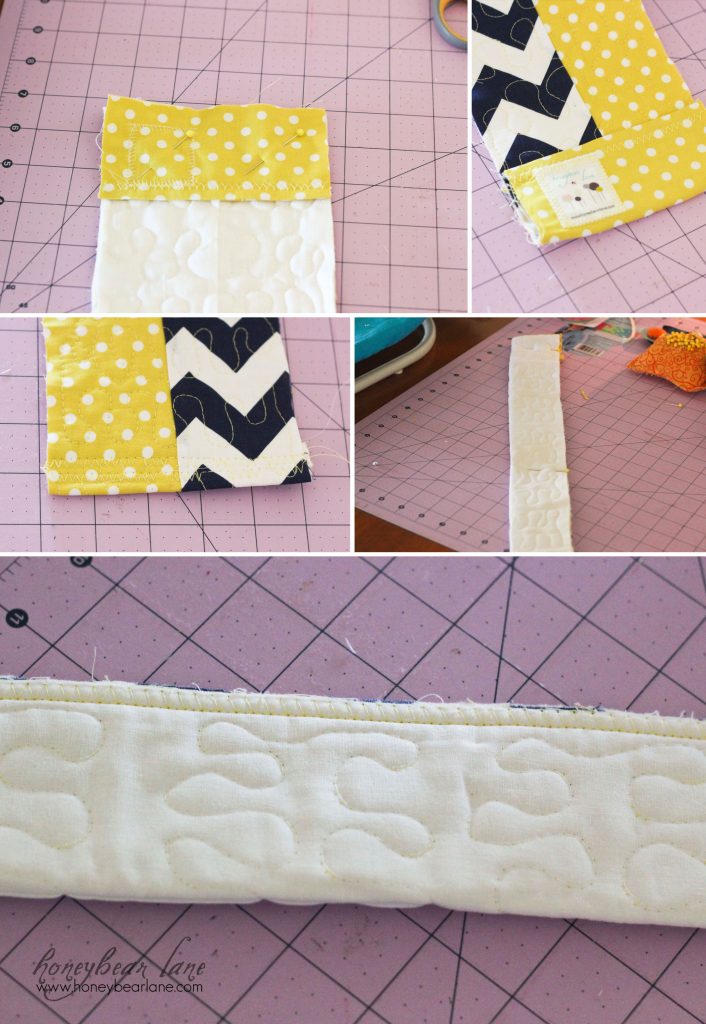 Now the next part is adding the lens cap pocket. But it doesn't fit my lens cap so you can feel free to skip this step. But if you want to try it anyway, here is what you do: Cut a small piece of fabric that is about 4″x5.5″. Hem the top down by turning 1/4″ inch twice. You can applique on your label if you want like I did. Then pin the right side of the pocket to the wrong side of the strap (the muslin side.) Line up the raw edges and sew across the top ONLY (I messed up and sewed the sides which I unpicked.) Then you can flip it over and that end is finished.  OR you can reference THIS post for further help.
THis next step IS necessary. Hem the other end by turning over twice and sewing securely (I did a zigzag strip.) However you can also try serging the end and only turning once which will make it less bulky.
To finish the strap you fold it over, right sides together and pin closed. Sew or serge a 1/4″ seam along the edge. Then use a big safety pin to flip it right side out (and this part is painful and frustrating.)
Iron it really well to lay flat and neat. Then slide it onto your camera strap! I have a Canon T2i dSLR camera and it fits perfectly.
Then take it to a Craft Conference and show it off!!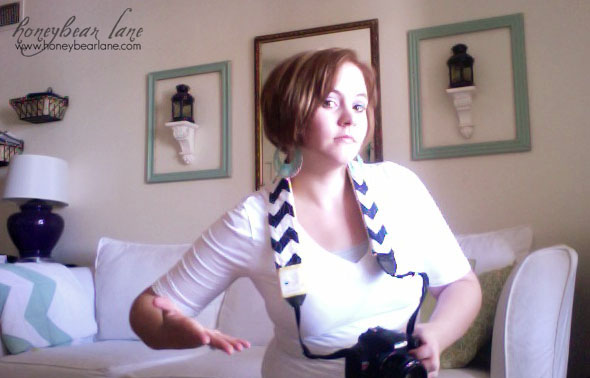 Linked to:
Whipperberry
504 Main
Flamingo Toes
I Heart Naptime