Crockpot Chicken Noodle Soup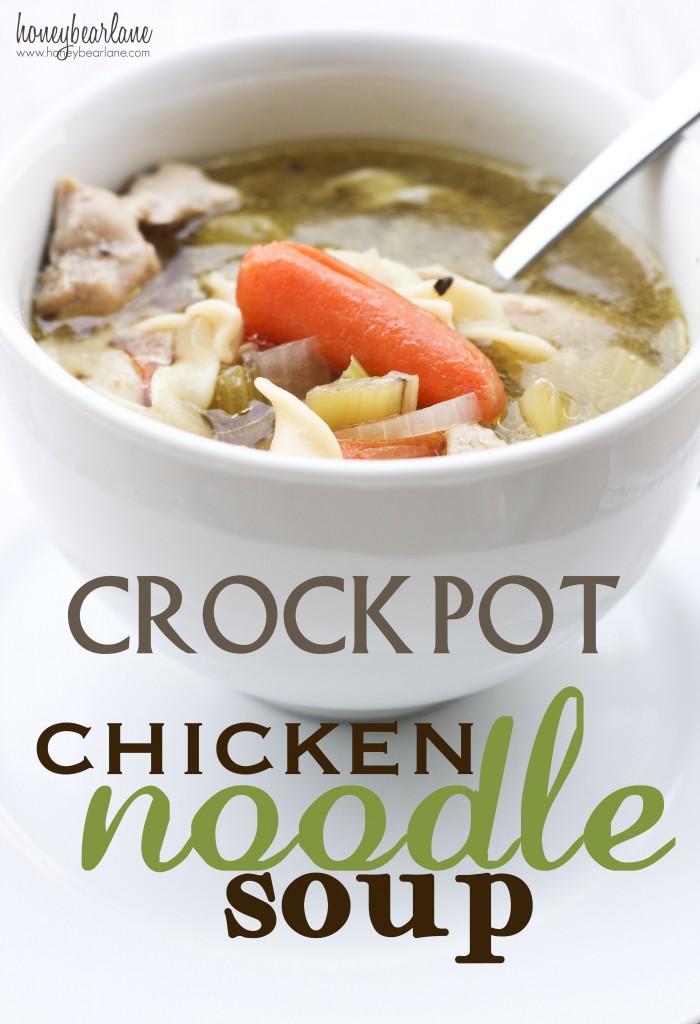 It's officially cooling down here and that means Soup's on! I make about 90% of my soups in my crock pot. And here's a special little story…my very own contributor, Melissa from Bless this Mess, made me some chicken noodle soup about 6 years ago.  Why?  Because she saw I was having a rough day.  That is the kind of person she is…just so caring and service-oriented.  And she actually inspired me to make my own homemade crockpot chicken noodle soup (this is back when I was first married and barely knew how to boil water.)  Over the years I've come up with this ultra simple recipe that is perfectly seasoned.  It is the best soup for cold days or when you have the sniffles.

Crockpot Chicken Noodle Soup
Ingredients
2 Cans of Chicken broth
4 stalks celery, chopped
1-2 cups baby carrots or 2 regular chopped carrots
1 yellow onion, diced
2 chicken breasts
Curly egg noodles
2 cubes of chicken bouillon
Spices: Salt, Pepper, Basil, Garlic, Bay Leaves, Oregano
Instructions
Put all your ingredients in the crock pot except the noodles and bouillon cubes. For the spices, give each one several shakes and put in 2 bay leaves. Cook on low 8 hours or high 4 hours. One half hour from it being done, separate the chicken into pieces and add the noodles and bouillon cubes, and a little water if it needs more liquid. Serve when the noodles are soft.