Spooky Halloween Party Set up
I'm having a Halloween party in a couple of weeks.  I LOVE throwing Halloween parties and the setup and food is so much fun to plan out.  So much fun that I had to do a dry run with the new and super cute products I got from Cost Plus World Market.  So here's my spooky halloween party set up.  Check it out!
This is only half of what I have planned. My Halloween parties are not creepy and scary but fun and spooky! I was able to get so many fun elements from World Market that really make this table.

I used my Halloween banner and garland on the shutters for a spooky and fun backdrop. Then I actually used some soda can boxes (shh!) to add some height in the back. I covered it with an old black curtain swag I had from back in the day when I decorated with tons of black (shudder!)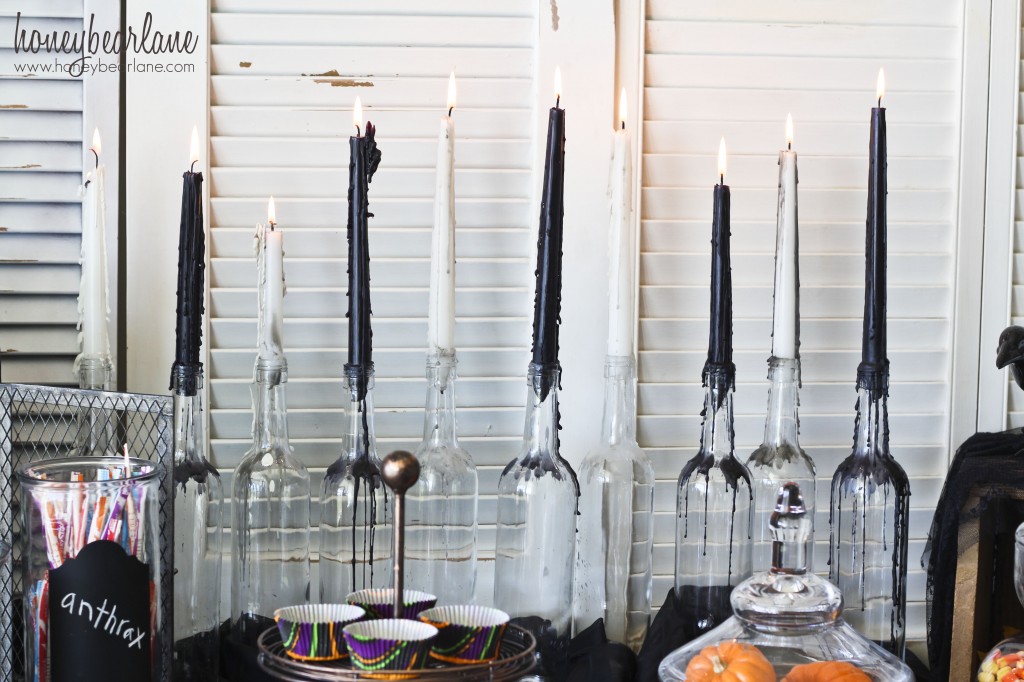 Then I purchased some bottle neck jars and candles and dripped wax over the candles to achieve that spooky old drippy candle look.  You can't seem to get that look naturally with today's candle technology today, haha.  It was actually a fun project, but make sure you do it over some newspaper or something because wax drips everywhere.  I even melted white crayon on the white ones because the white wax from the candles would turn gray from the flame.  I love these candles and they are only going to get better as they melt down.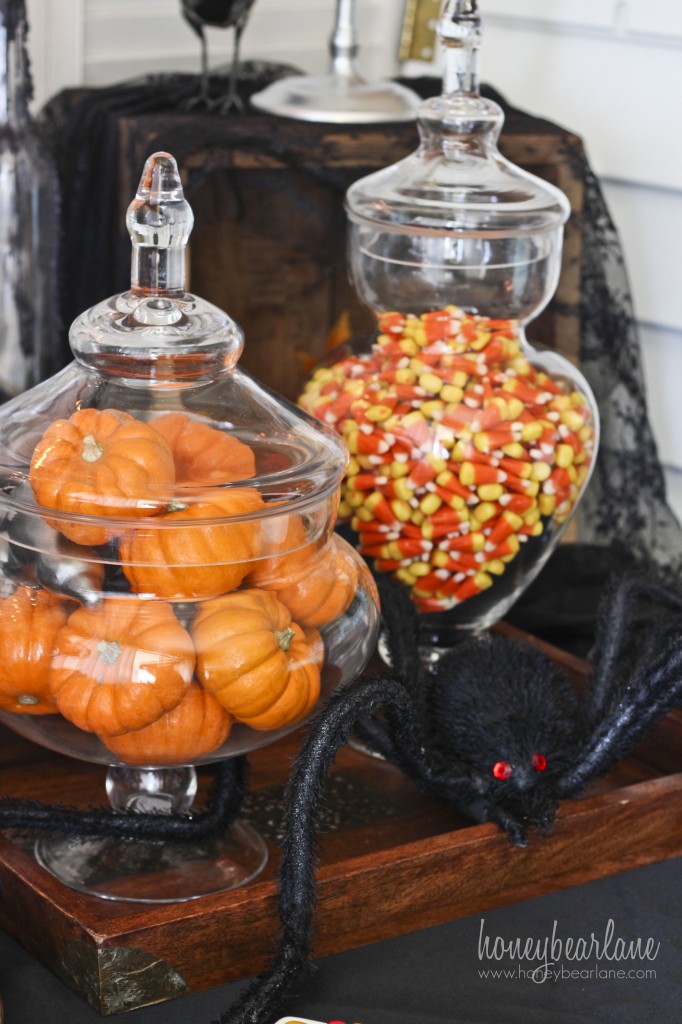 I got these gorgeous apothecary jars from World Market as well as the giant spider and the wood tray! I love getting things there that I can use for tons of things–not just this Halloween Party. I filled the jars with mini pumpkins and candy but they will be filled with 100% candy when the party rolls around.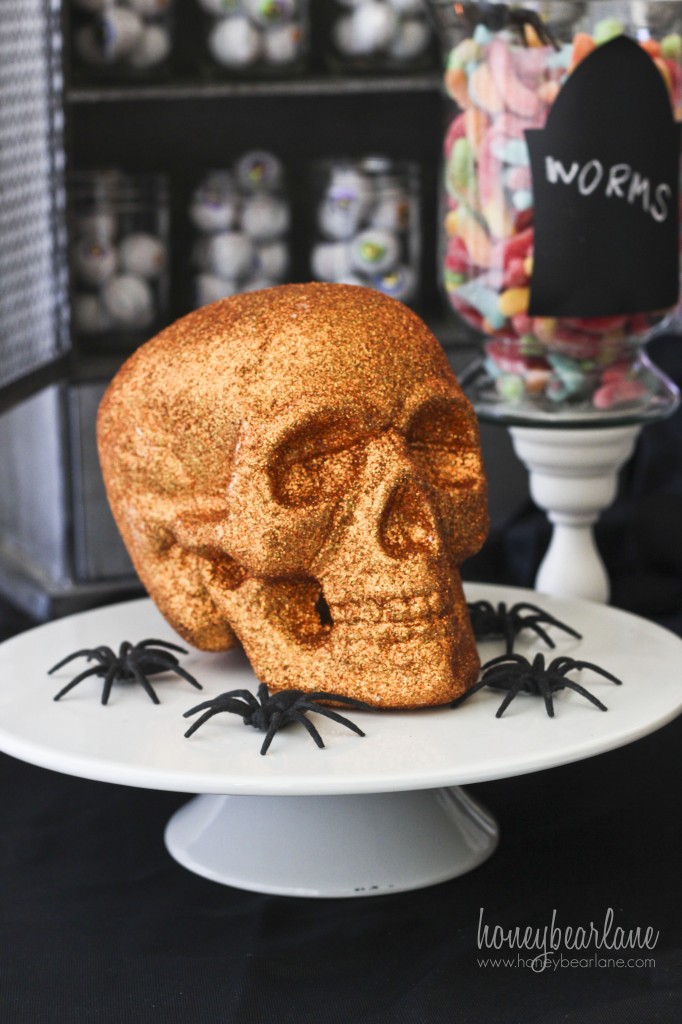 More World Market purchases. This glittery orange skull is PERFECT and was only like $8! I also got the cake plate, but the spiders I've had for a few years. They are great for freaking out unsuspecting husbands and kids muhahahah!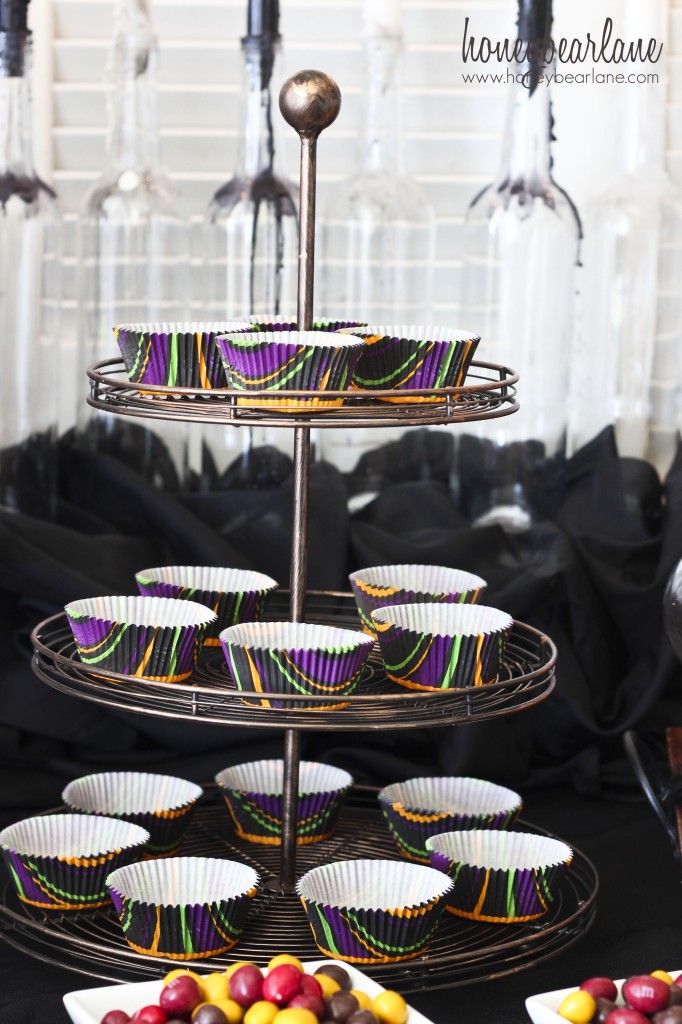 Next up–this gorgeous bronzed cupcake tower (World Market.) Clearly the cupcake liners are empty but on the day of the party they will be filled with something yummy, though I haven't quite decided what yet. I love that I can use this for every party down the line.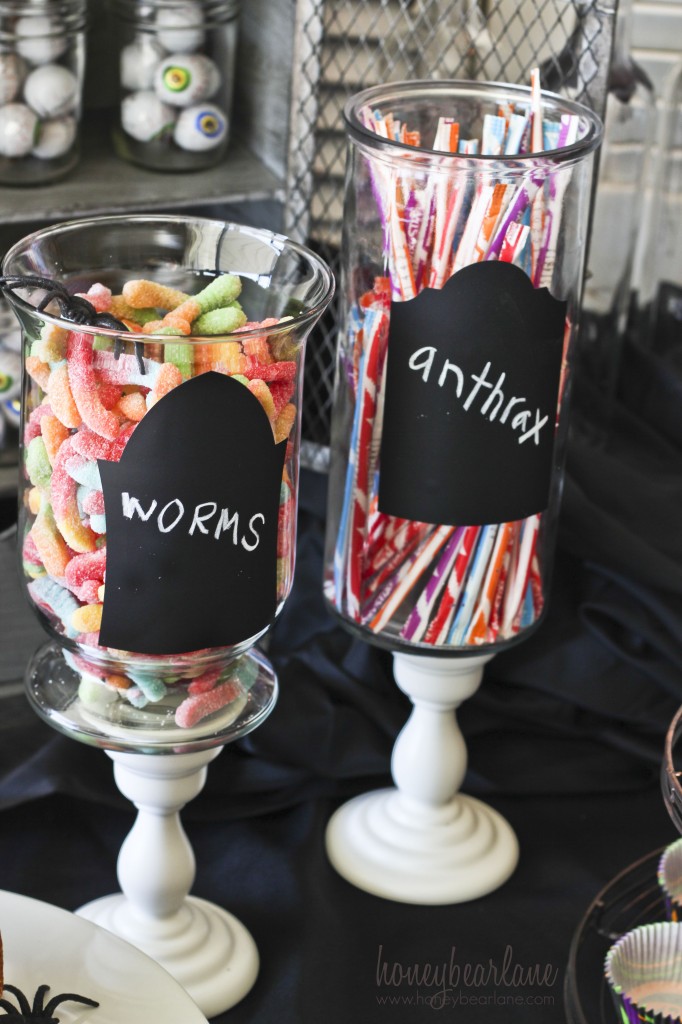 I actually love how these turned out! I got some cheap candle holders and found some old hurricanes from the thrift store. I glued them together with epoxy and got some high-quality chalkboard labels from World Market. Yes, the "anthrax" is pixie sticks. Haha!

This galvanized medicine cabinet is possibly my favorite purchase from World Market to date (although that's hard to say…I love everything I buy there.) But seriously, how CUTE is this thing?  It's got chicken wire doors and a cute little latch.  I filled some mason jars with chocolate pb eyeballs and re-used the jars from my Halloween cheesecakes in a jar, filling them with colored water and milk.
World Market has some great fall and Halloween stuff right now. Here's some pictures I took whilst shopping.
Right now they are having an HGTV Passport to Style Sweepstakes–here are the deets:
the Grand Prize package includes: A $10,000 World Market shopping spree and design consultation with an HGTV Designer (how cool is that!)
There will also be 3 runner up prize winners that will each receive a $1,000 World Market gift card!
The HGTV Sweepstakes runs from September 22, 2012 until October 26, 2012.
If you share the sweepstakes with 5 of your friends (via FB share or email) you can receive 5 additional bonus entries. This is part of the registration process when entering. Users can also enter daily for more chances to win.
Enter online at WORLDMARKETSWEEPSTAKES.COM or FACEBOOK.COM/WORLDMARKET
 This shop is part of a social shopper marketing insight campaign with Pollinate Media Group™, but all my opinions are my own.