8 Steps to an Epic Halloween Party
I've throw a bunch of Halloween parties in my day.  I think my first one was when I was fifteen (and it was my first boy-girl party tee hee!) It involved dry ice, I'm pretty sure.  That was the extent of our cool special effects.  But this week I threw TWO truly EPIC parties and they really were the best ones yet.  So if you're thinking about doing an EPIC halloween party, here's a step-by-step recipe!
Don't miss my other Halloween parties!
This post contains affiliate links, see my disclosure here.
Step 1:  Theme.
First you have to decide the type of Halloween party you want to have.  Do you want to go gory-slasher-flick style?  Do you want to keep it kid-friendly?  Do you want to do a vampire theme or a mad scientist theme?  I decided to do a more generic haunted house theme.  I don't love the gory Halloween stuff but I love to create a creepy and spooky atmosphere.
Step 2:  Decorations.
You could throw up a few fake spiderwebs but to throw an EPIC party, you have to commit to the decor.  Once you've decided your theme, you can figure out which direction to take your decor.  I put those fake spiderwebs all over the place.  You have to really stretch them to get them to look realistic and then I threw up some fake spiders.  I covered my couches in sheets so the house looked abandoned.   I decorated the builtin shelves with lots of creepy decorations like skulls, ravens, and this fun little 'witchy' vignette.  I also found some old country pictures which look a little eerie with all the other decorations but I love them and *might* keep them up year round.
I made the entry way extra eerie since that's the first impression you get of the house.  The front porch had lots of pumpkins and hay bales along with these creepy signs I made a few years ago.  Once you enter the house, you'll see tons of spiderwebs and tattered fabric draped around.  I made a 'Beware' sign really fast by free hand painting the word in black paint on some old wood planks…I kind of wish I'd done it in red though.
There were other little touches here and there.  I decorated the console with these awesome holographic photos we purchased from a boutique that look like old antique photos but when you change the angle, something creepy appears!  I had a bunch of tattered fabric that worked great underneath.  I found some old gold and tarnished silver metal stuff at a thrift store and put it here and there.


Step 3:  Lighting.
Lighting is literally one of the most important parts of the spooky factor.  We turned off all the overhead lights and lit the room with our colored Hue lights mainly.  We turned all the kitchen lights red, the builtin lights purple, and the console lights orange.  I had a string of orange Halloween lights in the entry which played down the creepiness and made it a little more welcoming.  Finally I had candles everywhere.  Be careful with your candles and don't light your house on fire!  I had these cool candles in tall bottles on the table as well as tea lights.  And I had a couple candles in lanterns.
Below are a few pictures of how I wrapped up my light fixtures in spiderwebs.  We didn't turn these lights on but it was a creepy effect!
Step 4:  Special Effects.
The special effects really took a step up this year.  We usually have some sort of fog or dry ice or whatever, but this year my husband really wanted to project some holographic images to make it look like there were ghosts in the house.  Here's a video of one of the things he did but there were some really cool ones–I forgot to get pictures of all of them!  If you want more info about these special effects, visit atmosfx.com.  And of course, we had both a fog machine and dry ice.  And yes, the fog machine did set the smoke alarm off, so just be careful how much fog you produce.
I took a quick video of the kids party which had one of the special effects up and running but it was all so crazy that I forgot to video the others.  And I'm truly very sorry about the shaky video–seriously what WAS my problem filming this?  Ha!
Step 5:  Tablescape.
So I actually did my two parties back to back.  The first one was more casual for our kids and their friends.  The second was a dinner party for couples.  So for the kids party I set up my main table against the sliding glass door and set out bowls and plates of treats for the kids to help themselves to.  If you want to go all out, this is where you'd find the cute printable of fun names for the food and such.  But here's a little fun fact about me–it seems that my printer is aaaalllllways out of ink and so whenever something requires printing, I usually bag it.
The second party was really fun to set up.  We figured out the best configuration for the tables since we were expecting 20 people.  We settled on a "U" shape.  Then I put cheap black plastic tablecloths over all of them with a black lace overlay.  This is a great way to save money and not have to purchase nice black tablecloths.  Also I'm sure I will use the black lace overlays again for future halloween parties.  After that I divided the glass bottles with candles so each table had some.  I bought some red roses and put them in shot glasses as well as scattering rose petals.
I purchased gold chargers from the dollar store and black ceramic plates from Walmart and mixed them up with white plate and black chargers I already had.  Each plate had a small orange pumpkin on top.  I bought cheap gold silverware and plastic champagne cups for a fun mixed drink.


Step 6:  Food.
The food was fun and yummy to plan.  Since I was doing so much other work, I wanted the food to be pretty easy for me.  For the kids party, I wanted a bunch of easy treats.  I bought donuts and gummy worms and some other candies and cheap plastic toys.  Fortunately my friend gave me a bunch of treats she had made for another Halloween party so I ended up with Halloween bark and cute monster Rice Krispy treats.  I stuck some pretzels into Reese's for witches brooms and drizzled red cookie frosting on Oreos for 'bloody' Oreos.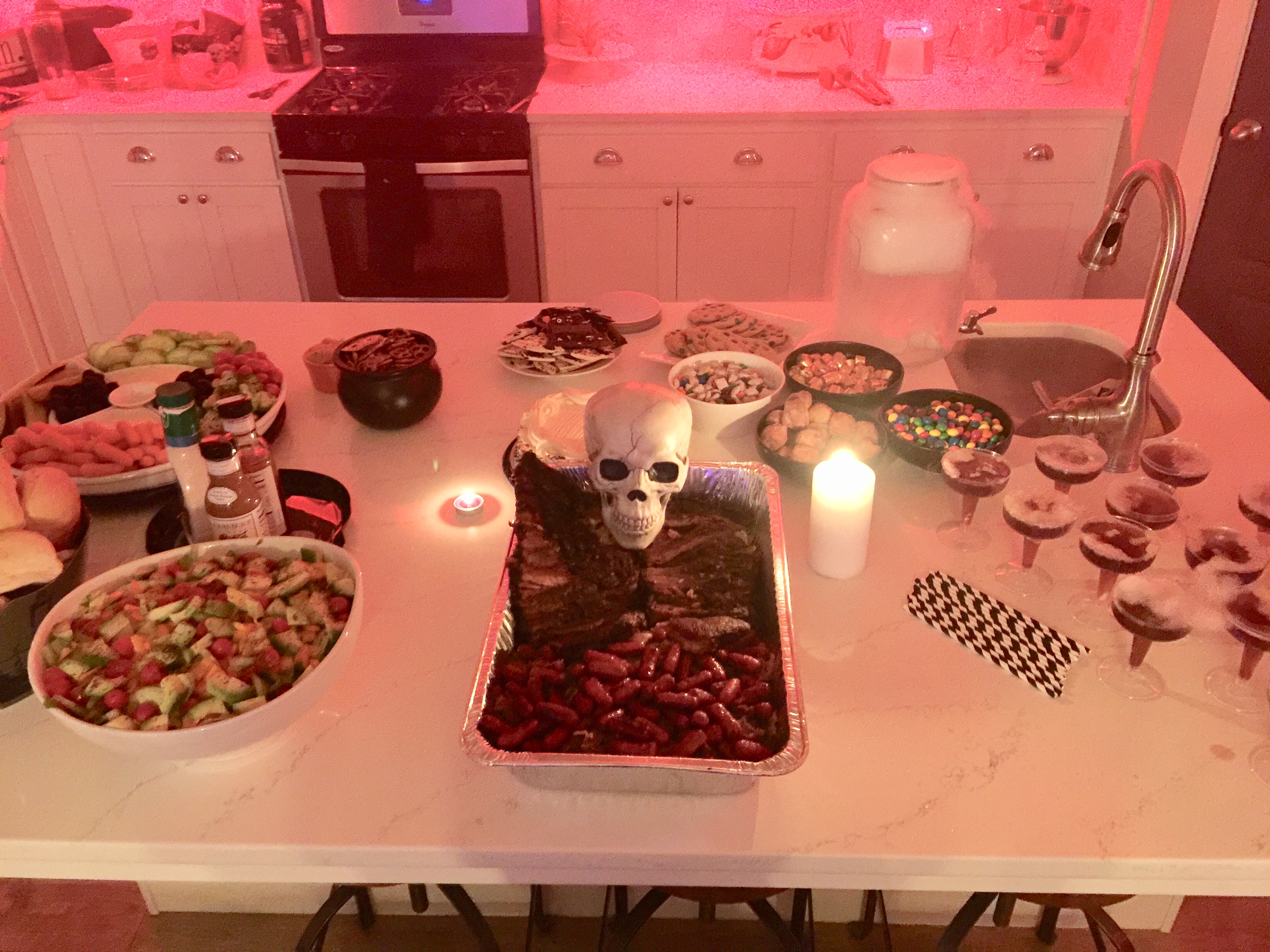 For the dinner party, I focused less on treats and more on the entree.  My friends coming were all bringing one item so that helped a lot–salads and sides and whatnot.  I purchased spare ribs, beef Little Smokies, and pork shoulder.  This seemed like a lot of meat, but we actually almost ate all of it!  I followed this recipe for the homemade rub and prepared it the night before.  Then I put the ribs in the oven at about 10:30 am on 275 degrees and it cooked all day.  The pork shoulder was in the crockpot all day and I cooked the sausages the last 20 minutes in the oven.  When all the meat was done and cut up, we arranged it in this large tin pan like this complete with a skeleton head so it would look like a dead man.  It turned out great and the food was super yummy!
Step 7:  Drinks.
We don't drink alcohol so all our drinks were non-alcoholic.  For the kids party I simply poured root beer into a pot and had dry ice in a cauldron around it (so the kids wouldn't accidentally get any of the ice in their drink.)  Then for the dinner party, I mixed two kinds of red juice (blueberry lemonade and mixed berry) with lemon lime soda–equal parts of all–and served it in the champagne glasses with a tiny bit of dry ice for the spooky effect.  I also had water but I put the rest of the dry ice in there just for more fog but I forgot that dry ice carbonates liquid so we ended up with gross carbonated water.  Just so ya' know…that happens.  Ha!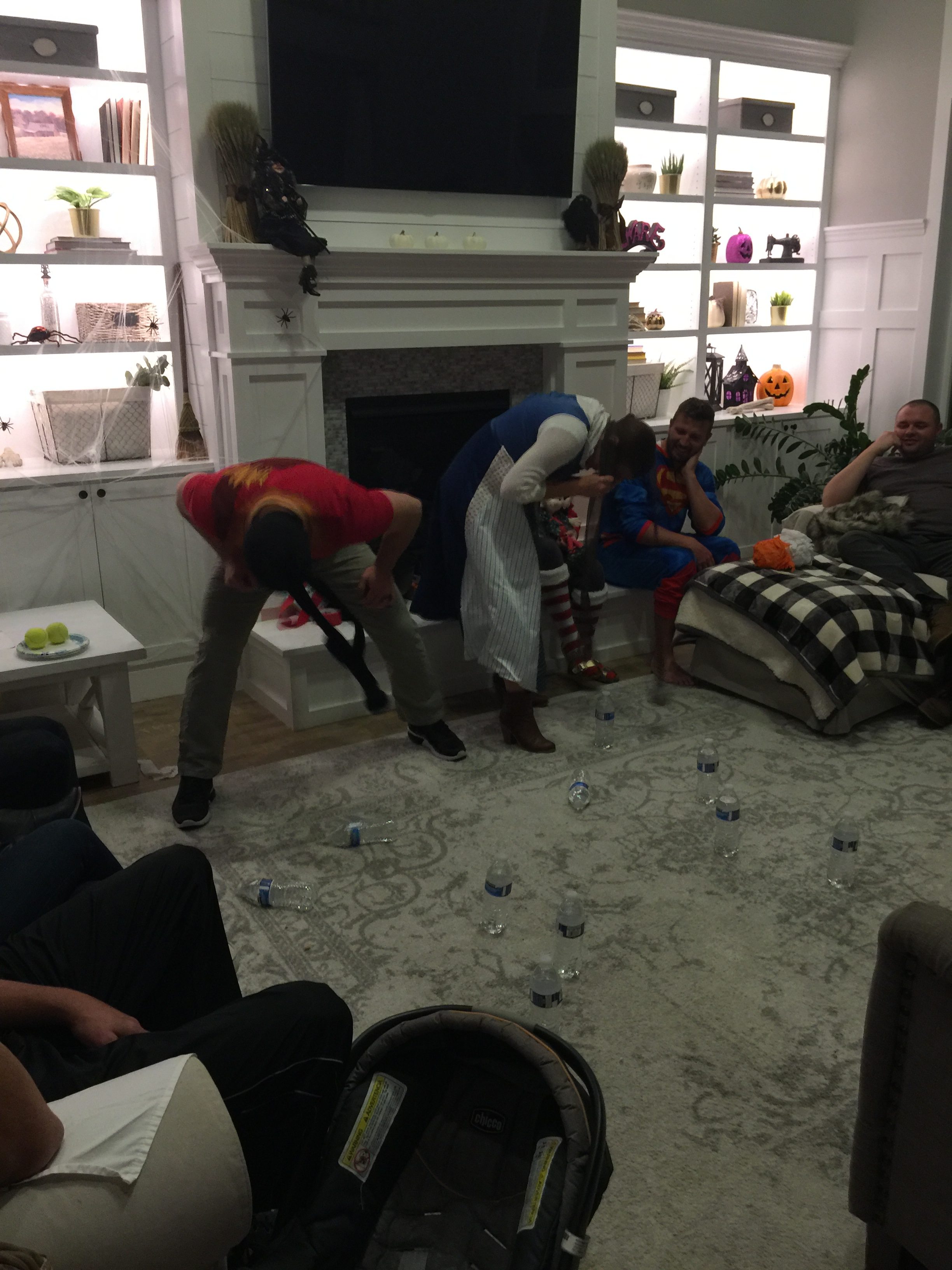 Step 8:  Games.
With an epic Halloween party, you can't just hope that everyone will be satisfied with all the decorations and special effects.  Even an awesome food spread won't keep them happy forever.  You have to plan some activities.  For the kids party I just had a bunch of little easy games the kids could play because kids are much better at finding fun when their friends are around.  I made a beanbag toss out of a cardboard box and lit it with a string of lights.  I found a cute Halloween bowling game at Target.  And I had some witch hats and glow stick rings for a ring toss.  I set them up around the room so kids could just play as they please without needing the help from adults.  The bowling was probably the most popular.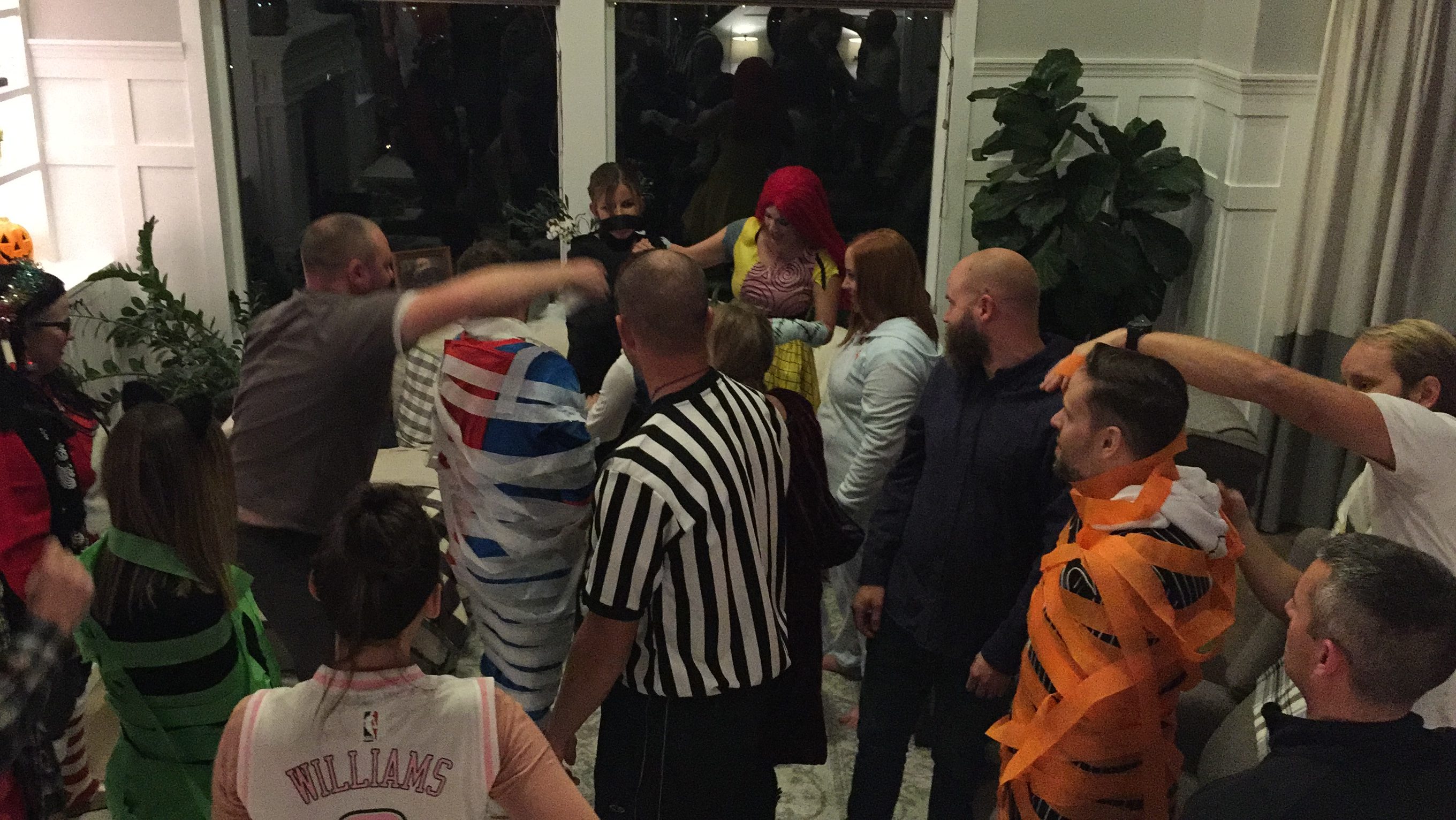 For the dinner party, I planned a variety of Minute to Win it type games.  Here's a list of the activities we did:
Sucking M&Ms–Use a straw to suck up M&Ms from one plate to another.
Elephant Walk–panty hose with ball on your head, swing your 'trunk' to hit over water bottles.
Ping Pong Ball dance–fill a tissue box with ping pong balls and tape it to their back.  They have to to shake their booty until all the balls fall out.
Mummy Wrap–Wrap a team member in crepe paper like a mummy, first person to use all their paper up wins.
Cookie on the Face–Place a cookie on your forehead and use your face muscles to work it down into your mouth and eat it.
They were super fun and funny and really brought out the personality in people.


After we finished playing all the games, we turned off all the lights and turned on 'storm' sound effects on our Alexa.  We lit one candle and then told ghost stories.  Our friends had some really good ones!  It was a great time.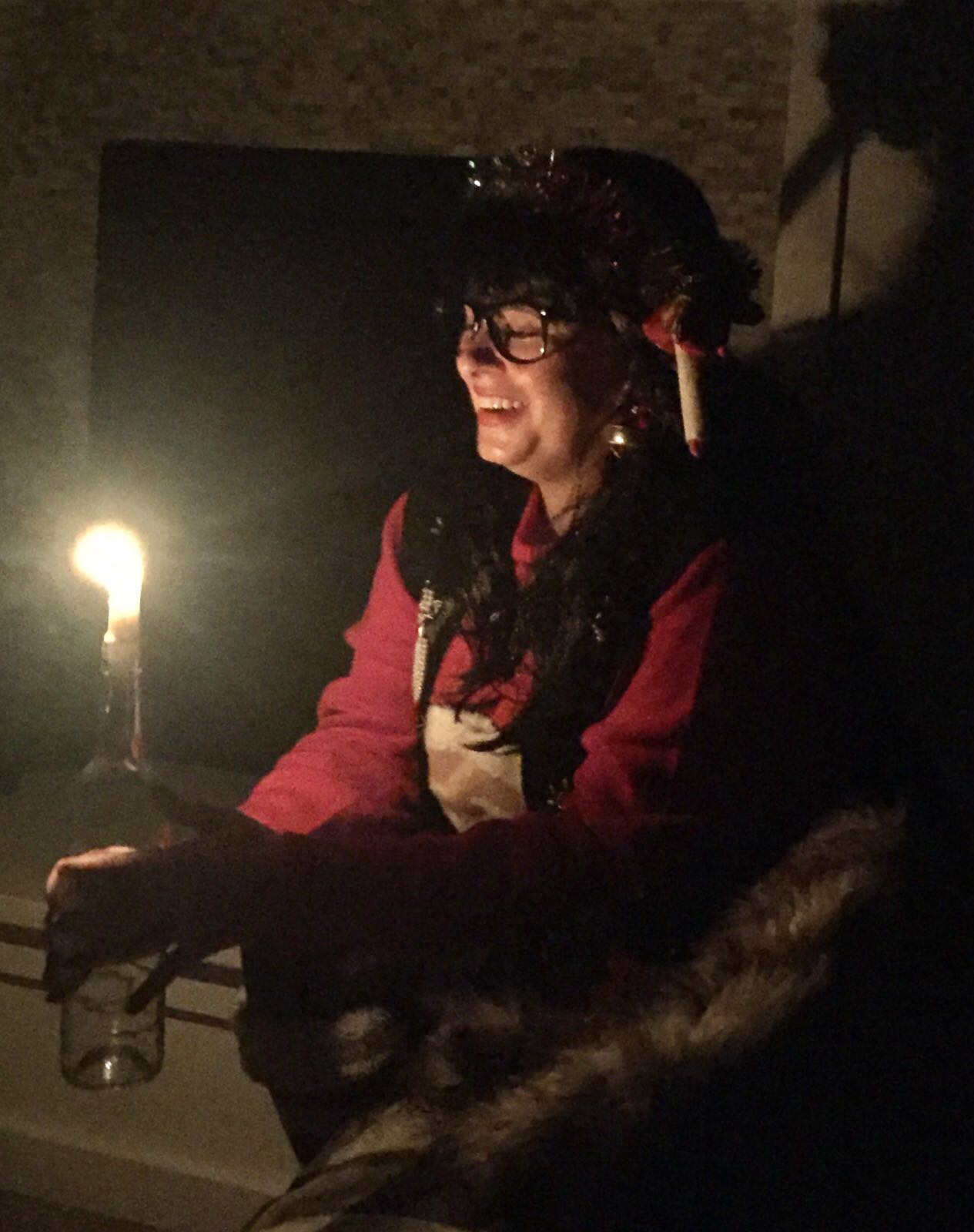 These two parties were seriously SO fun.  The kids had a blast and I heard some of the kids asking to go back to the party the next day.  My friends had a blast at the couples night.  It takes some work to throw an epic Halloween party but it's SO worth it!  Your friends will remember it forever.
Check out some of my other Halloween parties: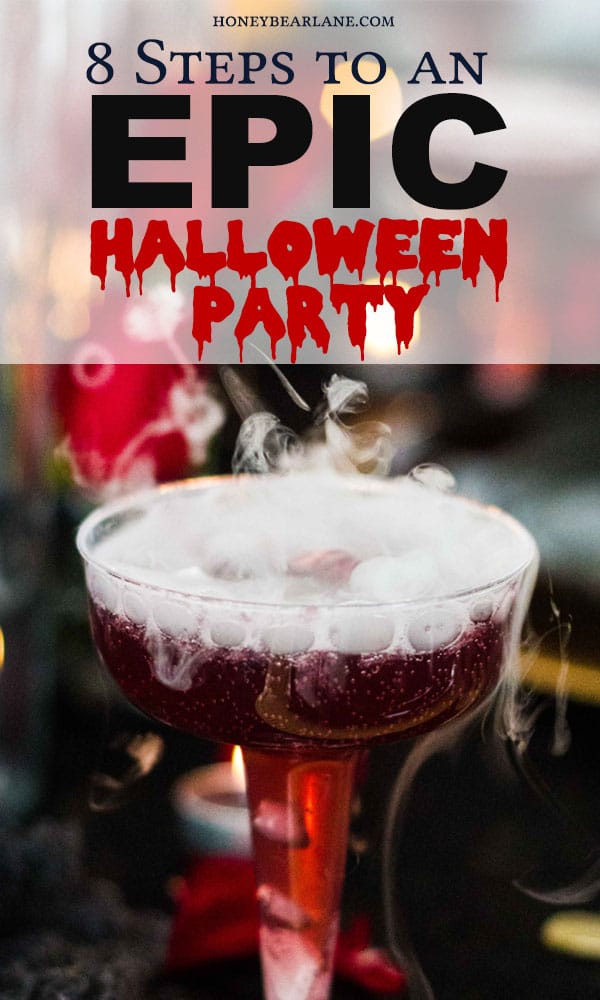 SaveSave