Make the Perfect Crescent Roll (Recipe)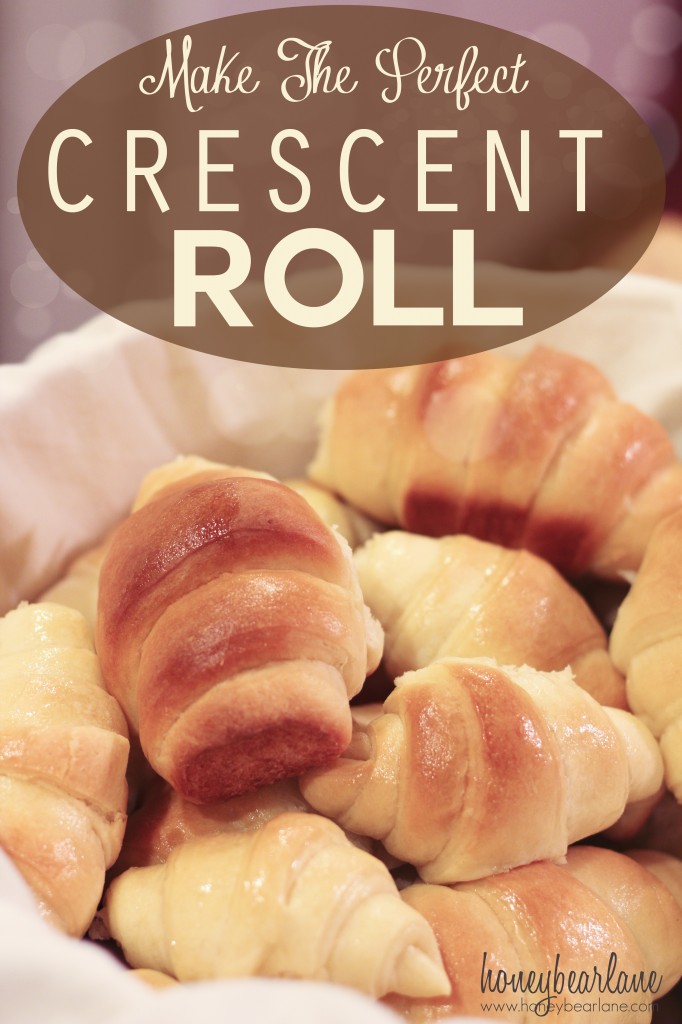 What is on your Christmas dinner menu?  Have you started planning it yet?  Whether you have ham or turkey or something else altogether, every dinner is made better by serving a crescent roll with it.
I really want to share my grandma's crescent roll recipe because it is my personal favorite.  But I'm worried that my relatives will come after me with torch and pitchfork in hand ready to write me out of the will for sharing the secret family recipe.  So this year for a Thanksgiving party I attended I was assigned to make rolls and I wanted to try out my husband's great-grandma's crescent roll recipe.  It's his all-time favorite (so maybe it's just a matter of what we grow up with.)  So I made them and they were a) easy to do, b) tasted great, and c) hard to mess up.  All things to make a great and timeless recipe.  And bonus!  My Mother-in-law said that I could share the recipe on my blog so you all can benefit.

Perfect Crescent Rolls
Prep time:
Cook time:
Total time:
Ingredients
1 Tbsp active yeast
¼ C. warm water
1 tsp. sugar
1 cup milk
1 cube butter (1/2 cup)
½ cup sugar
½ teaspoon salt
3 beaten eggs
4-5 cups flour
Instructions
Set aside 1 tablespoon of yeast in ¼ cup warm water with 1 teaspoon sugar and let it activate (about 5 minutes.)
Heat milk, butter, sugar and salt to melt the butter and let it cool (don't let it burn.) Beat the eggs and add to the milk mixture, then add the yeast mixture. Add flour gradually to form a nice soft dough (not sticky.) Cover with a towel and let it rise until double (3-4 hours.) Knead it, then cut in half and roll out into a circle. Spread with melted butter. Use a pizza cutter to cut the circle like a pie into 16 pieces and roll each piece into a crescent shape. Place the rolls on a cookie sheet and cover with a towel and let them rise, another 2-4 hours. Bake them for 20 minutes at 350 degrees. Brush with more butter once they are out of the oven.
This recipe is great for making the night before or in the morning.  It takes a lot of rise time so plan ahead.  Here's how I roll them into crescents: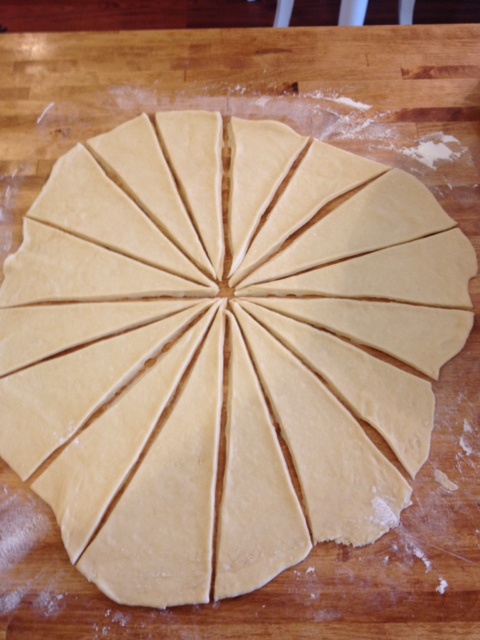 Don't worry if your circle is a little misshaped.  This doesn't matter, it just means some rolls will be a little bigger than others.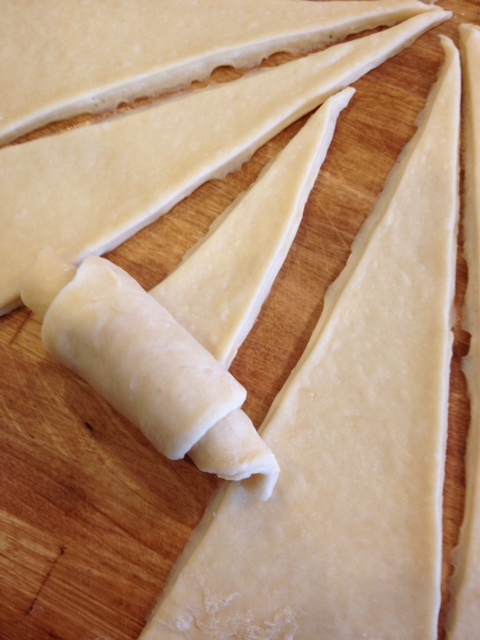 To roll into a crescent shape:  Start at the fat end and roll up to the point. Tuck the point on the bottom when placing it on the cookie sheet.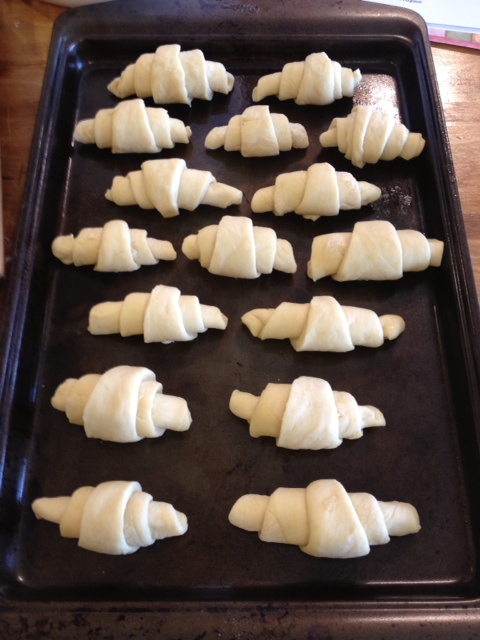 You should be able to fit all 16 onto a cookie sheet. My sister-in-law actually crams all 32 onto one sheet but I prefer to space them evenly. Makes them pretty. 🙂
If you've never made rolls before here are the most important things to remember:  
With the yeast–make sure the water is WARM (not hot not cold) and give it time to activate.  If you don't activate the yeast properly the whole thing will be a disaster.  Also make sure that you put some flour on the counter before rolling out your dough because otherwise your little triangles will stick to the board and you'll have to start over.  If you are running short on rise time, turn on the oven and put your tray on top or keep them in a warming drawer.  The heat helps them rise faster.
Do you have any tips to share?  Leave them in the comments!  What do you make for Christmas dinner?