Extra Large Pegboard for Craft Room Organization
If you're looking for the most excellent craft room organization item ever, look no further!  I'm so excited to share this project with you–this ginormous framed pegboard!  I was a little relieved to have the holidays overwith so I could start working on projects I've put off since August.  One project that was a necessity to complete first was this extra large pegboard I made for my craft room organization.  This is more of a 'reveal' picture-type post, but if you want to make your own (which you will!) read the Framed Pegboard Tutorial post.
But first, all the amazing products I used on this pegboard can be purchased here: (affiliate links, see disclosure)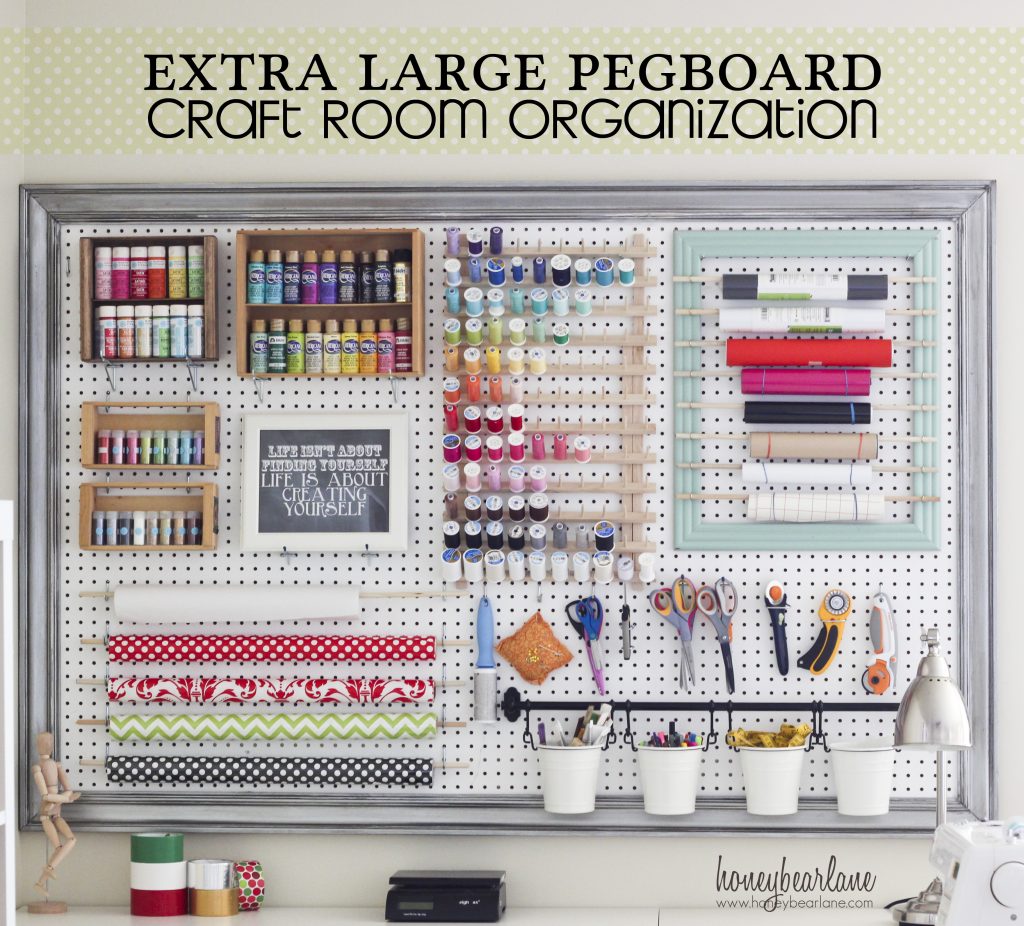 I don't have a dedicated room for my craft stuff right now but what we do have is an enormous living room.  It's wonderful and big and open but since all the other rooms are being used, I had to utilize the room and divide it up into working sections.  there is a small little area in one corner of the living room just for my studio space.  And even though everyone who comes over can see everything I'm working on (and the subsequent mess–although it does encourage me to keep it a little tidier) I really like it.  I'm not ready to do a full reveal of the entire space but this pegboard is all ready to go.  And oh.my.gursh….I LOVE this thing.  Don't you????
Here are a few close up shots. I will show you how to make the frame and hang it but that will be for another day. I have so many pictures in this post that there's no room for a tutorial.  THAT's craft room organization, baby!
Before all of my scissors and things were in this small toolbox. Every time I needed something I would rummage around, pull things out, make a giant mess and man, what a hassle! But now they are all neatly hanging from hooks so I can grab them quickly. And there are separate scissors for fabric and for everything else…you know the importance of that right???  My kids sure don't!
✅ Be sure to purchase: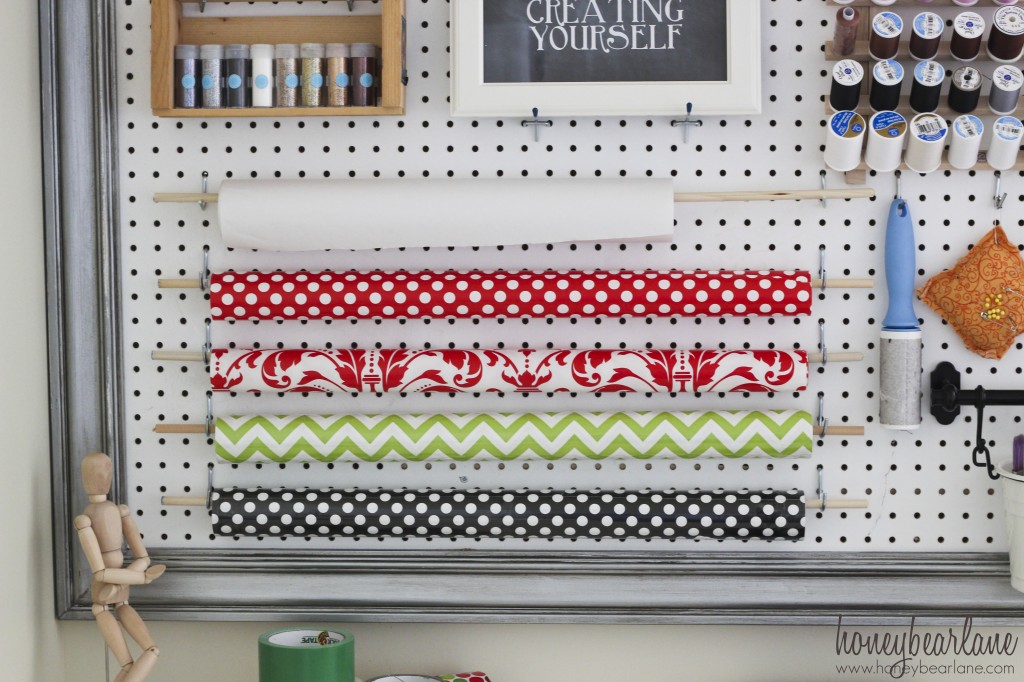 I also love this wrapping paper storage. I had them shoved in a tall vase before and it never had a place, it always threatened to topple over and it didn't fit right anyway. Now all my cute paper can be displayed and functional.  If you're going to do this for your wrapping paper, make sure you find several rolls before you cut the dowels because I've learned that most wrapping paper tubes are actually longer than these ones I have shown.
I used this extra large thrift store frame spray painted (Krylon Catalina Mist) and drilled some holes to screw in some hooks and used dowels to hang the vinyl–secured with rubber bands. Now I can remember that I have it, which colors I have, how much I have. Before it was tucked away in a magazine box and you know that saying–out of sight, out of mind? It's true.
Confession:  I pretty much never use vinyl or craft cutters.  I just have not used them enough to ever get the hang of it and when I go to do it, I always have to download the latest software, etc…it just takes forever!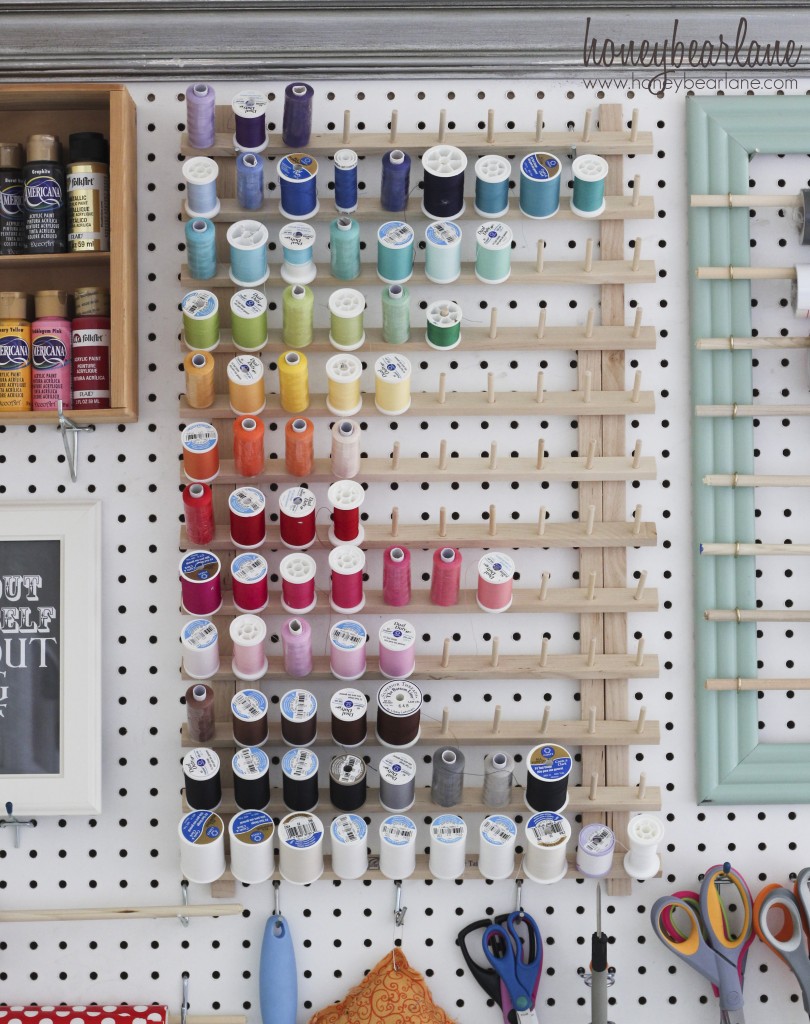 I think my favorite part is this large thread holder. Before, my thread was in this awful awful hard plastic container that the lid never fit on right and I never knew where to put it. My thread was such a pain to get to that half the time I would sew with whatever was on the machine even if it clashed horribly. Now it is all right in front of me, arranged according to color and I know exactly how much I have of each color, each shade…I can't even begin to describe how convenient and helpful this is.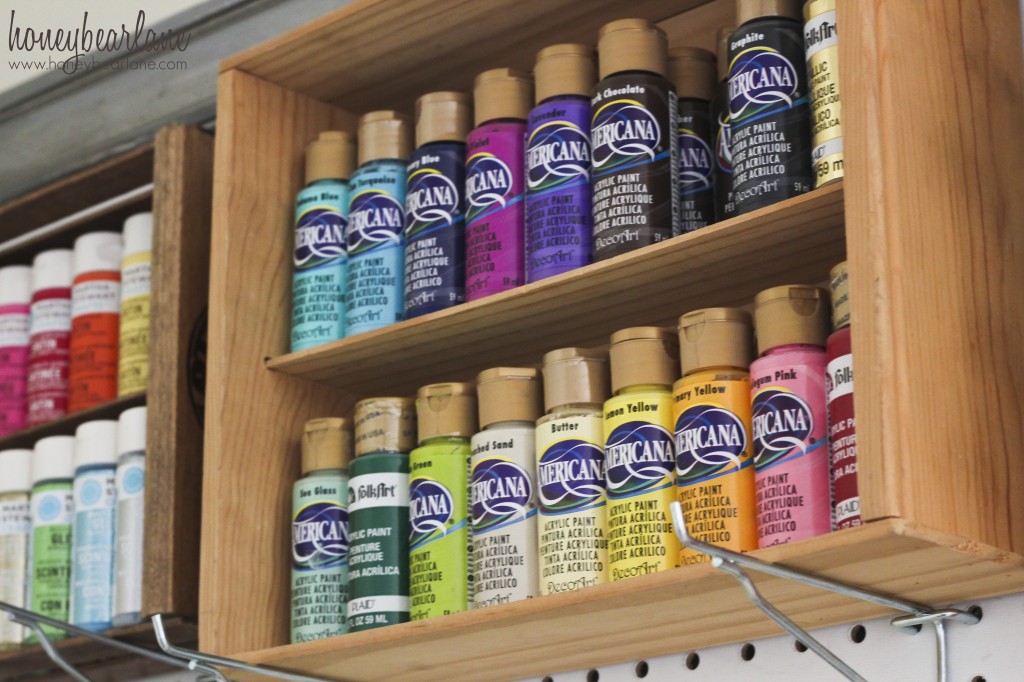 For the paint, I had these old thrifted wine crates that I collected but never knew what to use them for…but they seem to have been made for craft paint storage! I double layered because I have multiple of each color…one crate for Americana and Plaid paints and one crate for Martha Stewart brand paints. And the colors are so glorious. I just love having the colors right out in front of me so I know what I have.
One thing I HAD to display was my glitter. I HEART Martha Stewart brand glitter and I love every little color it comes in. So I used more wine crates to put them in…so fun.
The bucket system I got from IKEA. I'm not gotta lie, it was splurge when I knew I could just get dollar store buckets to hang from the regular pegboard things. But I just love the clean and professional look of the buckets on the rod–so polished and pretty. I put my paintbrushes in one, markers and pens in another, all my sewing feet and measuring tape in one, and my labels and bobbins in the last.
Last thing I put up was this framed quoted "Life isn't about finding yourself, Life is about Creating Yourself." I love this quote because it reminds me of the me I am now and the me I was as a lost college student. I remember how important it was to me to "Find Myself"…and yet the person I am now is definitely someone I have created. And my creativity and need to create is a HUGE part of me. I'm never content if I couldn't be creating something.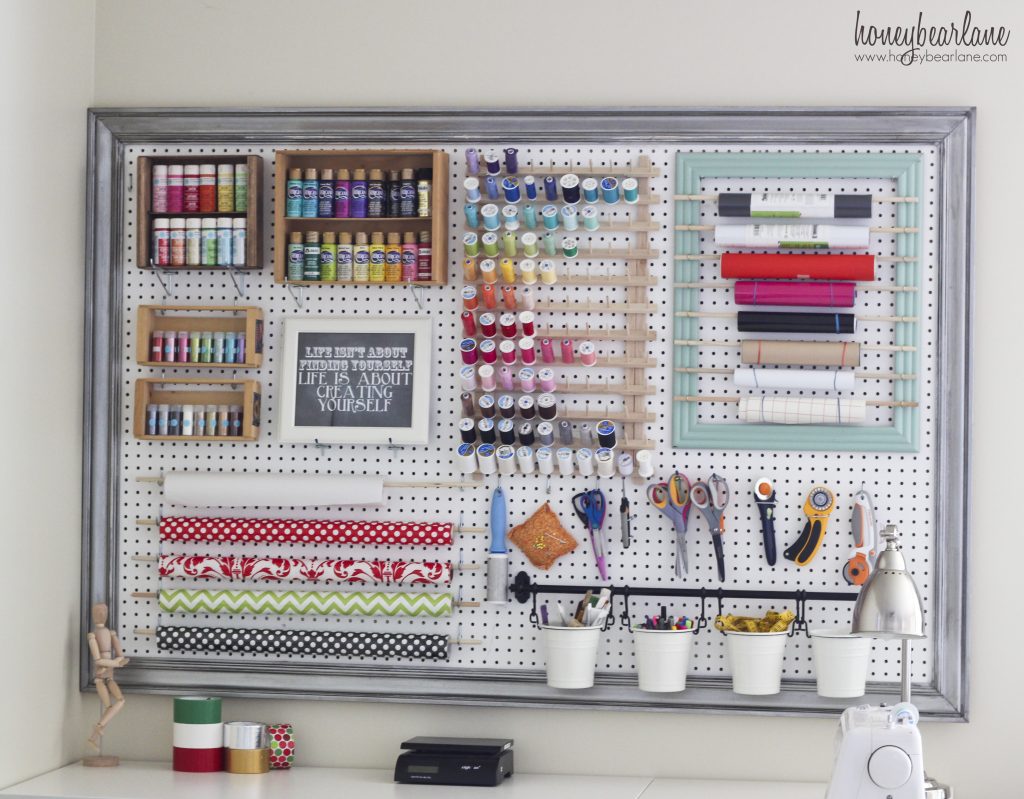 This pegboard is 6 feet by 4 feet and framed with crown molding.  It's hung in a way that allows me to remove whatever I want with ease or rearrange or whatever.  It takes up nearly the entire wall and I actually really like what it brings to the whole living space. Why should I hide such a big part of my life?  Um, because it's seriously messy most of the time?
Want to make your own?  Check out my tutorial here