Rainbow Fruit Pizza Cookies
Don't you love fruit pizza?  Seriously, I think fruit pizza is such an underrated dessert.  It's a delicious combination of fruit, sugar cookie, and cream cheese frosting.  Have I got your attention yet?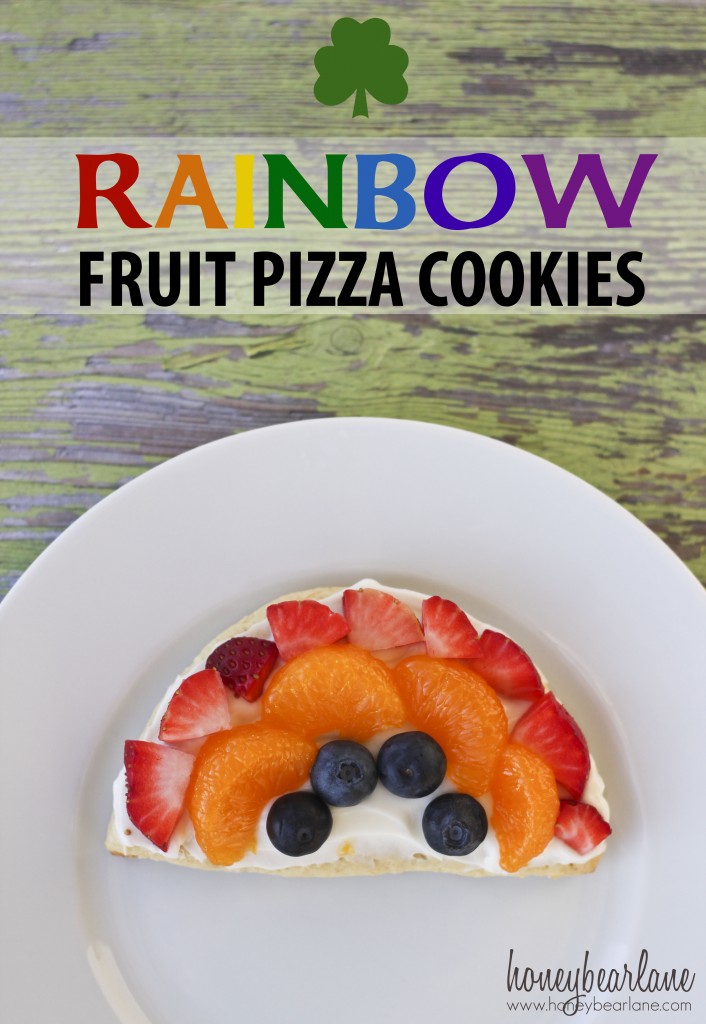 And of course rainbow is just so St. Patrick's Day.  This would be a really fun St. Pat's day activity–make some rainbow fruit pizza cookies with your kids and let them decorate!  I made these with my 4-year-old.  And then I felt like a good mom for two seconds because he was so 'cited' about it.  I just LOVE the feeling I get when I tell him something fun and his face lights up.
How do these taste, you ask?  AMAZEBALLS.  And I hate that word, so you know I'm serious.  I'm quite a sucker for anything with cream cheese, though, especially cream cheese frosting!  The combination of the cookie with the cream…yum.  And then the strawberries, oranges, and blueberries on top.  I think this would be awesome with raspberries too.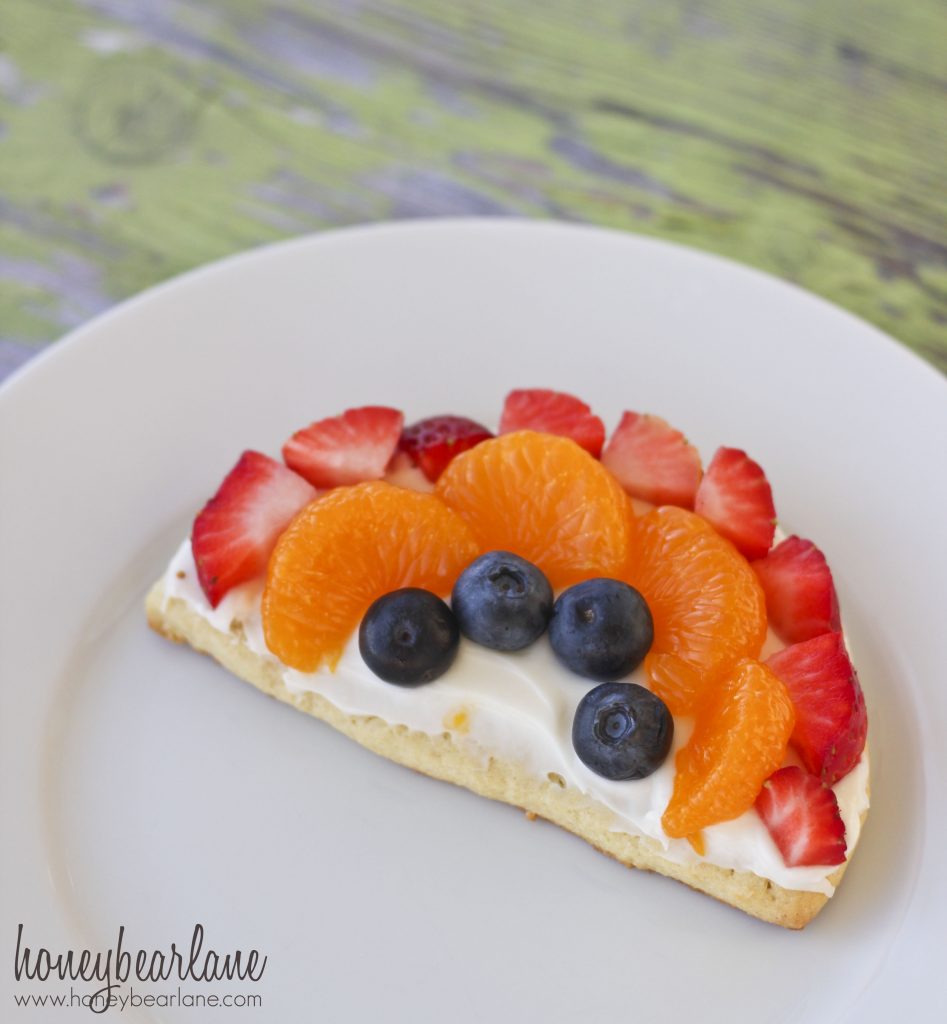 Rainbow Fruit Pizza Cookies
Prep time:
Cook time:
Total time:
Ingredients
Sugar Cookie Base
1 Cup Sour Cream
1½ tsp. Baking Soda
1 Cup of Unsalted Butter, Softened
1½ cups sugar
1 tsp. Vanilla
½ tsp. Salt
2 eggs
4-5 Cups Flour
Cream Cheese Frosting
2 8 oz. packages Cream Cheese
3-4 cups powdered sugar
1-3 tsp. milk
Instructions
Mix up the sugar cookie ingredients by first combining sour cream with baking soda and slowly mixing in each ingredient. The dough will have a thick consistency, like pie dough. Add enough flour so it's not sticky when you roll it out. Roll it out to about ¼" and use a large circle shape cutter (or a lid or something.) Then cut each circle in half so you have semi-circles. Bake on a sheet lined with parchment paper at 375 degrees for 8-10 minutes. Let cool completely. Mix up the cream cheese frosting and frost each cookie liberally. Then decorate with finely diced strawberries, blueberries, Mandarin oranges (or any other fruit you have on hand!)
This dough will make about 10-12 large circles, which makes 20-24 cookies.
So what fun activities do you like to do with your kids for St. Patrick's Day?  Do you have any fun traditions?  I think making these rainbow fruit pizza cookies is going to be a family tradition from now on…they are just too fun!  (And PS they were absolutely delicious!!)
Linking up to Flamingo Toes and I Heart Naptime