Easter Chocolate Bundt Cake
I've been excited to make this bundt cake for a very long time. It's my all-time favorite cake recipe. It's SO chocolatey, moist, gooey goodness. And I wanted to decorate it for Easter! So what better way to celebrate St. Patrick's Day than to make an Easter cake? Haha! Yes, sometimes I am THAT blogger…the one putting up Christmas decorations in October so I can post pictures for all of you.  But seriously, I bet you wish you ate dinner at my house tonight.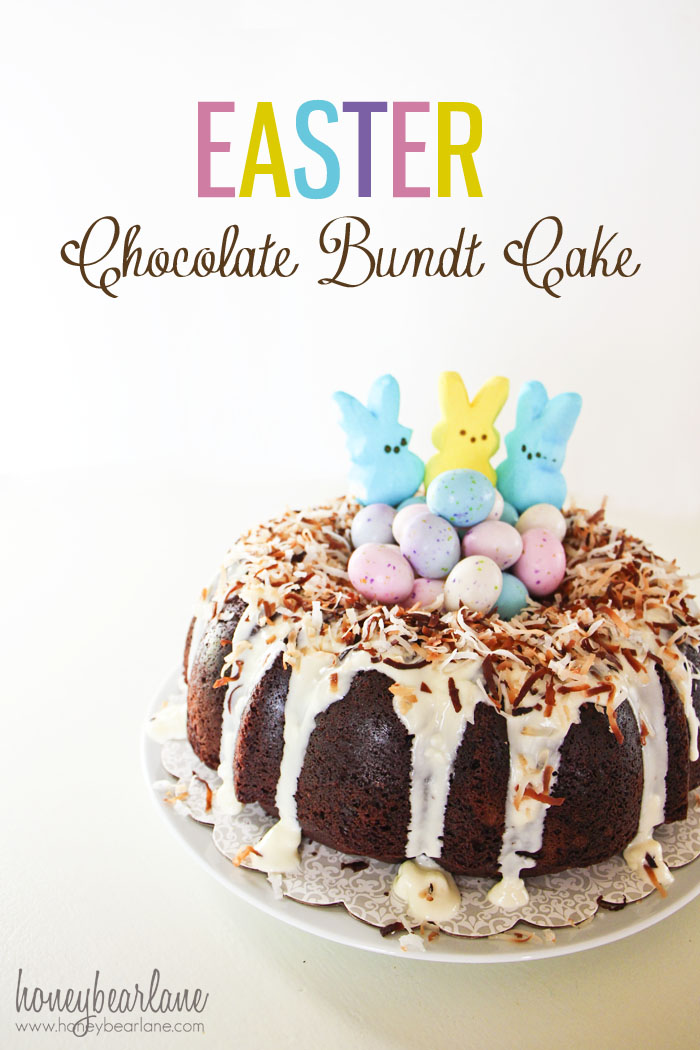 Isn't it cute?  I love how this turned out.  And as a wonderful treat, it tasted even BETTER than it looks (which doesn't always happen for me!)  If you are a chocolate lover, you have got to try this recipe.  And then you will never go back to another recipe.

Easter Chocolate Bundt Cake
Ingredients
1 Devil's Food Cake Mix (I like Duncan Hines)
1 Package Dry Instant Chocolate Pudding package
1 Cup sour cream
4 eggs
½ cup oil
½ cup melted butter
2 cups chocolate chips
Instructions
Preheat the oven to 350 degrees. Combine all the ingredients minus chocolate chips until thoroughly mixed. Then stir in the chocolate chips. Pour into a well greased bundt cake pan and bake for 50-55 minutes. Once it's out of the oven, cover with tin foil and put in the freezer until you're ready to decorate (and it's cooled.)
It's really quite easy!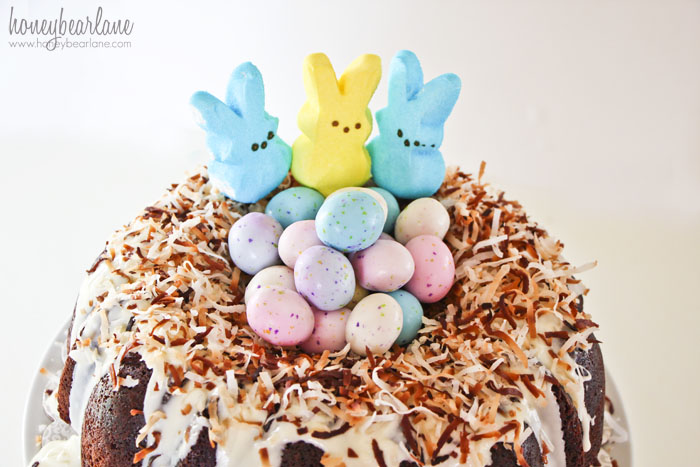 For the topping, I melted white chocolate chips mixed with a little olive oil to make it more pourable.  HOW TO MELT CHOCOLATE THE FAST WAY:  Put about 1-2 cups chocolate chips in a microwavable bowl.  Microwave for 1 minute, then stir.  Microwave in 30 second intervals until it's melted.  Add in about 1-2 Tablespoons of oil to improve consistency.
First I put a ball of tin foil in the middle hole so I wouldn't have to fill it so much.  Then I drizzled the chocolate over the cake and coaxed it to drip in the crevices.  I toasted about 1 1/2 cup of coconut on 350 for about 7 minutes.  Just put it in a cookie sheet.  It will seem burned on the edges but mix it up to get a nice ratio of toasted flakes versus white.  Then put the coconut on the cake and make a little 'nest' of it in the middle.  Add a few robin eggs candy and some Peeps on skewers and you've got yourself a delicious and beautiful Easter cake!
Do you make a fun Easter dinner and dessert for your family?  What are you planning on making this year?
Linking up to Saving 4 Six, Tidy Mom, The Pin Junkie and Katherine's Corner.