How to Make a Flower Tower
This is a sponsored post written by me on behalf of The Home Depot; however all opinions are my own.

Remember my Project: Outdoor Living plans?  Well I've already gotten started and made my first Flower Tower!  And vertical gardening is not as intimidating as it looks!  I've actually now made two and each one gets a little better and a little easier.  And I've gotta say, these are awesome statement pieces for my patio!  My backyard is VERY plain but with the addition of my flower towers, it looks SO much prettier!!  These are horticultural masterpieces that I think would probably cost at LEAST $300 if you bought them pre-made.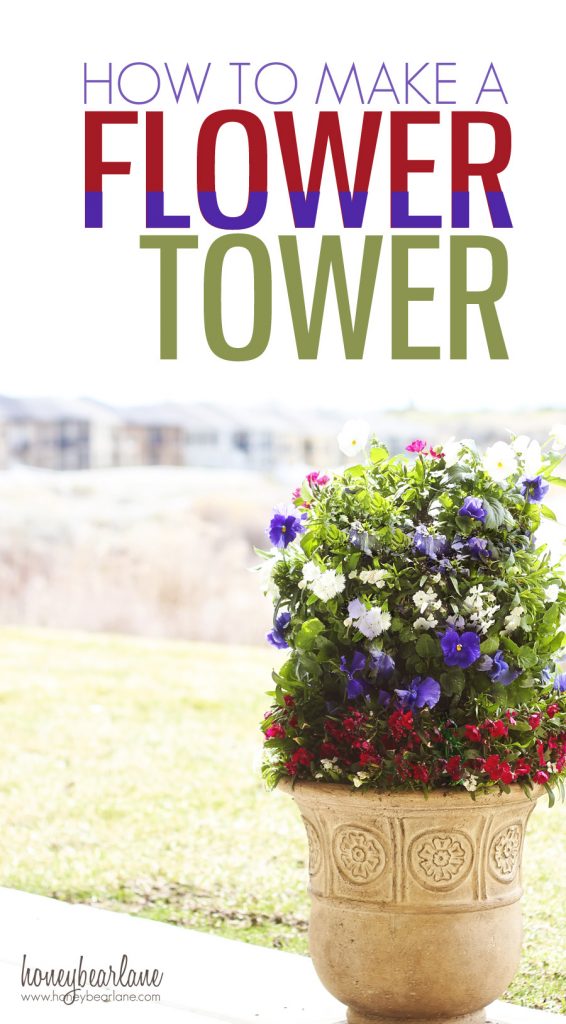 Beautiful right?  I wanted to use petunias for this project, but they aren't quite in season yet.  So I bought pansies and dianthus in red, white, and blue.  I am hoping that by the time the 4th of July comes around, this flower tower will have reached mature age and the tower will be full and heavy with flowers and greenery.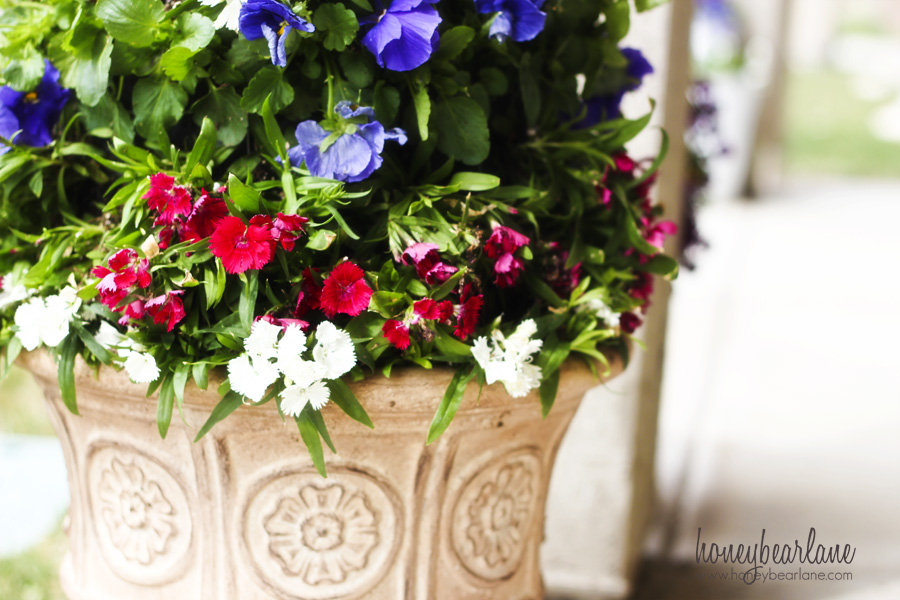 I'm going to be honest here and say that this wasn't the easiest project.  I followed the instructions given on the Home Depot's Garden Club page and struggled quite a bit (Watch their video.) I felt like I was forcing the flowers in the little holes so much that I damaged some of the stems.  After I was done, I spent some time thinking and came up with an alternative method of putting this together.  I tried the new method on another tower and it was indeed a lot easier.  I'm going to share both methods with you, but my own method I will share in a few days.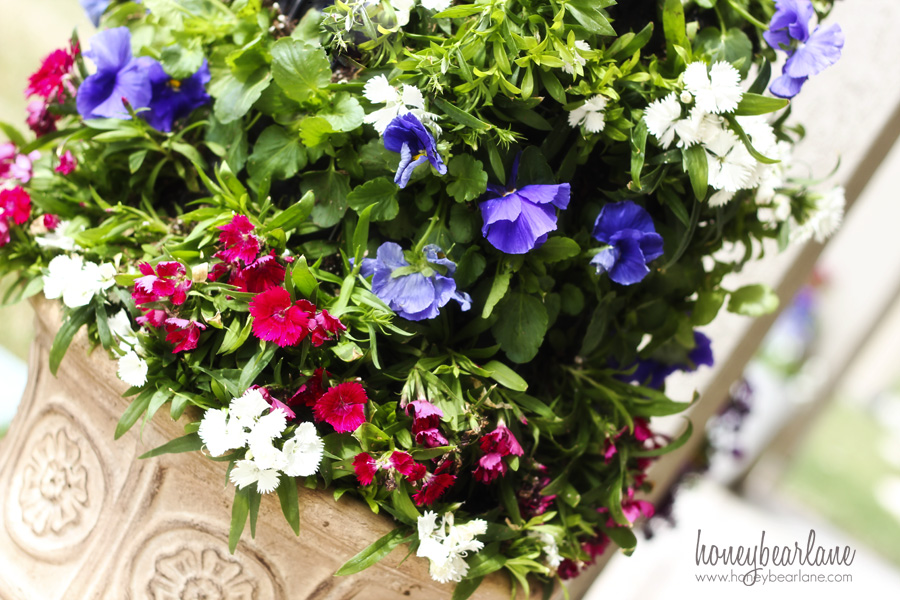 Here is how I made the tower:
Preparation
I first visited my local Home Depot where I got all my stuff.  (I'm going to talk about that in more detail in my next post.)
Here is the list of supplies:
Large Flower Pot, at least 13″ wide

Potting Soil

Flowers

Galvanized Wire Fencing with 4″ openings

Landscape Fabric

Utility Knife

Tin Snips

Zip ties
You can also use gardening gloves, a trowel, and a watering can.  I am an earthy girl so I never use gloves (although I did buy them).  I didn't use the trowel that much with this method but I did with the next one.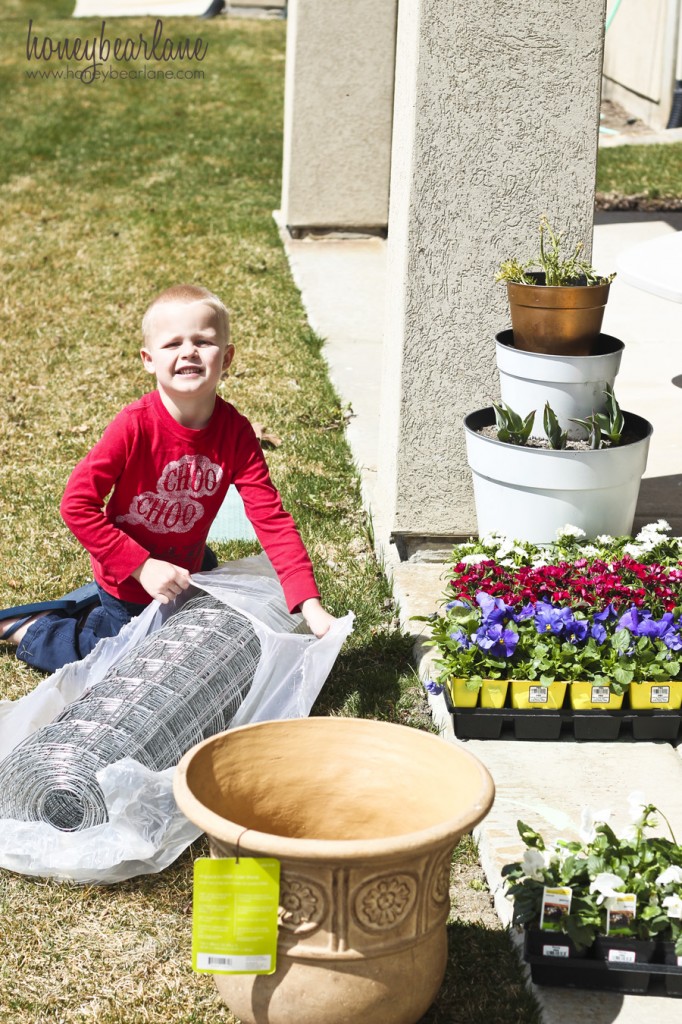 Step 1:
Open up your wire fencing and unroll it about 3 feet.  Snip it apart and form a cylinder that will fit in your container.  It should fit inside the container and go almost to the bottom.  The fencing should overlap a little so you have a nice secure cylinder.  And then use the zip ties to hold it together.  Then cut off the remaining tail.  I actually trimmed the height of my cylinder a little bit because I knew I didn't have enough flowers and it looked very high.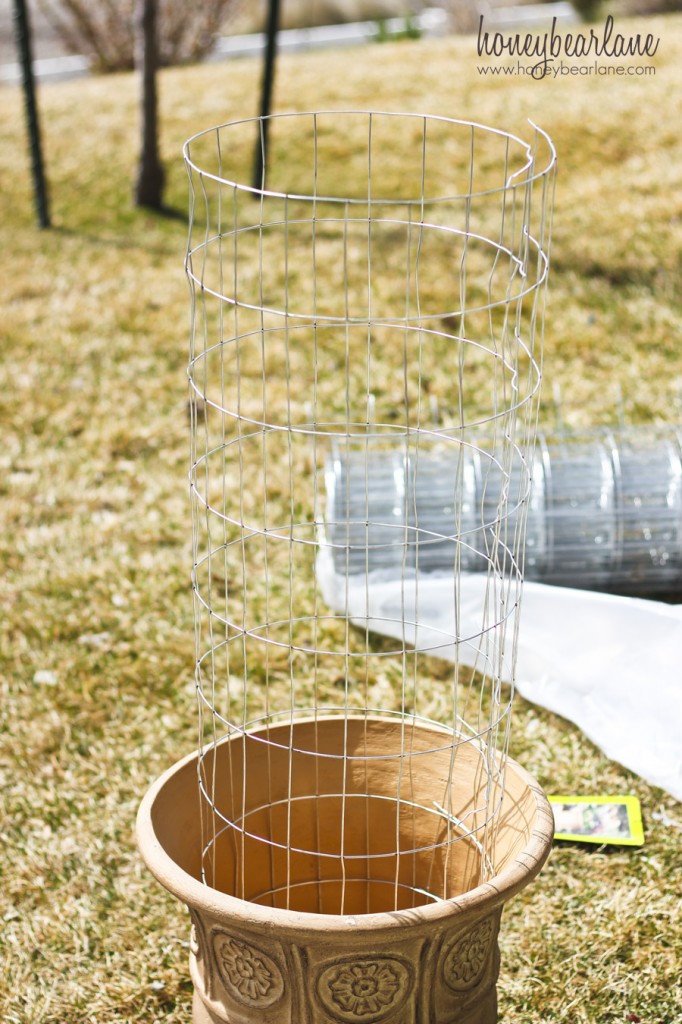 I was excited to do this project and have my kids help me.  I have three little kids under the age of 5 and they are basically my shadows all day long.  Anytime I can get them involved in a project, it's great.  It sometimes tries my patience, but it's rewarding to both of us to have them participate.  This was definitely one where they participated.  My 4-year-old helped with the zip ties, my two-year-old drew with sidewalk chalk, and my baby played in the dirt.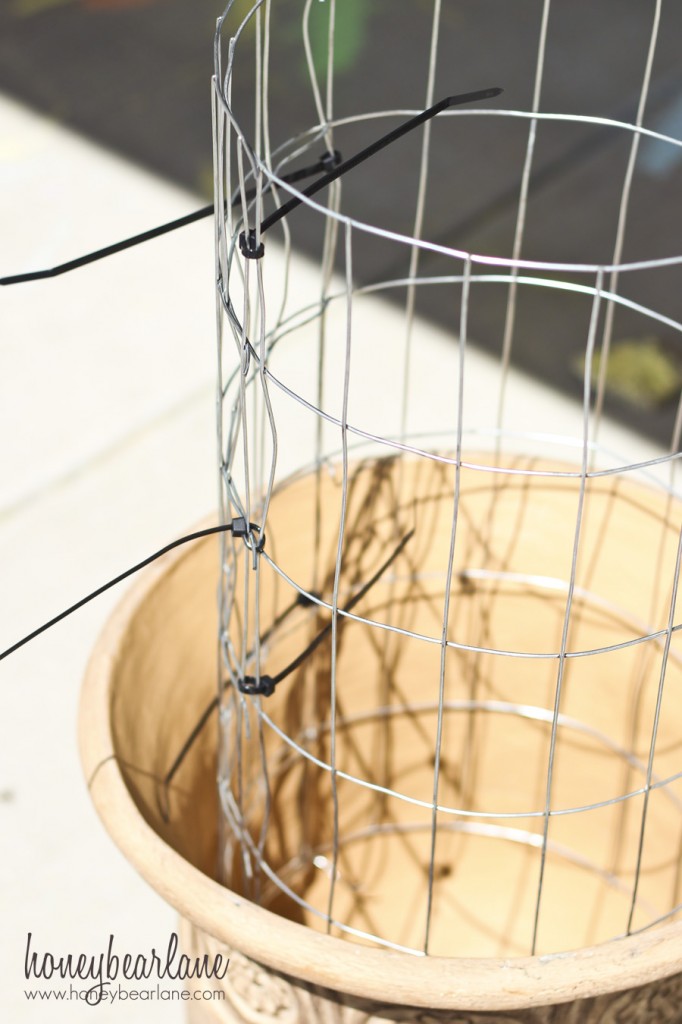 Step 2:
Cut a length of landscape fabric by measuring it around your container and cutting it to size.  Then put the landscape fabric inside the cylinder and fold over a few inches.  Also make sure the fabric overlaps so no dirt can escape.  Then cut a slit in the top fabric and use a zip tie to hold it in place (trim the tails off.)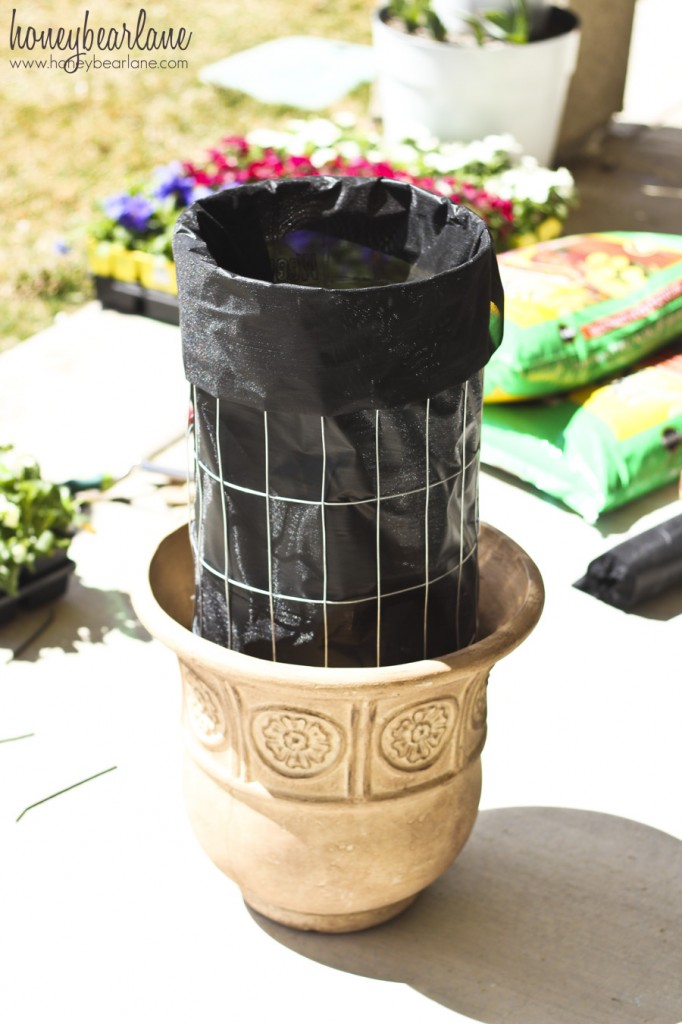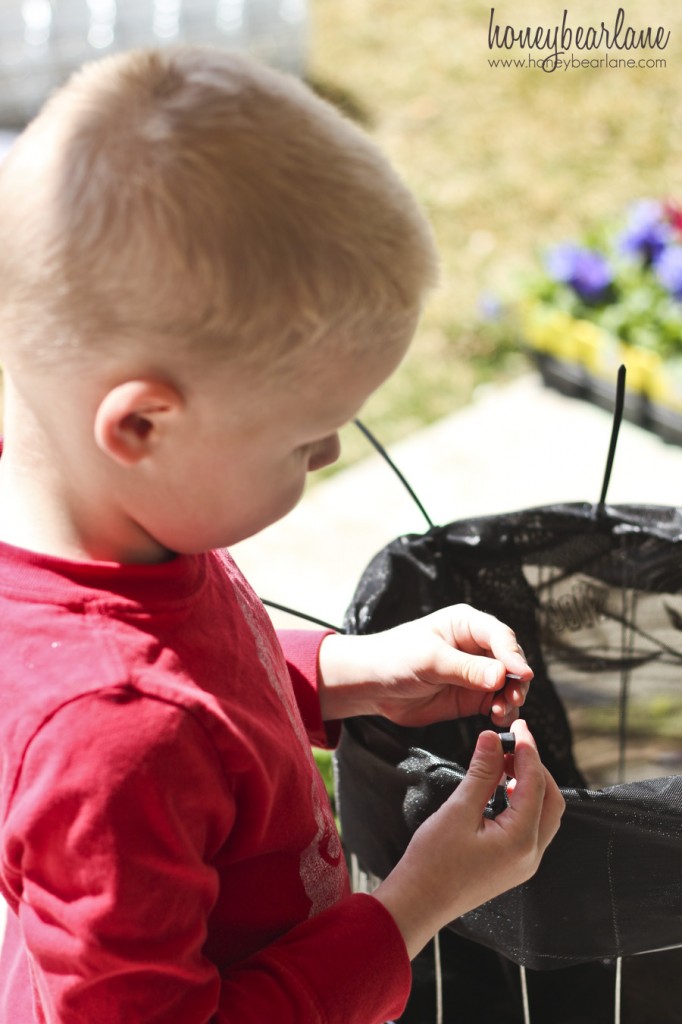 Step 3:  Fill the cylinder with dirt about 1/3rd up, add water.  Then fill another 1/3rd, add water.  Then fill to about 1″ from the top and add a little more water.  The water will help the dirt compact down and will also help it to stay in place when adding the flowers.  Add a little dirt in the container on the outside of the cylinder to fill in the gaps.

Here is a video of this step with my kids helping me.

And the second video of filling the dirt around the sides.
Step 4:  Now for the fun part!  Cut a slit in the landscape fabric.  Then use two fingers to dig a hole for your seedling.  Then carefully put the flower in your hole and secure it well.  This was the hardest part for me.  Since the seedlings came with their own amount of dirt, I found myself swimming in excess dirt.  Also it was hard to get a good amount of flowers in.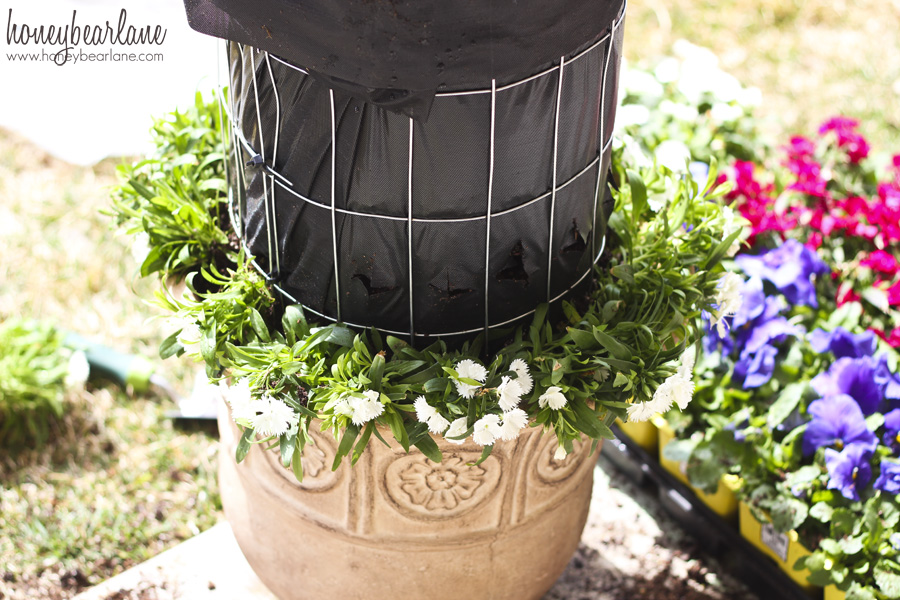 I started on the bottom row and moved around and up.  The middle row I put two seedlings in each spot since it was a large area.  But the top row I could only put one because I knew I needed to save room for my top flowers.  After all the flowers were in place, I watered it thoroughly.  You can see here that it's looking very droopy.  I took this picture below right after finishing the planting and the other pictures above were a couple days later.  You can see that it takes a few days for them to re-hydrate and for the roots to start forming again.  The flowers perk up more and more each day.  And it will take time for the flowers to really strengthen and cover all the bald spots.  You can't see it that well in the picture but there are a few bald spots that I hope will get covered up in time.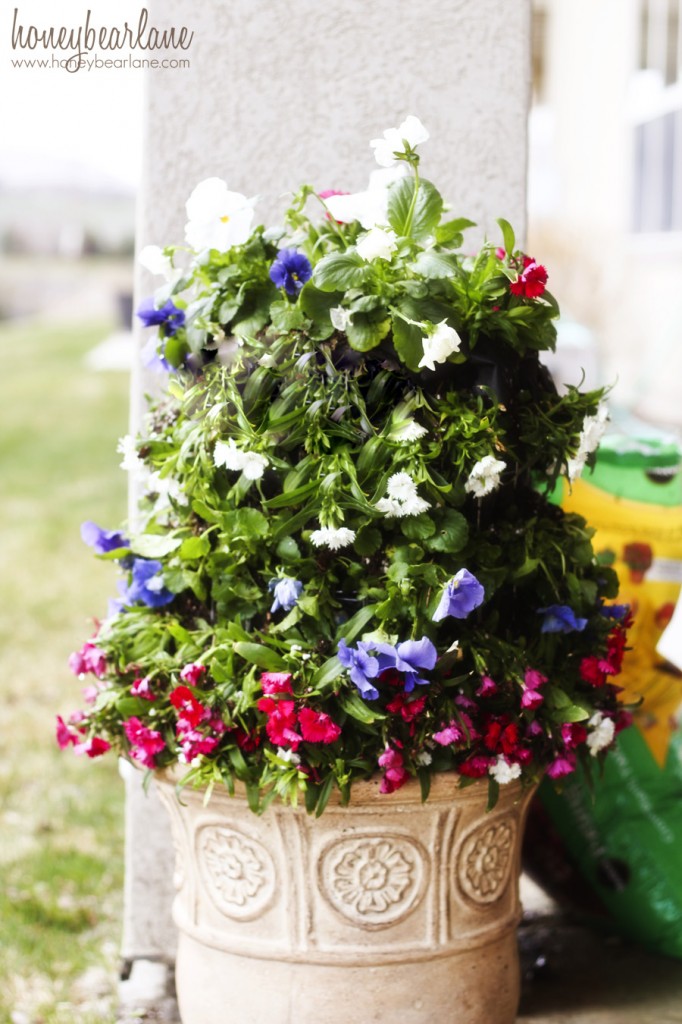 This is also where experience and time will tell me if I did this in the best way.  As the summer goes on, I will care for my flower tower and see how much the flowers grow and cover the 'scaffolding' of my tower.  I was afraid that the particular varieties of flowers I chose would not grow that much more and spread out, so I wanted to make sure there were enough flowers in my tower to start with.  This is where Petunias would come in handy because they definitely grow and spread out.  If I had used Petunias, I probably wouldn't have worried.  I probably would have put a flower in every other space.  As it was, I put two flowers in each space, except the bottom and the top rows.  I may have used too many flowers.  But like I said—time will tell.  I think it's off to a promising start.  I will amend this post in a few months to show you the progress.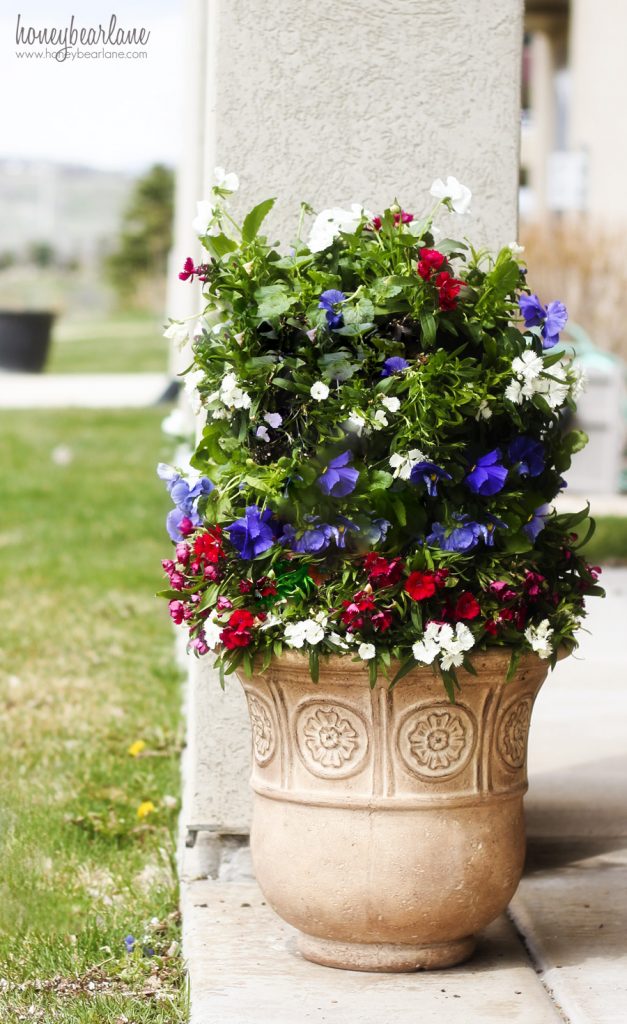 It's home improvement time, and The Home Depot has everything you need to #DigIn for Spring. No matter what projects you want to tackle, they have great values on all you need. They're ready to help you with renovation ideas and expert advice, too.
Get over $300 in email exclusive savings each year, sneak peeks on new products, monthly lawn & garden ideas for your region and access to The Home Depot's gardening experts. Click here (http://thd.co/ZNbhDj) to join the world's largest garden community today! Or go to homedepot.com/gardenclub to see some of the many benefits of membership.
Click on this picture to see lots of other amazing garden ideas!

This is a sponsored post written by me on behalf of The Home Depot.