Make a Faux Sheepskin Rug
Time for the next episode of Ellie's Nursery!  This faux sheepskin rug is SO easy to make yourself, no sewing required!  The only thing you'll need is the fabric and some good scissors.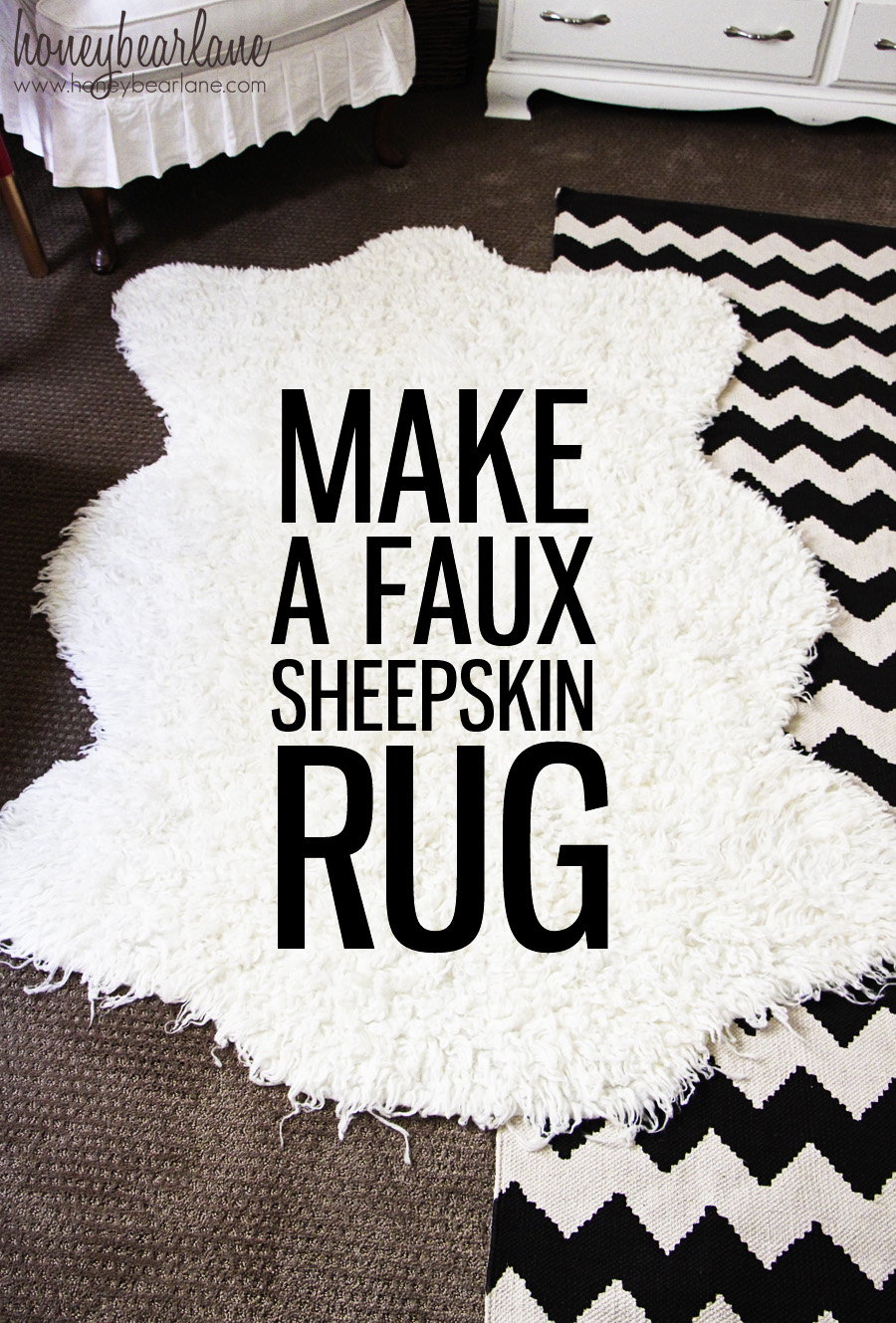 I really wanted to get a fluffy furry rug for Ellie's room, but all of the good ones were $300+.  Since I'm doing her room on the cheap, this was too much for one item.  In fact, I think the most expensive thing in her room is her crib which was still pretty cheap.  Nearly everything else was thrifted or given to me.  Anyway, the carpet in her room was just this giant void which really needed an accent rug.  So I got the chevron rug you see here at Urban Outfitters for $40. The problem is, it was not the right size for the room.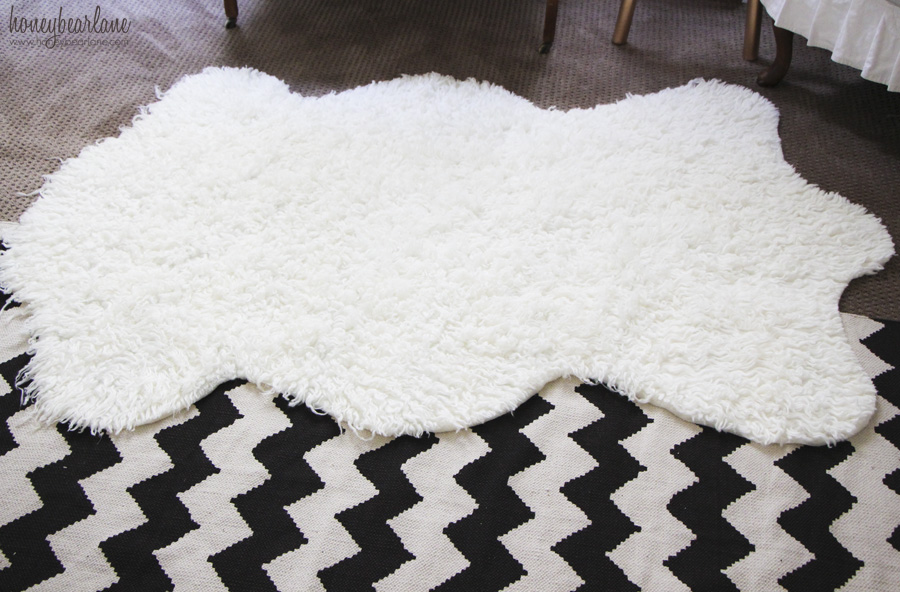 I had the idea of making my own Sheepskin rug with some faux fur fabric.  And in my partnership with Shannon Fabrics, I discovered that they also sell lots of high quality faux fur!  They happily sent me some of their sheepskin fur to try for this project.  It is high quality faux fur and it has a thick base so it does lay securely in place when on carpet.  And now I have a super awesome rug for super cheap when the real things cost hundreds!  That's my kind of rug.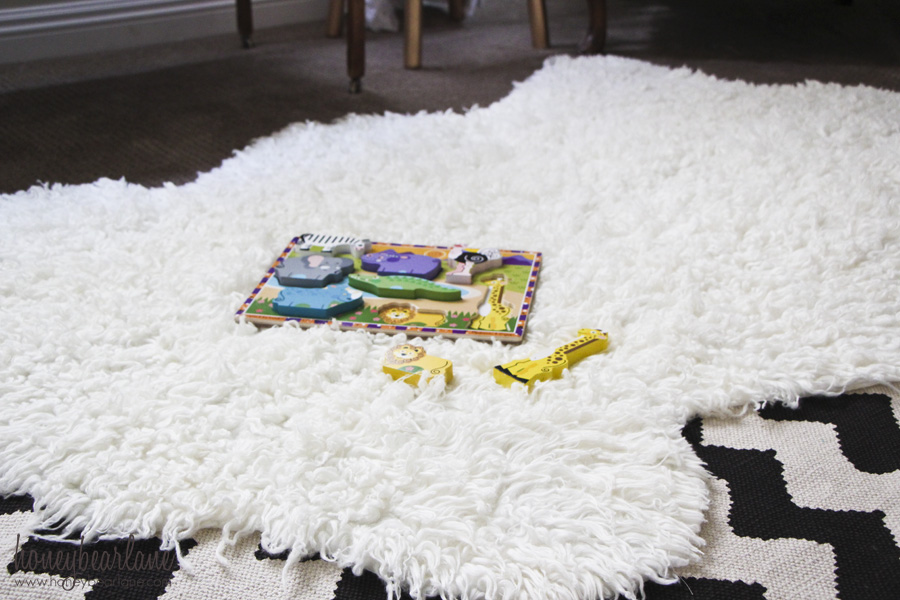 Want to make your own sheepskin rug?
For this size, about 4×6, you will need 2 yards of 60″ wide faux fur.
Sewing scissors
Marking pen or pencil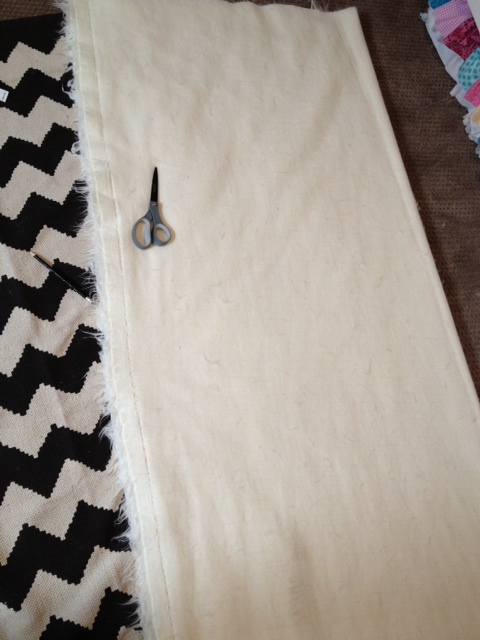 First, you get an inspiration picture to copy.  There are different shapes of these types of rugs so go find a picture on the internet of a shape you like.  Then fold your fabric in half, lengthwise, with the fur inside (right sides together.)
Channel your inner kindergartener making heart valentines.  Remember how you would fold the paper in half and then draw a fishhook shape?  Then you cut it out, unfold it, and have a lovely heart.  Same idea here.  If you need to practice, try it out on a paper first.  Trace half of the shape you want on the paper and cut it.  Make adjustments accordingly.  I felt pretty confident about cutting the right shape so I just went ahead and drew a line on the fabric.
Then cut!  It will probably shed like crazy as you cut it, so cut it on an area that will be able to be easily cleaned up.  I cut it out and then decided I didn't like the long 'legs' so I trimmed them.  Once you've cut it to the way you like it, just throw it in the dryer for about 10 minutes with a dryer sheet.  It will not shed after the dryer.
And that's it!  One caveat:  If you want to put your rug on a wood or other slippery surface, attach a rug pad to the fabric underside before you cut it out.
I love this rug and it is one of the easiest project I've ever done.  Try it!!
Check out the other Nursery Projects for her room…

Linked up to TT&J Weekend Wrapup