Spicy Shrimp Tacos with Mango Salsa
Happy Cinco de Mayo!!  I am sharing a recipe with you today that I recently made using some awesome new Mccormick's spices.  I took on a challenge to come up with an easy and delicious taco night recipe  using these spices.  I have to tell you, I am seriously excited about having these spices in my collection because summer is all about fresh Mexican food!  I love making anything with fresh salsas–fruit or regular.  I love Mexican and Southwestern flavored foods so making my favorite recipes at home makes me happy.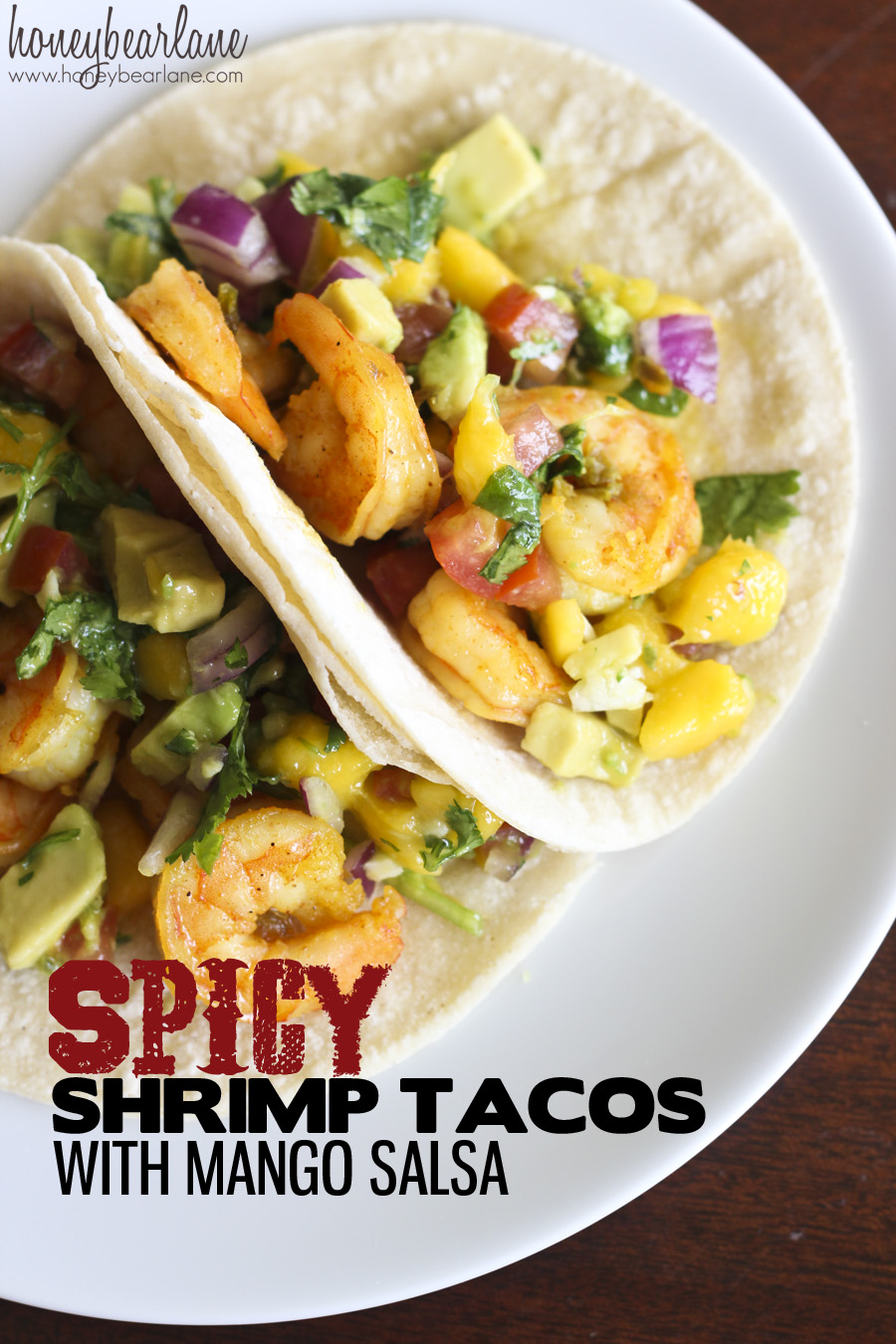 These shrimp tacos turned out amazing.  Seriously–they tricked me into feeling like I'd just eaten a fattening restaurant meal but really they are low-calorie and healthy!  I see these shrimp tacos finding themselves in my regular menu rotation.  And if you get sick of the flavor, just alternate the spices you use and get different results.  And to be honest, they were spicy but not that bad.  I hate it when food is so spicy you can't even taste the flavor.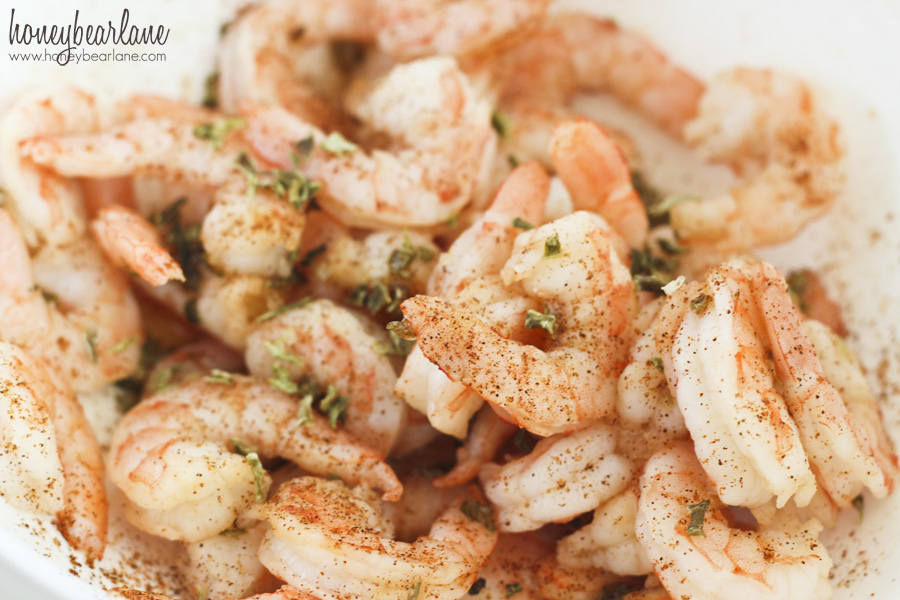 Love!  The mango salsa is a bit time-consuming to chop all the things that go in it but the shrimp literally takes 5 minutes.  I also love using shrimp because it's super quick to defrost and I really like the texture of shrimp.  And the time spent on the mango salsa is SOOOO worth it.  Don't leave anything out!  Man, writing this post is making me seriously hungry for these again.
This recipe is pretty healthy because the mango salsa is nothing but fruit and vegs, the shrimp is sauteed in a small amount of olive oil, and each corn tortilla is only 50 calories.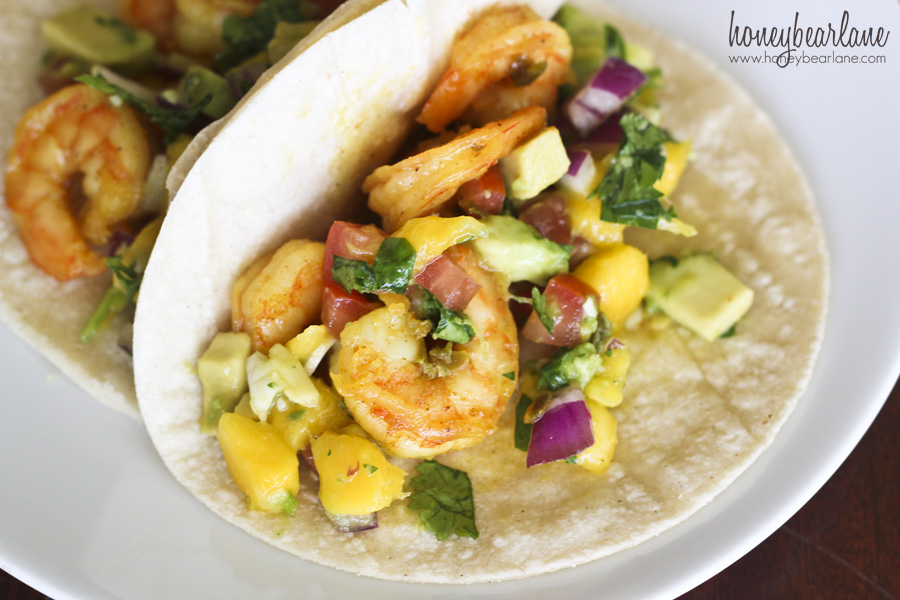 Spicy Shrimp Tacos with Mango Salsa
Ingredients
Mango Salsa
1-2 mangos
1 ripe avocado
1-2 roma tomatoes
juice from ½ lime
¼ c. cilantro
¼ c. diced red onion
3 cloves minced garlic
Shrimp
1 lb. small-medium shrimp, deveined and tails removed
1-2 Tbsp Diced Jalepeno spice
1 tsp Chipotle Chile Pepper spice
1-2 Tbsp Ancho Chile Pepper spice
1 tsp. Turmeric
1 Tbsp Sicilian Sea Salt
1 tsp garlic powder
2 Tbsp Honey
Instructions
For the salsa: Dice all the ingredients and mix together. Let the flavors merry for at least ½ hr.
Shrimp: Defrost frozen shrimp by placing in a bowl of warm water. Dump the water, then mix in all the ingredients, stirring well. (don't mix in a white bowl because the turmeric will stain it.) Saute the shrimp in a pan with a small amount of olive oil, about 3 minutes until shrimp is pink.
Warm up small corn tortillas on a frying pan or in the microwave in between paper towels. Dish the shrimp onto each tortilla and top generously with mango salsa.
Here are the Mccormick's Spices I used (the turmeric is not pictured)
McCormick is having a Pinterest Taco Night Challenge and you could win one of 30 Kits of assorted McCormick spices for yourself!  Here's how to enter:
Follow the McCormick Pinterest page.  Repin 5 recipes from McCormick's Taco Night Pinterest board to your own board and be sure to include #McCormickTacoNight and tag @honeybearlane in each repin.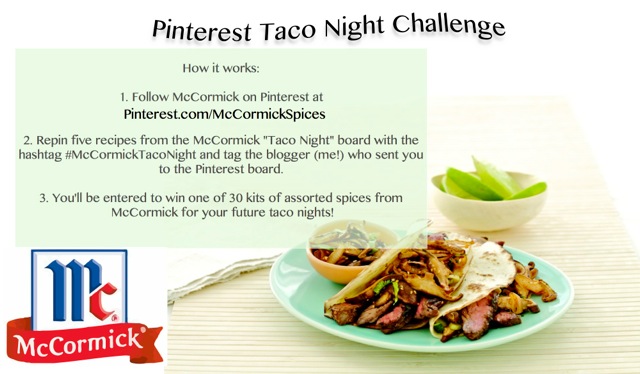 This post was written on behalf of McCormick and TheMotherhood. I received compensation but all opinions are 100% my own.