Lactose Free Berry Trifle
Tomorrow is the 4th of July–and what better way to celebrate our country's independence than to eat dessert out of a jar?  You might remember my review of Lactaid a little while ago.  I have people in my family who suffer from lactose intolerance and so Lactaid is a staple in my house.  My daughter drinks it in a bottle every day.  I wanted to see how hard it would be to come up with a yummy dessert recipe that was completely lactose free.  And I did it.  Pretty easily, actually.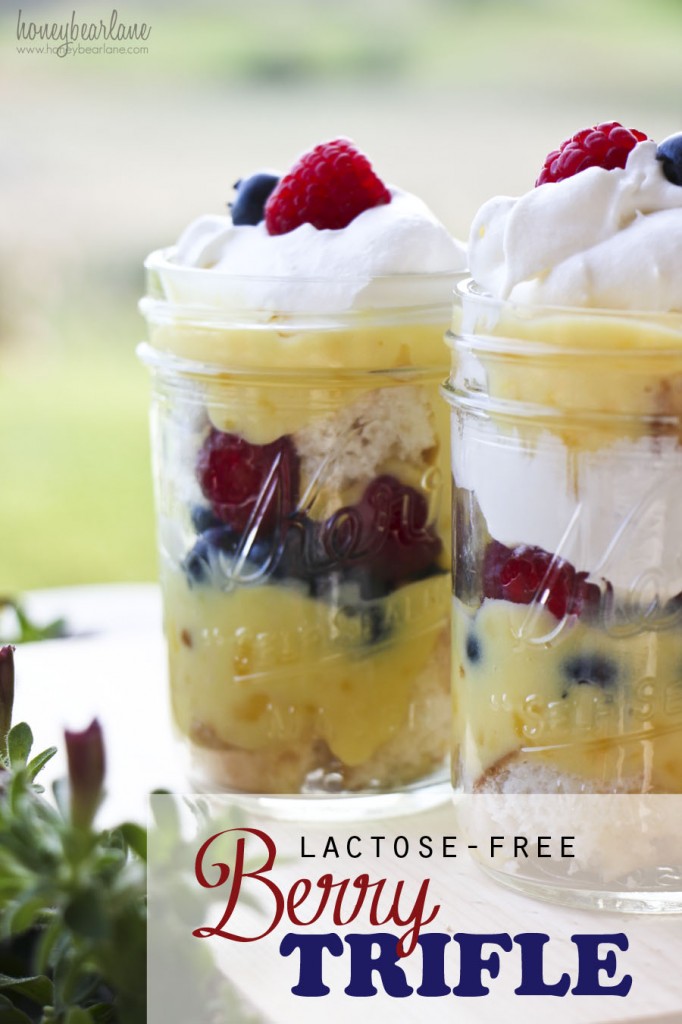 Berry trifles are something my mom has made for as long as I can remember.  It's a pretty easy dessert idea that can feed a large group and uses berries, which is nice when berries are in season.  You can also make a chocolate version with chocolate cake, pudding, and crushed candy bars.  Both versions are very delicious!  I decided to put these in a jar because, well, everything looks better in a jar.  But also it's a good way to keep the ratio of all the ingredients even, since sometimes you can end up with too much of something when dishing it from a large bowl.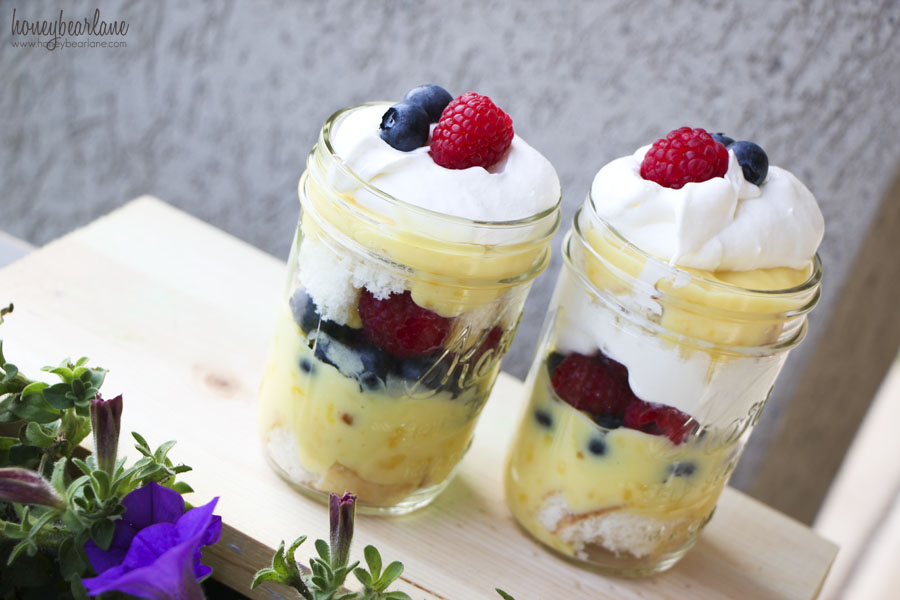 In case you don't know how to make a trifle, here is the recipe!

Lactose Free Berry Trifle
Ingredients
White Cake Mix
3 Egg Whites
1 C. Water
¼ C Oil
1 Package Vanilla Instant Pudding Mix
2 C. Lactaid
1 Package Cool Whip
1 package raspberries/blueberries/and or strawberries
Instructions
Follow the directions for the cake mix (adding in egg whites, water, and oil.) Mix well and pour into a cookie sheet pan (I lined mine with parchment paper.) Bake at 350 for 20 mins and let cool. Mix up the pudding powder with Lactaid and let it firm up. After the pudding has set, cut up the cake into small squares. Make your layers by putting squares of cake in the bottom with a little pudding on top and shake it a little so the pudding settles down into the cake. Then add a layer of berries, followed by a layer of Cool Whip. Repeat the layers until you run out of food. Chill for a few hours and then serve.
If you want ideas of other lactose-free recipes please watch
this video of Dietician Melissa D'Arabian on The Today Show
using Lactaid in a yummy recipe!  Or check out the
Lactaid website
for tons more ideas!
The post is brought to you by TheMotherhood and Lactaid.  I received compensation for this post, however all opinions are my own.