Halloween Tin Can Luminaries
Halloween is right around the corner, each day getting a little bit spookier.  One of my favorite parts about Halloween are the Jack-o-Lanterns, all lit up.  I love anything luminescent really, so I thought I would try making some tin can luminaries.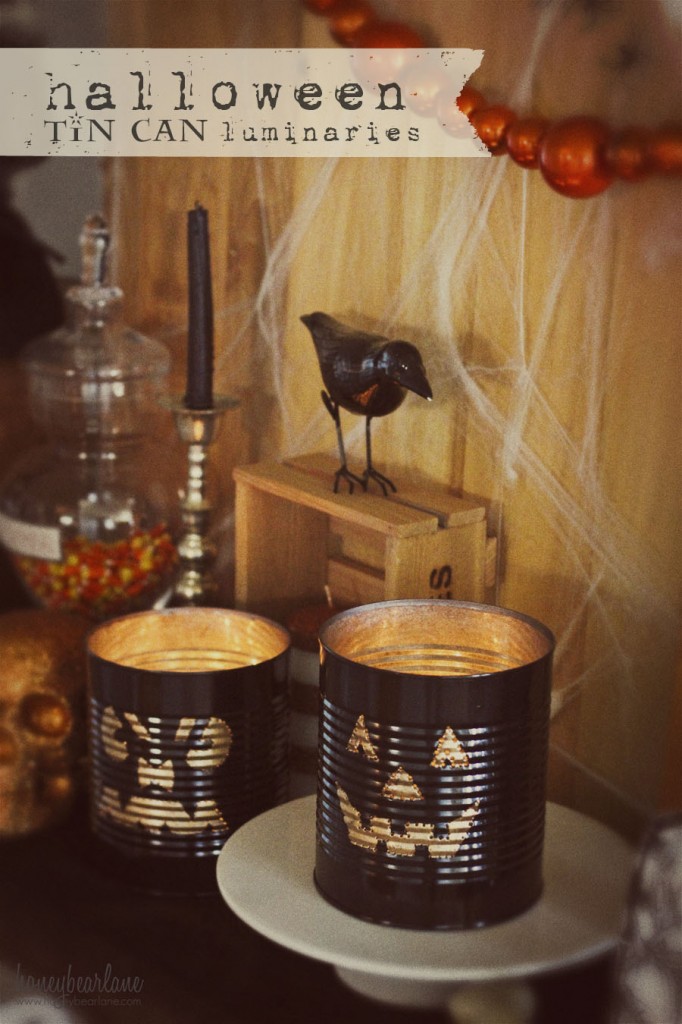 I know the thought of puncturing a hole into metal can be scary but don't be intimidated, these were actually very easy!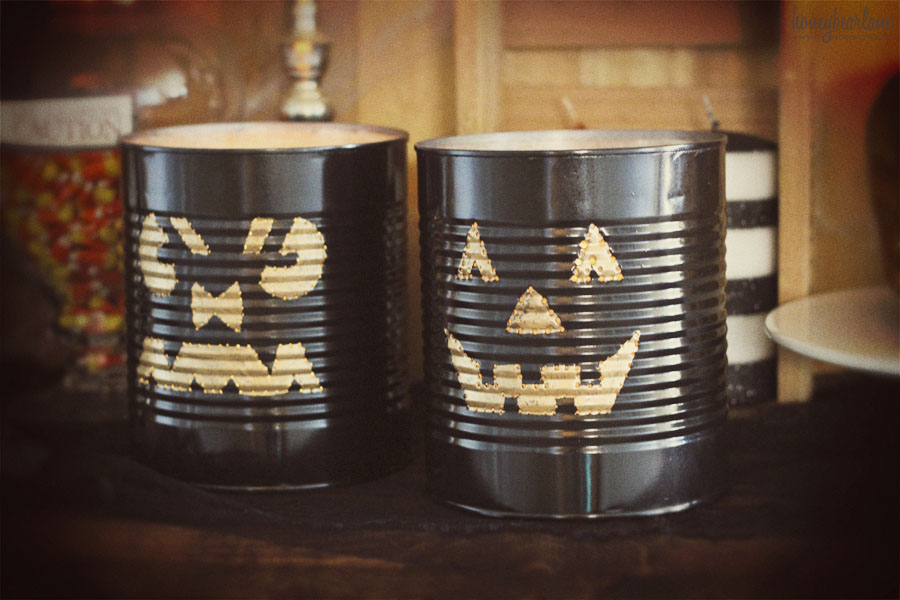 Spooky right?  And so many possibilities!  I definitely see more tin can luminaries in the future.
Want to make them?  Here's how:
Supplies:
Large Tin Can (Coffee cans or Costco size canned goods work great)
Sharpie
Rubber Mallet
Awl
Black spray paint
Gold foil paint (or regular acrylic works fine.)
Votive candles
Step 1:  Clean up your can.  Peel off the label and wash it out well.  Then fill it almost to the top with water.  Freeze it overnight.  The ice that forms will make hammering holes in the can VERY easy.
Step 2:  Draw your Jack-o-Lantern face on the can with a Sharpie.  Then use the awl and rubber mallet to pound small holes along the lines of your design.  It goes through very easily.  Don't pound too hard or the holes will get too big.  I found that only a couple quick taps were all I needed.
Step 3:  Flush out the ice with hot water, dry.  Then spray paint the outside of the can with your black spray paint.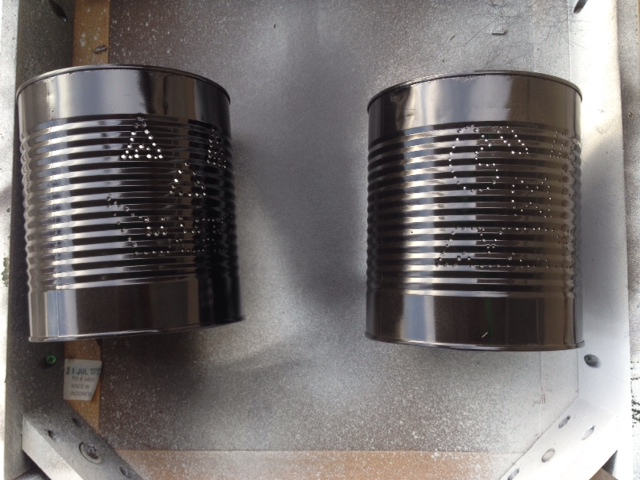 Step 4:  Carefully paint the inside of the eyes, nose, and mouth with the gold paint, making clean lines along where the holes are.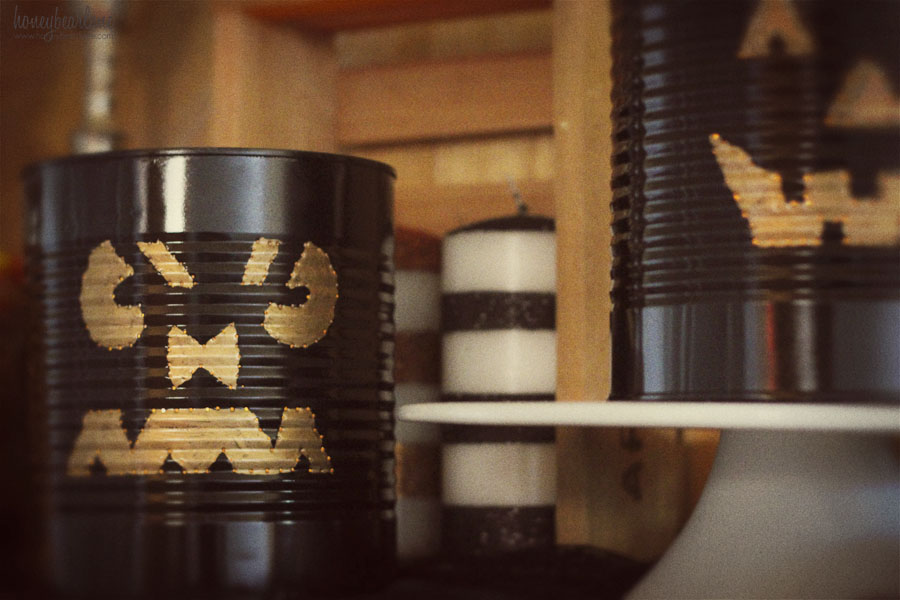 Step 5:  Light your votive candles and turn off the lights!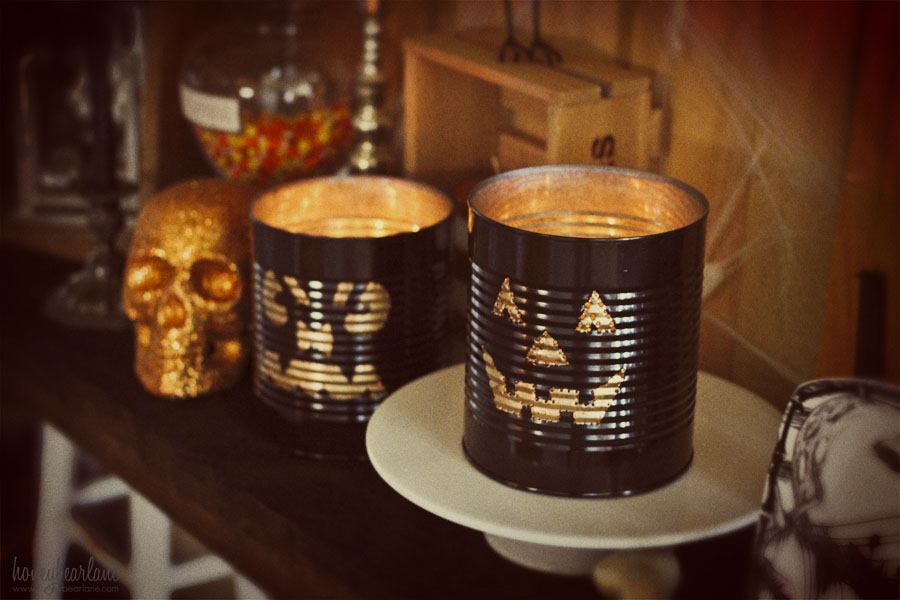 Have a Happy Halloween!
This post originally appeared on Skip to My Lou.