25 Ways to Make Your Child's Birthday Special
So today is my eldest-born's sixth birthday.  It got me thinking about my own birthdays as a child, and how my mom always tried really hard to make them special.  Now my mother dearest has eleven children.  Eleven!!  It still boggles my mind.  She had many routines to survive parenting her eleven.  We had a breakfast schedule (Mondays–Oatmeal, Tuesdays–Scrambled Eggs, etc), we had a job chart of weekly chores, and every night dinner at 6:00 pm on the dot.
She even had a birthday routine.  We'd wake up early, as we always did to read scriptures together as a family, but on birthday mornings we'd sit around the kitchen table and pass out presents to the birthday kid.  And my father would say a special prayer for the birthday child. Then we'd have a special birthday breakfast of whatever the kid wanted.  That night, we'd celebrate by having a requested dinner and a birthday cake.  We'd all sing 'Happy Birthday' as loud as we could and the birthday kid would blow out the candles.  And every other year we could have a birthday party.
Basically the day was all about the birthday child.  This may seem pale in comparison to others' celebrations, but the consistency of having your birthday celebrated this way every single year was something to cling to, as a child in a crazy world.
So without further adieu, here are 25 ways to make your child's birthday special.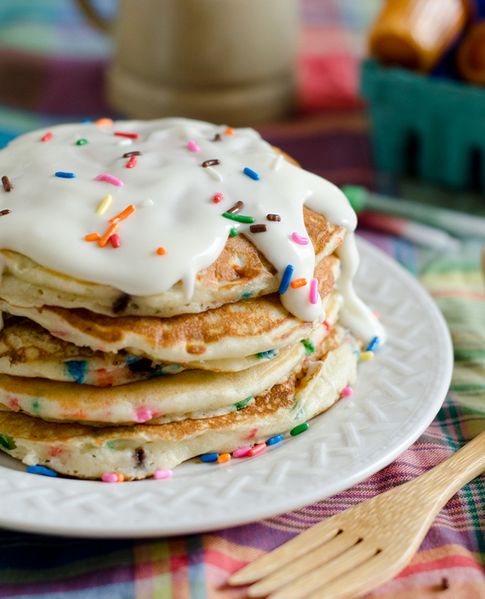 1.  
Make a special birthday breakfast:
 fun-shaped pancakes, special fruit milkshake or smoothie, waffles and cream, etc.  Add a candle if you can.
2.  Set aside time for opening presents and make sure each family member gives the birthday kid a gift
3.  Take the birthday kid out to lunch, just you and your child.  Let your child choose the location and what to order.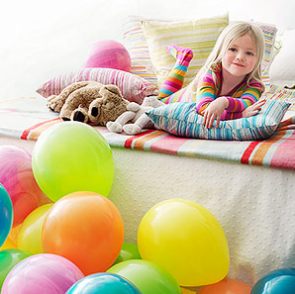 4.  Balloon surprise:  
Fill their room with balloons the night before.
 Tape a bunch of balloons to the outside of your child's door to discover when he/she wakes up.  Encase them in plastic so they fall on them when the door is opened.
5.  If your birthday kid is older and only wants cash, present the cash in creative ways.  Make dollar roses, tape them all end-to-end into a really long roll, layer them in a big hoagie roll like a sandwich, tape them together and make a blanket, etc.
6.  Put together a picture slide show of your child and show it to the family
7.  Invent a special (non-alcoholic of course) drink or smoothie and name it after your child
8.  Write a special birthday message on the bathroom mirror in dry-erase marker
9.  Write a special birthday celebration on your car windows with window paint marker
10.  Make a birthday crown for your child to wear
11.  Excuse your child from chores and homework (if possible) for the day
12.  Have flowers or balloons delivered to your child at school
13.  Have a birthday photo shoot for your child, use his/her favorite toys or things as props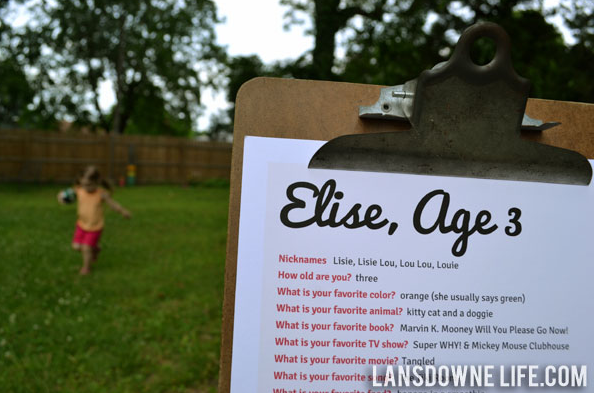 14.  Interview your child on his/her birthday either in video form or on paper.
 Click here to download a free interview form!
 (c/o lansdownelife.com)
15.  Decorate their 'usual' chair at the kitchen table
16.  Spend a full hour of one-on-one time with your child, letting him/her choose the activity and be fully involved the entire time–no smart phones allowed.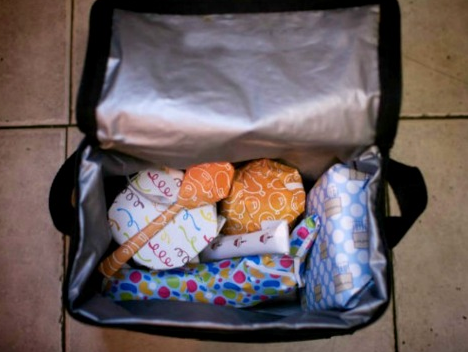 17.  
Wrap up each individual piece
in their lunchbox for them to unwrap at lunchtime (c/o ivillage)
18.  Have each sibling write on a paper what they love most about your birthday child and then the child has to guess who wrote it.
19.  Use the special birthday things:  customized ceramic birthday plate, special birthday table cloth, etc
20.  Say a family prayer that includes gratitude for your birthday child
21.  Make a countdown to his/her birthday–paper chain, anyone?
22.  Have them create a picture called "The best day ever" and hang it up for all to see
23.  Either you or your child (or both of you together) make a special birthday shirt (You can do this the day before.)
24.  Write your child a special letter about all the things you love about them and what you hope they will achieve in the upcoming year.
25.  Cook a special birthday dinner for your child–their choice of menu, or let them help you cook if they want.