10 Back to School Teacher Gift Ideas
Here in Utah, there are only about 3 weeks left until school starts! And yes, I did say that with an exclamation point because I'm SO ready for my kids to be back in a routine. This summer has been long for us, since all our money is going into building our house, we didn't take a vacation or go anywhere. And I'm impatient this year, since I'm dying to be in my own house which won't be done until Christmas.
But Back to SCHOOL…I think we are all ready to go back. My kids LOVE school and I love that they love it. We appreciate our teachers and all the hard work they do! So here are 10 Back to School Teacher Gift Ideas.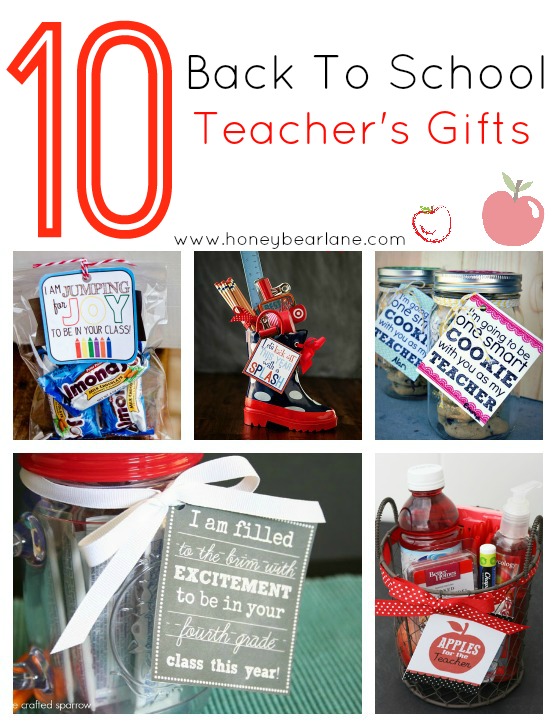 1. "Lucky" Teacher Frame from Yesterday on Tuesday
2. "Grape Year" Back to School Teacher Gift from Bombshell Bling
3. Lets Kick Off This Year with A Splash from Whipperberry
4. Jumping for Joy Teacher Gift from Love The Day
5. Fun Back To School Teacher Gift for a $1 from Mud Pie Studio
6. Apples for The Teacher from My Sister's Suitcase
7. Mason Jar Cup with Free Chalkboard Tags from The Crafted Sparrow
8. One Smart Cookie Teach Gift from Corner House
9. "I'm Doing Flips" Teacher Gift from Simply This and That
10. Back To School Survival Kit from Butterfly Kisses and Tasty Dishes
I love all these ideas! What a great way to start out the year–by showing your kids' teachers just how awesome you think they are. When my oldest started kindergarten last year, I admit I was a totally newbie to the whole public school thing and all that went into it, so this year I resolve to be on top of my game!
Happy Back to School!