School starts in nearly just two weeks.  I can't believe it!  I'm also excited, but the other day I realized that this means I'm going to have to be organized again.  Organization is something I am capable of, but it is not my strong suit.  Especially when it comes to helping my son get all his homework done and turned in.  He's only going to be in first grade, but there's so many little different things they have to do in school–spelling, reading, math worksheets, etc.  It's a lot for me to remember!  So I'm trying to do a few projects to help me get more ready.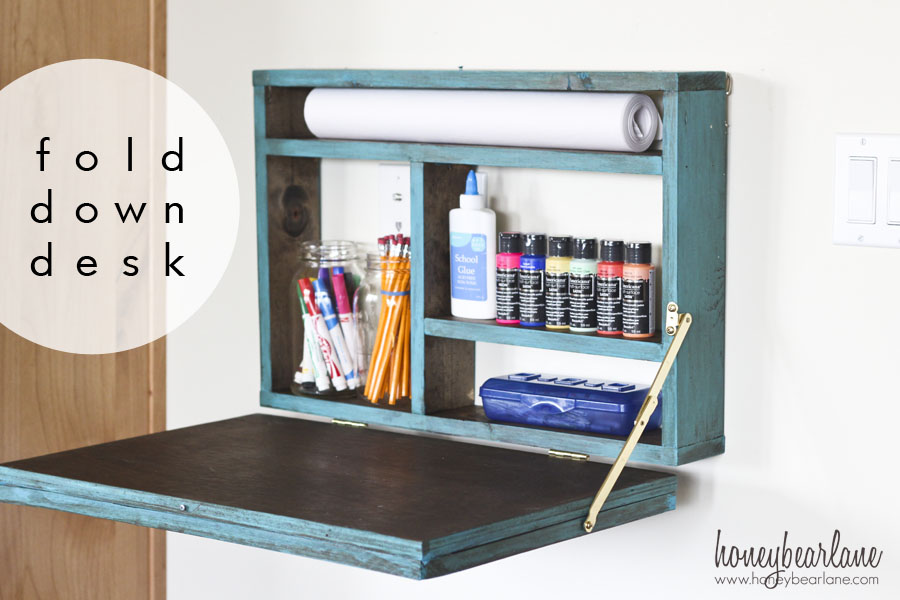 The first project I did was to make this fold down desk.  Since our life has been taken over by clutter and Legos, we need a place that is 100% for homework and nothing else.  I loved the idea of a fold down desk because since you fold it back up when you're done, there's no temptation to put crap there.  And the convenient shelves can hold his school supplies and keep it organized.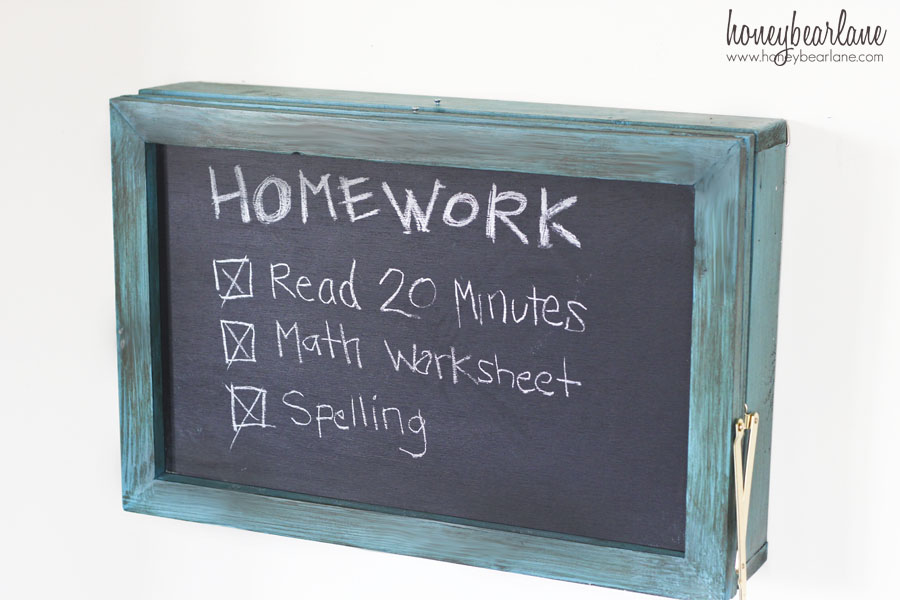 I'm going to be honest, this project kind of ended up being a pain in the butt.  It was actually really easy to put together, but the painting was a long process…and at this time in my life, I don't really have time for long processes.  There is chalkboard paint, Chalky Finish paint, stain, and dark wax on this desk.  If I were to do this again, I would just paint it all one color and do the clear wax.  I also had issues with those hinge support things.  I bought one 'left' and one 'right' and I think they were both 'right.'  So that's why there is only one hinge on it right now.  Not every project comes together in perfect harmony, and for some reason, this was one of those.   But learn from my issues and it will be no problem for you!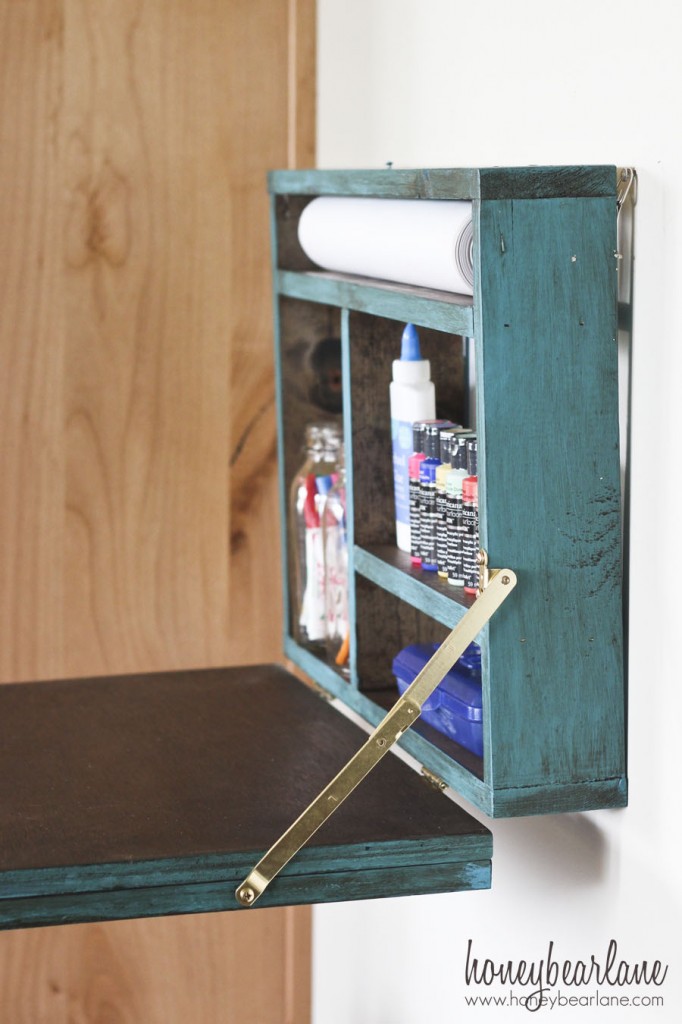 First I built the desk.  I used the free plans from Ana-White.com.  There were no instructions about the hinge supports so those were a bit tricky to figure out and I'm still not sure I did it right.  I just used my nail gun to put it together.  I gotta get me some jumbo clamps though!  And man I can't WAIT until I have my own shop to build stuff.
After building came painting.  First I painted the front in DecorArt Chalkboard Paint.  This was actually chalkboard paint for glass, but it was all I had on hand and it did the trick.  Then I painted the outside in DecoArt Chalky Finish Treasure.  I love this color with the dark wax…I'm obsessed with it.  You can see how this combination turned out on my Master Bedroom reveal.  But it turned out that doing a dark wax on this project wasn't the best way to go.  You live and learn.  
I had also cut a frame for the chalkboard front and painted that with the Treasure and finished it with the DecoArt brown Creme Wax (as well as the rest of the painted parts.)  To use this dark creme wax, you paint it on, let it sit for just a minute, then wipe it off with a rag.  If you want more of the wax to show, wait a little longer.  Then you will need to buff it with the rag to get it how you like.  It takes a little getting used to, so maybe practice on a scrap first.
So this is where it got obnoxious.  I love the combo of the DecoArt Treasure + Dark Creme Wax + Stained wood + Gold Hardware.  But the stain was just a pain.  It got everywhere and made a huge mess.  If you want to do this, STAIN FIRST.  I ended up having to repaint lots of places that the stain got on.  
Here's a tip for using stain:  If you get stain on a tabletop (especially a white one) you can use wood stripper (that orange goo not the hard chemicals) to lightly rub it on the table and remove the stain. 
I used the dark creme wax to seal the wood desk top and that worked great.  I really like the cream wax as a sealer because it's as effective as poly almost, but not smelly.  
I nailed on my frame and then used some wood filler and putty to fill nail holes and cracks.  I let it dry, but then I had to paint and wax over that all over again.  Sigh..I really did this project in the worst possible order.  
Finally the painting was done, so I attached the hinges and D rings and hung it on the wall.  Then I attached one of the hinge supports since the other one didn't work.  I'll have to fix the other one soon.  The hinge supports are actually enough to keep it closed when it's up though.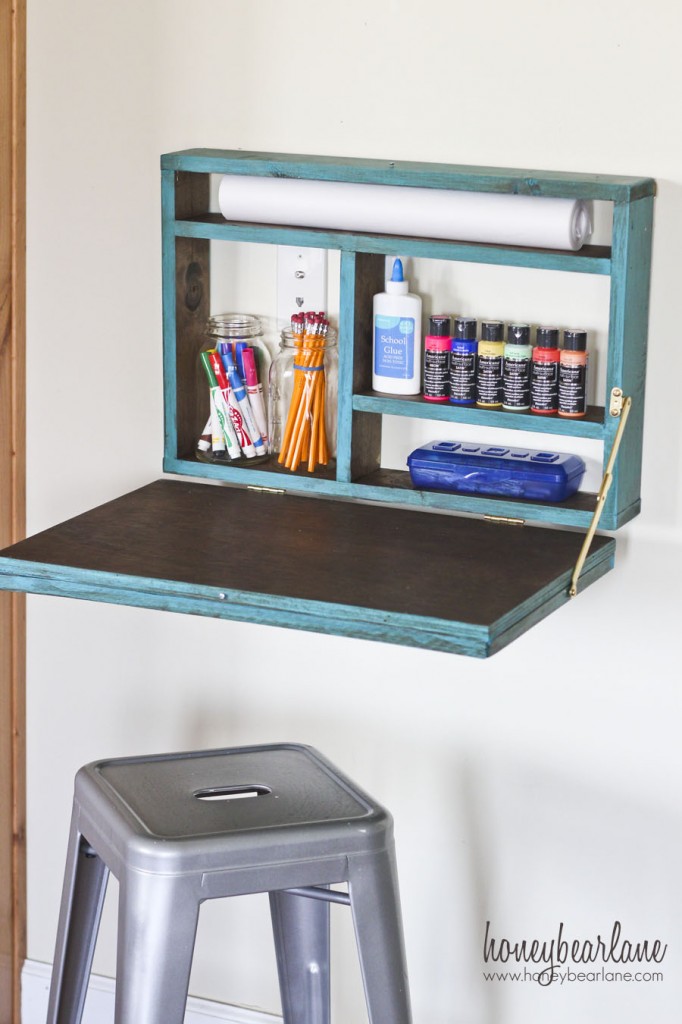 And here's one more tip:  DONT get the creme wax on the chalkboard part!  It does it's job and you can't write very well with chalk on it.  (There's just one spot where it accidentally got on.)  
And there you have it!  I'm keeping it real y'all…not every project is a snap.  In fact, most aren't.  And if you read blog posts and they make it sound like they did the project in two seconds, they are conveniently leaving out the details.  
But other than all the hassles, it's done!  And now my son has a place to do homework that won't get cluttered with Legos.  It is purely for homework and he can keep his school supplies out of sight of the little ones in my house who like to find and draw on couches.  This is such a great solution for small spaces too.  I can't wait to see him use it!
This post was sponsored by DecoArt; but all opinions are 100% mine.