Low-Carb Turkey Taco Salad
It's that time of year again–eating healthy.  It's so hard sometimes, isn't it?  I've been struggling to find healthy meals that aren't super boring.  We typically try to each lower-carb meals when trying to eat healthy because there's something about eating refined carbohydrates that just defeats weight loss.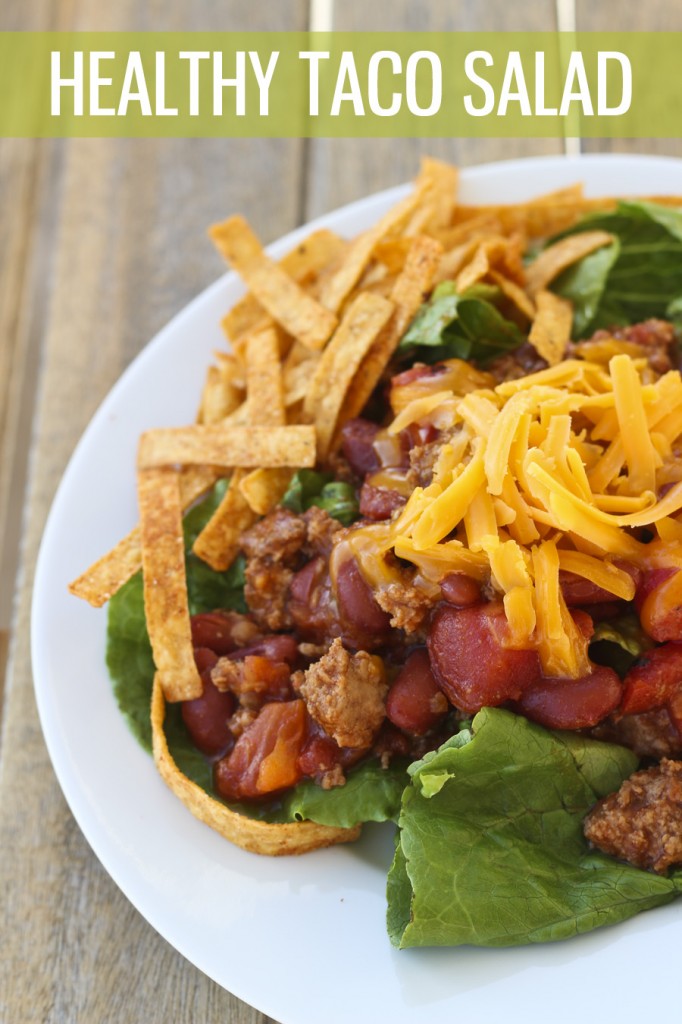 But here's one way to do taco salad that is really healthy.  Taco salad can end up being pretty unhealthy if you douse it with tons of chips, ground beef, and cheese.  Here's how my family eats it that is on the much healthier side.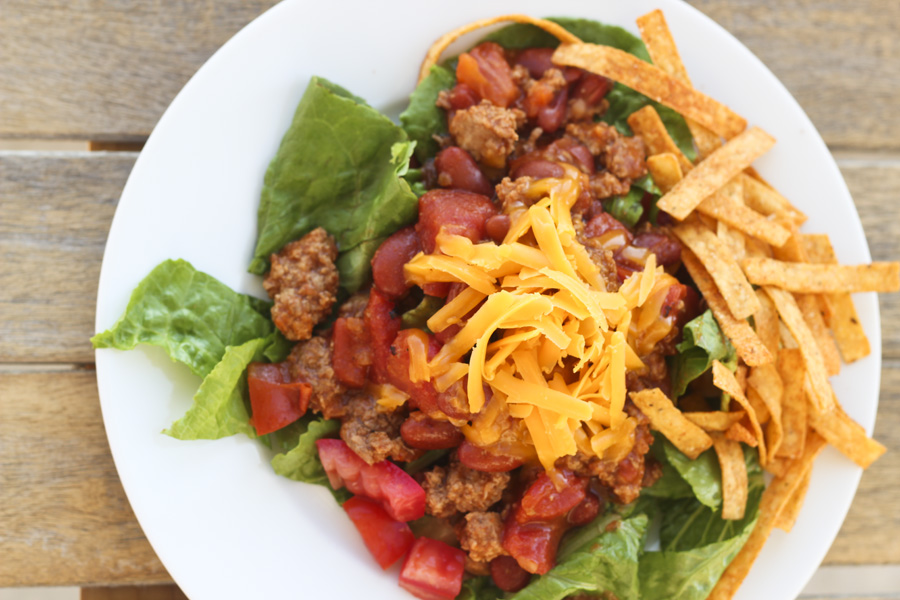 Low-Carb Turkey Taco Salad
Ingredients
1 lb ground turkey
1 package taco seasoning
1 can kidney beans
1 can diced red tomatoes
1 diced onion
chopped Romaine lettuce
Diced tomato
Salad tortilla strips
1 cup grated cheddar cheese
Taco sauce or salsa
Instructions
Brown the ground turkey and drain the fat. Remove and sautee the onion. Add the can diced red tomatoes and kidney beans. Add the meat back in. Add in ½ cup water mixed with the taco seasoning. Let this mixture simmer on the stove for about 10 minutes, or until most of the water has evaporated. You will want the mixture to be still saucy.
Chop the Romaine lettuce and tomato, grate the cheese. To serve, start with the lettuce and tomato as a base. Then add the meat sauce on top. Top with cheese and a few salad tortilla strips. Add a dash of taco sauce.
This recipe tastes every bit as good as the unhealthy versions of taco salad.  You do not miss the ground beef one bit, for starters.  If you are a big fan of the chip part of the salad, you can add more chips.  Then start making this version every time you have taco salad and use less and less chips each time.  I like to have a few for that crunch.  But the less you use, the less carbs it is.  It's a very healthy salad that everyone in my family loved!