I bought three tomato plants this year. I absolutely love garden fresh tomatoes and I've missed having my own garden space so much. The soil where I live is terrible for growing things, so I decided to try growing tomatoes in some large containers. I made one stupid mistake though–back in April, I went to Costco and saw they were selling tomato plants three to a flat and I thought I'd buy them there. I was so stupid and DIDNT check the labels of what kind of tomatoes they were. I just went home and planted them. They grew great, but when the first little tomatoes starting getting red, I realized that I had planted TWO cherry tomato plants and one Roma. Dang it! So none of the big, juicy vine tomatoes for me. Boo hoo.  On the plus side, the cherry tomatoes taste GREAT.
I wanted to provide a little tomato inspiration for any of you overcome with an abundance of tomatoes this year–20 ways to use tomatoes.  And even if you're not, go to the Farmer's Market and buy some garden fresh ones–they are so much better than the store bought!  It's like night and day.  However, not all of these ideas are edible so save your store bought tomatoes for those ones!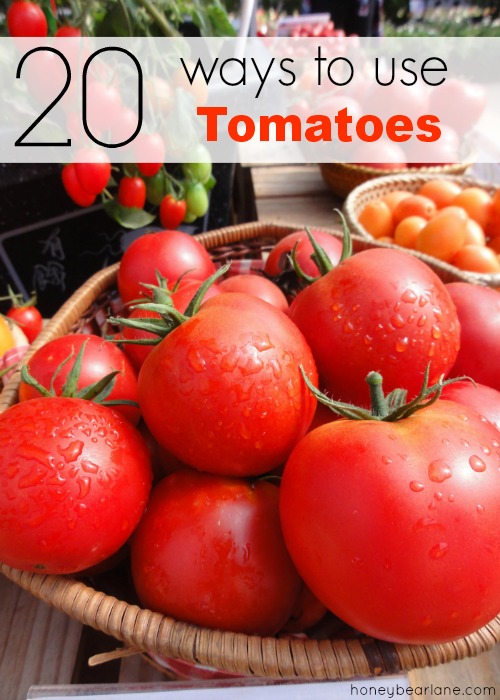 1. Tomato Zucchini Tart from Blogging Over Thyme
2. Pesto Guacamole BLT from Closet Cooking
3. Flank Steak with Bloody Mary Tomato Salad from Bon Appetit
4. How to Preserve Tomatoes from DIY & Crafts
5. Ways to Use Tomatoes for Rosy Cheeks and Beautiful Skin from Health DigeZt
6. Fresh Tomato Martini from Sheri Wetherell on Foodista
7. Green Tomato Muffins from The Eclectic Cook
8. Homemade Tomato Paste from How I Pinch A Penny
9. Tomatoes for Skin Care from Beauty Health Tips
10. Acne and Blackhead Healing Tomato Facial Mask from The DIY Secrets
11. Roasted Tomato Salsa from Pick Fresh Foods
12. Roasted Okra, Corn, Tomato Salsa from The Adventures of MJ and Hungryman
13. Kale Salad with Tomatoes and Avocado from Salu Salo Recipes
14. Homemade Pizza Margherita from That Skinny Chick Can Bake
15. Summer Gazpacho from Innocent Delight
16. Mexican Turkey Burgers with Fresh Corn Salsa from GI 365
17. Vegan Quinoa and Black Bean Wraps with Hummus from The Wimpy Vegetarian
18. Bruschetta Pasta from Garnish & Glaze
19. Bloody Mary from Honestly Yum
20. Tomato Carrot Juice from Cooks Joy
What are YOUR favorite tomatoes recipes? We love tomatoes–please share!