Kids Halloween Party Ideas
Last week I threw a Halloween party for some neighborhood kids.  (That's the life of a blogger–do everything way earlier than normal.)  It was a blast–despite a little hiccup from the weather.
Early Halloween parties always work out well for me because I get a much higher attendance when I don't have to compete for other Halloween activities.  And aren't your kids already so excited for Halloween??  So get ready for some fun kids Halloween party ideas!
For the party, I used two different plastic ware sets that are Halloween party themed.  They were so fun and cute and reusable!  You can find them at Amazon for a great price and they make party decor a snap.  Check out the Kids Pumpkin Theme Set and the Adult Skull Theme Set.
First, the planning.  You need to decide on food, games, and decorations.   I planned the food and games with my sister-in-law.  We decided to make cupcakes, apple 'smiles', rice krispie ghosts, and have an abundance of candy and salty snacks.  That's all it takes to please kids.
For the decor, I mostly had it with my Party Peacock sets, but I also used some lime green and purple satin fabric for the tables and some cool Halloween overlays from the dollar store (and one I borrowed from my mother-in-law.)  Then I pulled a bunch of my own personal Halloween decorations to fill out the tables.
I also decided to drape a canvas dropcloth from the upper deck because the sun was super hot and I wanted to provide shade on the refreshment table.  That ended up being pointless since it was stormy at the actual party.  But more about that later.  I couldn't resist sharing this cute little Anna that popped into this picture.
Next is the setup.  I set up four folding tables–two for food, one for eating, and one for a craft.  I laid out all the food with all the homemade items on one table and the candy on another.  The pumpkin party kit came with these cute little pumpkin buckets for the kids to take and put their candy in.  Both kits had cute little dishes for the candy–four orange bowls and three tombstone-shaped bowls.  I got gummy worms and spiders, chocolate eyeballs (which I forgot to take out of the freezer!), orange taffy, and some other fun stuff.  I bought those orange dust cheese balls which fit great in the large chip bowl.
In the drink container I put all the juice boxes that I decorated to look like Frankenstein.  And the platters were great for the other items.  I also finally got to use my drink dispenser which I bought years ago.   We filled it with water and lime and used the cute plastic cups included with the sets.  And the Skull set has the funnest crow's feet tongs.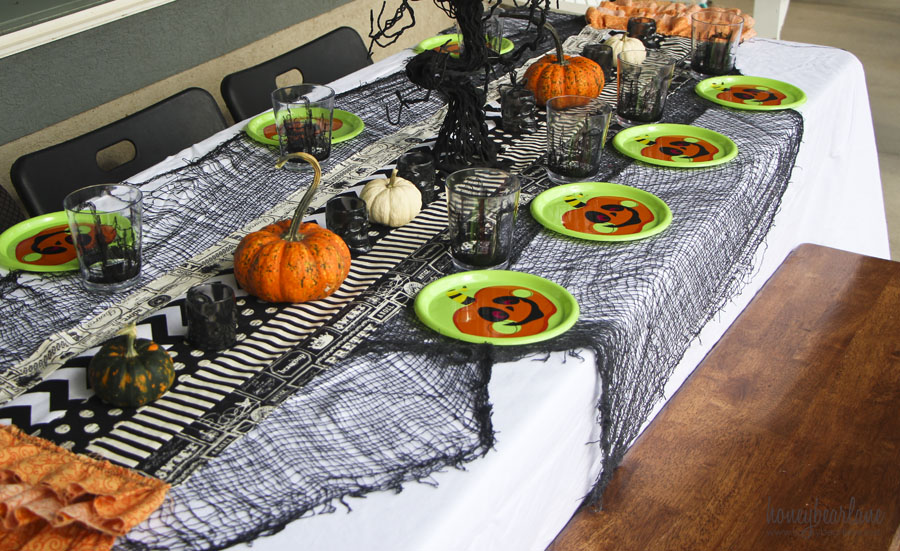 You really only need one set for a party, but it was fun to have both for variety.  But now that I have both, I could use them for different Halloween occasions, such as a kid party and an adult dinner.  I really love throwing Halloween parties!
Buy them Here:
Kids Pumpkin Halloween Party Set
It was going great until a 5 minute storm blew in and nearly blew everything away.  There was an intense moment of scrambling to get everything in the house while rain and wind came full force.  And literally five minutes later, the sun came out and the rain stopped.  Sigh.
But we still played our games (pumpkin bowling, mummy wrapping, donut-on-a-string eating), made our simple ghost craft, and generally had a great time.  And of course, every girl that came to the party dressed up as someone from Frozen.
Are you planning a kids Halloween party?  Have you thrown one in the past?  What was the best part?  What would you do differently?
This post was sponsored by Berry Plastics, all opinions are my own.
SaveSave