I'm a fan of breakfast.  I don't usually have fancy breakfasts, or even un-fancy breakfasts.  Many times I don't have breakfasts at all.  But when I have some time, I love to break out the big guns and make pancakes, bacon, scrambled eggs, orange juice, etc.  And why not add some chocolate in there too?  We always throw some chocolate chips in our pancakes.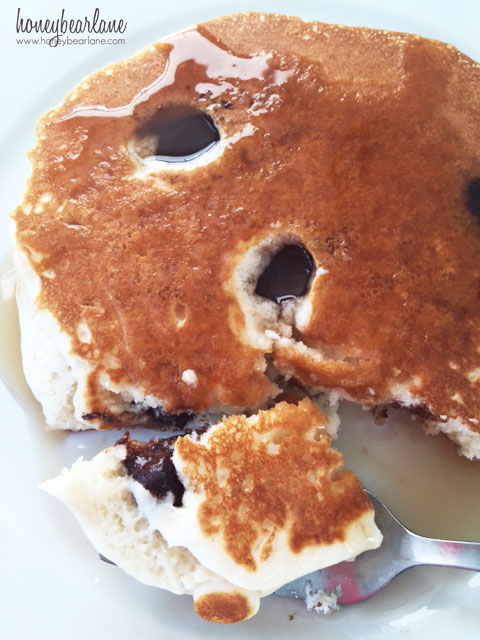 So when I got these new Dove Whole Fruit Dipped in Dark Chocolate candies, that was the first thing I wanted to try–adding them in pancakes!  Sometimes you add fruit, sometimes you add chocolate, so why not add both and have chocolate fruit pancakes!  This was such an easy thing to try.  I loved these little candies, kinda like eating a chocolate covered gummy bear but the grown-up version.  There are so many creative ways to throw these candies into different things to spice them up:  trail mix, ice cream, cereal…so many possibilities!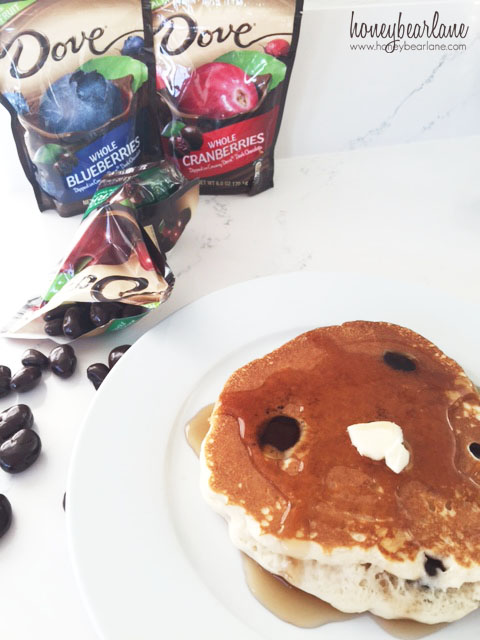 This is especially decadent because Dove is such a smooth and wonderful chocolate.  Dove is actually the #1 dark chocolate on the market.  And it's so yummy to have cranberries, blueberries, and cherries dipped in it.  Enjoy!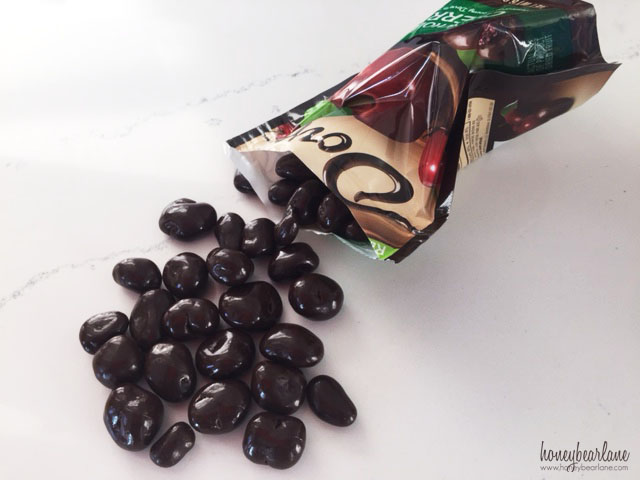 Chocolate Fruit Pancakes
Basic pancake recipe from allrecipes.com
Ingredients
¾ cup milk
2 Tbsp white vinegar
1 C all-purpose flour
2 Tbsp white sugar
1 tsp baking powder
½ tsp baking soda
½ tsp salt
1 egg
2 Tbsp butter
Cooking spray
Instructions
Combine milk and vinegar and set aside to let it sour for 5-10 minutes. Combine dry ingredients in one bowl and sift together. Whisk egg and butter into sour milk. Add the wet into the dry and stir until the lumps are gone.
Heat a skillet and spray with cooking spray. Pour about ¼ cup batter into the skillet and add in 4-6 pieces of Dove Whole Fruit with Dark Chocolate pieces, then let it bubble. Flip it over and cook for a few more minutes until brown. Serve with butter and syrup.
Compensation was provided by DOVE® Dark Chocolate via MomTrends. The opinions expressed herein are those of the author and are not indicative of the opinions of Dove or Momtrends.
Visit Dove on Facebook, Twitter, and their website.