My daughter's new room looked abysmal.  Her old bedroom was one I had labored over for a year and finally got it perfect.  But once she transitioned out of her crib and into a twin bed, I knew this wasn't how I wanted it to stay.  I love doing kids rooms and so redoing her big girl rom excites me!  But we have a very long way to go and it's not really a priority.
However, I couldn't leave it like this: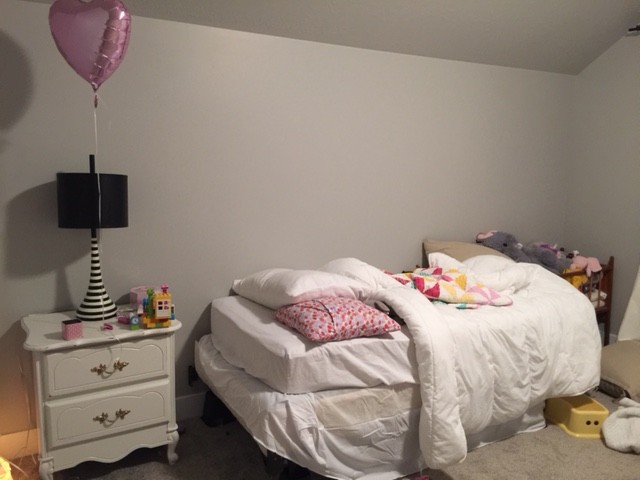 This is sad, sad, sad.  I need it to be somewhat cute while I get around to all the things I want to eventually do to her room.  So I started with her bed.
I opted for a daybed because for this room I think you need either a daybed or a twin bed that sticks perpendicular to the wall.  But I don't think she is ready to have nothing holding her in her bed–I think she would fall out.  So I turned her bed against the wall in the middle of the room and I liked it.  So daybed it was!  Which one to choose?  I fell in love with this (from 4 Chairs furniture).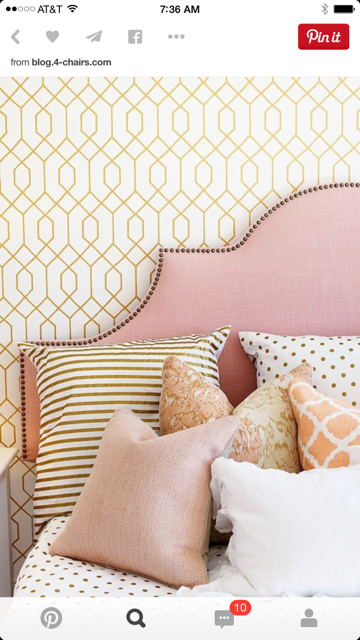 I liked the Hemnes daybed from IKEA because of the versatility and storage.  This bed pulls out to be a full size as well as having the drawers underneath.  I like that you wouldn't need a fussy bed skirt (which btw are always made with a missing side–where the headboard typically is–which I would always see on a daybed.)  But I also wanted to do a statement upholstered headboard for it as per my inspiration photo.  I went back and forth on building my own vs hacking the Hemnes, and ultimately decided to hack.  So here it is:  My Hemnes Daybed IKEA Hack.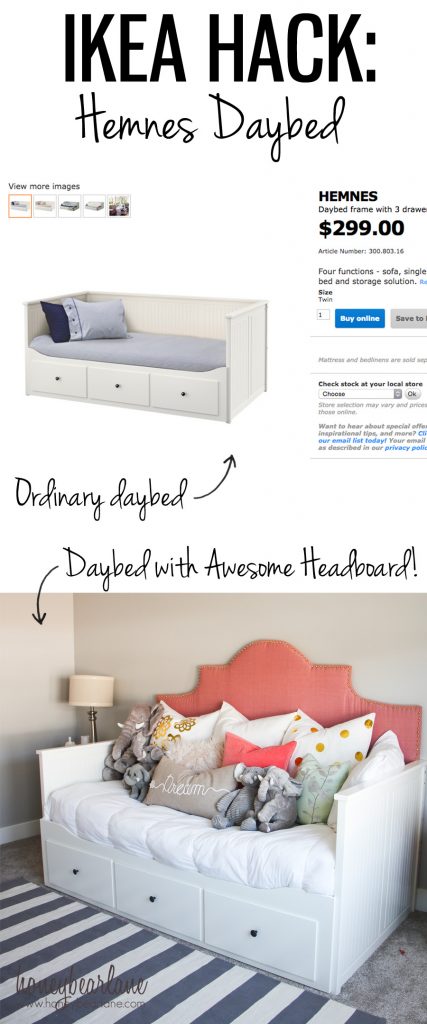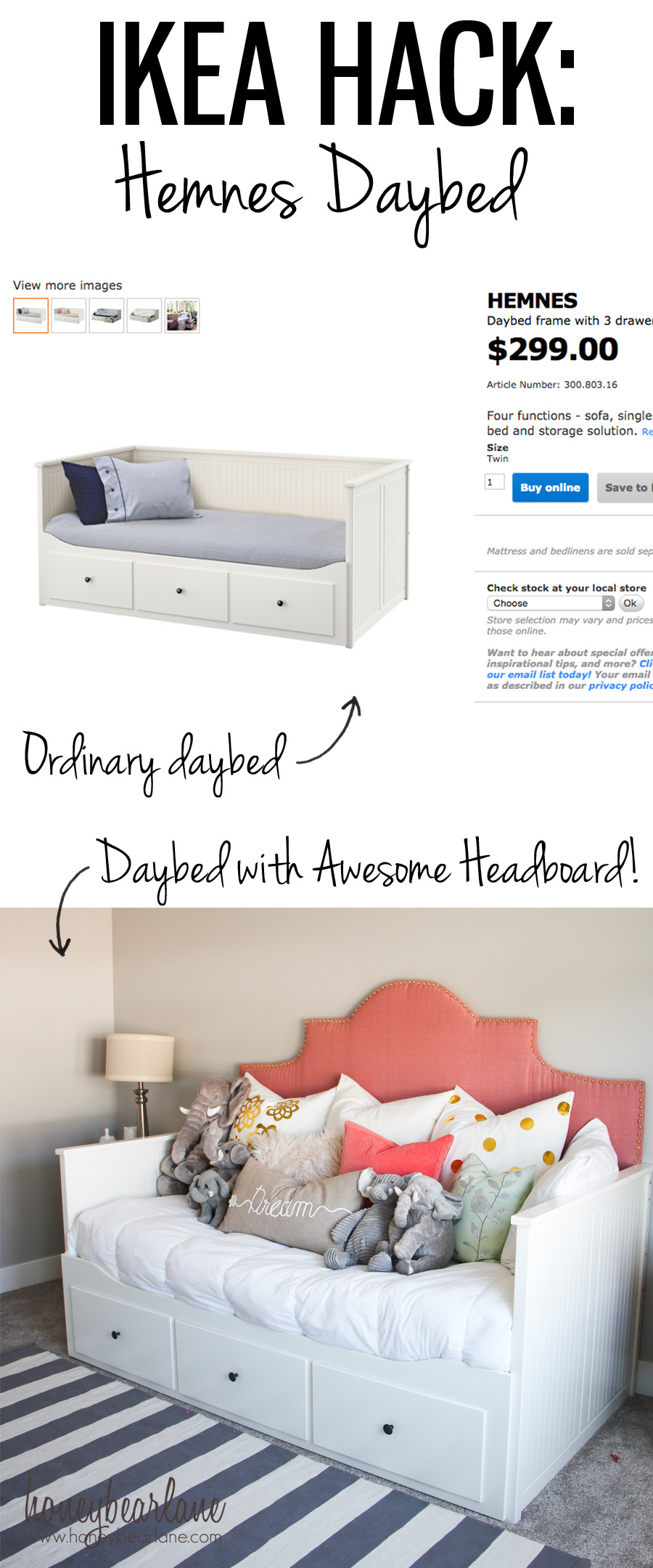 Isn't it cute?  I love this as a base for this bedroom.  I have so many plans for the rest of the room but that won't happen for awhile.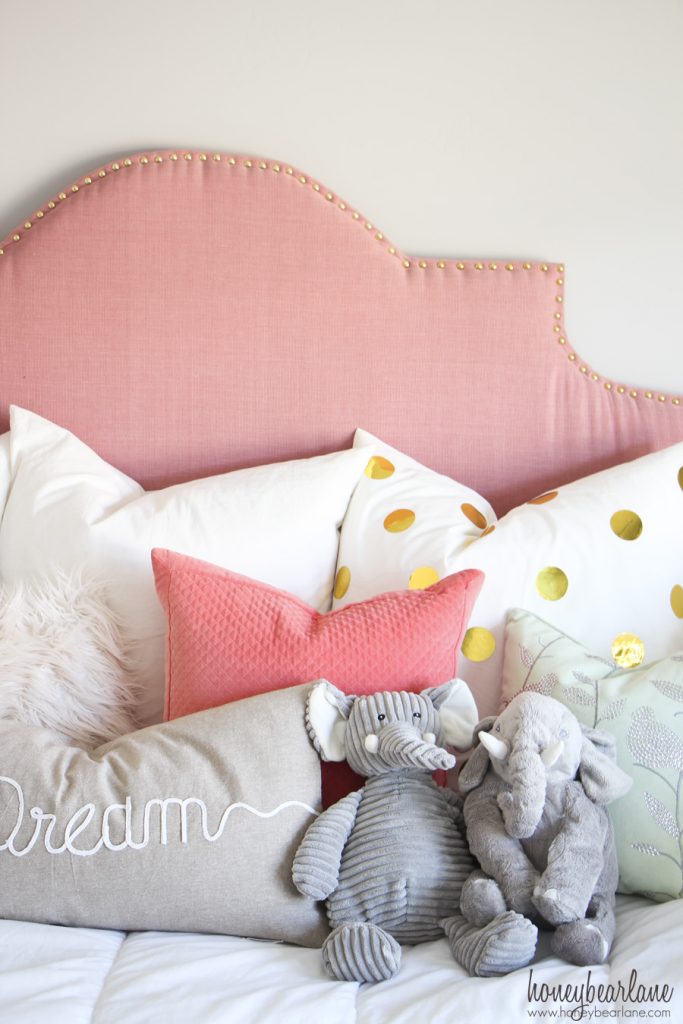 This has been the perfect bed for my daughter because she, being only 3, isn't quite ready to be in a bed that has no railing.  And as you can see from the 'before' picture, shoving the bed against the wall is pretty undesirable.
I agree with what you are thinking:  That is way too many pillows for a 3 year old!  I don't love having seven pillows to take off her bed every night.  I usually don't take them all off, I take off half because she is short enough to not disturb the other pillows.
But the point is that she is safer and (probably) not going to fall out of bed.  And if she does, she has seven pillows to catch her.  Actually that's something I love about the Hemnes Daybed…the storage underneath.  I love that I don't have to deal with a fussy bed skirt and that I have these huge drawers for whatever.  Right now they hold all her other baby blankets.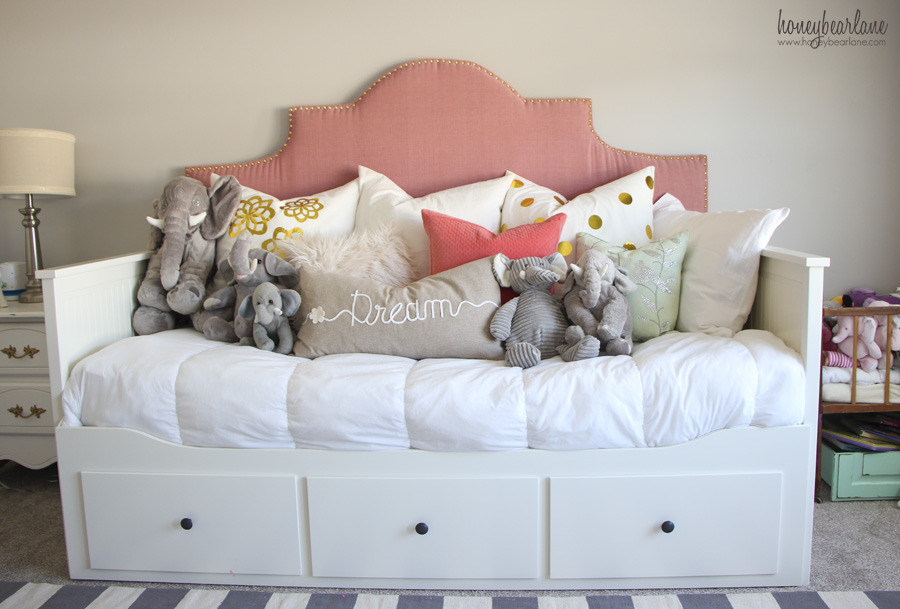 Can you tell what her favorite animal is?
Tutorial:
I would recommend for anyone thinking about doing this to just use the included headboard/back piece that comes with the bed and then just attach a top headboard piece and cover the entire thing.  It will be easier to attach to the bed later since the pre-drilled holes are already in the perfect place.
I decided not to do that in case we wanted to use the original headboard/back piece later for a different look or whatever.  So I purchased a piece of 3/4″ thick MDF and lugged that heavy sucker home and then used a jigsaw to cut the shape.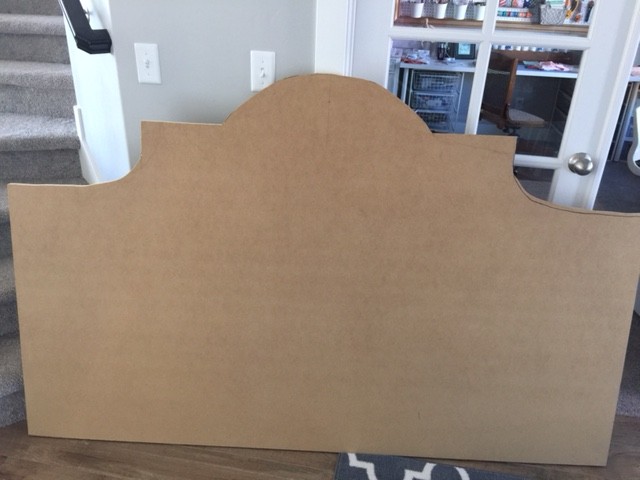 That wasn't super easy but it was the easiest part.  I then laid the original back piece over the top and drilled through the pre-drilled holes into the MDF below so it would have the same holes, as well as marking and drilling the holes on the side.  Try to be as accurate as possible.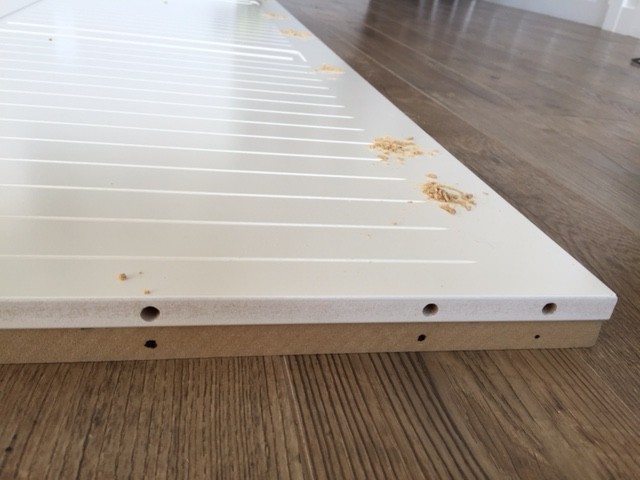 I purchased foam, batting, and fabric from Hobby Lobby and Home Fabrics.  I did the typical steps of upholstering a headboard (cutting the foam to shape, using spray adhesive to attach it to the headboard, then stapling the fabric and batting on top.)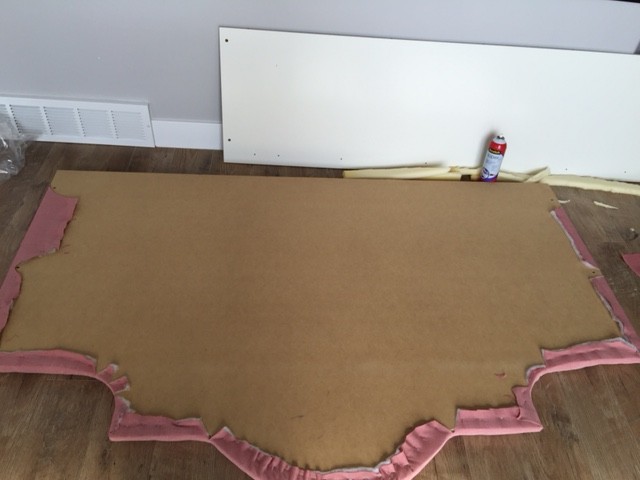 After that I carefully nailed in my nailhead trim which was actually super awful because the nailheads I bought were very cheap and bent super easy.  But I eventually got the hang of it.  Don't be afraid to pull them out if you put it in wrong, it is better to get it right.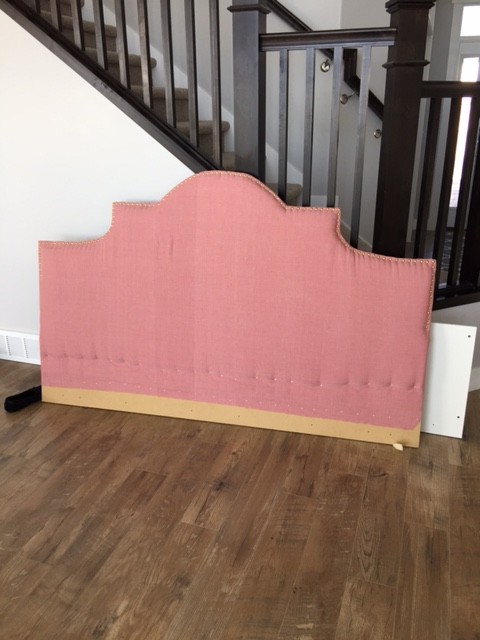 After I made the headboard, I took it upstairs to her room with the rest of the Hemnes bed pieces.  Attaching the headboard to the sides was the hardest part.  However, it would be a lot easier if another person or two is helping you.  I ended up having my little boys help me and eventually we got it.  I just followed the instructions for the IKEA bed just subbing in my homemade headboard instead.  The wooden dowels didn't work at all so I had to rely on the screws, but they are strong enough.  Plus I ended up just drilling some long screws of my own through the sides into the headboard to hold it enough to put the screws in.  You probably can't even picture this until you actually try it.  Whew!
After that, it went pretty smoothly, as far as IKEA assembly goes.  Of course I ended up putting someone on upside down and had to backtrack about 10 steps to fix it, but that always happens, right?  😛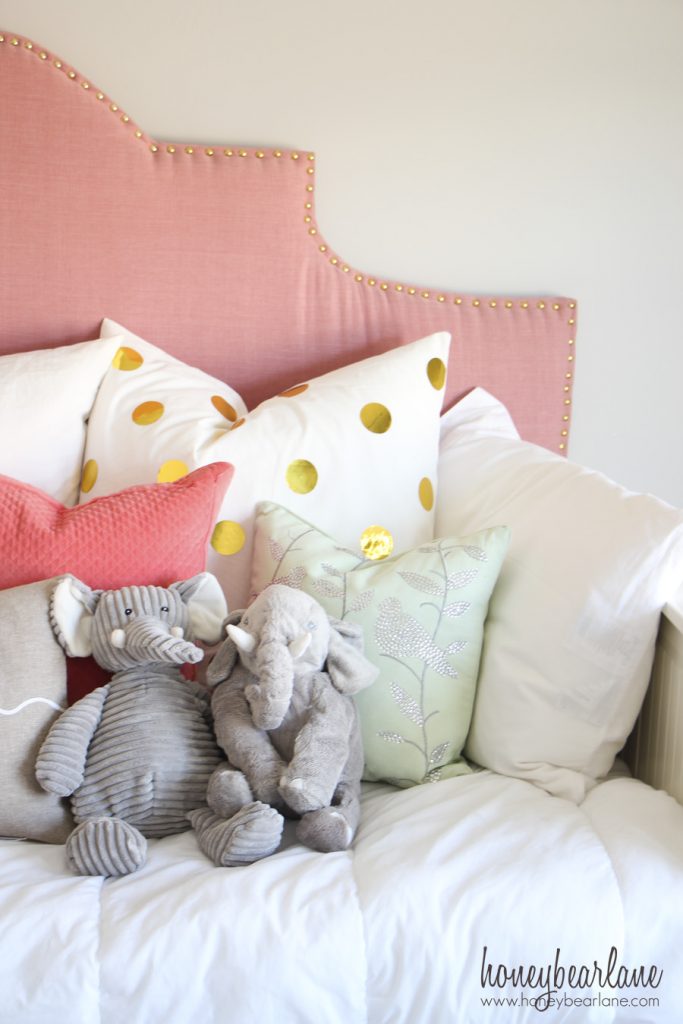 Now that it's done, I can't imagine trying to repeat this Hemnes Daybed IKEA Hack–haha– but I love it!!  I am so happy I decided to do this instead of just staying with the original headboard.  It's just so much more girly and queenly and the perfect place to display my daughter's extremely large collection of stuffed elephants.
Stay tuned for more updates to this room!